On September 15th, The Criterion Collection finally released Claire Denis's military masterpiece BEAU TRAVAIL (1999) on Blu-Ray and DVD for our viewing pleasure. A film that has been almost impossible to access online, BEAU TRAVAIL is a true cinematic rarity that presents a beautiful portrait of the complexities of masculinity through a graceful rendering of jealousy and self-sabotage. With Denis's impeccable direction, carefully composed cinematography from Agnés Godard, and subtly surreal editing from Nelly Quettier, the film takes on an intimate look into the relationship between the male identity, the military apparatus, and the phantoms of colonialism through the feminine gaze. 
BEAU TRAVAIL follows the story of a former Foreign Legion Chief Officer Galoup (Denis Lavant) as he recalls memories from his service, focusing primarily on the events following the stirring arrival of a young new recruit. The French Foreign Legion is a unique military organization as an international network of people who abandon their civilian lives in exchange for a life dedicated to discipline and training within the French armed forces. In BEAU TRAVAIL, the Legion is an archetype system to reflect the stoicism of masculinity that embodies a sense of isolation, detachment, and austerity. The title of the film translates to "Beautiful Work," juxtaposing the contrasting notion of beauty with that of hard and physical labor. For a narrative that centers around a military entity that stands in for the rigidity of hyper-masculinity, each scene is handled with such delicacy and poise. Drill scenes are visually and phonetically rhythmical with jump cuts between soldiers repeating the same tasks over and over again. Scenes of the group doing Tai Chi or stretching are meditatively fluid like a soft ballet. These sequences are elegantly corporeal with a compositional focus on the body. While the men on screen engage in these physical activities, the feminine gaze captures the male form as visual vernacular to convey the whole idea of this juxtaposition found in "beau travail."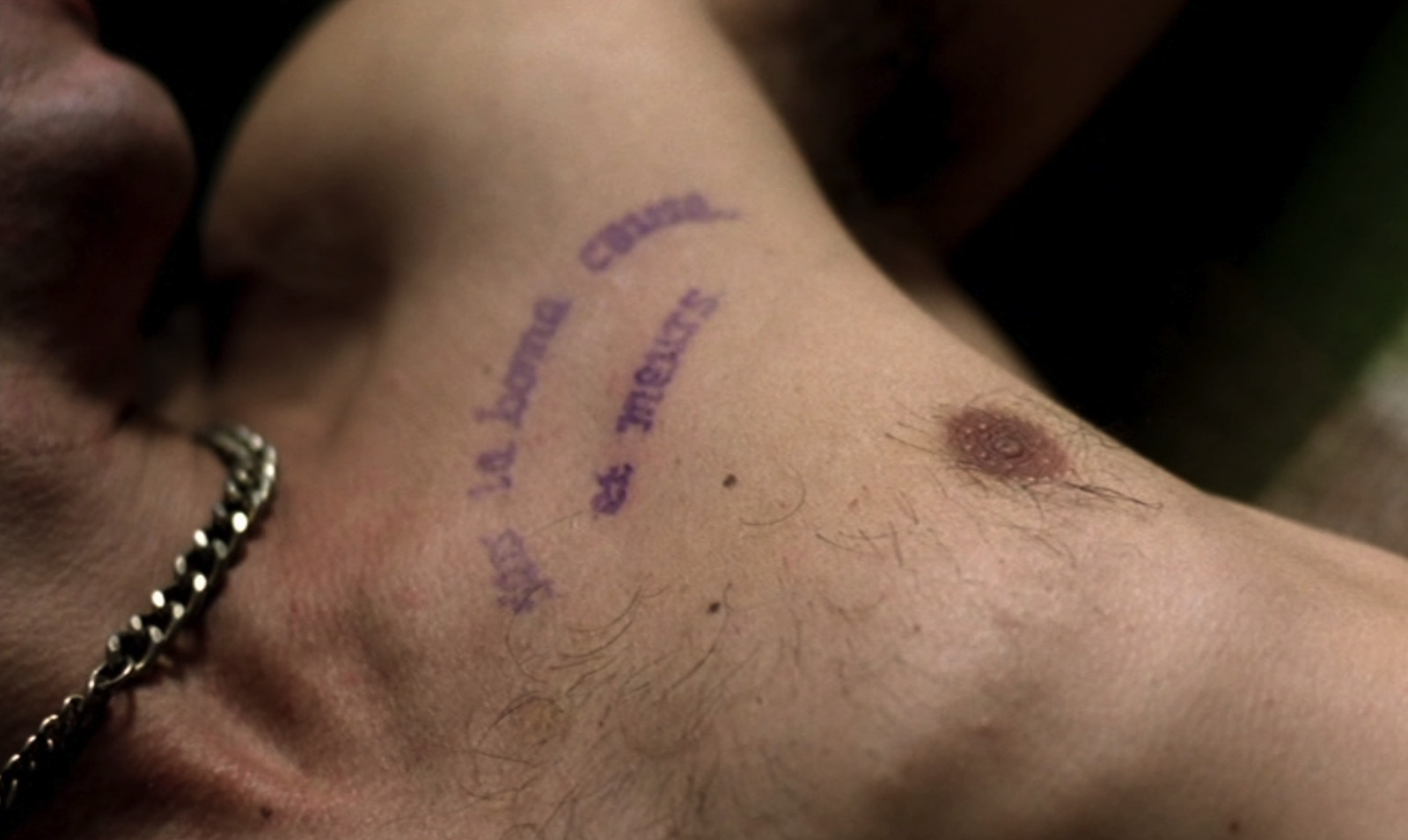 Set in contemporary Djibouti, Galoup's brigade appears to be an idle force in the calm desert. In the streets, the soldiers stand out in their uniforms and non-native tongue, rendering them as a transactional source of entertainment for the local people. Shots of onlookers sprinkled throughout the film remind us that the men are always being observed as a casual nuisance rather than an oppressive force of subjugation, yet their presence marks a haunting legacy of colonial France's past. Chief Sergeant Galoup's identity is consumed by the Legion. He idolizes his superior, Commandant Bruno Forestier (Michel Subor), a veteran of the Algerian War, admiring his war record and striving to emulate his cool mystique. Galoup values the traditional codes of honor of the Legion that have their foundations in respect, loyalty, and discipline. He presents himself as ruthless and terse, and as our narrator, we, the audience, are guided by his most intimate inner reflections that reveal his quiet attitudes and most private flaws that fill up his "trash can deep within." 
Gilles Sentain (Grégoire Colin), the new recruit, is introduced to us by Galoup as an atypical type for the Legion. He highlights Sentain's skinny physique and soft appearance, veering away from the criteria of what he thinks a traditional Legionnaire should look and act like. Put on edge by Sentain's arrival, Galoup begins to examine him almost obsessively as he reveals the dark thoughts of sabotage that pile up inside of him. After rescuing a soldier from an unexplained helicopter crash, Sentain is praised for his heroism, getting Commandant Forestier to take notice. As the relationship between Sentain and Forestier begins to bloom, Galoup feels threatened thus triggering insecurity within him that is ultimately manifested into an extended humid tension of cruel envy. (Fun fact: his name rhymes with 'jealous' in French, royally making him "Jaloux Galoup.")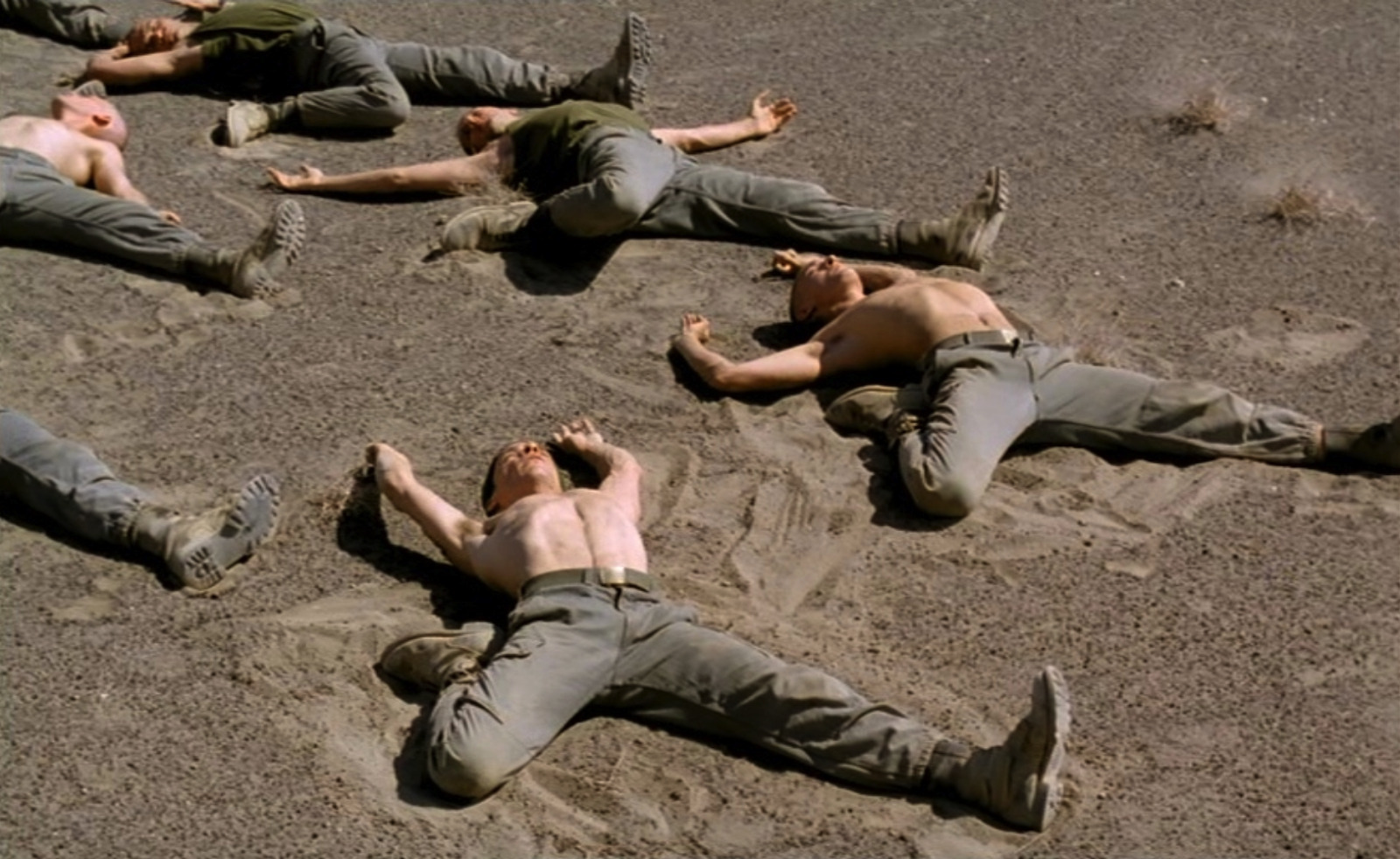 Sentain becomes the target of Galoup's merciless authority. He purposefully creates situations that might trigger Sentain to show his more compassionate side that everyone likes but him. During a push-up drill, Galoup makes it difficult for Sentain to keep up by changing the rhythm of the reps. He completely strategizes how he is going to exile Sentain (and possibly even kill him) to the dry white salty shores far away from their camp. During Ramadan, Sentain fills in for one of the Muslim soldiers who leaves his post to attend Mosque. After being caught, Galoup publicly punishes the soldier, ordering him to dig until told to stop. As the day goes on, the soldier's hands get bloodier and bloodier with blood saturating the shovel's handle. In the glaring sun, Sentain offers the soldier some water, but before it reaches his hands, Galoup kicks it away. Shocked by the injustice, Sentain punches Galoup in the face. Here is Galoup's opportunity to sabotage Sentain, punishing him by sending him to the middle of nowhere with nothing but a broken compass. This brazen abuse of authority ultimately results in Commandant Forestier having to send Galoup back to France for investigation, ending his career with the French Foreign Legion. In other words, this attempt to destroy Sentier by imposing his own ruthless standard of discipline that is motivated by poisonous envy is backfired onto Galoup himself as a radical act of self-sabotage and he knows it. 
In his narration, Galoup says "freedom begins with remorse." As his narrative self-analysis comes to an end, we question where liberty may lie. In the last moments of the film, we watch as he neatly makes his bed only to lie on it with his gun against his chest. After 90 minutes of struggling to empathize with our narrator, we ultimately find understanding in an extreme close up of his tattoo that reads "serve the good cause and die." Established as a man "unfit for civilian life," Galoup felt solace in the military apparatus of the French Foreign Legion as his handsome guide. Now that it has rejected him, he is only left where he claims he doesn't belong, with no motivation to assimilate and move on. Without a definitive conclusion to Galoup's story, we're met with one of the most memorable cinematic endings of all time. The final moments of BEAU TRAVAIL are euphorically explosive, as we watch Galoup dance to Corona's "Rhythm of the Night."  In a purge of energy and corporeal release, Galoup invites us to watch as he manifests his own liberation.