The Jubilo Drive I interviewed back in February of 2016 looked and sounded radically different.
That shouldn't come as too much of a shock—two years, at least for a band, is an eternity. Consider The Rolling Stones for a moment: at the beginning of 1969, the group walked into the studio with a promising song called "You Can't Always Get What You Want," which had been taped during prior sessions for BEGGARS BANQUET, and began recording songs for future projects in earnest. In a two-year span, founding member Brian Jones passed away and was replaced by guitarist Mick Taylor, the group released two rock classics in LET IT BLEED and STICKY FINGERS, they performed the infamous Altamont Speedway show where a person was stabbed to death, and they'd spent all the money they owed Britain in taxes, which forced them to escape to France before their assets could be seized, leaving them marooned in Keith's home on the coast.
A lot can happen in two years.
When I interviewed Jordan Kleinman and Hayden Vaughn in early 2016, they were promoting TAQUERIA, which at that point was almost a year old. Filled with loose garage rock songs and bold psych tones, it was a debut in a lot of the senses of the word, featuring songs that felt like they'd been kicking around for years prior to finally being put on tape—overthought, perhaps, but only because every young musician wants their first album to be perfect. TAQUERIA wasn't perfect, naturally, but it was a testament to the strength of community, the kind of crowning feel-good achievement that comes when a band you've been following finally has something physical to show for all their hard work.
TAQUERIA isn't on Spotify right now. In fact, most traces of the old Jubilo Drive have been wiped away, an attempt to start fresh. Even though the group went on to release their HOTPACE EP in early 2017, by most accounts they had mostly disintegrated by then, burned out from personal differences and the stresses of trying to navigate post-college life. To hear the band tell it, by November 2016 Jubilo Drive was officially over, releasing the few recorded tracks they had left before the social media channels went silent for what should have been forever.
But they didn't stay silent forever.
After lying dormant for nearly three months, on May 13th, 2017 the Jubilo Drive Facebook page updated its profile photo to a picture of drummer Eric Cruz with the caption "We love you man." The night prior, Eric had died tragically in a car accident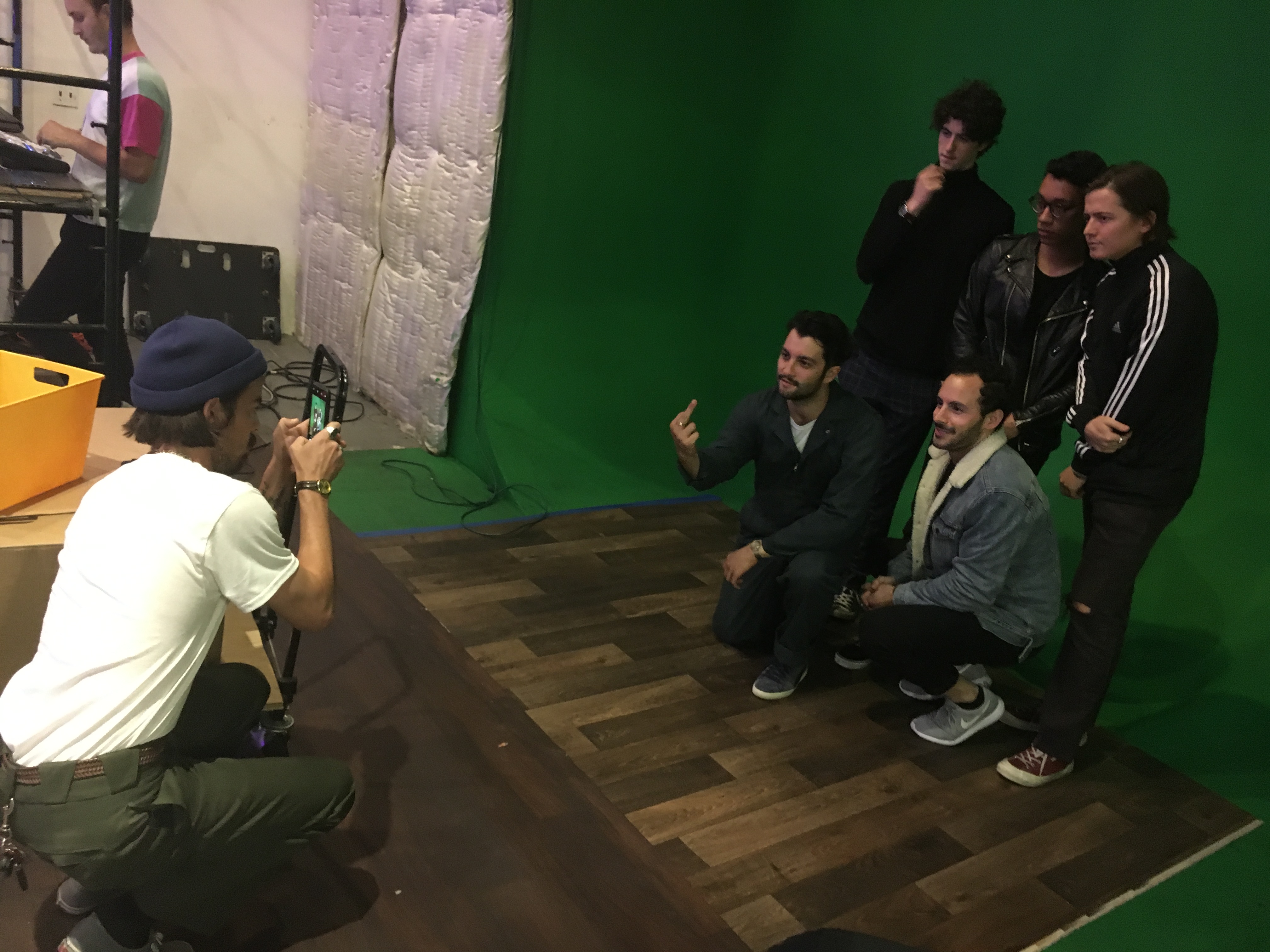 The first time I speak with the band since Eric's passing is in early May for a joint headlining concert with Burger Records signees Summer Twins—Jubilo Drive's first live show back in two years, a celebration of Eric one day shy of a year since his passing. I walk up to a nondescript office building in downtown Los Angeles on a Friday afternoon. I ask the security guard at the front of the building where the show is being held, something that, from my perspective, seems like a fairly silly question given the white collar, desk jockey feel of the lobby, a far cry from the house shows the band would regularly tear up in Orange County.
Eric was Jubilo Drive's secret weapon—in many ways he still is. Even if the group's work didn't naturally showcase all of his talent, you could tell his drumming was of an elite level, simultaneously loose and tight in a way that would teeter-totter with the intensity and drive of the song. He was a metal drummer at heart, and his style and influence captured the magnetism of a true bigger-than-life rock star. Even while the band's early iteration often featured eccentric, almost overperformed shows for the venues they were playing, wild performances from Jordan, Hayden, and Henry Kuckens were almost always overshadowed by a solo from Eric.
Admittedly, the group's return is more of an update than a reboot, with only Jordan and Henry keeping the name alive after they parted ways with Hayden at the end of the band's initial run. (When prompted further, Jordan simply puts, "We'd been butting heads, a little bit. We wanted to salvage our friendship." Hayden could not be reached for this article.) After they initially broke up at the end of 2016, Henry, Eric, Jordan, and one of the band's new members, Aaron Shadrow, began jamming with the intent to create a new project, something outside of the Jubilo Drive sound and name. But after Eric's passing, the decision to keep the band's name alive seemed obvious. Alongside Aaron and Chapman University classmate Kalyn Beach on bass, the band reformed, with drummer Jacob Lauing coming in as a late addition only a month before the May show.
"Weirdly, the night we went to his parents' house after the accident, both of his parents were wearing Jubilo Drive shirts, and his dad said to me, 'Don't stop playing music, please keep going.  We're going to support you no matter what,'" Jordan says. "And I was like, 'How can you even be talking about that right now?' A couple weeks later, Henry and I are hanging out and we agreed we should keep doing this to give Eric some kind of legacy."
Beyond just the name, Eric lives on through a number of the tracks the group have released, including a pulsing Duran Duran riff called "Thursday Night Taxi Service," named after his college radio show, and "Look Around," the first track they jammed on after the band's initial breakup. "In a way, he's gotten to jump into 2.0 even if it's just a shadow of him," Jordan says reassuringly.
The Civic Center Studios show marked a kind of exciting moment, both a way to honor Eric while also beginning something new, something fresh. As Henry and Jordan left the stage during their soundcheck, they both nod to each other. "Felt pretty good," Henry says.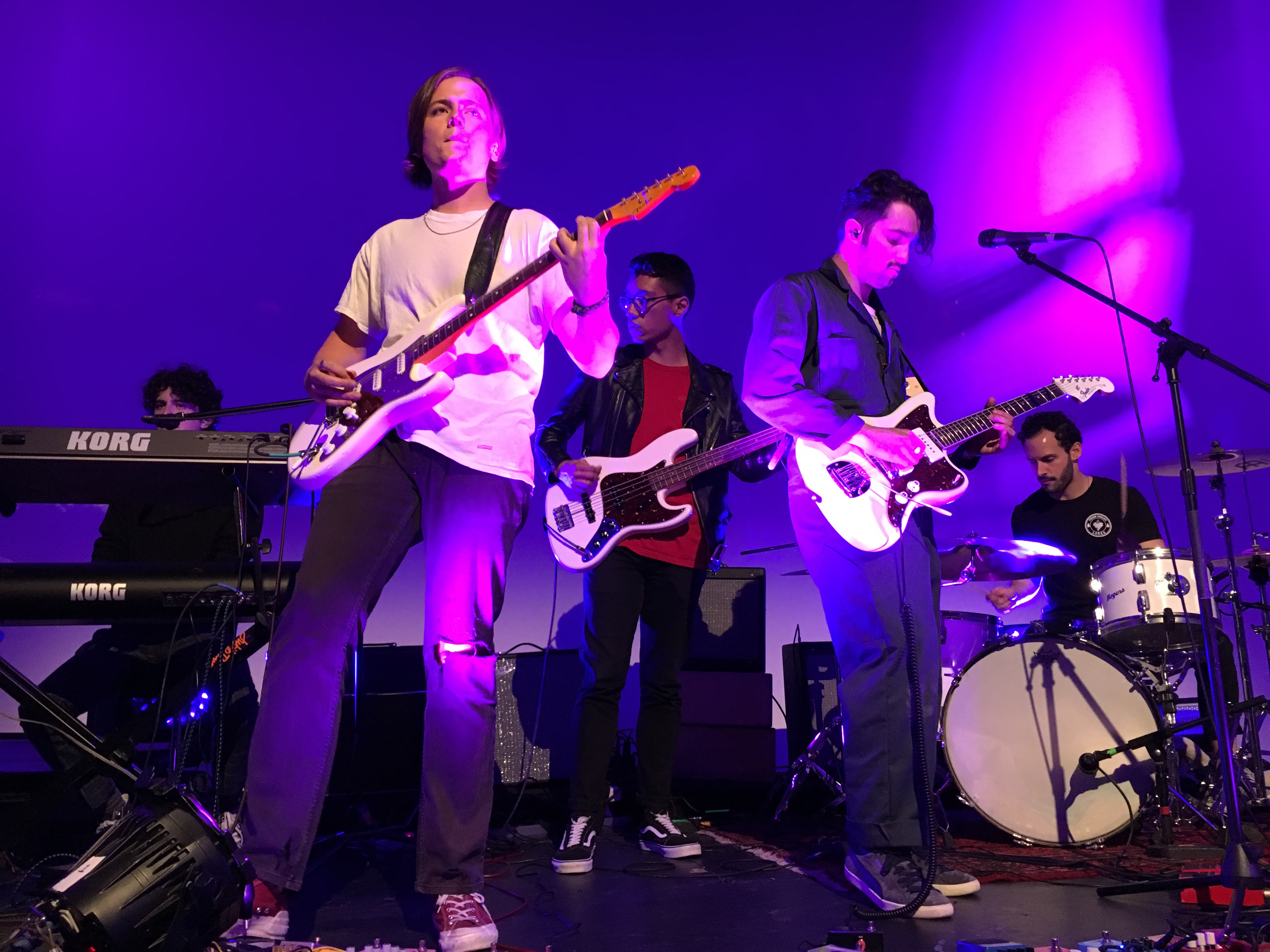 Even with Eric's memory fresh in the band's recent material, almost everything else about the group is new, and they've sonically tapped into a sound that's deeply unrecognizable from the early days. Aaron's education in music production, coupled with his abilities as a piano player and his curiosity with synthesizers, has opened up a world of possibilities previously unreachable. Even the speed at which the band moves now is different, shifting from a more meticulous, clunky, DIY garage space to having Aaron quickly and sometimes sporadically produce loose ideas and demos. "I think it worked because we have this pile of concepts and songs that have made it easy to just jump right into it," says Henry. "It's one of the ways we've progressed so quickly even as we add members."
Even the kind of reckless swagger that carried the band's early college days is gone, replaced with a clean air of professionalism. From the social media curation, to the venues they've been playing, to the press they've garnered, the band's reach has expanded considerably. In the months after the show at Civic Center Studios, Jubilo began seeing more and more people take notice, from a feature in the OC Weekly to a shout out on KCRW.
In early November I met with Jordan at his Silverlake home to hear some of the new tracks and get a quick update on the band. Despite the world falling apart (something he and I fixate on throughout most of our discussion), things have been going well for the group, and Jordan seems pleased with the way "All U Can Eat," their latest single, was received. A dizzying, goofy slice of electropop, namechecking television game shows and pulsing with a day-glo headspin, it's certainly the farthest out of the group's recent crop of releases, but the response has been positive.
Aaron has just recently wrapped a multi-city tour playing guitar for one of the many burgeoning mid-sized electrock acts making their way up to the radio mainstream. Despite only being a hired hand on the road, his involvement has somehow brought a new, national audience of young people around to Jubilo Drive's sound. "There's now a Jubilo Drive fan account," Jordan says with some disbelief. "They like, find old pictures of us from our own Instagram accounts. It's wild. All I can really say is that I think these people are so sick to be down enough to tell everyone about our music."
Jordan plays me some of the new material with a sublime satisfaction. The eagerness in his voice that I heard years ago regarding TAQUERIA is now calmer, and more assured. The songs continue the group's slick, ascending new production and they sound good, still a far cry from their distant start, but in line with "Look Around" or "Thursday Night Taxi Service." In one of the songs he plays me, Jordan throws his voice, gutturally howling, "Nobody's seen it, how could they miss it," like a modern day Wang Chung, before delving into a starry, proggy interlude. Jordan excitedly remembers that tomorrow they'll be recording the brass part for one of the upcoming songs and he quickly puts on a rough, trumpet-less version of the track, walking me through where the rising horns will go.
While Aaron has been cutting his teeth on the road, the rest of the band remain on the homefront with day jobs in P.R., fashion, copywriting, and software engineering, moonlighting as an Instagram-perfect L.A. rock band. After four singles, it makes sense that they've been not-so-quietly spending their free time on a new (possibly two new) albums, which Jordan informs me will have some moments of weird, creatively sampled pieces of audio from previous sessions with Eric. Constantly aware of the past, Jubilo Drive are finally looking to the future. Just like The Rolling Stones leaving their exile in France, the world suddenly seems new.