Tis the season! With A Very Merry-Go-Round, we'll be offering the hottest holiday takes in town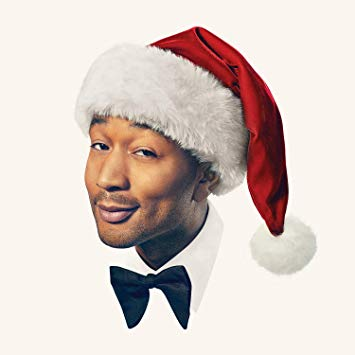 John Legend – A LEGENDARY CHRISTMAS
Genre: Holiday Pop
Favorite Tracks: "What Christmas Means to Me (featuring Stevie Wonder)," "Bring Me Love," "Purple Snowflakes"
Closing out an astounding year which covered everything from gaining EGOT status to becoming a Google assistant voice selection, John Legend has released the perfect excuse to nestle up fireside with cocoa or eggnog. If the album cover, a nod to Bing Crobsy's MERRY CHRISTMAS, is any indication of what to expect, A LEGENDARY CHRISTMAS is his way of anointing this holiday season with his own signature style. A perspicacious arrangement of soulful takes on yuletide staples paired with swinging originals, the album is 49 minutes worth of all the holiday feelings we tend to experience year after year. With prolific record producer Raphael Saadiq at the wheel, full-bodied brass, brushed drumming, and glistening strings, the album perfectly sets the tone for when Thomas from accounting lets loose at the office party, or a destined meeting under the mistletoe.
Legend scores a major win straight out of the gate with Stevie Wonder assisting on a timely cover of his own 1967 classic, "What Christmas Means to Me." Soulful backing vocals and Legend's timbre keep the energy flowing into a fascinating, Motown-inspired rework of "Silver Bells." Esperanza Spalding stops by to join the festivities for smooth duet cover of "Have Yourself A Merry Little Christmas," featuring a crisp trumpet solo by up-and-comer Jamelle Adisa. The party does not stop there, as Legend delivers his own take on the Christmas holiday with "Bring Me Love," a poppy, jam-along original perfect for radio play. Though the celebratory carols are quite fun, the album is not without its dose of wintery melancholy. Covers of Marvin Gaye's "Purple Snowflakes" and Charles Brown's "Please Come Home for Christmas" pay their respects while still adding current flares. "Snowflakes" feels like a dreamscape over soothing vocals and boogaloo-style flute, while "Please Come Home" offers Legend a chance to show off his vocal prowess. Still, Legend wants you to enjoy the holidays on album closer "Merry Merry Christmas," a dixieland jingle right for that final bite of Christmas pie.
In a genre branded with hits from music titans such as Paul McCartney, The Jackson 5, and Mariah Carey, the holiday season can be icy ground to navigate; however John Legend has taken up the mantle. Surely the uncontested holiday pop champion of 2018, A LEGENDARY CHRISTMAS is a balancing act that reminds us of Christmas past whilst indulging in Christmas Present. [Michael Stanziale]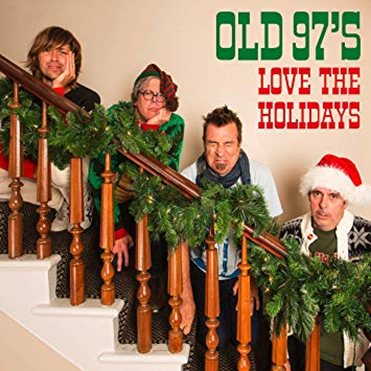 The Old 97s – LOVE THE HOLIDAYS 
Genre: Alt-Country
Favorite Tracks: "I Believe in Santa Claus"
Following a rather solemn solo album from Rhett Miller, and 2017's full-band affair GRAVEYARD WHISTLING, which was ostensibly a darker record yet still sounded like any Old 97s album to me, it makes sense that this country rock quartet would want to make some more cheerful music. Even this deep into their career, the band's galloping percussion and twangy swagger are still infectious, and Miller has plenty of charisma and wit alongside a bottomless well of ear-wormy melodies. I worried that Miller's warmer adult contemporary material would work better for Christmas music than the Old 97's punkish edge—listen to the gorgeous openings of "My Valentine" and "Brand New Way" and tell me they wouldn't fit perfectly into a Christmas song. The best songs on LOVE THE HOLIDAYS simply take Miller's stories about past failures and contemporary struggles with love and insert a few Christmas-themed references. The lyrical content of "I Believe in Santa Claus" and "Christmas is Coming" could have fit snugly on any past Old 97s record, yet they're a better fit for the band than the joyful jubilance of "Gotta Love Being a Kid (Merry Christmas)" and "Snow Angels," which even Owl City would find a little too twee. However, the whole project is hampered by horrible vocal production, where the fidelity of the instrumentation is jarringly different from Miller's vocal track. The Old 97s have always had an underlying gruffness, but it's out-of-place when blended with polished Christmas music featuring violins and horns that wants to be serene and euphoric. I don't know if this a was a terrible idea from the onset or if it could have been salvaged, but the sloppy mixing and scattered tone are inexcusable for such a seasoned band, and any highlights have little to do with Christmas and more to do with the band's natural talent. Go listen to TOO FAR TO CARE or THE BELIEVER to hear that talent unobscured by the problems here. [Blake Michelle]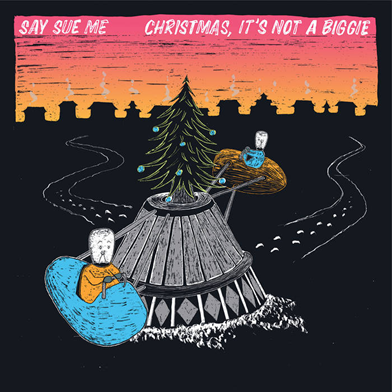 Say Sue Me – CHRISTMAS, IT'S NOT A BIGGIE
Genre: Surf Rock
Favorite Tracks: "Out of Bed," "After This Winter"
If you haven't had a chance to check out South Korean act Say Sue Me, their star has risen considerably this year through a combination of punchy surf rock and dizzying, gauzy dreamrock. That sound serves them well on this four-song Christmas record CHRISTMAS, IT'S NOT A BIGGIE. The first two tracks lean more heavily into the holiday aesthetic, with "Christmas, It's Not A Biggie" serving as the wave-crashing rock cut and "Too Expensive Christmas Tree" as the shimmering instrumental feel-good. But "Out of Bed" and "After This Winter" serve more as seasonal anthems not long for the world beyond our warm comforters and blankets, obvious high points here and great contrasts to the topical, albeit schmaltzy, Christmas tracks. If the question, ultimately, is whether this is playlistable material for the season, CHRISTMAS, IT'S NOT A BIGGIE is a winning four-track EP, but the back half continues to suggest more life for this band—give this a listen, and then jump into their latest album, WHERE WE WERE TOGETHER. [CJ Simonson]
Tyler, the Creator – MUSIC INSPIRED BY ILLUMINATION & DR. SEUSS'S THE GRINCH
Genre: Holiday Rap
Favorite Tracks: "Lights On (featuring Ryan Beatty and Santigold)," "Hot Chocolate (featuring Jerry Pepper)," "Big Bag"
Once claiming he would "stab Bruno Mars in his goddamn esophagus / and won't stop until the cops come in," Odd Future's de facto leader Tyler, the Creator may well be a walkin' paradox on his holiday EP, MUSIC INSPIRED BY ILLUMINATION & DR. SEUSS'S THE GRINCH. Known for his alternative brand of hip hop and comically bizzare anti-humorous persona, Tyler does somewhat of an artistic about-face on this six-track EP consisting of songs that work thematically to match the plotline of HOW THE GRINCH STOLE CHRISTMAS. Dropping in conjunction with this year's animated, feature-length adaptation, MUSIC INSPIRED BY is not the official soundtrack to the film, but rather an ancillary project curated independently by Tyler. The mere 10 minutes of music complement his collaboration on Danny Elfman's modern remake of "You're A Mean One, Mr. Grinch" and "I Am The Grinch," an original track written by Tyler just for the film.
While we have come to know his discography for its controversial lyricism, radical cultural takes, and frantic production, the target audience for this piece, namely young children, forces Tyler to reign in his attitudes for the sake of the holidays. Even tweeting that his goal was to make Christmas-themed music for children and parents alike, he lives up to his word on each track without any profanity or graphic language at all. "Hot Chocolate," a title that seemingly could be used for innuendo, is actually just an earnest coffee shop jazz piece describing the classic winter beverage. Rapping "Marshmallows on top and some extra whip / You can even use cinnamon, cinnamon on top," there is not too much to unpack besides the fact that he is, in fact, an "extra whip" sort of guy. Yet, there is something poetic about a self-proclaimed outsider like Tyler, the Creator empathizing with the plight of the Grinch. Sure they sound scary and act outrageously, but in the end they both, like many of us, yearn to be accepted. We are reminded of that on "Big Bag," the only true rap song on the record. Here, Tyler relates the Christmases of his youth with the Grinch's devilish plan to steal the gifts of Whoville by comparing his low self-esteem to that of the Grinch. Beyond that, Tyler takes advantage of the standard Christmas instrumentation. "Whoville" is a glittery instrumental lead in for "Lights On," a Wham!-inspired love song about a weary traveler coming home for Christmas to see the lights on. Likely to be forgotten in the holiday seasons to come, MUSIC INSPIRED BY ILLUMINATION & DR. SEUSS's THE GRINCH is nevertheless a fascinating blip in the repertoire of one of today's most exciting artists. [Michael Stanziale]