It's our Bandcamp Pick of the Week, featuring Nick Shoulders' cowpunk framed rocker ALL BAD!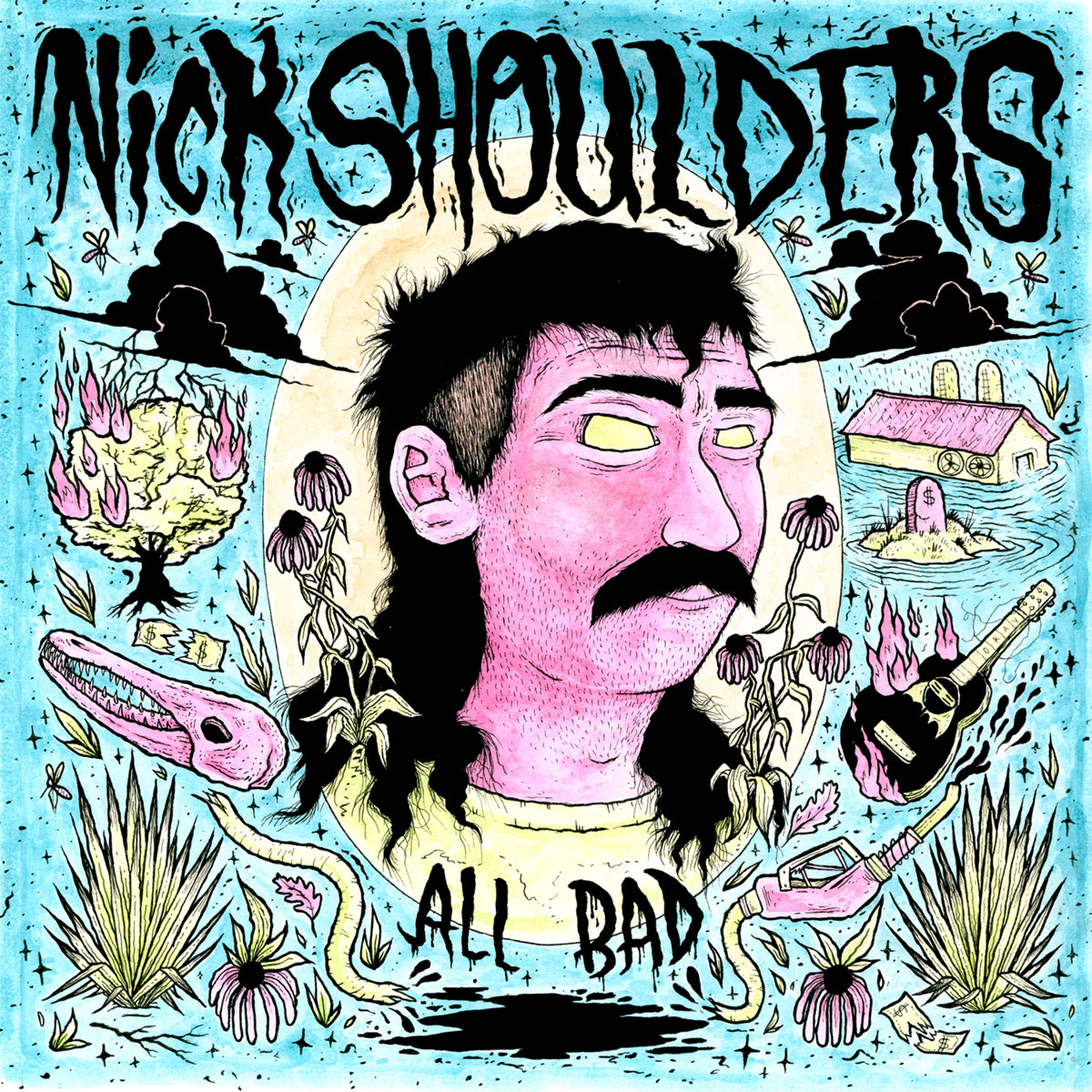 Nick Shoulders – ALL BAD
Genre: Country, Honky-tonk
Favorite Tracks: "All Bad," "Long Spring," and "Appreciate'cha"
Having been reared on bands like (early) Against Me! and AJJ, I know the undeniable draw of cowpunk. I also know it's not a thing with heaps of staying power—eventually the whole gimmick just gets a little stale. (Please see: how those aforementioned bands have since evolved.) But that's not the case if you're Arkansas' own Nick Shoulders. While he's perhaps a bit more cow than punk, Shoulders creates something rugged and rocking across the 14-track ALL BAD.
It would seem that, in Shoulders case, punk acts as a solid foundation rather than some running motif. There's only two deliberately punk songs, "Appreciate'cha" and "Won't Fence Us In," which are basically like a hyper-charismatic Buster Scruggs singing leftist anthems about the working class. The rest of the time, there's mostly a punk-ish intent to lines about romance ("Some folks find love, when they cast a wide net / Some folks find joy, in their tales of regret," from "Hook Line and Sinker") and life in the modern age ("Where do our precious hours fly / If our brains hurt we all know why," from "Mama Tried"). But those sentiments, like Shoulder's many tattoos and alt-ish appearance, are there to color rather than outwardly inform his work. They are the result, and not the expression of, this larger vision and personal strength that sees Shoulders establishing a new country tradition.
Take, for instance, "All Bad." With talk of probation officers and being "indebted to a surgeon's blade," it feels like proper outlaw music. But it uses this punk energy to bridge the gap between earnest folk and said outlaw tendencies, resulting in something that hums with a purer power and prowess. Or, "Whooped If You Will," which adds a fresh sheen of both nihilism and endless charm to the age-old adage of "Damned if you do, damned if you don't," making it both a solid folk tune and a commentary on country itself. Though more understated, "Long Spring" gains a new sheen of depth by balancing traditional sounds with a decidedly modern outlook ("I can hear the tide roar / A future's all I'm hoping for / The roots that I desire"). Even Shoulders' yodeling—especially as evidenced by "Empty Yodel No. 1″—feels novel, like he's mining all new veins of joy and pain alike. These standouts are the realization of cowpunk's grander intentions, and what happens when these genres find their truer middle ground as a means of expressing longing, frustration, and some spark of something better.
I get that calling Shoulders cowpunk might seem a little limiting or one-note-ish. But that's the framework that he jumps off from, and he quickly and fearlessly forges something altogether grander. It's a direction indebted to the past of punk and country alike, but de-emphasizes any of that "baggage" for singular expressions that anyone can connect with (disappointment, anger, love, etc.) Maybe it doesn't fit his entire vision, but we should rename this record ALL FUCKING RIGHT. Listen to it now over on Bandcamp.