It's our Bandcamp Picks of the Week, featuring some hot pop punk from Teenage Bigfoot and some tight folk rock from Katie Morey! 
Katie Morey – FRIEND OF A FRIEND
Genre: Indie Pop, Folk Rock
Favorite Songs: "Lifeline," "Daisy Chain," and "Mother Mercury"
Fun fact: Rochester, New York is the home of the Garbage Plate, an equally appealing and confounding dish comprised (generally) of fries, meat sauce, macaroni salad, white or red hots, and condiments galore. The city is also the home of pop singer Katie Morey.
So what, pray tell, could those two seemingly unrelated factoids have to do with one another? Well, Morey's latest album, FRIEND OF A FRIEND, is sort of like the musical version of a Garbage Plate. There's the simple, down-home vibes of "Curlique Telephone Wire"; the alt-country saunter of "Lifeline"; the Kate Bush-ian weirdness of "Isolation"; and the '60s psychedelic-style swing of "Deep End." It feels like a brave melding of ideas and inspirations, and while the deviations can be slight, their mere presence has a huge effect. Take a song like "Water Snakes," for instance–those added drums and piano melodies do a lot to make a pretty direct ballad feel all the more robust and impactful. It's all about finding that mix between cohesion and robust exploration.
The Garbage plate works not just because meat + fries = good (but also, duh). In a lot of ways, it's about trusting the dish and its creator and their general intentions. In that sense, Morey is a whiz-bang of an aural chef, and she's very clearly approached this LP like a four-course dinner (or, to keep with the metaphor, Garbage Plates with eggs, steak, cheeseburgers, etc.). Some of that is her voice, which hits that sweet spot between forceful and ethereal on "Scavenger Bird," or more playful and husky on "Northerners." Regardless, there's that pure, almost classical singer-songwriter warmth across every track, a sense enhanced by those little musical tweaks and tinges.
Great harmonies only go so far, though, and ultimately it's about her writing. With "Trial by Fire," Morey makes sentimentality feel deeply powerful (see a line like "Warm yourself under the heat vent / In this cold little world that we're living in"). She can even be more abstract and poetic in "Daisy Chain," where a line like "daisies in the chain link break and mend" somehow screams deep emotionality. Even when she gets a little too earnest in "Mother Mercury" (namely the line "Dressed up for the wedding I'm eight years old and ready / To live through the '90s like I will turn out fine"), her presence is a powerful artifact. You want that humanity in these sorts of ballads, and she brings enough depth and nuance to really shine bright as a grand personality. The Garbage Plate isn't for everyone, and there's a lot of commitment necessary to tackle such a caloric pipe bomb. Luckily, that's where FRIEND OF A FRIEND starts to veer away from any such comparisons: it's a simple and unassuming effort that enters your life like a long-lost penpal. However, if you take the time to let this album unfold a few times over, you just may find yourself still gorging away like a fiend. Listen to it now over on Bandcamp.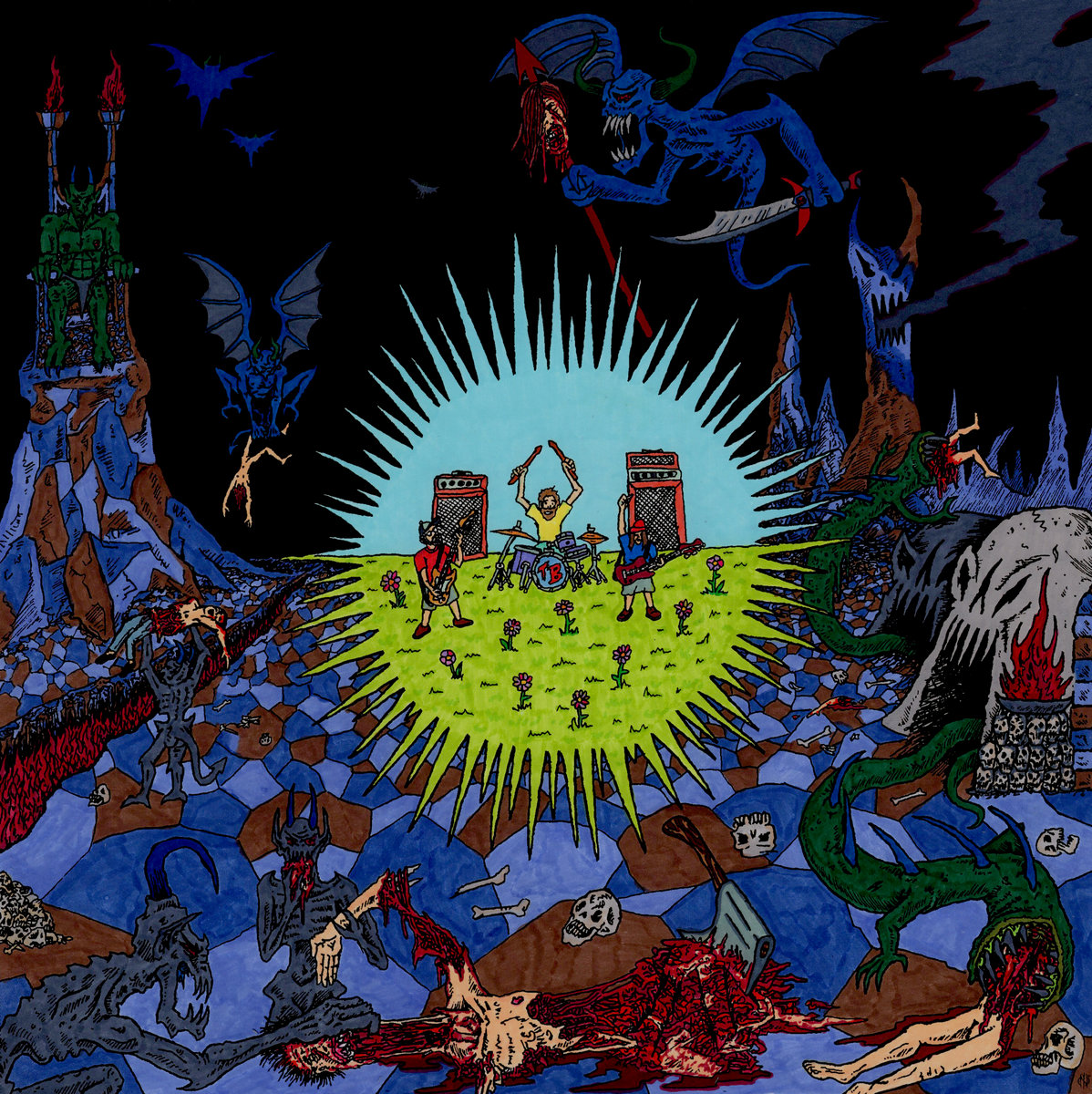 Teenage Bigfoot – WEAPONS AGAINST DARKNESS
Genre: Skate Punk, Pop Punk 
Favorite Songs: "Vertigo," "The CIA Killed Bill Hicks" 
We've all read that article already, right? The one from The Cut, where they warn us of an impending "vibe shift" that some of us might not survive. Whatever you thought of the piece, one bit does resonate: what happens now, as we emerge more and more into a "post-COVID" world, and try to get back to living. Will we, as the article inquires, cling to the next cultural surge, or just opt out entirely? My answer is to just listen to 2021's WEAPONS AGAINST DARKNESS, the latest LP from "Bisexual Party Punk Extraordinaires" Teenage Bigfoot because the Philadelphia trio have captured major punk vibes with utmost efficiency, energy, and unbridled joy. And it beats another phase of "Drake at his Drakest," right?
To "vibe" is hard, and it requires a genuinely compelling soundtrack. The 11 tracks on WEAPONS AGAINST DARKNESS feel like a perfect sample platter of punk, from the scintiliating, hardcore-adjacent "Nothing New Year" to the pop punk-meets-Sugar of "Vertigo," or the frenetic skate punk of "PGB/No Touch." The trio synthesize the best parts of subgenres into something that feels like the best instance of punk's inherent blend of rage, outreach, enthusiasm, and power. Yet the music is never struck in fostering more needless nostalgia, or trying to recapture some "glory days." Instead, it's a love letter to great punk music and its pure potential, done in a way to both celebrate that essence while still trying to use these creative tools to express societal woes or even fundamental emotions.
A huge part of that process is singer-bassist Tiffany Tavella, who brings a mix of sentiments and energies. She's the perfect captain for "The Bad One," making the exploration of anxiety super relatable and palatable, or "The CIA Killed Bill Hicks," which plays around with conspiracy theories and overt paranoia. When Tavella sings lines like "I tried to fill the vacancy / I tried to love the skin I'm in / Still I can see the strings" (from "The Stream"), all of that raucous energy and aural chaos becomes real, and the efforts of Teenage Bigfoot become clear: they're chroniclers of something purely punk and they're guiding you toward what makes this sound and lifestyle so essential. Plus, I can't help but show some extra love for singer/guitarist Joe Gdowik and drummer Jake Wunderlich, who support and empower Tavella like all great bands should. There's no singular set of "vibes" across this LP–you may slam dance one second and then hear wailing on the floor the next. That's the point: great punk music keeps you guessing, and plays with your heartstrings with some chunky hooks and weird harmonies. This record demonstrates that the best kind of punk doesn't choose ideas or sentiments, and instead just throws everything at you with endless heart and passion. That's what makes this record so great and why it could survive a million vibe shifts. Listen to it now over on Bandcamp.