It's that time of year again! Join us for one last holly and jolly music roundup as we wrap up 2019.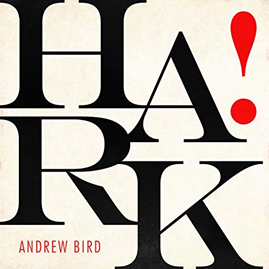 Andrew Bird – HARK!
Genre: Jazz Pop, Chamber Folk
Favorite Tracks: "Skating," "Christmas Is Coming," "Oh Holy Night"
In the brief press releases for his Christmas EP, Andrew Bird acknowledges HARK! was "an excuse to play some classic jazz with [his] favorite musicians." Making no secret of the fact that this was a move inspired by spinning some Vince Guaraldi staples, as evidenced by the fact that two of the six tracks are direct Guaraldi covers, HARK! is a resolutely pleasant experience throughout its 19-minute runtime. It's hard to make an original Christmas song with lasting power in the 21st century, and I unfortunately can't claim that the bookend tracks here, "Alabaster" and "Night's Falling," do much to dispute that claim, even if that particular, hard-to-put-a-finger-on old-timey Christmas regality is perfectly evoked on the former. But the classics and covers manage to demonstrate enough uniquely Andrew Bird spin that HARK! still feels like a genuine artistic statement as opposed to a holiday cash-in—the more daring registers of Bird's violin sensibilities make brief, but no less striking, appearances on "Skating," and the happy-go-lucky whistling melody line of "Christmas Is Coming" is sure to put a smile on the face, never mind the nearly theremin-like range the same whistling possesses on "Oh Holy Night." I don't think I'd be begrudged for saying the Vince Guaraldi Trio might have done a better job as far as straightforward jazz improvising goes, but honestly, at the end of the day HARK! brought me back to the holiday concerts of high school jazz band, a low-stakes opportunity to jam with a few friends on warmly nostalgic favorites that bring simpler times to mind during the last week before winter break. You could easily put tracks two-through-six on the stereo on Christmas morning and your parents wouldn't bat an eyelid—if you've got a tamer holiday party or a cozy night in with a loved one on your radar, why the Hell not pop on HARK! Merry Christmas to all, and to all a good night. [Thomas Seraydarian]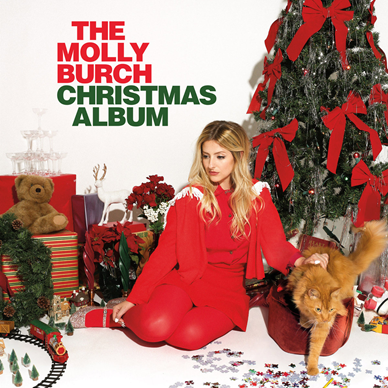 Molly Burch – THE MOLLY BURCH CHRISTMAS ALBUM
Genre: Indie Pop
Favorite Tracks: "Holiday Dreaming," "I'll Be Home For Christmas," "New Year Love"
Certainly any indie singer-songwriter who exists at or around the level of Molly Burch is capable of finding a place in the She & Him lane of Christmas music: pleasant, easy listening background fodder for Pandora stations and stripmalls the world over that relies mostly on twee covers of classics. Yet I think Burch does a more than serviceable job justifying something a bit meatier than that with THE MOLLY BURCH CHRISTMAS ALBUM. Yes, it's primarily covers, and yes, there are even a few gimmicks in the fold (headlined by a cheeky sketch featuring John Early and Kate Berlant during Wham!'s "Last Christmas"), but it's a well-curated and compelling tracklist that features a number of deeper yeehaw cuts like Dolly Parton's "Hard Candy Christmas" and the Mamas & the Papas' "Snowqueen of Texas." And of course we can gauge any good Christmas release by the strength of its original material, which here arrives in the form of "New Year Love" and "Holiday Dreaming," the former an aching, snow-falling country ballad, the latter a dark, groovy pop number with some nice guitar moments, both tremendous additions to your annual Christmas playlisting. Burch's voice is the stuff of magic on classics like "Have Yourself a Merry Little Christmas" and  "Auld Lang Syne," which could easily more than justify a collection of holiday songs, but it's a varied and thoughtful Christmas release that will satisfy both purists and the indie crowd. [CJ Simonson]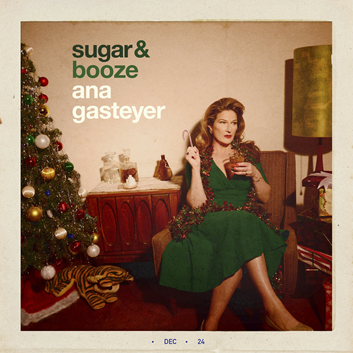 Ana Gasteyer – CHRISTMAS & BOOZE
Genre: Vocal Jazz
Favorite Tracks: "Sugar and Booze," "Secret Santa," "Let It Snow!, Let It Snow! Let it Snow!"
Featuring a heavy dose of swing and jazz, SNL alum Ana Gasteyer's takes on traditional Christmas fare is enjoyably charming across the delightful SUGAR & BOOZE. Her vocals are smooth and strong in an unassuming way, approachable for a family sing-a-long or high school cabaret. From the retro, Mambo-inspired "Sleigh Ride" to the spirited arrangement of "I've Got My Love to Keep Me Warm," Gasteyer pays homage to the big band sound of the '50s and '60s while still providing a modern twist to the sometimes stale carols of yesteryear. SUGAR & BOOZE really shines when Gasteyer taps into her comedic roots on the album's original songs. "Nothing Rhymes with Christmas" is an endearing number in which Gasteyer laments the struggle songwriters face when writing the next Christmas bop. On "Secret Santa," Gasteyer enlists the help of her pal Maya Rudolph for a stupidly playful tune that finds a way to rhyme "orange Fanta" with a "big banana" (which is NOT referring to the fruit). The album isn't called SUGAR & BOOZE for nothing, and if there's one reason to give it a listen, the title track is just that. "Sugar & Booze" perfectly encapsulates the true meaning of Christmas. The holidays? They aren't for love or giving and receiving. Religion? Jesus schmesus. The holidays may be for family, but only for enduring the people you unfortunately have to see at least once a year. This Christmas, while your Republican father and probably-a-pedo uncle argue about the best way to enslave migrant children, pop on this album that your mom is sure to love and remember, "the best part of the holidays is sugar and booze!" [Becca Lengel]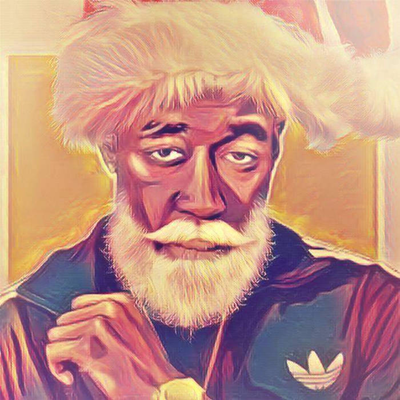 Freddie Gibbs & Amerigo Gazaway – A FREDDIE CHRISTMAS ALBUM
Genre: Mashup
Favorite Tracks: "Christmas Robes," "Dreaming Of A Pinata Christmas"
This one is admittedly a bit of a confusing path to follow. Amerigo Gazaway is a notable remix and mashup artist who created A CHRISTMAS ALBUM which, as you guessed, is a seasonal beat tape with tons of cheer. Georgia artist Altered Crates, for reasons I'm not 100% clear on, combines notable instrumentals and hip hop vocal tracks and mashes them up and has given that treatment here by adding Freddie Gibbs' verses from PIÑATA (his collaboration with Madlib from 2014) to create a Christmas record of kind of surreal proportions. Admittedly, Gibbs doing an original Christmas release would rule (I'm sure snow would take on a different context, and raps about Santa thuggin' would be amazing), but A FREDDIE CHRISTMAS ALBUM works fine enough, the collision of the two ideas presenting something enjoyable even in spite of its own limitations. Some tracks land better than others—"An L.A. Christmas Carol" features a kind of clunky Ab-Soul intro, the stuttering around the beat on "Freddie's Neck-Cracker Suite" would work better from the ground up rather than Frankenstein'ed together, sometimes the vocal stems feel too uncanny—but I think generally this is a pretty fun project and a release worthy of putting on to impress your cool cousins during the holidays. And I'd be lying if I said I didn't get a bit emotional on the first run through of the record hearing Mac Miller on "Dreaming Of A Pinata Christmas," one of the album's most memorable beats. Allow the power of internet weirdness to bring you a smile this holiday season. [CJ Simonson]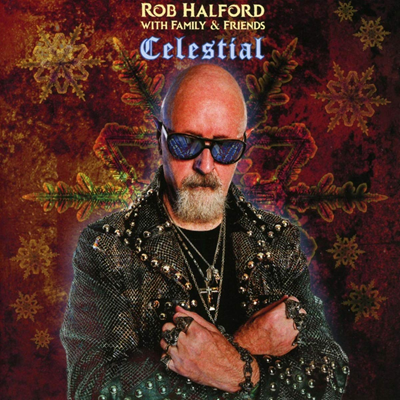 Rob Halford – CELESTIAL
Genre: Metal
Favorite Tracks: N/A
Full Christmas albums from rock bands are almost inherently terrible by design. While a one-off single is typically forgivable, there is a point of no return when a band decides to commit to an album of yuletide standards or holiday inspired originals. Such poor decisions have left us with laughable artifacts like Twisted Sister's A TWISTED CHRISTMAS and Bad Religion's CHRISTMAS SONGS and, now, Rob Halford's equally terrible CELESTIAL.
The only positive thing I can say about this record is that there is actually some very solid heavy metal riffing sprinkled throughout this steaming hot pile of Christmas cheer. "Donner and Blitzen" would sound right at home on any classic Judas Priest albums if Halford were shrieking about something like ancient prophecies concerning robots in a post-apocalyptic wasteland instead of reindeer. I almost threw up the devil horns and tapped out drums on the dashboard during the bridge of "Hark! The Herald Angel Sings" before I remembered that even though the licks were tasty, it was still about Jesus. Halford recruited his brother, nephew, and his sister for his band this time around, and it certainly shows in the production on some of the tracks, as they sound like they were recorded in somebody's cousin's bedroom. Though I may not understand why the Turbo Lover himself wanted to spend another 45 minutes being holly and jolly (this is Halford's second collection of holiday songs), I suppose he's earned that right at this point in his career?
Recommended For Step Dads Only [Jake Mazon]
Various Artists – YOU WISH: A MERGE RECORDS HOLIDAY ALBUM
Genre: Holiday Compilation
Favorite Tracks: Mike Krol's "Won't Be Alone Tonight," Telekinesis' "Christmas Time Is Here (Uh Oh)"
YOU WISH: A MERGE RECORDS HOLIDAY ALBUM has plenty of compelling holiday offerings from names across the label's storied history, and certainly William Tyler covering Big Star's "Jesus Christ" alone would be enough to justify its existence. While admittedly not every song on this compilation worked for me for no other reason than they aren't quite my style of Christmas song (Will Butler's "Love Asked Me To Stay" and Shout Out Louds' take on "Blue Christmas" in particular are of the choral theatrical variety that I can take or leave, and I've for whatever reason never really gotten into the Fruit Bats), it did have a few absolutely dynamite originals that I'm planning on returning to year after year. As Merge points out in the press release, "Christmas Time Is Here (Uh Oh)" is Telekinesis doing their best Cheap Trick impression, and that's both a lofty comparison to draw and an absolutely correct take and it rules. I also think Mikal Cronin's piano stomp "Christmastime Heist" is a lot of fun, and Mike Krol's scuzzy ripper "Won't Be Alone Tonight" is the best original Christmas song I heard this season. Merge Records are an institution that deserves our respect and admiration, and they've managed to pull off a perfectly pleasant release that captures the label's history while giving folks a good combination of covers and originals from their deep roster of artists—like any compilation, you'll have to sort through it yourself and see what sticks. For real though, that Mike Krol song is essential listening. [CJ Simonson]