We're here to tell you what's hot and what's not on this week's music roundup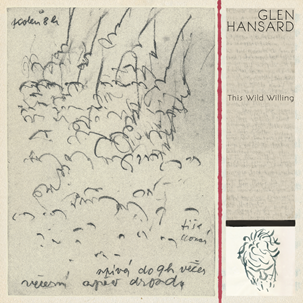 Glen Hansard – THIS WILD WILLING
Genre: Folk
Favorite Tracks: "Fool's Game," "Leave A Light," "Threading Water"
Last year, Glen Hansard released his third full-length solo album, BETWEEN TWO SHORES, and despite releasing THIS WILD WILLING only a year later, Hansard has managed to deliver a lesson in patience and attention to detail. With several songs clocking in over six minutes, a listen to the full album is a bit of a marathon—"Fool's Game" simmers, burns, and eventually explodes, and "Weight of the World" remains pensive and tame throughout its seven-and-a-half minutes, at some points losing its momentum but ultimately finishing strong. Unlike previous works, Hansard's vocals serve as more of an instrument than an unbridled force. Many songs are only peppered by lyrics, mostly evolving into full-fledged instrumentals. This gives room for the other instruments to breathe, particularly in "Threading Water," a lovely, lush, mid-album highlight. Closing track "Leave A Light" radiates with a quiet assurance; the arrangement of sweet violins and plucked guitars pays homage to traditional Irish folk while Hansard's concise but earnest lyrics evoke a familiarity and timelessness that has become his trademark. [Claire Epting]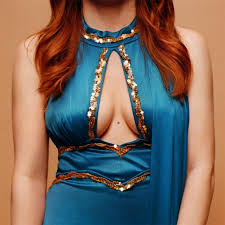 Jenny Lewis – ON THE LINE
Genre: Soft Rock
Favorite Tracks: "Heads Gonna Roll," "Red Bull & Hennessy," "Rabbit Hole"
The sun is out, the birds are chirping, winter is but a distant memory… it's time to try out some new things! As far as I'm personally concerned, that new thing is Jenny Lewis' musical career. I'm sure Rilo Kiley was part of some massive folder I downloaded in the heyday of the Pirate Bay, but I must admit I never got around to cracking heavy-hitters such as THE EXECUTION OF ALL THINGS and MORE ADVENTUROUS open in the salad days of my youth. Coming into it entirely fresh, it's… perfectly pleasant! Ideally suited for a head-nodding, two-more-beers-than-you-planned-on lawn chair reverie, Lewis never pushes the envelope, turning in a roster of generally sophisticated, Americana-inspired pop rockers, but hey, not everything has to shift the paradigm to be enjoyable. Most striking are the direct and witty confrontations of Lewis' lyrics, especially when things get frankly and unapologetically sexual ("Party Clown"). At the age of 43, and with that particular album cover, I think we can all join me in saying… "Get it, ma!" ON THE LINE is significantly predicated on piano, so Regina Spektor is continually brought to mind, but the new wave of folk rockers in the lineage of Conor Oberst and the ladies of Boy Genius are also echoed here, although Lewis makes the refreshing choice to err on the upbeat ("Rabbit Hole"), the more downtrodden tracks some of the more forgettable ("Hollywood Lawn"). I can't say it'll be making my year-end list, but if you're looking for an affable 47 minutes with just a little touch of the ol' yeehaw, ON THE LINE is as good a bet you can make as any. [Thomas Seraydarian]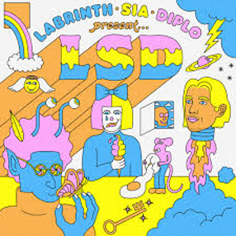 LSD – LABRINTH, SIA & DIPLO PRESENT… LSD
Genre: Pop
Favorite Tracks: "Angel in Your Eyes," "Thunderclouds," "Heaven Can Wait"
After almost a year of released singles and a teaser EP, the eponymous album from production heavyweights Labrinth, Sia, and Diplo is a to-be-expected interpretation of what "psychedelic" means within 2019's pop music-scape. Just in time for Diplo's Coachella set, LSD is meant for the festival-going crowd. The not-so-creative acronym is a perfect fit for this not-so-psychedelic record; while it certainly gives nods to The Beatles' MAGICAL MYSTERY TOUR and SGT. PEPPER'S LONELY HEARTS CLUB BAND, it fails to stretch the limits of pop music in the same way (though the silliness of the album cover art hits the nail on the head in terms of psychedelic appeal). Whereas glistening Mellotron riffs and harpsichord follies are replaced with tropical drums and earth-shattering bass, all of course in the kind of crystal-clear 320 Kbps audio we are accustomed to today, it's the same kind of default experimentation we hear from Imagine Dragons to even Rae Sremmurd.
This clash of titans doesn't fall totally flat. After all, the three of them have written, respectively, some of today's greatest hits for Beyonce, Justin Bieber, The Weeknd, and others. They know today's sound better than most, and that kind of cosmic awareness flows through the bubbly overtones of LSD. The cursory introduction to this "trip," "Welcome to the Wonderful World of," puts the album's bones in place. Its starry transition from distorted drums to echoing guitar, atop Sia's nonsensical repetition of "I'm here on Venus" indicates a needed differentiation from the brand of dance music that is standard for Diplo. On the other hand, this song, as well as all its successors, could easily be heard on any Sia record. This stands true for highlight "Angel in Your Eyes," a head-bobber full of Sia's vocal glissando with smatterings of Labrinth harmonies. What makes LSD work in a cohesive album format is the euphoric connectivity of Sia and Labrinth's voices, which can both fill the space without overwhelming each other. The project as a whole is a great flex for Labrinth, upping his collaborative cred despite not having released a studio album since 2012; his specific vocal style has room to breathe, most notably on "Thunderclouds," a radio jam of heavy brass fused with doo-wop like vocals, and his soft approach to "Mountains" creates a cute anthem of poppy ecstasy. The imagery presented within the lyrics of "Audio" are perhaps the most psychedelic, as they relate emotions to one's sensory reactions to music (likely overstimulated if under the influence of—wait for it—LSD). Assuming their trip is now coming to a sobering close, "It's Time" feels incredibly out of place. It's a minimalist ballad that exists in a world totally counterintuitive to it. Perhaps that means its poetic, however, there isn't enough substance within the song for it to feel conclusive. Certainly LABRINTH, SIA, & DIPLO PRESENT…LSD is not the monster hit you would expect from this supergroup, but it does take a step into a direction well worth exploring should they have more planned for the future. [Michael Stanziale]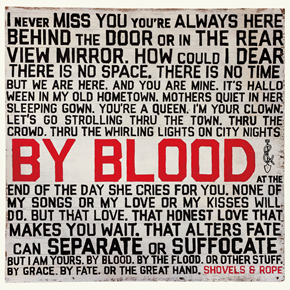 Shovels & Rope – BY BLOOD
Genre: Americana, Blues Rock
Favorite Tracks: "The Wire," "C'mon Utah!," "Twisted Sisters," "By Blood"
The Black Keys' BROTHERS is a divisive album. Its songs were unavoidable, its sound was mimicked and copied for years to come, and its rise in mainstream culture paved the path for artists like the Alabama Shakes and Mumford & Sons, for better or worse. And while I don't ever really want to hear "Howlin' For You" ever again outside of a Phoenix Coyotes game, I like BROTHERS, and I generally like the Black Keys. The trilogy of ATTACK & RELEASE,  BROTHERS, and EL CAMINO represented a smart, if occasionally grating, transition for the duo, and Danger Mouse's unique and annoying ability to smooth-out production to the point of faceless dribble actually worked for a blues act whose early work was so overtly raw it forced something interesting.
Shovels & Rope, for a plethora of reasons, were never quite in the position The Black Keys were in before teaming up with Danger Mouse on ATTACK & RELEASE. While Pat and Dan seemed destined to crank out two-piece blues rock in their Akron garage for the rest of time before someone pushed it into another direction, husband-and-wife duo Michael Trent and Cary Ann Hearst have never shown signs of stalling out, finding success as a pickalong bluegrass act, a grungy Lead Belly blues duo, an internet-era jukebox joint cover machine, and harmonious folk rockers. Their latest turn is clearly in the late lineage of BROTHERS, a by-all-means slick blues rock turn that, had it come six or seven years ago, might have meant headlining gigs and SNL. BY BLOOD is, from the jump, the two's most mainstream-sounding effort yet and, not unlike their Ohio brothers in arms, it's a good look! Trent and Hearst's vocal interplay has always been one of music's more interesting male-female dynamics, with either having the ability to go guttural and fierce at any time while contradicting the other. The fact that both harmonize as frequently as they do (occasionally one will play to the background, but many of these songs are sung in total tandem) means you're constantly getting different feelings, from his accenting her cries on "The Wire" to both of them howling in unison on "C'mon Utah!" to her backing his worried whispers on "Good Old Days." And that slick production does wonders to push these songs into bold, exciting new places, like the tijuana brass on "Twisted Sisters," amplifying its inherent south-of-the-border folksiness, or the fuzzy stomp of opener "I'm Comin' Out," pushing a lot of the radio pop appeal their previous songs had to the surface without burying it in something rawers and, arguably, more "authentic." All of this only helps push across the defiance you can feel on the record—even on moments of more uncertainty, like the futurecasting doubts expressed on closer "By Blood," it's still as self-assured as they've ever sounded. BY BLOOD is a great gateway to one of Americana's most underrated duo's, and is worthy of an immediate listen. [CJ Simonson]