We're here to tell you what's hot and what's not on this week's music roundup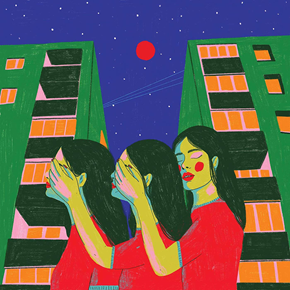 Diet Cig – DO YOU WONDER ABOUT ME?
Genre: Indie Pop
Favorite Tracks: "Who Are You," "Flash Flood," "Stare Into the Sun"
I like Diet Cig's DO YOU WONDER ABOUT ME?! How could you not like Diet Cig's DO YOU WONDER ABOUT ME? It's mood music, seasonal music, music perfect for your nighttime, state-sanctioned walk now that the days are getting longer, the wind's getting warmer, and the temperature (if not the mandated orders to self-isolate) keep you inside during the day. It's music for having a crush, music for staring out the window, music for briefly reflecting on someone from long ago. And that is all true—and it's also true that there's not all that much more to actually say about the music itself. It's that kind of "indie with a twist" (whether that twist be alternatively twee, punkish, or emo) that you've known, loved, and heard several times before. The synth lines on "Worth the Wait" sound like they were a trumpet line on a Foxing track from ALBATROSS, "Flash Flood" is an easy bedfellow for the tracks on last year's SUPERMOON EP from Charly Bliss, and the general DNA of acts such as Kississippi and Ratboys become regular consistent calling cards. And again, before the comments section comes at me, I'd like to clarify that sounding like other good music isn't bad! Besides, I'd say that all of those sound like Diet Cig on the same token. The chords are crisp and the line drawn back to the power pop greats is readily defined, Alex Luciano's vocals are able to imbue each vocal bend and turn with an impressive amount of longing and emotion (the simple "Do you wonder about me?" line on "Thriving" is what immediately jumps to mind), and every now and then a lyric will sneak up on you to rattle around the brain ("I wish I was a better slow dancer / So I could / Tell you all my secrets underneath the disco ball / But you'd never keep them all"). Even if I wish they'd take more comparative risks such as "Night Terrors (Reprise)," a hazy, minimal synthpop joint that is the sole outlier on DO YOU WONDER ABOUT ME?, sounding like a cut from College of DRIVE fame, it's still a perfectly pleasant 24-minute outing that you'll hear cuts from on Spotify and YouTube mixes. [Thomas Seraydarian]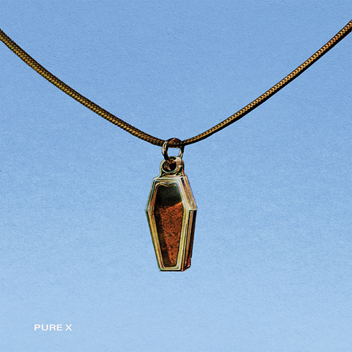 Pure X – S/T
Genre: Dream Pop, Shoegaze
Favorite Tracks: "Middle America, "Hollywood," "Free My Heart," "Fantasy," "Slip Away"
There probably won't be as improbable a musical comeback in 2020 as that of Austin dreamrockers Pure X—with little-to-no word from them since 2014's comforting dream pop masterpiece ANGEL, and little social media presence to keep the energy of the band's fantastic early-2010s trilogy of records alive, it seemed safe to assume that was that. Even the liner notes of the new album are oddly foreboding for a band with new life: "Pure X is the last band, has always been the last band."
PURE X, on first listen, feels as though it was recorded in late 2015 when the world felt brighter. The band's newest self-titled release is a wellspring of glossy fuzz and focused, daydreaming hooks—a respite of hesitant nostalgia at a time when it's hard to see the future. The aching, stretching, grungy guitar tones that open up "Middle America" are almost a sonic metaphor for the band breaking through whatever rust might have accumulated over the last six years, yet when the line "Fuck this, I'm leaving / going back to where I'm from" rings out clear as a bell, it's obvious the anxieties of modern times have only festered in the band's newest work.
Perhaps the band's most concise and focused album to date, PURE X carries a world-weary intensity—a calculated but jarring adjustment from the airy, free-floating ANGEL. There are certainly moments where the ebbs and flows of the dreary guitar tones and groovy, lax rhythm section hit golden hour rhapsodies ("Free My Heart," in particular, could be a Real Estate B-Side from the DAYS era, and the final moments of "Hollywood" find the band's vibey noodling channeling more catharsis than disquiet) but that energy can take a more sinister, off-putting vibe. Take "Making History," a lush offering that harbors an intense darkness, "We're making history" a chant that the band knows sits differently in 2020. Closer "I Can Dream" is a downtrodden final note in spite of its slight but pleasant sound, the echoing sentiment of its title reverberating with doubt. In finding energy in the lost, unquelled memories of the present, PURE X loses some of carefree ambiance that made them such a staple in a different lifetime; it's both a commendable pivot, a necessary evolution, and, in a time when carefree ambiance can feel in short supply, a bitter pill to swallow. [CJ Simonson]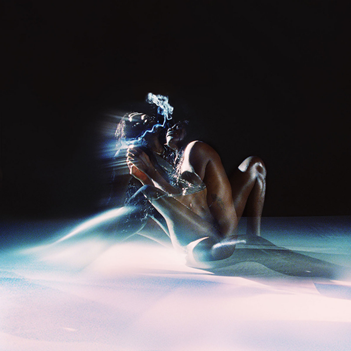 Yves Tumor – HEAVEN TO A TORTURED MIND
Genre: Neo-Psychedelia, Glam Rock
Favorite Tracks: "Gospel For a New Century," "Medicine Burn," "Kerosene!," "Dream Palette"
The KBO League's opening day was a glimpse into the past and future. While Korean baseball is not quite up to the standard we're used to with MLB, watching the past few nights' games lit up those same pleasure centers in my brain that've been dormant for the past six months. It felt like a minor miracle to be watching real live baseball in 2020. Sure, the quality of play looked decades out of date and the weirdness of empty grandstands and coaches in facemasks amplified the novelty, but nevertheless it was baseball, and it made me a particular type of happy that I'd forgotten I could feel.
HEAVEN TO A TORTURED MIND operates in this same realm. The greater shape of Yves Tumor's latest record is deeply steeped in the glam rock aesthetic of the '70s but, in its intricacies, charts a new path forward. No, it's not a Bowie record, but it's also not trying to be. TORTURED MIND oozes Yves' transcendent personality; they can pull off spitting rage and casual indifference all at once. The sounds are both new yet mistakenly Yves, a neo-psychedelic blend with no real parallel; think a flower dripping gasoline.
"Kerosene!," the unmistakable zenith, gets there best, with shrieking guitar riffs that never for a moment approach the corny territory that the sound usually settles into. It's one of this year's finest tracks and is probably the second best in their discography behind the stunning "Noid." "Gospel For a New Century," "Medicine Burn," and "Dream Palette," are all no doubt inclusions into Yves' Rushmore, and while no other record of theirs has a stronger four-track selection, the gaps between high points are where TORTURED MIND falls just short of SAFE IN THE HANDS OF LOVE. There are no nadirs, but for a 36-minute record, Yves lays their foot off the gas pedal a little too often. "Hasdallen Lights" and "Super Stars" are tame cuts to begin with, but sound especially flat in the wake of "Keresone!" and "Dream Palette," respectively.
Forget the minor flaws though; this is a great record. It's shocking that a genuine glam rock album exists in 2020 (and may even be the sign of a nascent glam rock revival) and if ever there was any one figure to lead that charge, it'd be Yves, whose stage presence and general demeanor is untethered to everything but themself. Knowing Yves' proclivity for pushing boundaries, though, the next LP will explore something else entirely. [Ryan Moloney]