We're here to tell you what's hot and what's not in this week's music roundup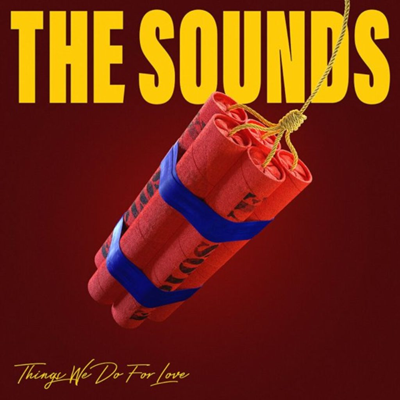 The Sounds – THINGS WE DO FOR LOVE
Genre: New Wave, Synthpop
Favorite Tracks: "Dreaming of You," "Dim the Lights," "Stay Free"
Why did I have any faith in these has-been Blondie wannabes? Though critics pegged them as a lesser brand of new-wave revivalists who lacked the aching emotion of the Killers or the conceptual ambition of Metric, the Sounds were one of the first bands I ever got into. They still hold up as the bar band of the new wave revivalists on their first three releases, especially their sophomore record DYING TO SAY THIS YOU, complete with fiery, spunky vocal performances from Maja Ivarsson and a consistent vibe that has eluded their other releases. Sadly, they sold out hard on 2011's SOMETHING TO DIE FOR; it tried to be Cobra Starship with its garish bombast and programmed beats to little commercial success and thrashings from music journalists. On 2013's WEEKEND they attempted to win back their rock audience, but it wasn't much better, lacking any tightness in favor of too many divergent tones and synth effects. As my nostalgia-fueled enjoyment of their first three records was starting to fade, they somehow won me over again on 2017's TALES THAT WE TELL, a four-song EP that was their most refined, catchy, and potent record in almost a decade.
So yes, I did have hopes going into their sixth record, THINGS WE DO FOR LOVE, which have proven foolish upon actually listening to it. It is easily their cheapest record to date, with stiff fake percussion that lay the same four-on-the-floor beat—even SOMETHING TO DIE FOR used real drums, resulting in more interesting grooves and a less restricted feeling. Much like WEEKEND, it cycles through a dozen different guitar and synth effects to diminishing results; "Home" in particular keeps piling on tones and layers, yet it never gets any bigger and only sounds like a wonky demo that was never trimmed down. The hooks aren't there right from the beginning, as the title track and "Safe and Sound" have no compelling melodies or energy, previously the band's greatest strength. Even when a groove does manifest, they somehow manage to mess it up. The bouncier melody of "Bonnie and Clyde" is wasted on a loud, tinny vocal harmony for a chorus that rivals "The No No Song" for annoyance, and the pulsating beat and dramatic, echoey guitar licks that pick up some post-punk edge on "Hollow" are ruined by Maja's poor attempts at sounding dangerous made worse by inconsistent multi-tracking. The only new ideas that work are the blast of industrial bombast on "Dim the Lights" that improve on AWOLNATION's schtick and the Tsunami Bomb-esque pop-garage punk fire of "Stay Free"—"Dreaming of You" also works for me because the hook's juxtaposition of bubbling cascades and trance-inducing unces reminds me of "Lights" by Ellie Goulding. The fact that this follows up a late-career shot-in-the-arm throws even more salt in the wound, though whether or not it's their worst record on its own merit is irrelevant. In an era of '80s pastiche overexposure, you have to work to stand out, and never have The Sounds put in less effort than on THINGS WE DO FOR LOVE. [Blake Michelle]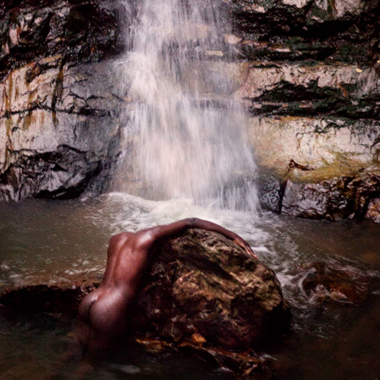 Moses Sumney – GRÆ
Genre: Experimental Folk
Favorite Tracks: "In Bloom," "Gagarin," "Neither/Nor," "Polly," "Me in 20 Years"
I think it goes somewhat without saying that Moses Sumney is one of the most important voices in music right now, and in many ways that position has superseded his work as an artist as of late; the last several months in particular we've seen Sumney's voice grow as a figurehead for the larger reckoning that the indie music industry is facing in the midst of both conversations surrounding representation and the financial collapse brought on by COVID. That position of leadership has warped the way I've listened to GRÆ over the last month, the intensity of a song like "Virile" almost too singular as the world becomes more and more hostile—I have to remind myself that our first taste of the album came all the way back in November of 2019 which, depending on the day of the week, feels like several lifetimes ago. In choosing to release the double LP in two parts, Sumney's somewhat exhausting six-month rollout ended up coinciding with the world's various power structures beginning to collapse. While ultimately GRÆ lacks the vitriolic energy the world would be seeking only days after its formal release, it is nonetheless a beautiful, melancholy soundtrack to the decay of our modern times.
Back when I reviewed Sumney's near-perfect AROMANTICISM, I closed by saying that "(…) if ARMONATICISM is any indication, than this is only the beginning of Sumeny's long, tireless, and glorious march towards understanding self," and I think that ultimately ended up being perhaps more true than I might have realized. As Taiye Selasi directs on interlude "also also also and and and": "I really do insist that others recognize my inherent multiplicity / What I no longer do is take pains to explain it or defend it." It's important to track that AROMANTICISM was Sumney coming down to our level, offering an accessible and digestible exploration of that journey. That magical fusion of folk, pop, R&B, soul, and ambience has only become more inherently complex on GRÆ for better and worse. Musically the atmosphere has become heavier and denser, offering career highs with regularity, from the fluttering, orchestral hypnosis of "In Bloom" to the gripping, focused cinematic ride of "Neither/Nor" (A MOON SHAPED POOL feels so spiritually connected to Sumney's later work). The vast sonic difference between, say, the industrial chug of "Conveyor" and floating, weightless plucking of "Lucky Me" offers some insight into the brilliant sonic range displayed across the album. Yet GRÆ is overly long, with a second half that, not without its dazzling moments ("Me in 20 Years" in particular has some of his most intense production, with an amazing vocal performance to boot) feels exhaustive by its end, the second LP slowly ticking. Obviously your mileage may vary on that fact—with various interludes and half-ideas (closer "before you go" in particular is a bold, artsy final decision that for me undercuts the power of penultimate track "Bless Me"), I can't help but feel like GRÆ's bloat could have been avoided. But in that same breath, while I felt that way more intensely perhaps around its release (especially given the way Jagjaguwar staggered the two halves), I'm not sure how much any of it matters now. Moses Sumney is still one of the most exciting artists we have working today, and even with its faults GRÆ only amplifies that fact, but Sumney's presence during this strange cultural moment is going to be the thing I remember most about this era when I look back on 2020, which is quite frankly more important than whether or not some dumb critic thinks his album is too long. [CJ Simonson]
Read Amanda Ball's excellent interview with Moses Sumney's creative director Sam Cannon here.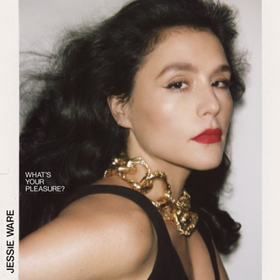 Jessie Ware – WHAT'S YOUR PLEASURE?
Genre: Dance-Pop, Disco
Favorite Tracks: "Spotlight," "Ooh La La," "Soul Control," "Adore You," "Step Into My Life"
There are a lot of intersecting, and often quite contentious, subgenres in the larger spheres of contemporary R&B and soul, with Jessie Ware checking the boxes of many of them throughout her decade on the musical scene. Starting off with a splash on 2012's sleek and fashionable (occasionally to a fault) DEVOTION, the buzz wore off a bit in the intervening years as some of the edges of the original alt-R&B package got worn down, but I found 2017's GLASSHOUSE to be worth a few spins for its nascent investment in sophisti-pop revival until it was blown out of the water by Rhye's BLOOD. Thankfully, with WHAT'S YOUR PLEASURE?, Ms. Ware has undoubtedly found her groove, pairing her sultry vocals with a retro-fitted tip to the muted neon pulses of disco, not necessarily the original cuts and stylings from the '70s, but moreso the initial revistation by late '90s and early aughts icons such as Kylie Minogue and Robyn, with a slightly ambient-leaning hypnagogic kiss from Tirzah. It's been a year chock-full of pop, with Charli, Carly, and Gaga all already having commandeered their own corner of the discourse in the first half of 2020, but whereas something like CHROMATICA may have eschewed futurism for its artist's preferred home turf, WHAT'S YOUR PLEASURE? confidently indulges in the past, folding in on itself as a throwback to a throwback, a permutation of dance-style references and signifiers that feels entirely in its own vacuum of time and place as a result. "In Your Eyes" sounds like the smoky trip-hop of Portishead, "Adore You" feels like the carefully contained energy of The Knife circa "Silent Shout," whereas "Ooh La La" more directly steps off a floor where Anita Ward just dropped, albeit with a modern Dam-Funk-reminiscent update that returns on "Read My Lips." The notion of "bubblegum" still rubs a lot of fools the wrong way, but WHAT'S YOUR PLEASURE? certainly errs on the side of an installment in the Lindt Excellence line. That it clearly considers itself something more can be to its detriment (the rather limp one-two concluding pompous poke of "The Kill" and "Remember Where You Are," the latter the sole time Ware feels like she doesn't stay in her lane), but the front half is more than enough to make up for it. That Jessie Ware seems above "stan culture" will keep this less prevalent in the cultural consciousness one way or another, but on the other hand, it's a lot easier to meet on its own terms. Thank goodness those terms are favorable. [Thomas Seraydarian]