We're here to tell you what's hot and what's not in this week's music roundup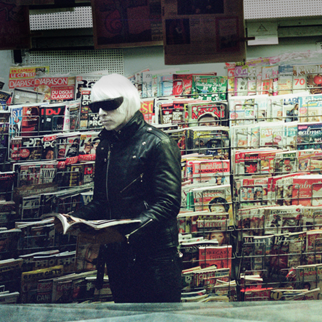 Drab Majesty – MODERN MIRROR
Genre: Darkwave, Tragic Wave
Favorite Tracks: "The Other Side," "Ellipsis," "Noise of the Void," "Oxytocin," "Long Division"
The navel-gazing nostalgia of STRANGER THINGS is admittedly not everyone's cup of tea. "Just watch the actual movies of the '80s!" they'll say. And sure, the Stephen King-isms and period specific sci-fi motifs, not to mention the musical cues laid throughout the show, are somewhat overwhelmingly generic—if you were curious if Season Three would feature a shopping sequence set to "Material Girl," you'd be correct. But watching the show as a lead-in to  Drab Majesty's decidedly lived-in and fittingly-titled retro-rocker MODERN MIRROR, I'm in utter awe. Not only is the leap they took from 2017's detailed (and good!) one-track-minded breakthrough THE DEMONSTRATION immense, they've made a sweeping synth-rock epic that comfortably builds modern production on its pretty obviously influences, notably Bauhaus or late-80s New Order (in its most fun moments you can hear the passion for 1989's masterpiece TECHNIQUE). While Deb Demure's project always drew some pretty obvious Joy Division parallels (what post-punk band in this generation hasn't, for better or worse), his vocals stacked behind the piping synths of "Ellipsis" or melancholy-ridden echoes of "Long Division" certainly posit an interesting what-if of how Ian Curtis' sultry delivery probably would've sounded like throughout the increasingly drum machine and Roland-driven 1980s. While STRANGER THINGS has somewhat exhaustingly played to the crowd in all its winks and nods, Drab Majesty are delightfully stuck in time, forced to make pulsating, goth-twinged darkwave at a time when that approach is frequently futuregazing, edging towards sounds that are poppier, punkier, dreamier, or vibeier. Frequently the best adjectives to describe MODERN MIRROR are "anxious," "icy," or even just "intense"; not an album meant to directly please those looking for reinterpretation, Drab Majesty offer lost relics that feel more primitive and guttural than the vaporwave oddities found online. The singles were excellent, but I'm not sure anything could've prepared me for MODERN MIRROR's delightful expanse. While with STRANGER THINGS the argument against checking out the source material is that the show is meant to be filtered through a broad modern pop lens, Drab Majesty have no such defense since the music itself could exist in that time could it only sound less detailed and more visceral. It's a good problem to have. [CJ Simonson]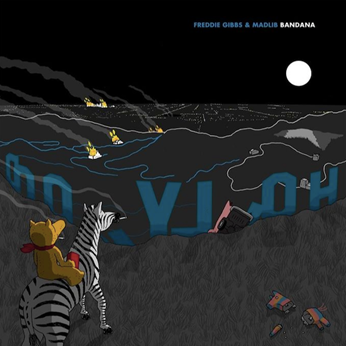 Freddie Gibbs and Madlib – BANDANA
Genre: Hardcore Hip Hop
Favorite Tracks: "Crime Pays," "Palmolive," "Fake Names," "Situations," "Cataracts"
At long last, BANDANA is finally here! The long-awaited follow-up to 2014's PIÑATA, BANDANA sees the reunion of legendary producer Madlib and Gary, IN rapper Freddie Gibbs, a match made in hip hop heaven if there ever was one. The combination of Gibbs' dark and threatening neo-gangsta flow over Madlib's classic plunderphonics-driven beats of chopped-up soul, R&B, and jazz samples was an incredibly fresh and exciting sound, an easy highlight of 2014 and one of the better hip hop projects of the entire decade. It brings me great joy to report back that BANDANA is no different. By factoring in some new, more cutting-edge accoutrements to their classic sound, Gibbs and Madlib deliver a record that both serves as a worthy sequel to their earlier work while exploring new sonic territory heretofore unexplored by their partnership.
BANDANA by no means lacks for classic Madlib beats. From the sublime electric piano chords of "Crime Pays," to the arpeggiated guitars of "Palmolive," to the Motown vocals of "Practice," Madlib lovers will find plenty of laid-back and slightly psychedelic constructions of samples to lose themselves in. But BANDANA sees Madlib venturing into some musical realms that are almost downright strange to hear from a producer of his pedigree, "Half Manne Half Cocaine" in particular playing as an honest-to-God trap track, a style that Madlib has rarely trafficked in before now but pulls off admirably, with foreboding synths looming in the background and an absolutely nasty beat-switch halfway through the track that brings it to the next level. Similarly, the beat on "Massage Seats" is more abstract than he typically gets, and "Situations" verges on trap as well, rattling hi-hats and all.
However, for as great as Madlib can be, the real star of the show this time around is none other than Gangsta Gibbs himself. After taking something of a backseat to some of Madlib's greatest work on PIÑATA, Gibbs takes center stage on BANDANA, dropping a number of career highlight verses and dominating the record with his indomitable mic presence. Gibbs' verses on "Fake Names" and "Flat Tummy Tea" are both among his best ever, and the highlights don't stop there. On "Palmolive", Gibbs delivers a biting and topical verse with such harrowing lines like "Fernando said they used to move chickens in the Noriega days / I'd disrespect his name but he signed my face with a razor blade," and he doesn't even manage the best verse on the song, as hip hop great Pusha-T lays down one of the best verses of his career with bars like "It was snowfall and Reagan gave me the visual / Obama opened his doors knowing I was a criminal." The album also features memorable features from Anderson .Paak on "Giannis" and Black Thought and Yasiin Bey (FKA Mos Def) on "Education," the former featuring a fantastic, soulful hook and the latter driven by excellent verses from everyone involved. BANDANA is another phenomenal entry into the hip hop canon from one of the most fruitful musical partnerships of the decade; Madlib and Gibbs bring the best out of each other, the result being smooth and hard-hitting rap that has a lot to say both musically and lyrically. [Jacob Martin]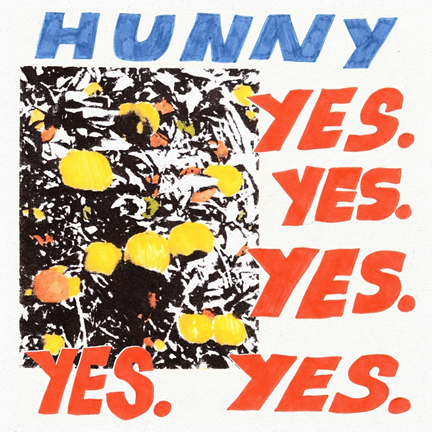 HUNNY – YES. YES. YES. YES. YES.
Genre: Indie Pop, Post-Punk
Favorite Tracks: "Everything Means Everything Meant Everything," "Halloween"
Sometimes the algorithm gets it right. After streaming Hunny's debut record, YES. YES. YES. YES. YES., I was not surprised to see the Bad Suns in my recommendations, because both bands sound like The Cure if they moved to the California coast but kept a little mascara on. Rather than create a sense of anxiety or gothic dread, the up-tempo guitar jangling is fun and infectious—this is a band that knows its way around a good rhythm and musical hook. Sadly, however, said hookiness does not carry over to the vocals or choruses. Take "A Slow Death in Pacific Standard Time": the pulsating bassline and the jumpy, beeping lead melody are a blast, but then the tempo slows down for the hook and everything turns into musical soup. The background vocals and harmonies that could have really sold the song are lost in the shuffle, and this is only of the times where they show up at all. The songs almost always start well with an intriguing lead riff and tight rhythm work, and synth accents contribute an effective underlying melancholy, but whenever they could really explode, the production gets too muddy and the vocals are just let out to dry without any harmonies or unique arrangements. I'm not crazy about Bleachers, but Jack Antonoff knows how to let the production sour and swell to sell his reckless indie-pop hooks. The songs on YES. YES. YES. YES. YES. are fairly short, too—only eight in the span of 21 minutes—so it doesn't feel like much more a debut record than Hunny's previous three EPs. The musicianship is certainly here and the blend of beachy, danceable exuberance and desperate, aching lyrics is well-executed, but a pop album needs to have better choruses than this and there's not enough progress to differentiate it from their previous projects. [Blake Michelle]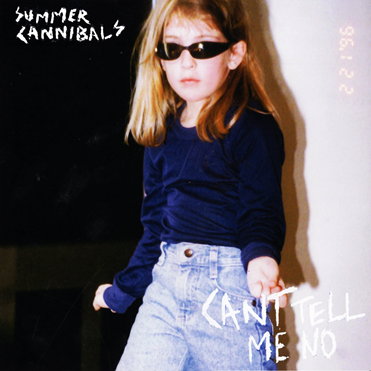 Summer Cannibals – CAN'T TELL ME NO
Genre: Indie Rock
Favorite Tracks: "Innocent Man," "Spin," "Can't Tell Me No," "Hesitation"
Four albums in and few bands have established themselves as worthier heirs to a legacy of the punkish alternative rock the Pacific Northwest became known for in the '90s than Summer Cannibals. An unflinchingly confrontational attitude, a propensity for shredding, and an uncanny ability to simultaneously wear their influences on their sleeves while giving them fresh air made 2016's FULL OF IT one of the most fun top-to-bottom listens of the last few years. After an abusive personal and professional relationship with a prominent Portland music figure prompted the band to scrap its most recent work, CAN'T TELL ME NO finds the band leaning less on its higher-octane stuff and skewing more melodic than on past records while still continuing to (seemingly) find lyrical inspiration from the context that it was born from. There are a lot of things to unpack about this album's listening experience from the jump—CAN'T TELL ME NO is an album-length firsthand account of the consequences of industry abuse, and the weight of its subject material, as well as the context in which it exists, make it completely impossible to separate from the record. It paints a picture of feelings of anger, isolation, sadness, and powerlessness that work together to leave a lasting impact on its audience. Even outside of the lyrical context, songs like "Innocent Man" and "Spin" demonstrate the band's musical dexterity in a way that hasn't been seen as frequently on past records. They've still got scorcher tracks like the title track "Can't Tell Me No," but this record feels like the band's most complete and impactful release yet. [Adam Cash]