It's strange hearing a band that you've known about and listened to constantly for over a decade live for the first time. Previously an anomaly in my personal listening canon, I'd never had the opportunity to go to a Pinback show, a fact made worse through the rumor that they were disbanding. Turns out it was Rob Crow saying he was "quitting music," and naturally there were a slate of farewell tour dates of sorts, one of which was near my family's place at a makeshift venue which, at the time, was a defunct Borders book store adjacent to the 101. It must have been only $20, but concerts felt expensive then, so I never went. That feeling was akin to when I got into LCD Soundsystem right after they announced they were disbanding, getting absorbed in their music but feeling like I showed up to the party years too late as they were already sweeping up the mess. Pinback's sound is immediately recognizable, and even if most of their songs could be swapped on any number of their albums, no two are the same. They've managed to take an age old formula and rearrange it enough to make it fresh with every release. It made their November show in Los Angeles so overwhelming; it'd taken me over a decade, several hiatuses, and a threat of quitting music to finally show up at this stage.
The venue is the Lodge Room. It's a gem of a place in Highland Park that has the intimacy on the same levels as Echo Park's The Echo or Orange County's Constellation Room while being hidden and unassuming, adjacent to a Mediterranean-influenced restaurant overlooking the Figueroa drag. The crowd is all sorts: older folks, college kids, a young couple with little kids of their own, their boy's hair dyed with a streak of turquoise. Adjacent to me is a mid-30s man waxing poetic about how he's too young to be worried about his knee pain before he and his companion delve into their experience seeing Pinback back in '07, when they were cool—I can't explain why, but the sentiment strikes the wrong feelings.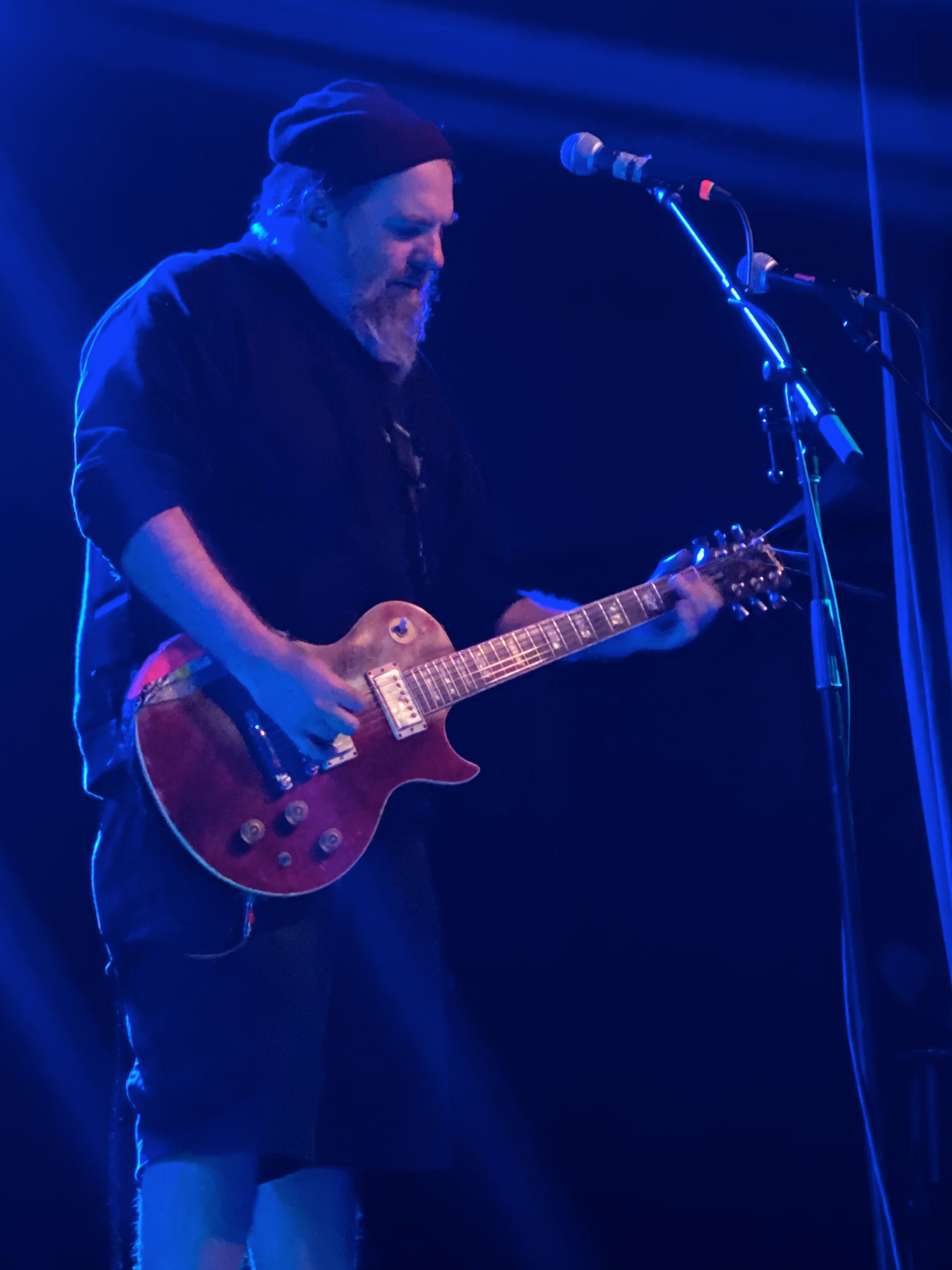 Despite hearing it on the record, it's something else entirely to behold the complexity of Armistead Burwell Smith IV on the bass guitar. He carries the soul of many of Pinback's songs with the deftness of a rhythm guitarist while both leading and accompanying on vocals. Pinback bring a more frenetic energy to their live shows, unearthing the hidden potential that lies just below the surface of the recorded versions of their tracks. At times, the whispery thin nature of Crow's softer vocal register only seems to carry well to certain portions of the room, often drowned out by the drums.  But it's the high-energy nature of staples like "Fortress" and "AFK" that really showcase their capacity to bring their tracks to life. They step out for one encore and up the ante again with their most kinetic song, "From Nothing to Nowhere"; in the spirit of ending on the highest note possible, they consume the audience's focus one last time before the final snare notes bring it to an abrupt and defined conclusion. A quick "thank you" and the lights go up.
Though they have never come to mind as one of my all-time favorites, Pinback are one of the most consistent staples in my listening rotation. I return to SUMMER IN ABADDON, AUTUMN OF THE SERAPHS, and INFORMED RETRIEVED religiously. It was only hours prior to the show that I put on the group's debut for the very first time in my life, if only to get a sense of what the earlier work felt like. To my surprise, it sounds exactly like their later work, albeit having shed the electric organ/squeezebox sound as the years have gone on. Based on their 20 years of work, I'd say they've done just that, a consistent and contiguous introduction to math rock I never realized I needed.  Pinback hasn't reinvented the wheel with every release, or really changed much at all, as if they established a definitive sound in 1999 and merely said, "This is what we do, we're gonna hone in on it and perfect that sound," and there is a certain beauty to that.   It's a nod to depth of talent and skill possessed by Crow and Smith; what they've done as a band who's avant-garde leanings skirts the realm of conventional pop music without branching too far outside itself. Pinback, somewhat paradoxically, brings both the familiar comfort of junk food that somehow possesses a robustness that nourishes and reinvigorates whenever you come back to it.