Writer Hilary Jane Smith operates a weekly column all about the eternal cultural ephemera of the 1970s: it's called Boogie Shoes, baby. We're proud to be syndicating archived posts here at Merry-Go-Round Magazine. First up, Cher, of course. This piece was originally published on January 7th, 2022.  Subscribe to Boogie Shoes here! 
If you're a person who wears make-up, you've probably heard of MAC Cosmetics. It's a mid-luxe make-up brand known for its celebrity-centric collections and vibrant-hued eyeshadow palettes. It doesn't matter how old, young, or alive you are, MAC will mine the recesses of pop culture past and present to find gems, and make a branded lipstick out of it. This week, they announced a new campaign with both millennial rapper Saweetie, and the glamorous icon herself, Cher, as spokespeople.
It's an odd duo, but I'm intrigued!
Now most of us know who Cher is. She is positioned in popular culture as a legend in every corner of entertainment— her impact in fashion, film, and music is monumental and she's apparently some sort of celestial being that does not age. The final shot in the video for MAC's Challenge Accepted ad is her looking at the camera in one of her iconic Bob Mackie designed dresses from 1975 saying: "I love lasting forever."
For most people, this image of Cher is familiar: ageless, untouchable, and infallible.
When I saw this final shot I wanted to see what she was doing one of the first times she wore that glittery ensemble. Apparently, it was on the cover of TIME Magazine in 1975—a time when her status as an icon was yet to be written.
When I read the article and researched her mid-seventies years, I realized that Cher, as we know her now, was still a very uncertain, unproved entity.
This profile piece was written when Cher was newly divorced from Sonny Bono and just beginning her career as a solo act—would she be successful? It's fascinating how the journalist frames Cher throughout the piece. At first he editorializes her as this frightened foal searching for answers, but when he gets quotes and stories from her and Sonny, it's clear that she is a woman with confidence who will do whatever it takes to succeed. The piece focuses on Cher's new CBS television show as she prepares for a grueling schedule of costumes, guests, and rehearsing one-liners.
The 1975 titular CHER is slotted in primetime against ABC's THE WONDERFUL WORLD OF DISNEY, and the writer is quick to note that Cher "inspires more—and infinitely richer—fantasies than all the plastics of Disneyland." Throughout the piece, you can tell he is clearly turned on by his subject, however Cher's style of entertainment is truly fantastical.
On Cher's TV show, she uses glamorous, ensembles and set-pieces to create a singing, comedy spectacle with celebrity guests. CBS is trying to position the show as approachable to everyone, but they're having issues with how Cher will use a more dressed-down dialogue laden with sexual innuendo and "jive" language (I don't think Cher actually spoke jive?). Also, what I think is the most hilarious aspect, is apparently there was a battle internally at CBS over whether Cher's belly-button baring costumes were too sexual for children. I don't think this journalist minds in the slightest:
"For Dad (and the older boys) she appears to be a sex symbol, impure and simple as her long, sinuous body—high fashion, but with some meat on her smoothly articulated bones—slithers into closeup, her navel twinkling as invitingly as her sequins. Then, however, a shy smile splits her deadpan. As she speaks a few words of earnest greeting in her curiously flat voice, Pop and the other males see they can afford to relax. Underneath all that finery and a ceramic of makeup there is a rather awkward, imperfectly beautiful girl. She appears no more daunting than the nice new kid in the secretarial pool or your home room when she finally talks to you —someone, perhaps, who could use a little protecting."
The kid in the secretarial pool?! Ew, I didn't need to know what this writer's fantasy was, but there he went:
"As for Mrs. America, she has a choice. If she is into liberation, she can see Cher bravely soloing as a variety-show star after the breakup of the Sonny and Cher partnership (and marriage) as a blow for emancipation… If sexual politics is not Mom's bag, then she can sit back and relax while enjoying the fashion show and some mildly envious fantasies about the corps of hairdressers and beauticians required to construct such a perfect example of feminine artifice."
The dads and older boys of the world (again, ew) may not be the majority of her fanbase, but generally speaking, her escapist style appealed to a wide range of people, and still does today. The fantasy element mixed with a down-to-earth banter makes for a safe place in a chaotic world. She puts everything into her work and even if CBS is unsure of "ex-Mrs. Sonny Bono," Cher is stubborn and risk-taking, even if her choices look frivolous to the corporate powers that be. When describing her work ethic, David Geffen, an ex-boyfriend, even says at one point in the TIME interview "Cher enjoys the hoopla" and Sonny Bono adds that "Cher is now living the adolescence she never had." Both men surmise that her intensity, while overwhelming, is Cher just living her best life.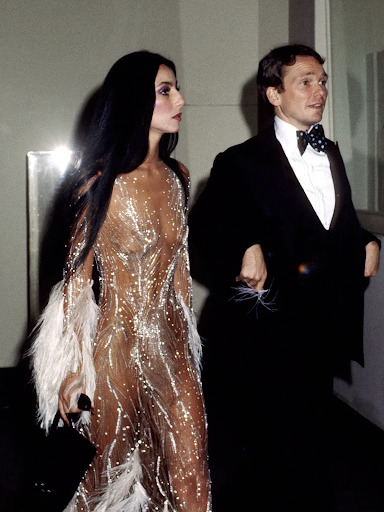 Cher's history is a long and complicated one, but it's clear that her image of perseverance through adversity is the real deal. Cher had to grow up extremely fast in a chaotic household in the suburbs of Los Angeles. She was an awkward, introverted child with a single mother who was working on-and-off as an actor and waitress. Her mother got married and divorced a few separate times, and Cher's father, a truck driver with a drug-and-gambling problem, was mainly absent. To ease any anxieties she sang constantly, and at sixteen while hanging out at a club on the Sunset Strip met a 27-year-old Sonny Bono. Now that's a LICORICE PIZZA-style age difference!
Sonny was working for music producer Phil Spector and had other music industry connections. They fell in love, got married, and Sonny nurtured Cher to become less afraid of the stage and help her recognize her talent in acting and singing. However, Cher has always known she had star quality, but Sonny affirmed this.
"She would walk around our house and sing her ass off. It drove me crazy. But in the first two weeks I knew her, I told her I felt that she would be a great star. That's what she wanted." In this period she and Sonny once briefly split because, he claims, he was afraid he might stand in the way of the great career he was still predicting.
Apparently stardom is something you're born with.
The journalist, Sonny, and Cher herself know that even if this particular show doesn't work, her ambition doesn't stop there. There appears to be the understanding that somehow, it's all going to work out, even if production is over budget and CBS is worried about the moral police.
What's clear throughout this interview from friends and family is how Cher's talent as an entertainer, even if it may be vague and undefined, can be viscerally felt when you're in the room with her. Cher is the antidote to what society hates most – blandness.
Clearly if there was uncertainty over Cher's fate in 1975, it dissipated in the long run. Her television show CHER only ran for two seasons, she and Sonny reunited for their own TV show as a divorced couple, and then she pivoted to music afterward with a major resurgence in both music and film in the late 1970s and throughout the 1980s. Every decade since, she's made incredible entertainment and won an Oscar, a Grammy, and countless other awards. I'm so glad the drama with her belly-button faded into the background—clearly the world was ready for Cher's jeweled torso.
I'll bring us back to 2022 with a quote Cher gave to People Magazine during an interview about the new MAC collection:
"You keep going and that's the challenge. Things don't always go right and you have to be willing to just put yourself out there, put your ass on the line, put a big target on it and then keep going."
I think it paid off in the end.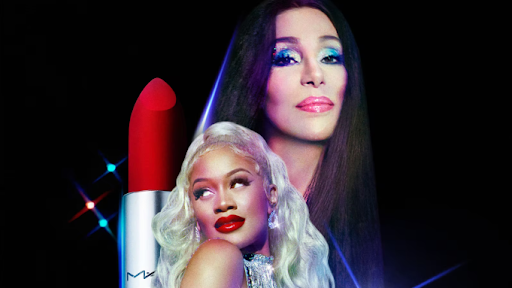 Check out the most recent Boogie Shoes, an Earth Day Special, here, and be sure to subscribe today!