The lead singer of The Gooms is wearing a dress. This is interesting because he identifies as a man, but Bowie beat him to it almost 50 years ago. I try not to be too cynical as the young California band takes the stage for their Monday night residency at the Satellite, but these days, originality is nearly dead. The night is '70s-themed, and amidst the bell-bottoms and suede vests, I prepare myself for another band who taught themselves three chords.
But when The Gooms start to play, I nearly drop my Vodka Diet Coke. This isn't "Garage Rock with a Side of Hugs," this is four classically trained musicians who know how to play their instruments, complete with riveting guitar solos and jazz-inspired bass lines. The hip L.A. quartet blew the Silverlake crowd right out of the club, as if they had capped a performance at a major festival and not a curious Monday night crowd dressed cautiously in crushed velvet.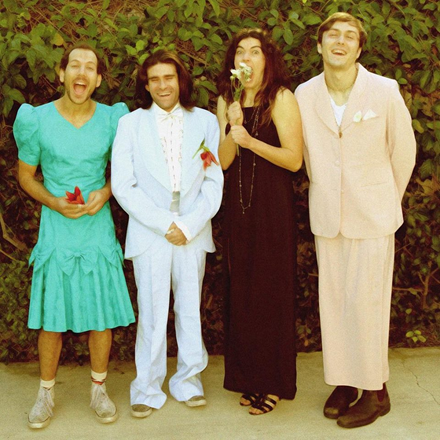 From the first beat, the Gooms didn't hold back. They played like they were headlining a rock concert, with no shyness or tentativeness. When was the last time a band specifically set aside whole minutes for raunchy, astounding guitar solos? Maybe the Strokes when they started out and showcased Albert Hammond Jr. When was the last time I'd heard swallowing, melodic bass as if it were being played fretless? Probably Rick Danko, from The Band. I would comfortably compare them to the Growlers; they have that same sun-drenched, laid-back sound you'd play driving up the coast. Their supreme confidence makes them seem like seasoned touring veterans, and not a Spotify band with less than 600 monthly listeners.
In a sense, The Gooms are music veterans. Lead singer Chase Klitzner (who tries to act coolly detached but is betrayed by his bright, overly eager eyes) has been playing guitar for 13 years. Nicole Rosenbach, the guitar goddess with glossy dark curls, is instructed by Adam Levine's guitar teacher. Ryan Meagher, the bassist, with a flower pinned to his vest, studied music at USC and has played jazz at The Fillmore in San Francisco. And yet the band also resembles a group of puppy dogs: playful, excited, sweet. While Klitzner is the frontman, they all step forward to have their time in the spotlight and show off their nimble fingers and showmanship skills. Their live energy and stage presence is palpable, and I realize Klitzner's dress isn't an homage to Bowie, but a testament to his "don't give a fuck attitude," or a subtle nod to their song "My Dad," about a cross-dressing parental figure. Their set was a bit too polished for me to call it garage rock, and clear hints of jazz and ska were heard.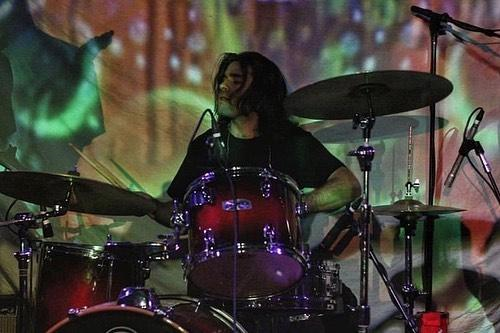 After their first song, "Show Me Your Love," which starts with a raunchy guitar riff reminiscent of The Strokes' album ROOM ON FIRE, Klitzner stopped to say something that made my heart sing: "Could we get more bass?" Bass can be such an underused instrument, and to hear melodic bass—the way Sir Paul McCartney intended the instrument to be—was so refreshing. Their Deadhead, jazz-enthusiast bassist started as a guitarist, and that can be seen in the way his bass lines fill space and lift the melody rather than just keeping rhythm. Even the drum fills are spectacular; this is a well-practiced, talented group of musicians, a fact that not even their goofy purple '70s prom suits can eclipse. For retro fans looking for modern music, this is a group for you. Their fun and thought-out stage routines are endearing and amusing, such as choosing a prom king and queen, and well-made quips make it a spectacular night out to dance. When Rosenbach steps out to play her guitar solo in "Show Me Your Love," her George Harrison influence is crystal clear with clean, bell-toned notes. She's thrilled to play her solos, and I'm floored to hear a 23-year-old wail on a Fender with such precision. The highlight of the night was when they launched into a suprise cover of "Bohemian Rhapsody." The incredibly complex piece of music was delivered with such ease and enthusiasm they could give Roger Taylor a run for his money (not Freddie though, because nobody can really top him). They ended the night with "My Dad," finishing with a cacophony of sounds and drums that would expect Keith Moon to pop out and smash their instruments. The elated audience buzzed about, in wildy good moods. The band slinked out to smoke a cigarette under the rain, like all good rockstars do.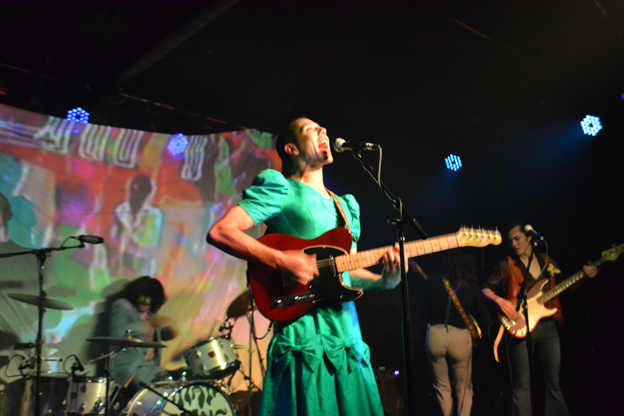 While the crowd was mostly friends, family, and an admirable group of North Hollywood kids in disco outfits who feel like they've discovered a budding, underground band-to-be, their performance could have easily been at the likes of Beach Goth. Their command of the stage and instruments gives the illusion of a very important band, despite not yet being signed to a label. My only gripe would be that their songs do sound similar, and maybe a little more variety would be more appealing to labels, although I could easily see them being signed to Burger Records for their distinctly hip California surf rock sound and relaxed atmosphere. This group is going places, and I urge you to see The Gooms at their residency as soon as you can, before they take off and you miss your chance. That's why come Monday night, you'll know where to find me. And the following Mondays, as well, for that matter. Well done, Gooms.