Bandcamp Picks of the Week is back and better than ever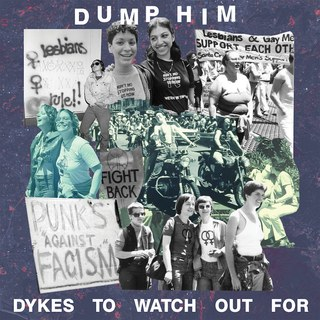 Dump Him – DYKES TO WATCH OUT FOR
Genre: Pop Punk, Queercore
Favorite Tracks: "Dykes To Watch Out For," "(What's Your Deal With) Kim," "Dreams Live 1997," "Don't Kiss Me, I'm In Training" 
While it's somewhat of an outlier on the record, I've found a decent selling point for Dump Him's delightfully gooey-yet-charged pop punk comes on the final track, "Don't Kiss Me, I'm in Training," which is effectively just a fuzzy prom night rendition of Jeff Rosenstock's "I'm Serious, I'm Sorry." As the track builds in tempo, Mattie Hamer begins to untangle some hard questions: "What did you get when you asked for perfection / What did you get when they didn't learn a lesson  / What did you get when it hurt you to lose them / 'Cause you didn't wanna have to forgive them." "Don't Kiss Me, I'm in Training" eventually becomes a ramped-up punk rock blitz, but the Northern Massachusets queercore band's latest, DYKES TO WATCH OUT FOR,  gnashes teeth on the previous 20 minutes with a barrage of undeniably catchy garage punk tunes with an ear for equally immediatley memorable lines like "I refuse to fucking recreate / dichotomies of real and fake / what got us here in the first place" ("Dykes To Watch Out For"), "You pull me aside / and claim you can't tell a lie / that's bullshit, you prove it" ("Unimportant"), and "Call me heartless or call me honest / I don't care, it's clear I've lost it" ("Dreams Live 1997"), among literally dozens of others. The entire band have a knack for wordy choruses and hooks that just instantly punch you in the face (the rush of the music certainly helps propel everything in that regard), and in so many ways it's impressive that this collective of musicians found each other given how similar their writing styles come across and how deeply cohesive it makes the album feel, but Jac Walsh, whose lead vocals and songwriting are the most prominent on the record, gives an especially impassioned and grinning performance. Their delivering of "Lately I can't look at the sky / without thinking about how soon we'll die / I didn't ask for all this bullshit, a pacific island of plastic / but we're kept deprived of land to provide" on "Judi Bari Almost Died For Our Sins" is perfectly apocalyptic, striking and specific as all the lyrics on DYKES TO WATCH OUT FOR are. Even as the words should feel heavy, Dump Him make the record a 23-minute jaunt that's decidedly fun. Give it a listen over on Bandcamp.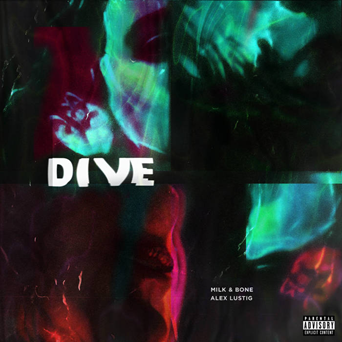 Milk & Bone and Alex Lustig – DIVE
Genre: Synthwave
Favorite Tracks: "Ride or Die," "Vision. Colour."
Alex Lustig has worked with rappers like Drake and Young Thug, his ambient soundscapes thrust into a pop purview in recent times by major label rap stars and "lofi hip hop radio – beats to relax/study to"-friendly algorithms. Unquestionably the producer's solo work reads as more interesting than many of his peers, with sparse yet luxuriant production that finds a way to stand out in a field lousy with wanna-be lo-fi beatmakers. Meanwhile, Montreal-based electropop duo Milk & Bone's 2018 release DECEPTION BAY chased modern R&B-adjacent pop conventions (give a listen to "Daydream," a slice of Pandora-friendly snap-along background pop), and they were all the better for it—even if I have to admit it's not quite my flavor, it's well-crafted music. Together, however, the two artists are certainly a match made in futurepop SoundCloud heaven, bringing out the best in the other with a four-song EP entitled DIVE. Lustig's sparse mystique pushes the duo to some decidedly groovy places, and the result is easily my favorite thing Milk & Bone have done thus far, if for no other reason than they've essentially made a hipper Chromatics record. You can hear even just listening to these songs versions of them that err on bigger theatrics, but instead they pulse with a Johnny Jewel-style electricity, "Vision. Colour." especially pounding with a neon-drenched heartbeat. The ticking clock of "Blue Dream" into its kaleidoscopic finish is especially up Jewel's alley, but even the two singles at the top ("Peaches" and "Ride or Die") are modern noir-pop done exceptionally well, especially as Lustig puts focus singularly on the exceptional female-driven vocals while allowing the rest of the afterhours synthwave mirage to fall into place around Laurence Lafond-Beaulne and Camille Poliquin. If Italians Do It Better were curating music for the youth of today, this would be it. Give DIVE a listen on Bandcamp.