Bandcamp Picks of the Week is back and better than ever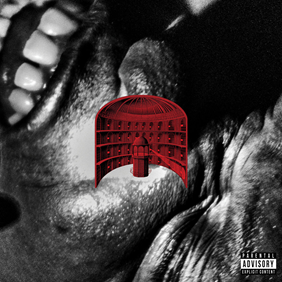 dreamcrusher – PANOPTICON!
Genre: Power Noise, Power Electronics
Favorite Tracks: N/A
The Bandcamp notes for dreamcrusher's PANOPTICON! have this to say about Luwayne Glass' 38th release: "They choose not to underestimate the intelligence of their audience by challenging them at every sea change." Truer words have rarely been spoken. On PANOPTICON!, Glass's music is as dissonant and dense as it's ever been, but there is a certain tangible elevation of form here. For as naturally chaotic and unstructured as the noise genre purports to be on the tin, all of Glass' creative decisions on PANOPTICON! are redolent in purpose and direction, each obscure, heavily doctored sample worth a curios cabinet's amount of consideration on curatorial capability alone (the little-known downtempo project Jean-Michel Basquiat was in, crate-digging Italo House, static-blaring mash-ups of Wu-Tang Clan members and inaccessible spectralist composer Horatiu Radulescu, what appears to be audio ripped from this YouTube video of goth people dancing at a London club in 1984… the gang's all here). For as disparate as the influences so clearly are, Glass is able to maintain a masterful vice grip on unifying atmosphere and energy, anchoring tracks ranging from the look-over-your-shoulder, skin-crawling ambient opener to dance-adjacent cuts that feel like jitterbugging on jagged glass with the looming specter of their agitation and fury. And while PANOPTICON! is largely a release best suited for the righteous wrath of retribution, a gaping, churning maw that seeks to violently consume those who would oppose it, the key to the album's success are the slight, morbid breezes of heavy melancholy (there are no official track demarcations, but HTRK's clearly identifiable feature captures this) and most importantly of all, the snippets of joy to be found in the mire, an occasional disco beat sunbeam through the clouds encouraging us to dance on the devil's grave. It's a lot to take in, and intentionally so, but for those willing to take the plunge, there's plenty of eardrum-rupturing catharsis to be found within, blessedly removed from the clinical and impotently vengeful power fantasies that the power noise and power electronics genres sprung from. Check it out on Bandcamp here. [Thomas Seraydarian]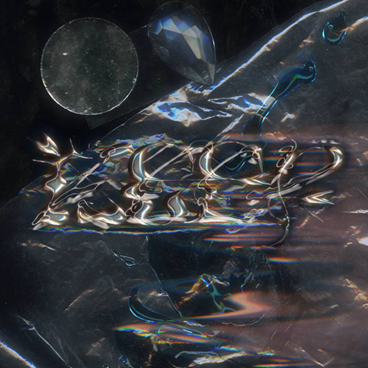 Keep – S/T
Genre: Goth Rock, Shoegaze
Favorite Tracks: "Honey Suckle Sour," "MSL"
The sheer power that you can feel coursing through "Honey Suckle Sour" is almost overwhelming; one of the year's best songs harbors a dark intensity that makes the fuzzy, explosive builds a visceral journey of anger and sadness. All of Keep's latest self-titled EP is filled with equally seismic waves of vehemence, a relentless blend of shoegaze and dark wave tones perfected at such a high level it's shocking the band isn't a mainstay opener for vintage acts in the genre, or at the very least seeing a noon slot at the now-cancelled Cruel World festival. Each song is its own massive gothy arena rock crusade that at its highest points feels like an angry reinvention of The Cure's 1982 album PORNOGRAPHY. Both of the EP's longer cuts, "MSL" and "A Sick Room," are where you can feel the band really stretching their legs, closer "A Sick Room" in particular a quiet, seven-minute mountain of plodding howls and hollow guitars waiting for an avalanche to be triggered. While lots of goth-influenced modern music has bobbed and weaved around sophistipop ease or electropop flare (see: Drab Majesty, Soft Kill), Keep are refreshingly pushing the hidden darkness of Bauhaus to massive levels and it's satisfying to hear. Give it a listen on Bandcamp. [CJ Simonson]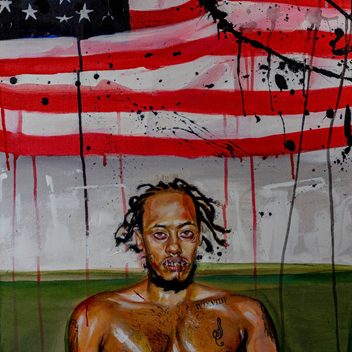 Pink Siifu – NEGRO
Genre: ACAB
Favorite Tracks: "SMD," "FK," "ameriKKKa, try no pork," "run pig run.," "DEADMEAT," "homicide/genocide/ill die (featuring Ted Kamal)," "ON FIRE, PRAY!"
Something has gone terribly wrong, you think, when you press play on Pink Siifu's incendiary new record, NEGRO. The sound is profoundly fucked up, so much so that I had to double check that my headphones were functioning properly.
They were.
In fact, those headphones were transmitting sounds more correct than just about anything else you've heard this year. NEGRO is a petri dish of noise. You could call it hip hop, sound collage, industrial, punk, noisecore, power electronics, jazz, or a number of other genres, but it'd be a disservice to pigeonhole it. It's a record of Pure Black American Rage, righteously rowdy, tremendously layered, and endlessly replayable.
That NEGRO is having a second wave of attention is unsurprising. As millions upon millions of Americans have taken to the streets over the past three weeks to protest police brutality and racism, it only makes sense that people have circled back to Pink Siifu's stunner. It's not that NEGRO was prescient, it's that it is past, present, and future, channeling the fury of Black America back at its oppressors. The record explodes out of the starting gate with a bleeding wall of sound composed of trumpets, flutes, saxophones, drums, and a shitload of distortion. It's brutally beautiful and it's only the beginning; in a matter of seconds, Pink Siifu has completely reinvented himself in one of the starkest transformations in recent memory. The absolutely unruly, torridly punk "FK" is so outside the scope of his previous work it's hard to believe it's made by the same man who released ENSLEY, his solo debut full-length, less than two years ago. "SMD" is all sorts of angrier than we've come to expect from Pink Siifu, setting the torrential tone of the record from the jump: "I was born black, I live black, and I'ma die probably because I'm black."
And these are just the moments you can clearly make out. NEGRO is at its best when it is distorted beyond recognition like "homicide/genocide/ill die," a track on which Pink Siifu's impassioned verses are almost entirely obscured by the wonderfully nasty production. There are moments in most every song on which Pink Siifu screams about killing cops and more than a few laudations of folk hero Chris Dorner, each landing with a cathartic clatter.
Nothing on NEGRO changed when George Floyd was murdered, no songs were added when Minneapolis' Third Precinct burned to the ground, no verses were rewritten when millions of Americans piled out onto the streets to protest the white supremicist police state, and none of the production was edited when the police brutalized those non-violent demonstrators in every single state in the nation. But I can tell you for a fact that NEGRO hits harder when you're walking home with tear gas in your eyes, ears ringing from explosions, and feet barking from another night of protesting. Pink Siifu has made this moment's masterwork; it is essential listening. Buy it at Bandcamp. [Ryan Moloney]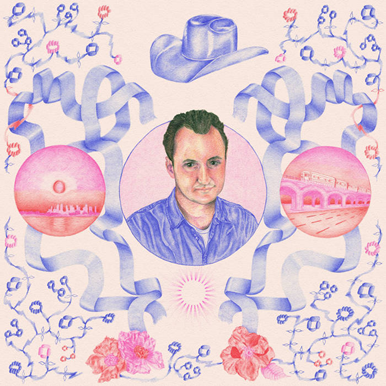 Dougie Poole – THE FREELANCER'S BLUES
Genre: Cosmic Country
Favorite Tracks: "Los Angeles," "Claire," "Buddhist For A Couple Days"
"They say Michelle turned in her BFA for a CDL," THE FREELANCER'S BLUES opens with. "And now she drives that box truck 50 hours a week / She don't paint anymore, she misses it for sure / But who's got the time? / And that taste she got of money sure was sweet." Cowboy campfire stories updated for the depressed millennial ear make up much of Brooklyn cosmic country crooner Dougie Poole's sophomore album. Poole's spent the last few years approaching the genre with both an ear for traditionalism and an ambition to turn the genre into something largely colorful, modern, and altogether goofy—remember that his excellent debut was hilariously called WIDEASS HIGHWAY, after all. "Vaping On The Job"'s  working man's plea of giving up on your hopes and dreams for a trucking job that pays enough money to get by is songwriting fodder as old as time, a slice of vintage outlaw country storytelling that Poole and producer Jonathan Schenke give a funky, breathing bounce, enough wigged-out slide guitar and futuristic hum to feel fresh and reinvented. Across much of THE FREELANCER'S BLUES pedal steel takes on a futuristic quality, the roadwearie "Los Angeles" and teary-eyed love song "Claire" both elevated by the instrument's otherworldly pitches. Even when Poole gravitates towards country music's broader textures ("Buddhist For A Couple Days," "These Drugs Aren't Working") he knocks it out of the park with witty charm—it would certainly be smart to put this in front of fans of contemporaries who are playing with form (Orville Peck certainly comes to mind, early Sturgill Simpson another), but Poole's aura reminds me most of Willie Nelson in the middle of his career, a kind of lax ease to the songwriting and turns of phrase that feel warming and idealistic. Even a line like "I lay awake at night, lost in the glow of this screen / I just can't figure out what's right / Wrap my head around what it all means / Baby, I been living in a dream," one of many brilliant turns of phrase on "The Who's Who Of Who Cares," has a kind of hopeful optimism, especially hearing it right now when screens are our only portal to the world. Among the best country releases of the year, THE FREELANCER'S BLUES is a must for fans of the genre looking for something exciting. Give it a listen over on Bandcamp. [CJ Simonson]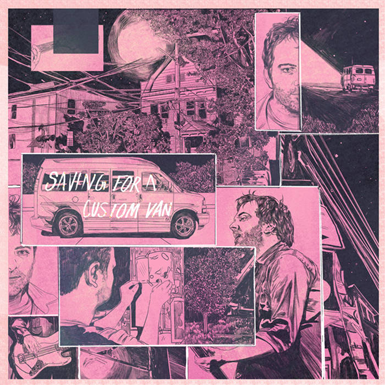 Various Artists – SAVING FOR A CUSTOM VAN
Genre: Covers Album
Favorite Tracks: Sad13's "A Fine Day for a Parade," Potty Mouth's "I've Got A Feeling," Ben Lee and Sarah Silverman's "Way Back into Love," Charly Bliss' "Pretend to Be Nice," Kay Hanley's "Radiation Vibe"
Father/Daughter Records and Wax Nine have teamed up to co-release a tribute comp to the late, great Adam Schlesinger that boasts a murderers' row of artists covering his songs, a 31-song set that spans his work in Fountains of Wayne and beyond and showcases not only the breadth of his own songwriting, but also the legion of artists who he has inspired over the course of his career (along with some of his own collaborators and bandmates). Curated by Sadie Dupuis of Speedy Ortiz and Sad13 fame, who offers a spacey cover of "A Fine Day For A Parade" from UTOPIA PARKWAY, 100% of the Bandcamp proceeds from the comp go towards MusiCares' COVID-19 Relief Fund. Some of the best cuts highlight Schlesinger's non-Fountains of Wayne work, including an immaculate take on "Pretend to Be Nice" from Charly Bliss (perhaps the most well-suited band to cover the soundtrack of 2001 anti-capitalist masterpiece JOSIE & THE PUSSYCATS), and a teamup from Ben Lee and Sarah Silverman on a warm, harmonious "Way Back Into Love" from the MUSIC & LYRICS soundtrack. Several artists pull from Schlesinger's college radio darling sophisti/dream pop group Ivy to great results, among them Ted Leo, Potty Mouth, and Belly's Tanya Donnelly and Gail Greenwood. And Schlesinger's PUSSYCATS collaborator Kay Hanley herself turns in a fun, wistful rendition of "Radiation Vibe." I wrote about Adam Schlesinger's music and impact for MGRM shortly after he passed away, and three months after his death, with things even more precarious and fraught than when he left us, we are in need of his melodies and anthems more than ever. Give this excellent compilation a listen over on Bandcamp. [Luke Phillips]