Adam Schlesinger was an unsung hero of pop songwriting. An expert craftsman with a knack for fuzzy hooks, his lyrics often dealt in down-and-out characters, dark irony, puns, in-jokes, and sardonic pop culture references—equal parts Ray Davies, Randy Newman, Paul Westerberg, and They Might Be Giants. And while most of the general public assumes his biggest hit, the MILF paean "Stacy's Mom," is by Bowling for Soup, Schlesinger's longrunning commercial jingle, film, TV, and theater work have ensured that we've all undoubtedly had our day perked up by a melody he penned at one point and time, even if we didn't realize it.
"Stacy's Mom" arrived in the era when young millennials like myself were inundated with '80s nostalgia, and its accompanying FAST TIMES AT RIDGEMONT HIGH/The Cars-inspired video starring Rachel Hunter guaranteed it constant rotation on VH1's morning music video block—the perfect lead-in to I LOVE THE '80s repeats. I was a red-blooded adolescent boy, so I understood the surface appeal all too well, but there was something about the palm-muted barre chords and hooks that intrigued me even more, something that set the song apart from the AMERICAN PIE brand of pop-punk that I listened to at the time. A couple of Yahoo! Music searches led me to discovering earlier hits like "Radiation Vibe" and "Sink to the Bottom," and quickly Fountains of Wayne became one of my first favorite bands, kicking open a door and leading the way to years spent becoming a power pop obsessive. Their music spoke to the same nerdy, pop culture-savvy person I was growing into, and for nearly 20 years there was nary a day that went by without one of Adam's melodies and lyrics crawling its way into my head for a spell—welcome old friends that got me through harsh and often cruel realities, as I navigated the world like the protagonist in a Fountains of Wayne song, pluckily and doggedly maintaining my humanity and joy in the face of overwhelming sadness (with several happy hour stops along the way).
An EGOT contender (he won three Emmys and a Grammy, and was nominated for an Oscar, Tony, and Golden Globe), Schlesinger's crowning achievement is penning the title song for Tom Hanks' THAT THING YOU DO!, a sweet, nostalgic comedy about a hapless 1960s Erie, PA rock band who score a hit on the pop charts with the titular Beatlesque jangle-pop tune before fading into obscurity (a distillation of the trajectory for nearly every band on the seminal NUGGETS compilation and more classic Schlesinger fodder). The whole movie wouldn't work if the song wasn't an immediate, perfectly cut earworm, and thankfully it not only achieves that function in spades, but also stands as one of the finest power pop songs ever written, transcending pastiche and heading straight into the pantheon with some of the best cotton candy hooks ever concocted. That was his Oscar nomination, and he should have won. It's a song that never ceases to brighten my mood whenever I hear it—chewing gum that never loses its flavor, an effervescent sugar rush with no crash. I've spent entire nights listening to it on repeat, wondering when I'll get bored of it. I never do. I never will.
Schlesinger's songwriting range extended to his other long-running project Ivy, a trio that became college radio favorites for their novel mix of dream pop, sultry French lounge vibes, and groovy, trip-hop indebted drum loops—chill shoegaze beats to study and relax to. Other random favorites of mine from across his career include "Pretend to Be Nice," his bouncy contribution to the soundtrack for 2001's anti-capitalist masterpiece JOSIE AND THE PUSSYCATS, The Click Five's proto-Five Seconds of Summer banger "Just The Girl," and The Monkee's 50th anniversary comeback GET BACK!, which is as good as loving, graceful, and reverent as late-period albums get. Not to mention Tinted Windows, his 2009 project with murderers row Taylor Hanson, James Iha, and Cheap Trick's Bun E. Carlos, a band surgically designed to be cool as shit. Their lone, self-titled album has a few slick, skinny-tie standouts, notably lead single "Kind of A Girl"; that Schlesinger was capable of willing such a project into existence in the first place is a testament to his taste and tenacity for bringing disparate parts into a unified statement, forming a band with the same craftsmanship that he utilized when writing perfect pop songs.
"Radio Bar" off of Fountains of Wayne's final album, SKY FULL OF HOLES, now feels like as fitting a full-circle effigy for the band as Schlesinger could write. He and songwriting partner Chris Collingwood would frequent the Hudson St. mainstay WXOU Radio Bar when they initially formed the band, and the song pokes self-effacing fun at their knack for crossover attention: "They put our song in the jukebox / It was a hit with the drunk jocks / Even the guys with the dreadlocks / Sang along at the Radio Bar." In a cosmic coincidence, WXOU Radio Bar is almost certainly named after my alma mater's college radio station WXOU, where I was Music Director for three years. If it weren't for Fountains of Wayne busting down that initial door, I probably wouldn't have hosted my power pop-centric weekly show (where, of course, Adam's songs were always featured heavily in my playlists).
Schlesinger tragically passed away at the age of 52 due to complications resulting from COVID-19, the kind of truly dark, depressing reality that always crept into his underdog anthems, but never subsumed them. I am devastated, as both a fan and someone who feels like I owe a major debt to him as a listener and muso. My only resort for the last several days has been to crank Adam's music and lose myself in his bright hooks, his winking lyrics, the pervasive determination to distill even the toughest circumstances into a rose-colored, halcyon three-minute pop song. The world will never be blessed with another great Adam Schlesinger melody again, but we can look back on the body of work he left and recognize his genius.
— Luke Phillips, MGRM Contributor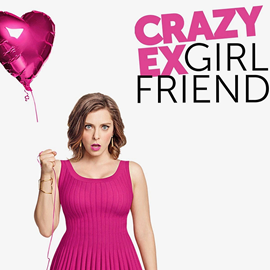 CRAZY EX-GIRLFRIEND (The CW)
Television is a bit of an underrated musical treasure trove, in this humble editor's opinion. A single mention of some of your favorite shows immediately brings an iconic musical theme to mind: GAME OF THRONES, MAD MEN, SUCCESSION, THE SIMPSONS, THE OFFICE, LAW AND ORDER, TWIN PEAKS, et al. That's a tough list to beat, and yet, I am hard-pressed to imagine a show from the last 10 years more defined by its music than CRAZY EX-GIRLFRIEND; and in turn, that music was defined by the brilliant mind of Adam Schlesinger. Schlesinger joined Rachel Bloom and Jack Dolgen as the songwriting team behind the series, and the three penned over 150 songs for the series' four-season run. Not only that—but Schlesinger produced every single song with his longtime producing partner, bringing their work truly to life. More than any other one album or song, CXG showcases Schlesinger's genius-level songwriting ability: from socially progressive rock and roll ("Gettin' Bi"); to Fred and Ginger-style showtunes ("Settle For Me"); to the fast-talking Fiddler on the Roof-inspired patter pieces ("Where's The Bathroom?"); and cheeky vaudeville ("We Tapped That Ass"). However, the greatest example of Schlesinger's incredible musical ability surfaced on Twitter earlier this week from his lifelong friend Aline. Here is Schlesinger's very first demo recording of "A Greg Song" and here's "What'll It Be" as it appeared in the series. (I highly recommend checking out the tweets of his CXG cast and crew for many more highlights and personal videos just like these.) Schlesinger's tragic passing has resulted in an outpouring of pieces exactly like this one, highlighting just how long he's been in your ear whether or not you even knew he was there. Now that he's gone, the world seems a little less musical, but at least we still have the music. [Kate Brogden]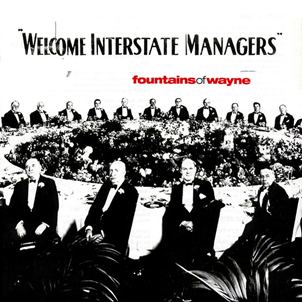 Fountains of Wayne – "All Kinds Of Time"
You could pick any song on WELCOME INTERSTATE MANAGERS and claim it to be the best song, even the eternal "Stacy's Mom" has somehow transcended the overwhelming "one-hit-wonder" status a decade-and-a-half beyond its release. Something of an outlier on an album filled with vivid character studies and bright power pop hooks, Adam Schlesinger squeezes in the best version of whatever sad sack radio rock hits bands like Travis and Keane and Snow Patrol were turning into Top 40 gold at the beginning of the 2000s. Hell, in the hands of one of those bands I don't doubt "All Kinds Of Time" would've been a bonafide hit, and here it is basically buried in the middle of an album defined by a decidedly different kind of radio rock—that songs like "Little Red Light" and "Bright Future In Sales" weren't staples humming out of stripmall speakers in 2003 remains insane. "All Kinds Of Time" was manufactured to make kids like me stare out the window and contemplate life. That James Iha guitar assist elevates that final minute of hand-clenched guitar soloing, and listening to the lyrics you can totally understand why this was the only Fountains of Wayne song to be featured in an episode of THE OC. No one has ever really topped "All Kinds Of Time" and no one ever will because that kind of song doesn't really get made anymore; keep in mind that WELCOME INTERSTATE MANAGERS was released at a time when Hoobastank's "The Reason" wasn't a punchline and instead just a genuine staple of VH1. Make no mistake: Adam Schlesinger's genius with regards to vivid character studies and bright power pop hooks will be studied the world over, but he wrote one of the best sad sack radio rock songs to never be a hit, a cutting, mid-tempo rock song that has just as much genius behind it. [CJ Simonson]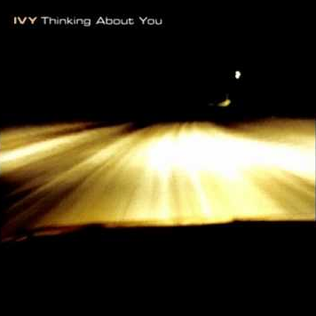 Ivy – "Thinking About You"
Most discussions of Ivy begin and end with their lead singer, Dominique Durand. Indeed, her honeyed cooing is hard to overlook in their brand of distinctly European lounge pop, and the contributions of the other two members (Andy Chase and Adam Schlesinger) are harder to pinpoint. Both are listed as "Group Members, Mixing, Producer" on AllMusic, and Wikipedia credits them as writers and producers on every one of their songs across five records of original material. That blurring of responsibilities is evident in their sound, an effortless, effervescent cloud of dreamy beats, Smiths-indebted jangles, and lush instrumentation that had just enough groove to stand out from the saturated field of '90s dream pop, trip-hop, and dance music.
No song sums up their appeal like "Thinking About You," the lead single from their best record, 2005's IN THE CLEAR. It's a towering song, with layers of guitar phrases over a dramatic violin, curdling synth tones, an ever-present bassline from Adam, and a killer solo to bring it all together. Yet Durand's vocals and Chase and Schlesinger's production makes it all seem so intimate and breezy. Listening to it with the full knowledge of Schlesinger's career, it's easy to hear how he transitioned so effortlessly into TV and movie work. It conjures images of a listless run through the neighbourhood, staring at the open sky while contemplating life; I am baffled that it hasn't been used in more rom-coms over the years. Furthermore, the whole of Ivy's catalogue illustrates his influence from all corners of pop music and an uncanny ability to synthesize them into something stylish and modern, which he would put to good use on CRAZY EX-GIRLFRIEND. [Blake Michelle]