No foolin'—it was another eventful week in TV Land! A solid feel-good NBC comedy AND a viral sensation true crime documentary about an eccentric tiger breeder? Who could ask for more? Check out these solid recommendations!
COUNCIL OF DADS (NBC)
Adorable. How could the story of a family with a little boy named JJ and a dad with leg cancer be anything less than adorable? COUNCIL OF DADS speedruns through a tale of love and loss within the first five minutes, which somehow works to its benefit. With all the cheese of nachos produced by Michael Bay, COUNCIL OF DADS manages to remain charming, if not subtle.
We start with our main dad, Scott (Tom Everett Scott), finding an aggressive cancer in his leg. He gets treatment and recovers. Then he gets his wife pregnant. Approximately halfway in, he says the phrase "council of dads," referring to a group of men he wants to raise his children polycule-style if he dies. The family encounters a loose collection of dadly men who give their special blessing in their own special way. Then Scott dies. The council of dads comes together and deigns to do their dadly duties to this group of kids in desperate need of a father figure. Or figures. Upsettingly, there are only three dads on the council. When I first read "council of dads," I envisioned an ensemble of at least nine dads. But it's all right. Scott's oldest daughter Luly (Michele Weaver) gets married three months later and things are looking hopeful. Sit down, really soak in this whirlwind of a pilot and see if it doesn't put a smile on your face. [Dan Blomquist]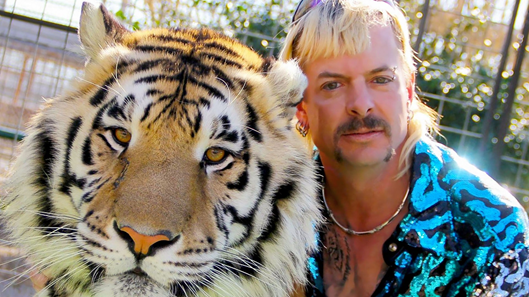 TIGER KING (Netflix)
Backwater Oklahoma zoos, illegal exotic cats, and a paranoid, gay, polygamist redneck. Maybe this is the America Trump envisioned when he took office, with a vague promise and a cherry red hat. I'll give him this—it certainly makes for great television. Tarantino himself couldn't have come up with a shitshow like this.
Meet Joe Exotic, a gun-toting, meth-smoking, walking gay disaster. His signature platinum mullet, piercings, squeaky drawl and sequined shirts make him seem abstract, like a caricature fresh out of Toon Town. He used to run G.W. Zoo in Wynnewood, Oklahoma, a privately-owned, trailer park animal farm that once bred and kept over 272 tigers. Using a stable of ex-cons, he built the Tiger King empire, peddling everything from cubs to leopard-print thongs and country albums chock-full of songs about murdering animal rights activist Carole Baskin. He even made runs for the 2016 Presidency and for the 2017 Oklahoma gubernatorial seat.
TIGER KING chronicles Joe's fall from grace, as he's targeted for misappropriation of business funds, illegal breeding and trade of exotics, animal abuse, and attempted murder. It's a tale of hubris, ego, lies and betrayal. Almost everyone in the cast is implied to be responsible for a murder or suicide. By the end, you won't know who to root for. Me, I hope they all end up in jail. Even Doc Antile.
TIGER KING blends trashy reality shows, true crime, and business politics in a docuseries you could only find on Netflix. It's not the most binge-worthy series, in my opinion, and there were times I felt my brain cells die (mostly when Joe talked). But if you want to experience a story as wild as the animals it showcases, look no further. [Tracy Nicoletti]