Contrary to what a calendar will tell you, Sundance lasts far longer than its measly dates would imply: months and months of deliberation go into the gradual acquisition of its programmed titles, many finding immediate distribution deals in streamer shopping sprees, but even more collecting dust while looking for a shot at the limelight. From the goddamn Grand Jury Prize winner to slow-burn, high desert cinema, we highlight four rock-solid Sundance films still, as of this publishing, in search of a home.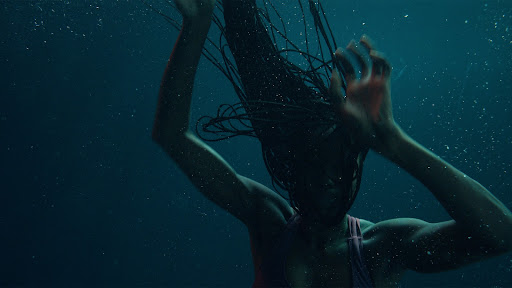 NANNY
Director: Nikyatu Jusu
When it comes to horror, sometimes the greatest threats are not the emergence of monsters, nor paranormal invasions, but the everyday moments of inequity; living under a suffocating, oppressive system that goes unnoticed by the privileged. NANNY, winner of the Sundance Grand Jury Prize for US Dramatic film, is an impressive debut by promising director Nikyatu Jusu that bends genres to explore an undocumented Black immigrant mother's pursuit of the American dream amidst dark threats, horrific hallucinations, and persistent exploitation. The main character Aisha, played stunningly by Anna Diop, is a mother who makes a great sacrifice by coming to America to work as a nanny for a rich, white family. Her job is a means to an end– to be reunited with her child who is separated by an ocean in her homeland of Senegal. Aisha's relationship with the couple's child can be sweet, but it's met with the underlying sadness that Aisha is living a life that is not hers. You can see behind her eyes a longing for the life she once had, where she was united with her own family and connected to her roots.
One of the themes often seen in immigrant stories is the pressure to assimilate versus the ties one has to their homeland. In many cases, sacrifices are made to try and conform to American standards of living, which often leads to the heartbreaking submission of these hard-working characters. However, Aisha defies these expectations by outwardly and proudly displaying her African culture. She teaches the young child phrases in French (the national language of Senegal) and feeds her the traditional Senegalese jollof rice, much to the chagrin of the girl's uptight and unstable mother Amy (played by Michelle Monaghan). Aisha's unapologetic pride in her history, her values, and her drive to be a providing mother is an inspirational driver throughout the film as she continues to advocate for herself in a way that is rare in stories about undocumented working class women of color.
Over time, Aisha's employers overstep her boundaries by not paying on time, asking her to work longer hours while low-balling salary expectations, and projecting insecurities of their crumbling idyllic homelife onto her. This constantly looming threat of exploitation and instability serves as the real monster of the story, even as Aisha is haunted by hallucinatory visions of dark creatures of West African folklore. Her visions of these spirits appear in many forms, from spiders and snakes entering her room at night, to water creatures intent on drowning her. Though this is the pivot that takes the film from drama to horror, her everyday experiences are just as tense. At times, NANNY feels otherworldly, and at others muted and sterile, just like the granite countertops of her employer's home. It's a constant push and pull that can make you forget that you were marketed a horror film, up until you hear the creeping score rear its tune again for the film's fantastical moments. Jusu follows a string of excellent subversive horror films centered on Black experiences in America; it's no surprise that Jordan Peele's Monkeypaw has chosen to work on her next feature. I am excited to see what she is able to accomplish with more resources, and I hope that her next projects will feature the incredible prowess of Anna Diop again.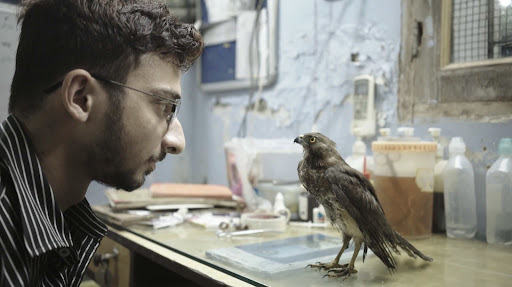 ALL THAT BREATHES
Director: Shaunak Sen
Environmental justice documentaries are abundant. From tackling deforestation, to protecting our oceans, and reversing the effects of climate change, there is no shortage of films that ask us to do something, anything, to protect our world. However, the sheer volume makes the idea of these global problems out to be impossible tasks for one inspired viewer to try to tackle on their own. You can be moved one moment, and the next day completely apathetic, because often the effort seems futile on an individual level. ALL THAT BREATHES acknowledges this by mentioning that their subjects see their work as "putting a band-aid on a gaping wound." And yet, they persist, and draw us in close, as we watch them tackle a burning planet for no reason other than the simple value that all life has dignity; if they don't do the work, no one will.
Air pollution is a life-threatening problem, but not a sexy one that most filmmakers want to tackle. It's not something most can viscerally grasp. But for the people of New Delhi, which contains the most toxic air quality on Earth, this issue exists tangibly in the form of birds falling from the sky like rain. ALL THAT BREATHES follows two Muslim brothers, Mohammad Saud and Nadeem Shehzad, who split their time in their dingy basement with intermittent electricity manufacturing soap dispensers and, invigorated by memories of feeding these birds throughout their youth, saving the lives of endangered black kites. Neither brother has any sort of veterinarian training, but their history as semi-professional bodybuilders has given them enough knowledge of muscles and tendons to be able to nurse these creatures back to health, even if it means mending broken wings by dim flashlight. It's all simply to restore some balance to the ecology of the area threatened by increasing urbanization. In over 20 years, the brothers have saved more than 20,000 black kites. At the same time, India is also facing a shifting political landscape fueled by anti-Muslim violence that the brothers contend with. Even with constant threats and lack of resources, the work continues to be done to protect the species.
The documentary subjects are soft-spoken about these greater issues affecting them on a personal level. We learn a bit about their commitment to their family, their fraternal bond, and their hopes for the future, but focus is always brought back to the little moments of process that goes into saving an individual life. It is a loving reminder that even amidst the greatest struggles, the best traits of humanity can still be found. For some, ALL THAT BREATHES can just be a sweet film about two brothers who really like birds. For others, it's a contemplation on the value of all living things, and how one life saved can echo saving the whole world. It reminds us that individual actions really do matter, even when you have very little to work with.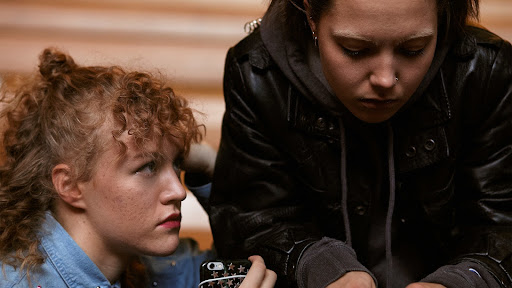 GIRL PICTURE
Director: Alli Haapasalo
GIRL PICTURE is a Finnish coming-of-age tale that follows three young women over the course of three consecutive weekends as they pursue friendship, love, and pleasure. If that plot sounds familiar to you, it's because it's the same synopsis you'll find in any of the major teen hits over the last five years, from LADY BIRD to BOOKSMART. In most ways, GIRL PICTURE doesn't reinvent the wheel—there are plenty of films about women that capture the awkwardness of coming to terms with their sexuality, fear of commitment, pursuits of hedonism, and mommy issues. The film even has its familiar archetypes: the angsty outsider with familial baggage, the preppy athlete living under the constant weight of expectations, and the quirky, often socially adept girl just looking to have a night of good, sexy fun. We know these characters, and we love them. What makes GIRL PICTURE so refreshing is that it comes to us with an updated, grounded look at adolescent queerness. The relationship between punky Mimmi and polished figure skater Emma is a fast, furious romance that turns from one night of EUPHORIA-style dance floor chemistry into a passionate romance in a matter of days. This is an accurate portrayal of a lot of young lesbian romances (insert joke about U-Haul) that feels rooted in something real, unlike the kinds of unrealistic bonds and sexual experiences we see portrayed in most male-directed queer stories like BLUE IS THE WARMEST COLOR. Their love isn't treated as a sin or a secret, but instead with the nuances of any young love story.
In another storyline, the sweet and awkward Rönkkö chases the fantasy of a fulfilling sexual experience with a member of the opposite sex, in which she learns, through many failed attempts, is a lot harder than it seems. Taking advice from Mimmi, who is also struggling with intimacy in her own right, Rönkkö is willing to try anything, even if the result ends up being less than spectacular. Through embarrassing mishaps and the now-popularized indie girl "throwing up at inopportune moments" trope (seriously, when did that become a thing that everyone decided needed to be in their screenplay?), we watch her struggle and second guess herself, but still get up and try again every time. It's refreshing to see a young woman so confidently pursue what she wants, even if she's not sure if she's going the right way of getting it. It's a refreshing reminder that sex isn't always about the destination, but the journey in getting there, and that sometimes those roads are paved with weird reactions and awkward angles. GIRL PICTURE can sit comfortably on your shelf next to your copy of GHOST WORLD, and, sure, it may not revolutionize your life, but it will be sure to make your heart beat a little faster.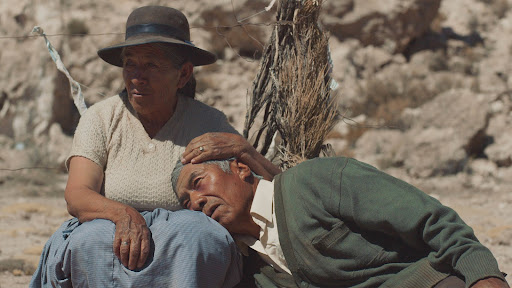 UTAMA
Director: Alejandro Loayza Grisi
I've long been a fan of the high desert. While it doesn't have the grandness of a redwood forest, or the power of watching the ocean waves crash along the shore, it carries its own indescribable magic. Realistically, nobody should be able to thrive there, and, yet, there are people who do it by sheer force of stubbornness. Those who live in the desert, I've found, never seem to want to leave. There is something about the stillness that keeps them there, for better or worse. UTAMA captures the beauty and barrenness of that still desert life beautifully through the direction of Alejandro Loayza Grisi, who began his career as a still photographer and documentarian. Each shot of this impressive narrative feature debut is a gorgeous tableau that showcases not just the mercilessness toward life, but the breathtaking beauty of multi-colored mountain peaks in the high desert of Bolivia. Virginio and his wife Sisa, an elderly couple of llama herders who have lived their entire lives on the arid plains, follow a routine of manual labor. When the couple's grandson Clever arrives to visit them in hopes of convincing them to move to the city to escape the worsening drought, a familial struggle begins that worsens an already fractured relationship, creating a rift between their traditional ways and Clever's modernity.
Besides the dialectic of urbanization at odds with rural living, the film is also about communication—or the lack thereof. Virginio and Sisa's relationship is quiet, but rooted in a genuine love of their silent companionship. As it were, the couple was played by two non-professional actors who are married in real life, hence why the film's least scripted and dramatic moments showcase this relationship in its most comfortable form. The couple also speaks a common tongue, an ancient Incan dialect, compared to Clever's Spanish. There is a constant unspoken anxiety that if they were to leave their homeland, or leave their Earthly plane, that no one will be left to continue the culture that they have kept going. UTAMA is deliberately slow-paced, but it's runtime is far from grueling as you take in the beauty of the scenery and the portraits of the forgotten. Virginio shares a beautiful story about the great condor, and how when it is unable to fly, it goes up the mountain to let itself fall and let new life begin anew. Like the great condor, some people are meant to be stewards of this land, to live and die there, so that the ways of desert life will always be honored.