We're here to tell you what's hot and what's not on this week's music roundup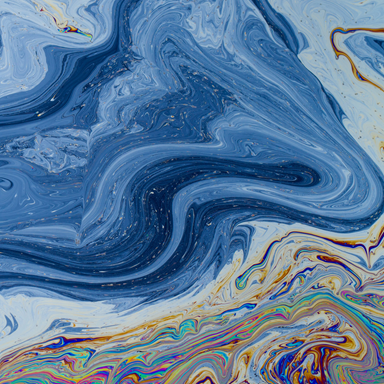 Floating Points – CRUSH
Genre: IDM
Favorite Tracks: "Last Bloom," "LesAlpx," "Bias," "Environments," "Apoptose, Pt. 1"
"I feel like this current political climate that we're in the moment, well, at least my awareness of it, it feels like this slow violence of the turning of the screw on society – it's crushing."
Sam Shepherd is angry. It's a reserved anger; sure, he's not screaming or flailing about in a violent outburst, but the anger is there nevertheless. Shepherd's anger isn't focused on just one thing either. The scope is broad, and for good reason, considering all the shit being stirred in the UK, his home country, and the US, where he spends a good deal of time. Anger is an emotion that hasn't been a touchstone in his previous works; his early EPs were generally of the deep house variety, with projects like SHADOWS that expertly catered to the dancefloor, and his debut album ELAENIA is a warm meld of jazz and ambient techno recording alongside a full band. Contrastly, his latest as Floating Points, CRUSH, is a solitary statement crafted almost entirely with vintage synths (Buchla is this go-round's brand of choice) that picks its spots, never overeager or too uneasy.
The jazz elements of his first LP are largely absent on CRUSH. Improvisation is tactile on many of the record's tracks, but the sounds are far more indebted to the electronica of the late '80s and '90s, like "Environments," a dour yet skittery piece that highlights Shepherd's programming and sound design talents better than every other song on the record. Hints of Aphex Twin's eponymous album peak out from time to time, but the most notable flare is the bits of heavy bass synth he sporadically drops in to keep the track just off-kilter enough to leave the listener in suspense without altogether losing the plot. Shepherd is unpredictable across the album, opting to cut tracks short at a moment's notice like "Bias," a slow-burn until it suddenly isn't thanks to a whiplash-inducing twist in the second half. Some tracks sputter out at their ends, but these last gasps aren't haphazard, rather intricately constructed songs that simultaneously constrict while they collapse.
"LesAlpx" is the hardest driving of the bunch, but bears a striking resemblance to some of Jon Hopkins' recent works that distracts from the beautifully built progression that fluidly climbs and weaves like THE SHINING's sweeping helicopter shots that start the film. "Anasickmodulator" gets a bit too lost in the weeds and "Requiem" just sort of, well, floats with no point (sorry). While these brief low moments pull at the rest of the record's coattails, they do work to accentuate the times when Shepherd really uncorks on the album's fiercest tracks and tie CRUSH together into a codependent being that works best when consumed en masse. Of the many accomplishments attributable to CRUSH, its finest is its ability to strike a balance between enraged energy and delicate elegance. [Ryan Moloney]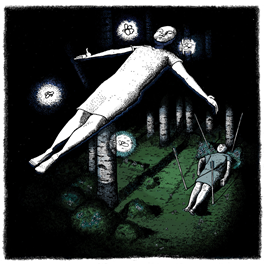 Great Grandpa – FOUR OF ARROWS
Genre: Indie Rock
Favorite Tracks: "Dark Green Water," "Mono no Aware," "Split Up the Kids," "Mostly Here"
As we were divvying up this week's candidates for the music roundup, our esteemed Music Editor told me that Great Grandpa "was the most fall Sad Dad listen of the bunch." Referring to my online moniker (follow me if you want, why not!), he couldn't have been more right: within the first seconds of "Dark Green Water" I was the physical manifestation of the "Ah shit, here we go again" meme. Opening up with the meaty but palatable riffs of latter-day The World Is a Beautiful Place… and the longing melodicism of whatever post-emo wave we currently find ourselves in, Great Grandpa soon reveal their Chemical X: a consistently present but not overbearing alt-country and folk sensibility, whether it be a slight twang in a vocal delivery, a subtle use of slide guitar ("Digger"), a Dessner side project string orchestration ("English Garden"), or a lyrical turn of phrase that's sort of an older, more grounded cousin to emo's angst-filled adolescent missives (although Frances Quinlan-reminiscent searching stretches of range are still present in tracks such as "Mono no Aware" and "Mostly Here"). But, even as someone who typically loves unpacking genres and their lineage, FOUR OF ARROWS seems like as good a cultural watermark as any to put the tendency to classify anything honest or vulnerable as "emo" to rest. There's truly more here than meets genre tag presumption, the entirely straight-faced and evocative piano interlude "Endling," the unexpected '80s jangling dream pop diversion of "Rosalie," and the Bon Iver acoustic musings of "Split Up the Kids" all unexpected plays that keep the interest piqued while perfectly fitting in with a cohesive overall tone and aesthetic throughline. All of this is to say that while it may land somewhat adjacent of algorithmic playlist construction for its sonic diversity, FOUR OF ARROWS is a comforting 44 minutes of warmth as the nights grow longer and colder, and one you should run, not walk, to check out. [Thomas Seraydarian]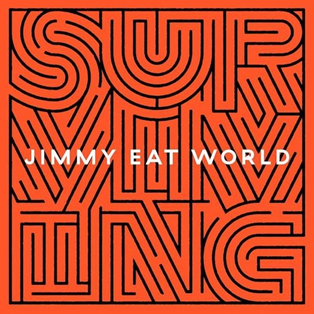 Jimmy Eat World – SURVIVING
Genre: Pop Rock
Favorite Tracks: "One Mil," "All The Way (Stay)," "Recommit"
By most accounts, from fans or otherwise, Jimmy Eat World are pretty far past their prime. Prolific as they were through this decade (four albums, ample touring), even if the Arizona rockers would have benefitted more than most from a long break a la contemporaries American Football or Brand New, the emo discourse nevertheless shifted in spite of mediocre modern releases to rightly place them as one of the most important bands of that scene, pop stardom with "The Middle" be damned. Certainly the group's last release, INTEGRITY BLUES, turned a few heads in the emo scene, but it was hard to tell if the historical course correction of their legacy had maybe affected that view—by my account, INTEGRITY BLUES is perhaps slightly better than 2010's INVENTED, but not enough to be seen as "great" by any metric. Their latest, SURVIVING, strikes me similar even if it is easily the best of this decade; Jim Atkins' swooning vocals remain as singular an emotional force as ever on tracks like vintage sweeping ballad "Recommit" and wordy pop rock romp "All The Way (Stay)," both of which are great entries into the band's catalog. The buzzing guitars of the latter are a throughline on the record's back half ("Diamond," "Love Never," "Congratulations") and range from elite level radio rock to kind of forgettable. When Jimmy Eat World begin to move towards spacious, arena-sized grooves like the reverberating "Delivery" or the pop-driven, agreeable clapping beat of opener "555," hints of what could have been rear their heads in both good and bad ways, perhaps a more current-sounding album, but ultimately a pair of tracks that simply don't fit with the hard-nosed sound being channeled here—the soaring, amphitheater-ready sing-along "One Mil" has traces of this without feeling definitively pop, a nice standout on the record.
But my issue with SURVIVING centrally revolves around the fact that the great "emo" band we've come to adopt through retrospect isn't really presented here. Closer "Congratulations," tongue firmly in-cheek, opens with the line "There's no clarity in front of me," and certainly that could be looked at as the mantra for everything the band has done this decade as they've musically continued to slowly and slowly buy into the mythos of BLEED AMERICAN being one of the great pop rock records of its time. That fact can be true (it is), as can the fact that SURVIVING is all things considered very listenable, and yet we can wish for a more balanced and interesting record—look no further than the confused and even flawed FUTURES as the band struggling with its emo identity without losing any of its pop ambitions. I appreciate SURVIVING, but Jimmy Eat World are more KROQ than Washed Up Emo here. [CJ Simonson]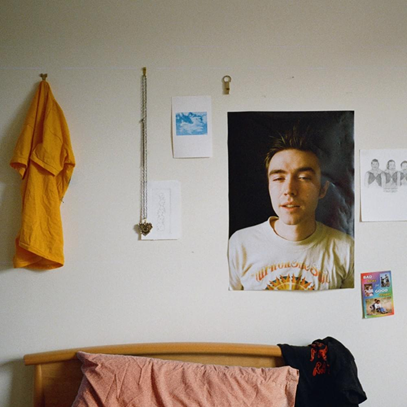 Matt Maltese – KRYSTAL
Genre: Indie Pop
Favorite Tracks: "Rom-Com Gone Wrong," "Tokyo," "Krystal," "Curl Up & Die"
Only a year removed from his standout 2018 debut album BAD CONTESTANT, British soft rock phenom Matt Maltese is back with his sophomore followup, KRYSTAL. Only 21 years old at the time, Maltese demonstrated on his first record a songwriting touch matured well beyond his age, channeling legendary crooners like Dean Martin into the 21st century with a schmaltz sound and impressively emotive baritone voice. KRYSTAL represents a significant step forward for Maltese as an artist, taking more facets of his album's creation into his own hands and demonstrating far more stylistic range. Where BAD CONTESTANT featured the sublime producer's touch of Jonathan Rado, leading to immaculately constructed arrangements and extremely clear vocal tones, KRYSTAL is largely self-produced, and the end result is an album that sounds decidedly more lo-fi but features a much greater diversity of sound.
KRYSTAL goes blow-for-blow with its predecessor in every way. After starting his last record with a Song of the Year candidate in "Greatest Comedian," Maltese does it again here with "Rom-Com Gone Wrong," a requisitely lovesick opener with a killer piano melody and some magnificent vocal harmonies in the refrains. This quickly becomes a staple of the record: from the layered melodies on the back half of "Wish You'd Ask Me" to the blossoming choruses and outro of "Curl Up & Die," there's never a shortage of arresting vocal melodies to be found. Maltese is not content to simply stick to his piano ballad guns this time around, as KRYSTAL also finds him dabbling in multiple different styles of dream pop. "Tokyo" features the uptempo but ethereal jaunt of an Alvvays song, complete with a sticky, meandering melody and a crystalline guitar tone that carries a healthy dose of reverb. The album's title track explores the slower side of the genre, starting off like a classic Galaxie 500 cut before expanding into an enveloping and hypnotic outro passage reminiscent of TEEN DREAM-era Beach House. Lyrically Maltese is as sharp as ever, as he retains his wry, self-deprecating sense of humor while also staying starkly and openly confessional about issues of young love and romance in contemporary society. Taken as a whole, KRYSTAL is a compelling and refreshingly frank collection of tracks that also represents marked progress for a still developing young artist. Matt Maltese can be labeled as many things, but one thing he has never failed to be is genuine. [Jacob Martin]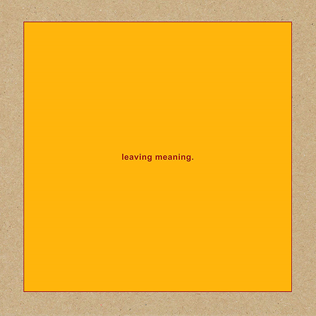 Swans – LEAVING MEANING.
Genre: Experimental Rock
Favorite Tracks: "The Hanging Man," "Some New Things"
ok boomer. [Thomas Seraydarian]