"Can I bring another friend out?"
Messaging is everything.
Expectations weren't unreasonable. Consummate mythical pop/R&B figure Frank Ocean hasn't been keeping his head down. We're far past the 2014-2016 era of reclusion, with Sasquatch-type sightings of the musician as sole sign that he was still kicking. In fact, he'd been popping up frequently in the lead-up to 2019's Camp Flog Gnaw—a consistent slew of singles, episodes of his Beats 1 radio show, and the controversial PrEP+ party series carried his authorship just in the Fall alone.
The dude's been leaving his house.
On the event's lineup poster, the "???" headliner tab was covered by a banner trailed by a UFO; one of BLONDE's loveliest ballads, "Self-Control," with over 136 million streams, contains the line "I came to visit, 'cause you see me like a UFO." There hasn't been a week since September without a Frank Ocean headline. Again: Expectations weren't unreasonable!
And then out walks the prom king.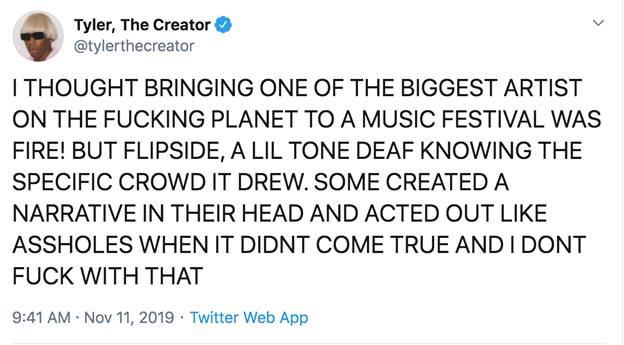 An executive producer of HBO's EUPHORIA, booed by his own newly forged demo, sullenly walking offstage remarking "I go by the name of Drake, thank you for having me" like a dejected 8 PM opener for an 11:30 PM headliner. What a profound booing—I've never seen a surprise "gift" to an audience backfire quite like this. There's no room for Trumpian revisionism, no "Nah, people were actually vibing!" With recent tweets from Tyler and Drake (via DJ Akademiks, hahahaha), the mishap is completely taken on the chin. No outro or goodbye, either. Camp Flog Gnaw 2019 ended not with boisterous celebration, but with harsh flood lights turned on and security pushing crowds toward the stadium exits. The memory of Drake's Los Angeles festival appearance lives in the hands of the people, not just through the buffering, pixelated Instagram Live of one GA attendee squished in the pit and vocally confused by the set, but also through the 11,000 people who somehow found her Instagram (answer: the entire viewer base of the official festival Twitch stream found her username and spammed it in the chat).
The crowd reception was so poor that Camp Flog Gnaw's Instagram, which had been posting edits of every act, has yet to acknowledge that Drake was present. The salt on the wound? Today's post is promo for A24's WAVES with a prominent needle drop by, you guessed it, Frank Ocean. Yowza.
But back to that Drake set right quick.
The midway self-congratulatory pep rally worsened matters, with Drake lauding himself as the OG to Tyler's yungin' status—the superstar's got five years of breathing life on Okonma, but many would argue the two are contemporaries, with Odd Future's meteoric rise from mixtapes initially outpacing the Canadian superstar's years of built-up cultural cache. Disregard history, though. Tantamount to the furor is how no one in that crowd would want to admit that Drake was ever the genome of GOLF. There's no way that the dude who made "God's Plan" is about to be embraced by some Thrasher-ass wearing, thrift-shop invading, cuffed jean motherfuckers, even if their God tells them to.
This is the last time Goldenvoice ever pulls the mystery headliner trick of enticing new and returning festival-goers with a same-y lineup, but at a higher price and with the air of "What if?" exclusivity. From a financial basis, yeah, it still worked—Flog Gnaw sold out every one of its pass variations, with nary a promotional giveaway in sight. Everyone's wallets, Drake's especially, are packing weight, but it's a greenish-blue bruise to a number of egos, notably to the perception of Camp Flog Gnaw's integrity. Money will still be made, absolutely: I spent $90 on a pair of GOLF striped pants at last year's festival and my shopping cart was light. You had thousands of kids purchasing full-fledged outfits from merch booths capitalizing on Tyler's Disney-fication of alternate lifestyle. Wear his uniforms. Listen to his playlists. Sing his songs. Scream his songs. Listen and repeat. Pay hundreds for entry to his heavily policed theme park to purchase more. Say thank you. Capital influx will persist, but the ideology behind it took a beating.
Last night, we saw the "weird" kids realize their virtuoso king looked up to the jocks. It was never a secret, but it became a deeply felt reality for some festival goers pissed about much more than just a limp, 20-minute Drake set. It was a WATCHMEN squid nuking of superiority complexes, like discovering Negative Approach is buddy-buddy with Aerosmith. Of course, Tyler is a giant pop figure, but much like Frank, his fan base still treats him as a hidden treasure. He's got regular product launches and brand deals, yet the fan consensus remains that he makes this art for them, that this is completely hand-crafted, that Camp Flog Gnaw is a safe space passion project and not Goldenvoice using the brand of an invincible figurehead to fill a slot in the crowding hip hop festival market.

Camp Flog Gnaw is put on by Goldenvoice, an AEG subsidiary. Yes, Anschutz Entertainment Group. Yes, Philip Anschutz, the anti-gay, conservative billionaire written about every Spring as simply "the owner of Coachella," when his grasp is so much more significant and sweeping. Doesn't take a lot of sleuthing, just like how it doesn't take much sleuthing to revisit Odd Future's original brand of gay panic and celebrated sexual violence. Of course Tyler hates "cancel culture," even though he's managed to MATRIX-dodge it so efficiently that he became an LGBT+ icon with no one batting an eye. Tyler's messaging and the friends he keeps are at odds with his creative output, or at least the massively accepted perception of his output, but also completely within his financial ambitions. But that's a discussion both out of my grasp and for another time.
Take a peek at Twitter and it's a lot of "ungrateful" and "entitled" being tossed about by OVO stans—even those who disliked the Drake set are calling out the caustic crowd for bringing down poor Tyler's mood! Bigger than stan culture in 2019 is bootlicking. It's all about maintaining the pride of icons to affirm our own sense of identities in a landscape where opinion and taste in pop culture determine one's social acumen. If you've sat through 23 MCU features and hours upon hours of Comic Con panels, let alone multiple TV series, then Scorsese calling it all a guff feels much more personal than it should. FLOWER BOY fans hail Tyler as the savior of hip hop and "weirdness," and dudes that habitually cheat on their girlfriends look up to Drake as the messiah—taste has transcended hobby, every brand is a lifestyle, and to encroach on the sanctity of that is means for volcanic anger.
It's still false prophets with 10-digits in their heart, though. You don't really owe them anything, this has all been for themselves. Boo away, even if you don't realize until later that you may have mostly been booing yourself.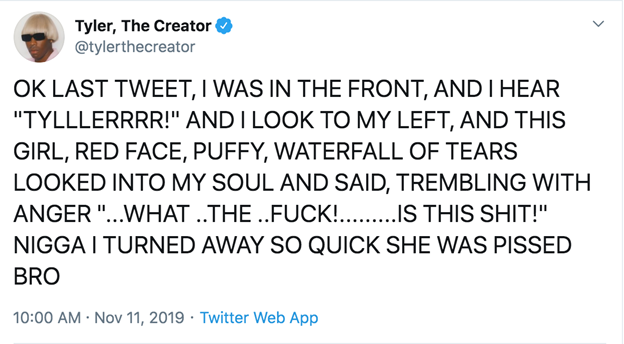 In 2016, the surprise set was EarlWolf, the duo otherwise known as Tyler, the Creator and Earl Sweatshirt. Nothing too radical, it was a set dedicated to performing deep cuts from the free mixtape days. Ostensibly, the special surprise was a strictly "for the fans" set of edgy teenager joints and beat snatches like "Orange Juice", a two-hander over Gucci Mane's "Lemonade," as reward to long-time listeners. Scoring Universal and Illumination's THE GRINCH and fighting for radio play of "See You Again" will definitely push any musician in the direction of swiping their catalog of Taylor Swift rape fantasies, necrophiliac tendencies, and clit stabbings under the rug. If you want to place in the Top 40, then you need to act like the Top 40. Many Tyler fans will overlook this viral debacle as a fluke, ready for the next Converse drop or festival pre-sale. But keep an eye on the solid contingency faced with a Canadian vibe check realizing that their cultural oasis was actually a Wal-Mart. Tyler is "embarrassed by fans right now," but the feeling's mutual.
Messaging is everything.