For the final time this year, we're here to tell you what's hot and what's not on the music roundup!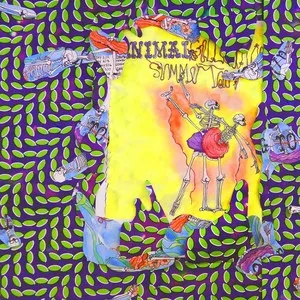 Animal Collective – BALLET SLIPPERS
Genre: Neo-Psychedelia
Top Tracks: "Summertime Clothes," "My Girls," "Banshee Beat," "Lablakely Dress / Fireworks"
There are myriad ways to become a fan of a band, but the path to becoming an Animal Collective fan in 2019 is a narrow one. It starts with your most annoying friend constantly trying to goad you into listening to them, usually selecting one of the more batshit deep-cuts because they don't remember what is was like to hear Animal Collective in the Before Times. You finally give in and for roughly 30 seconds you make the most confused face you've ever worn before yanking the aux cord and putting "honestly anything other than this" on. A few months or years or bong rips later you accidentally stumble upon MERRIWEATHER POST PAVILION. And a few hours or days but most especially bong rips after that, you're obsessively looking for live recordings of "Alvin Row" and vehemently defending latter-day Collective cuts on forums called shit like "Zookeeper Wearing a Sung Tongs Shirt dot com."
The last few years for those AnCo-obsessed have been tough sledding; the band's LPs since MERRIWEATHER POST PAVILION have been varying degrees of dire and those disappointments have been only ever so slightly subdued by side projects that have been bad, okay, and pretty good, usually all at once. This is not lost on the band, who have begun to pivot into legacy act territory with anniversary tours, reissues, and uncoverings. The latest addition to the pantheon is BALLET SLIPPERS, an archival album that stitches together four shows from the band's 2009 tour in support of their magnum opus, MERRIWEATHER POST PAVILION.
BALLET SLIPPERS hits a very unique vain of nostalgia that nary a band has tapped into before these fellas from Baltimore. It quite perfectly replicates the journey many AnCo fans take to become enraptured enough to give a decade-old smattering of live recordings a spin. "In the Flowers" is the obvious opener, but AnCo makes a choice more befuddling than their last three records by completely neutering the uproarious joy packed into the studio version. The rendition played for the Boulder crowd packs absolutely none of the track's potent punch, instead opting for literal cricket noises in lieu of the cathartic drop that's meant to hit about three minutes in. Some trust is built back with "Who Could Win a Rabbit" and halfway through "Summertime Clothes" just about every AnCo fan will be all the way in on BALLET SLIPPERS (though they could be forgiven if they, like I, were extremely distracted trying to imagine what the crowd at an Animal Collective show in Ft. Lauderdale, Florida looked like in 2009). Props must be given to whoever mixed this record, as it does a better job than most live recordings at incorporating every last sonic detail and does a marvelous job seamlessly weaving songs from different shows into each other. But the highest honor goes to the band themselves for "Lablakely Dress / Fireworks." That Ft. Lauderdale crowd was treated to a 20-minute triumph of a track that is legitimately on the level of STOP MAKING SENSE and ALIVE 2007. It truly is that fucking good. For the non-AnCo fan, it's slow-burn start will understandably have the uninitiated hitting skip, but for those who've spent hours and hours and hours listening to Animal Collective, it will be the best thing you'll hear all year. And, well, isn't that how it's always been? [Ryan Moloney]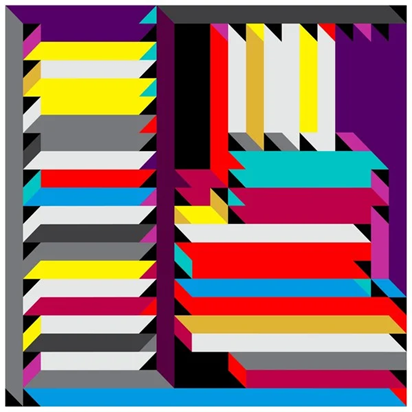 Battles – JUICE B CRYPTS
Genre: Art Pop
Favorite Tracks: "Fort Greene Park," "Titanium 2 Step," "Last Supper On Shasta Pt. 1," "Last Supper On Shasta Pt. 2"
I think there were, rightfully, some questions about Battles walking into JUICE B CRYPTS. Down to a duo after the loss of Dave Konopka, what surprises could the group still offer after 17 years? Not that the overextended 2015 release LA DI DA DI exactly set the world on fire, a pretty natural (if far-delayed) extension of the ideas they'd fleshed out on GLOSS DROP at the beginning of this decade without the intensity, but the group has always had flashes of brilliance post-MIRRORED. JUICE B CRYPTS may not have the fanfare accompanying it that GLOSS DROP did, but in spite of the nagging issues that plague the record (the transitions and flow of the album in particular are jarring, and it lacks anything as singular and memorable as, say, "Atlas" or "Ice Cream"), all in all JUICE B CRYPTS is unquestionably the group's most interesting release this decade. Down two members, they've brought on collaborators like tUnE-yArDs, Shabazz Palaces, and Jon Anderson (you know, the lead singer of Yes) to offer a degree of unique texture and it's a gamble that pays off well for Battles, often times bringing a bright contrast to Ian Williams' melodies and choruses that are a return to the noisy, off-kilter digitized electro-rock of the group's earliest work (see: "Titanium 2 Stepe," "Juice B Crypts"). Two-part closer "Last Supper on Shasta" is especially a nice cap to the record, Merrill Garbus providing an important grounding to the album's most manic tracks, a glitchy, hectic aura made particularly engaging due to drummer John Stanier going out of his mind. Even through its disjointedness, JUICE B CRYPTS feels creatively fresh even if some of the same playbook is being used, and that freshness goes a long way here. It's far from perfect, but it's a nice surprise from a well-worn band. Still, go listen to MIRRORED and if you can, see them live. [CJ Simonson]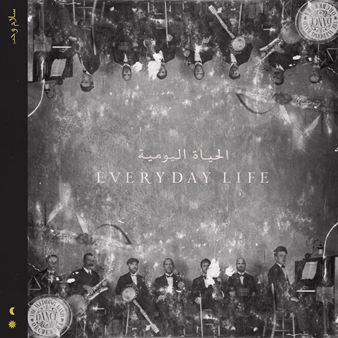 Coldplay – EVERYDAY LIFE
Genre: Pop
Favorite Tracks: "Arabesque," "Daddy," "Champion of the World"
A swell of pre-release hype surrounded Coldplay's EVERYDAY LIFE, and after listening to it, I'm still kind of trying to figure out why. The band has been in our collective conscious for nearly 20 years now, and spent their first decade making reliably solid if pedestrian records (even one very good one) before crossing firmly into Top 40 territory during Chris Martin's A-list pop star phase over the last few years. One of the most popular dunks on Coldplay is that they're boring, but in the wake of their announcement that they would cease large-scale touring due to its environmental impact (a goal that is, by any measure, an admirable one), it sure seemed like people online raced to their phone to make the same "climate change is good, actually" joke all at once.
I suppose my question ultimately is: Why did we choose Coldplay for this kind of knee-jerk spite? They've always honestly been pretty harmless as far as alternative radio bands go, and even have had several spurts of legitimate, if often heavy-handed, creative inspiration. They seem to all have a legitimate political conscience and a pretty good deal of musical talent—on their latest, EVERYDAY LIFE (as well as many of their other more ambitious records), the backing trio of Jonny Buckland, Guy Berryman, and Will Champion continues to provide very good instrumental textures (Buckland, in particular, has played his whole career with a style that is reminiscent of a more ornamental interpretation of U2's The Edge that is one of the most satisfying parts of any Coldplay tune. He's really good, folks) and work in some earnestly crafted and ornate, lightly world music-influenced pop songs. It would absolutely be fair to ding them some points for their Chainsmokers collaboration, but we allow some of their contemporaries with a lot less talent to get away without, at the very least, comparisons to Nickelback.
Still, it feels that a lot of people are quite eager to grade EVERYDAY LIFE on a curve. Because we know that as easy and cheap as the jokes are, we know deep down that Coldplay isn't that bad. They're basically a few synths away from being Bon Iver. And EVERYDAY LIFE is immediately much, much more ambitious than anything they've produced in the last decade, which they deserve credit for. Chris Martin's lyrics are much more politically motivated and pointed than they used to be, which people will respond to for obvious reasons. The Femi Kuti and Stromae-assisted "Arabesque" is delightful, "Daddy" is on par with many of their early 2000s tearjerkers, and the second half of the album does string together a couple of very good songs in "Champion of the World" and "Everyday Life." So in the sense that Coldplay does seem to be trying again, it's something of a return to form. But, as much as everything above is true, even a spirited Coldplay record is a reminder that they're a relic of a very, very different world than the one we live in. EVERYDAY LIFE sees Martin even go as far as to say "fuck" in a song about gun control, but if you get beat to that energy by a career politician running for president… the strength of your message might be a bit too little too late. We'll always have an audience for Coldplay, and dammit, they're a talented group of musicians and they deserve one. But hearing this album is like seeing an ex again—you might be glad to see they're doing well, and you might even remember the good times, but there's a reason they're an ex. [Adam Cash]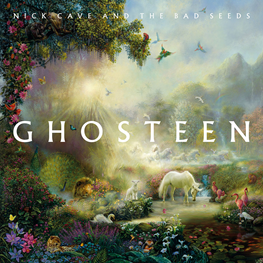 Nick Cave and The Bad Seeds – GHOSTEEN
Genre: Ambient Pop, Singer/Songwriter
Favorite Tracks: "Bright Horses," "Waiting for You," "Sun Forest," "Galleon Ship," "Ghosteen"
It's somewhat interesting to consider the fact that Nick Cave's 2016 release, SKELETON TREE, was almost entirely locked and loaded by the time Cave's son, Arthur, died in a tragic fall. Even if Cave went back into the studio to alter some of the lyrics in the service of his inner turmoil, at the time, the album stood out for how collected and contained it felt, a record devastating in its context and subject material that was all the more evocative for the odd sense of acceptance and understanding it carried. As such, despite what its album cover may suggest, GHOSTEEN certainly feels like the logical follow-up, an album that earns its rightful place among the rarified air of BLACKSTAR and A CROW LOOKED AT ME as far as using art to process the end of a life goes. Though Cave errs on the side of Bowie as opposed to Elverum in terms of painting concepts such as grief and mortality in cinematic and metaphorical broad-strokes instead of hyper-local specificity, there is still something staggering about the degree of presence GHOSTEEN has. Cave's baritone has always been a commanding force, amplified here with a newfound affinity for some of the New Age-leaning ambiance of the Berlin School synthmasters. While the compositions are somewhat more subdued than Cave's classic run of albums, the overall fidelity is notably higher than SKELETON TREE's depressive murk, the light, crystal-clear sketches of production allowing his musings to ebb and flow their way into full, shining force—the chorus of "Sun Forest" is the perfect example of this, a soaring triumph that is raised up by cumulative effort instead of a heavy-handed singular element. To be clear, GHOSTEEN is certainly more of an album to sit with and slowly digest than one offering immediate pleasures—even with the Favorite Tracks above, none of them mean as much on their own as they do in the careful, measured progression of the album at large. That said, GHOSTEEN also deserves some commendation for being an album that's a bit more accessible  and fundamentally listenable than something like the aforementioned ACLAM, Cave making sure to give brief moments of hope and joy their chance to break through the cloud cover. All in all, the maturity and composure demonstrated over the course of GHOSTEEN is something that could only come from a seasoned art house veteran such as Cave, and his desire to create something that "writes beyond the trauma," proving that "there is a pure heart… but all around it is chaos" is fully realized within. How can you not tear up a little when he comes strong out of the gates of "Ghosteen" with "The world is beautiful / Held within its stars" considering the past few years he's had?  [Thomas Seraydarian]