We're here to tell you what's hot and what's not on this week's music roundup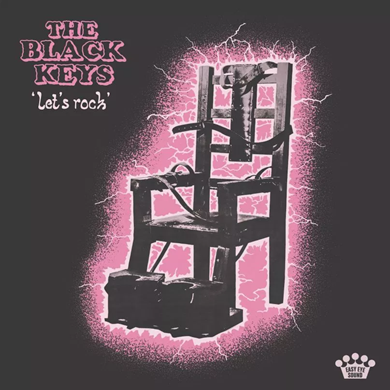 The Black Keys – "LET'S ROCK"
Genre: Pop, Blues Rock
Favorite Tracks: "Walk Across the Water," "Tell Me Lies"
The joke that The Black Keys basically only make music for home improvement commercials will never die, mostly because it will never not be funny. It's objectively hilarious if you've ever heard the band's early material. The fact that "LET'S ROCK," the title of the esteemed bluesy alt-rock duo's latest album, is in quotation marks makes it almost self-aware of that fact—almost. But this is the second dud in a row now for the bona fide rock stars, an album that is perhaps a more clear-cut return to the polished blues the group was exploring back on ATTACK & RELEASE, only without any of the dramatic flare or drive. Anyone who heard lead single "Lo/Hi" and didn't find themselves mentally hearing "More Saving. More Doing. That's the power of the Home Depot" over the intro is a stronger person than I. But beyond that unfortunate track, the intros and instrumentals of most of "LET'S ROCK" 'rock' in a music supervisor's wet dream kind of way, tame music with easily matched visuals of shopping in malls or eating pizza or buying diamonds or some shit. TURN BLUE lost points because it simply wasn't a particularly exciting listen, but at the very least their milquetoast psych palette yielded more interesting results than this. Their Stealers Wheel riff "Sit Around and Miss You"  lacks punch, "Go" is almost exhaustingly pop in the chorus, and closer "Fire Walk With Me" goes out with a whimper. When I go back and listen to EL CAMINO, something about the band falling into hooky riffs and sing-alongs felt natural. Here, every note feels forced, every decision overthought. Even this album's more interesting moments, the slow nighttime waltz "Walk Across the Water," or the laid-back rocker "Tell Me Lies," aren't noteworthy highs compared to elsewhere in their discography. As someone who would go to bat for The Black Keys during their rise to fame this decade, "LET'S ROCK" is a real shitty way to repay a fan. [CJ Simonson]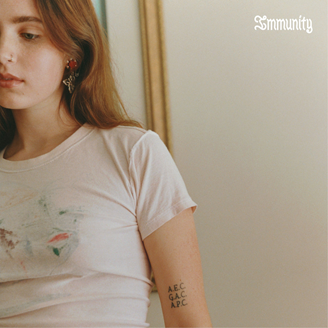 Clairo – IMMUNITY
Genre: Indie Pop
Favorite Tracks: "Sofia"
"Industry plant," like "hipster," "millennial," or pretty much any term invented in the internet era, has been bastardized into a broad catch-all description for someone you don't like. The generally accepted definition is "an artist that a major label has hand-picked to be their next discovery," which if applied liberally enough, could really describe any artist. Over the years, industry plant has come to be the tag of choice lobbied at any divise new artist that comes out of seemingly nowhere into stardom (Post Malone, Superorganism, and Chance the Rapper have garnered such criticism, to varying degrees of validity), but the Alleged Plant of the Hour is Clairo, who turned heads in 2017 with her viral breakout song, "Pretty Girl." It had all the hallmarks of a bedroom pop hit: sweet, innocent vocals, mediocre recording equipment, and a simple yet fun music video made on iMovie. Her newfound popularity naturally came with newfound scorn, many from the famously kind, chill, and open-minded dudes over on Reddit, who stamped her with a resounding "Industry Plant!" The claim wasn't all that unfair considering her father is a high-level marketing executive with quite a few important connections to the music industry, most notably Fader co-founder Jon Cohen, whose label she signed to that year. Ultimately, the industry plant problem ranks towards the bottom of the list of Capitalism's Evils, and with the rising popularity of the Impossible Burger, it seems we've all come to the conclusion that it's OK to consume plants, industry or otherwise.
The more important measure on today's docket is the merits of Clairo's IMMUNITY, of which there are next to none. "Alewife" is a fine enough opener; it's polished a bit too safe for a record with this much hype. But IMMUNITY quickly shows itself to have done much of its daring on the opening track, turning in bland after blander tracks that sound like watered-down takes on the past decade's Pitchfork-core. There's a splash of Vampire Weekend on the Rostam-assisted "Impossible," a touch of Snail Mail with "Bags," a hint of Japanese Breakfast on "Softly," but little to set Clairo apart from the pack.
It all just feels rather lackluster, wary to take anything resembling a risk so as to appease the all-powerful Spotify algorithm. And while there are bits and pieces of each track to set one another apart, I'd be hard-pressed to pick one out of a lineup, save for maybe "Sofia," an engaging amalgam of every era of The Strokes on which Clairo sings about coming to terms with her sexuality, employing intentionally cheesy lines about falling in love with celebrities like Sofia Vergara and Sofia Coppola. IMMUNITY quickly cedes more and more of your attention to the point where it gets very easy for your mind to wander so far you forget an album's playing, a feeling aptly summed up by the ninth track's hook, "You wanna feel something / But I feel nothing." Good music is meant to evoke a feeling, sometimes it's a summer day spent on the beach, perhaps a hike through a forest, or a night at the club. IMMUNITY evokes the feeling of sitting in a chair. [Ryan Moloney]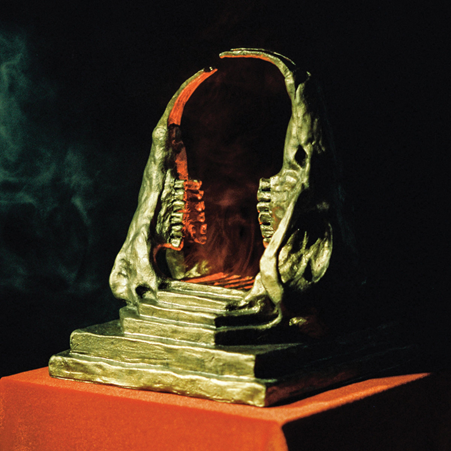 King Gizzard & the Lizard Wizard – INFEST THE RATS' NEST
Genre: Psychedelic Metal
Favorite Tracks: "Planet B," "Mars for the Rich," "Superbug," "Self-Immolate"
Everyone's favorite dastardly psychedelic chameleons from Down Under have returned to drag you to Hell. King Gizzard & the Lizard Wizard, titans of all things rock, have by now thoroughly proven themselves to be almost unparalleled in their ability to adapt to whatever genre they choose to experiment with, but they've never come right out and made a top-to-bottom heavy metal record. While they've ever been afraid to get big and loud when the moment calls for it, they've also never made such an unabashedly metal record quite like INFEST. From the opening moments of "Planet B," it becomes apparent that the band has come to make you feel the pure Satanic power of the genre. These boys have clearly been dutifully studying the likes of Black Sabbath, Metallica, and Sleep, and once again their powers of mimicry are absolutely uncanny and deeply satisfying. What really is most striking about the record, however, is the clear and unapologetic political themes sprinkled throughout. "Planet B" is directly about the impending threat of climate change, and "Mars for the Rich" is about the billionaire class' naive belief that they can escape to Mars and leave the rest of us behind. Heavy metal as a genre has become much more broadly progressive and politically aware in recent years, but it's exciting to hear King Gizzard interpret the genre and simultaneously give voice to the cosmic anxiety at the center of our present moment. Every Gizzard record is at least admirable, but this is the first in awhile that feels truly special. [Carter Moon]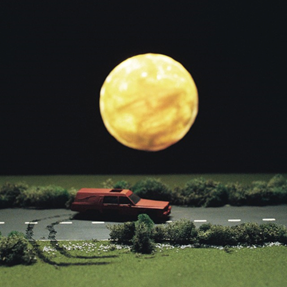 Red Hearse – S/T
Genre: Synthpop, Alternative R&B
Favorite Tracks: "Red Hearse," "You Make It Easy," "Born To Bleed"
While certainly not a "stan," I'm always interested in seeing what Jack Antonoff's up to as one of the few household names in pop music production, a more retro-fitted, less EDM-influenced, and certainly less-cancelled Dr. Luke for the 2010s set. Sure, fun.'s a little silly in retrospect, but he's the main reason all we heard for a solid year-and-a-half were the singles from SOME NIGHTS, and y'know what? Bleachers have some bona fide bangers. In any case, Red Hearse doesn't quite land. Although somewhat interesting as a who's-who of typically behind-the-boards talent featuring Sam Dew, having co-writing credits on Taylor Swift songs, and Sounwave, a steady TDE affiliate, this stumbles a bit. Featuring Antonoff's bright-eyed optimism and continual, barely-restrained drive to break into a sunshine shower of a chorus, RED HEARSE also rather incongruously attempts to keep up a sense of rough-and-tumble bedroom R&B. As such, the songs where Antonoff's classic touches are the most prevalent end up being the highlights, "You Make It Easy" sounding like it could have appeared on the JoBros' HAPPINESS BEGINS, and "Born To Bleed" sounding like it could feature Carly Rae Jepsen just as easily as Sam Dew. But cuts such as the opener flail and fail to find their sweet spot, "Honey" washes out into a pleasant-but-forgettable amiable duel between Antonoff and Sounwave's sensibilities, and I don't think I could point to a single defining characteristic of "Everybody Wants You." But what is perhaps most disappointing about the whole endeavor is that hearing a more hip hop-focused project from Antonoff would, in fact, be something well worth paying attention to. But in a year where we already have an excellent Blood Orange mixtape, this more-often-than-not milquetoast look at R&B isn't essential. [Thomas Seraydarian]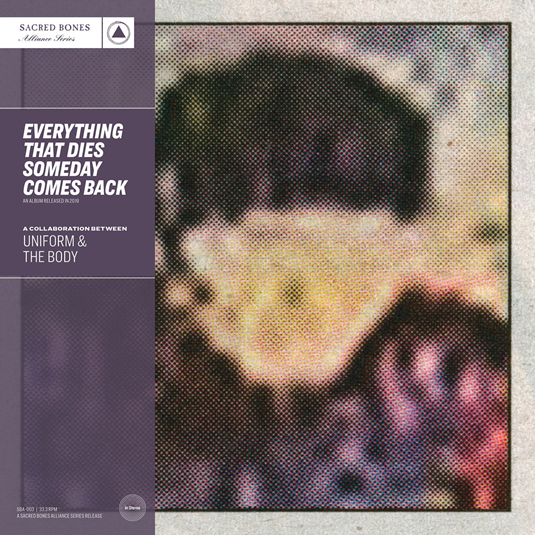 Uniform & The Body – EVERYTHING THAT DIES SOMEDAY COMES BACK
Genre: Industrial Metal, Noise Rock
Favorite Tracks: "Gallows in Heaven," "Vacancy," "Penance"
Did you like MENTAL WOUNDS NOT HEALING, the first collaboration for what should be a match made in Heaven between two forward-thinking studio wizards of pummeling industrial repugnance? Than you'll probably like their latest album, EVERYTHING THAT DIES SOMEDAY COMES BACK, because almost nothing has changed outside of the title referencing Bruce Springteen's "Atlantic City" instead of Ozzy Osbourne's "Crazy Train," some New Order pastiche in the form of bubbly barrages of synth pads on "Vacancy," and cascades of drippy, pretty tones on "Penance" and "Contempt." I'm normally of the opinion that music should feel effortless, like it was fully gestated from the intellectual womb with little indication of any drafts or changes. A major exception is tortured, ugly noise rock that sounds like it's devouring itself, and sadly this is an autopilot record. Even though Ben Guttenberg's raw, heavy production is always a treat, his other half in Uniform is not pulling his weight. Much like Institute's READJUSTING THE LOCKS, also produced by Guttenberg earlier this year, there is fantastic production here that is left out to dry by its vocalist. Michael Berden's got a distinct shriek, but he has zero range, and unlike someone like Justin Broadrick of Godflesh, he's got no bass in his voice at all to match the imposing soundscape.
Berden's delivery works well at conveying anxiety, which on moments like the bridge of "Vacancy" where the music gets quieter and quieter even as he keeps screaming, or the sustained distorted chords of "All This Bleeding" that are allowed to stretch out and quiver, work really well, but otherwise it's too one-dimensional to click atmospherically and too goofy to be menacing. Even the attempts to do something new feel played out or just awkward. When they bring in the ethereal female vocals of SRSQ on "Patron Saint of Regret," it only made me want to listen to Full of Hell pull a similar trick with Nicole Dollanganger on the title track of TRUMPETING ECSTASY. Furthermore, "Day of Atonement" is a baffling fusion of trap skitters and hip hop-style sampling with the band's established framework that does not work at all, while "Waiting for the End of the World" seems to be trying to replicate the creepy sample manipulation of "We Have Always Lived in the Castle" to create the impression of a Black Box or last message, but forgets the vocal interplay that has kept the latter song on my mind to this day. Guttenberg's production is good enough to salvage nearly anything, but EVERYTHING THAT DIES does not come close to fulfilling the potential of a pairing this good on paper. [Blake Michelle]