You might be asking yourself, "Why did she do this?" And I'm proud to respond: "I don't know." What started out as a fun little distraction morphed into a two-month project that has left me with one thought, head full: Keanu. I have always enjoyed Keanu, I have supported my friends' obsessions with Keanu, but in July 2020 I watched SPEED for the first time and something in me snapped—suddenly I had watched 61 films in a matter of about 40 days. I bought a whiteboard, recruited my roommate Kelsie, and we started ranking them, because why not. I have seen it all: every direct-to-VOD release, every "whoa," every hairstyle, every chaste kiss, every franchise. I know last summer was the summer of Keanu and I'm a lil late to the game; but sometimes, in the midst of a global pandemic and an international uprising, you need your emotional support Sexiest Man Alive (1994)
I went into the list with a basic ranking system, of which there are four facets: overall quality of the film, quality of Keanu's performance, amount of screentime Keanu has, and, of course, basic hotness. You'll note certain films are marked with *—these are the films in which I find him the hottest (two have two stars because I couldn't crown just one hottest). This is not a definitive ranking of Keanu's films; this is my personal extremely horny, "I've been inside for five months and decided to be a completionist for once in my life" list that I started because I'm obsessed with filling my spare time with little projects so I don't have to be alone with my thoughts. So do keep that in mind when one of your faves is shockingly low according to my thoroughly deranged system.
I loved watching all of these movies because no matter how god-awful some of them were, I was always excited to see what Keanu brought to the film. I think that's why he's a movie star—sure he's handsome, charismatic, mysterious etc., but he honestly makes every film worth watching. Sure, some aren't worth finishing, but people keep asking me if, after 61 movies, I am tired of him? I don't think I'll ever tire of him. By movie 59 I was still quietly applauding when his name appeared in the opening credits. I just think he's so captivating, breathtaking even. This was a labor of love and I hope you enjoy it, even amidst the chaos. 
Oh, also, in a perfect world, the number-one spot belongs to the original BURNT, directed by David Fincher starring Keanu. Alas, this film exists only in my heart, but please consider that while reading. Okay, enjoy. 
— Aya Lehman, TV Editor
—
Unranked: SIDE BY SIDE  / Christopher Kenneally / 2012
Okay, it's worth getting this out there before I dive into my list: obviously I do not know Keanu Reeves. I would like to, primarily in the Biblical sense, but I don't! That said, it always strikes me as strange/rude when people assume Keanu is dumb. Yes, he has portrayed some ICONIC himbos (we'll get there), and he's notoriously unforthcoming in interviews, but by no means do I assume that means he's dumb. According to this interview with Rolling Stone, he's a voracious reader, and, according to gossip I heard on the BLANK CHECK podcast one time, he watches a ton of movies. Also that clip in which he's like "I LOVE MOVIES!" Keanu loves content! So it comes as no surprise that he was so shocked by the massive shift from 35mm to digital cameras that he said, fuck it, let's make a doc. In SIDE BY SIDE, Keanu teams up with director Christopher Kenneally to interview 26 directors, cinematographers, and actors about their experience with the rise of digital filmmaking, and what that means for film. Obviously, I cannot rank this because it is not a narrative film and Keanu is maybe the most himself we have ever seen him—geeking out over cameras with a bunch of directors he's pals with (unfortunately… a lot of dudes). SIDE BY SIDE is DEFINITELY worth a watch, if not just for this incredible moment with David Lynch.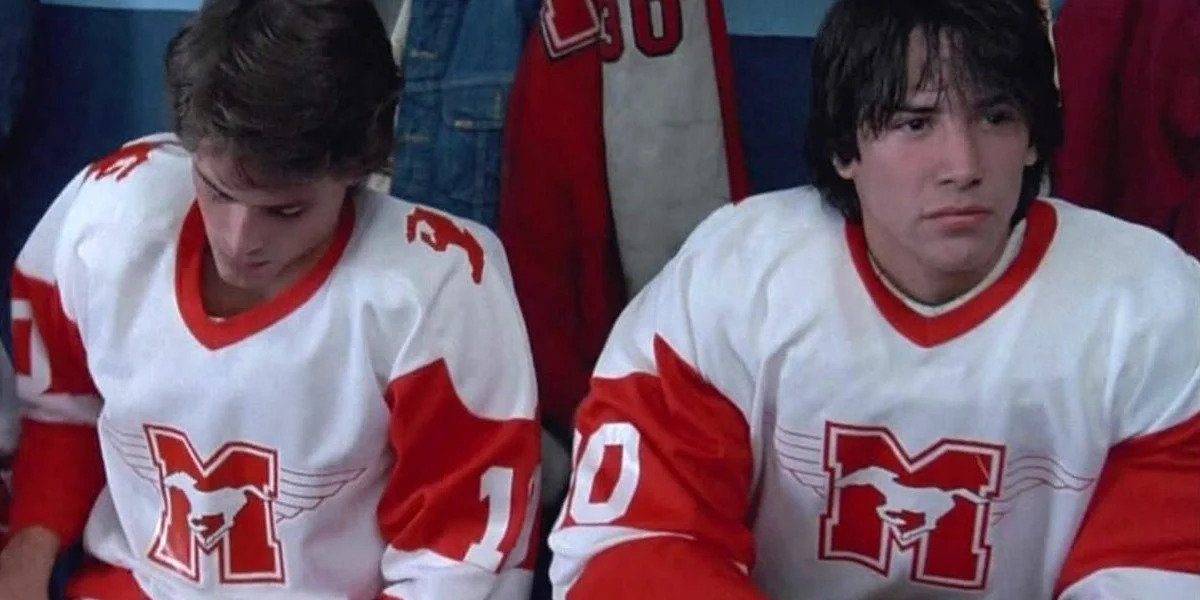 60. YOUNGBLOOD / Peter Markle / 1986 
I only watched clips from this movie in which Keanu spoke in his truly awful French-Canadian accent. I'm simply not watching a full Rob Lowe movie!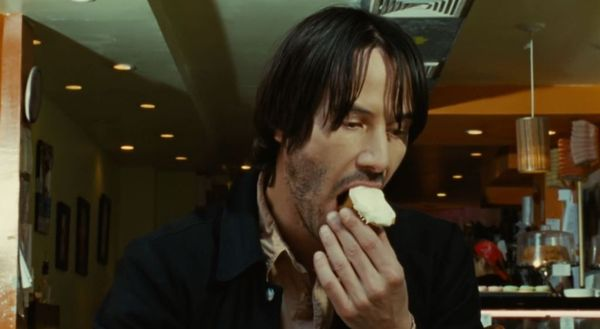 59. GENERATION UM… / Mark Mann / 2012
Sometimes I'm like, hm, I believe in prison abolition, but whoever popularized mumblecore (the Duplass Brothers?) should be arrested. GENERATION UM… is criminally bad. Like, I genuinely thought maybe Keanu was scammed into doing this movie (which once DID HAPPEN: we'll get there), but nope. Apparently, he loved the script. Sometimes his taste stresses me out like… I don't know, maybe what he read didn't make it to the screen. I did not finish this, which is deeply out of character for me, but I simply COULD NOT bear it! Three highlights here: Keanu sings to a cat, eats an entire cupcake, and looks pretty hot.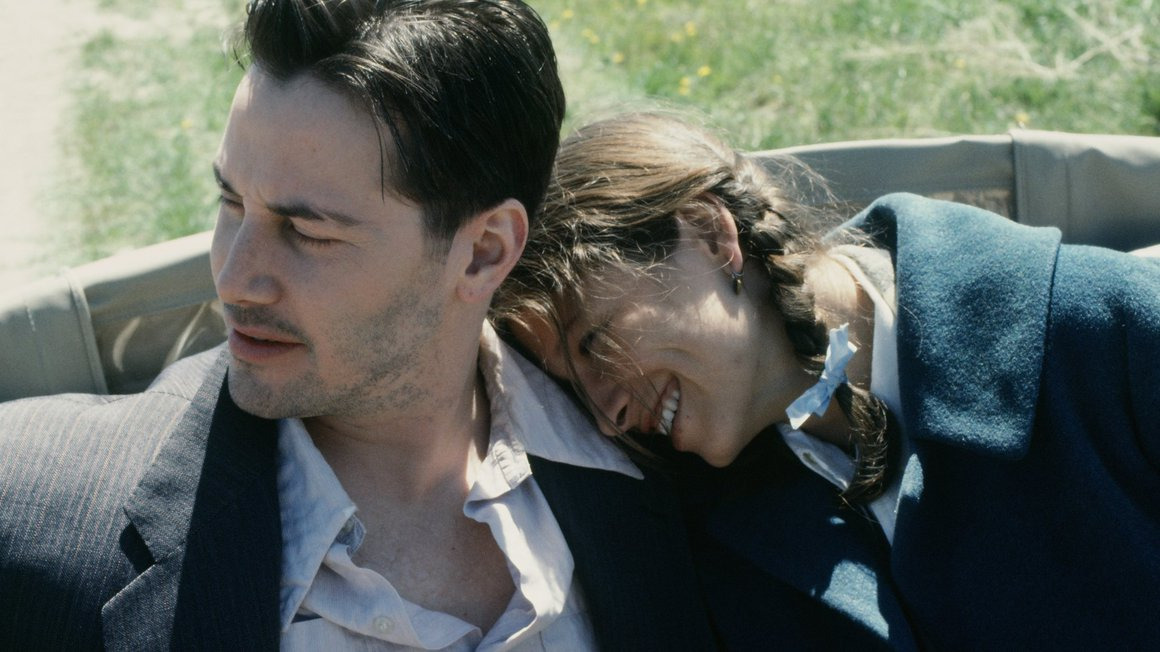 58. THE LAST TIME I COMMITTED SUICIDE / Stephen T. Kay / 1997
I wouldn't wish watching the full movie on my worst enemy.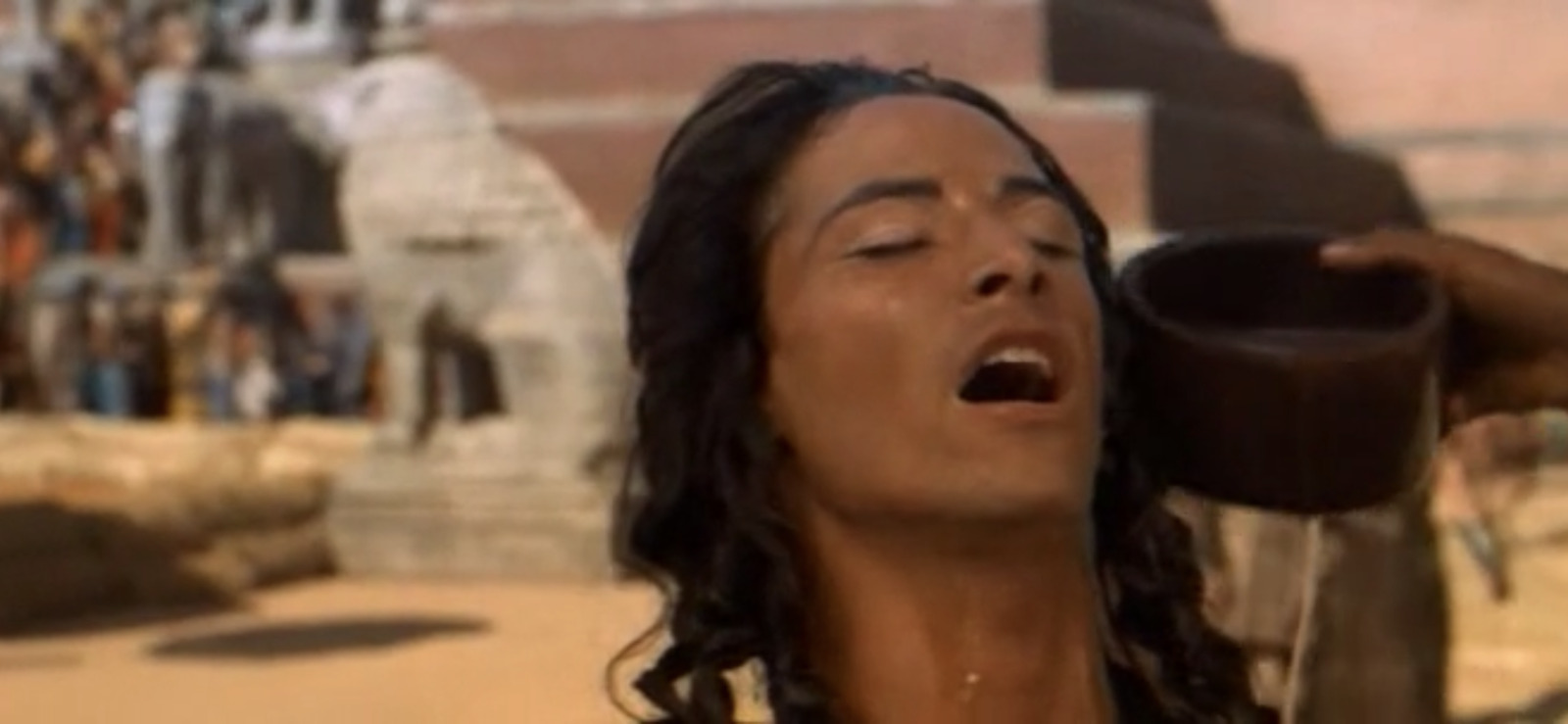 57. LITTLE BUDDHA / Bernardo Bertolucci / 1993
This film is a fever dream of brownface and white savior imagery. I shouldn't be allowed to attend another DSA-LA Zoom meeting because I watched this movie. The only credit I'll give Bertolucci is that he shoots Keanu beautifully; he's the only director who appropriately appreciates Keanu's profile. Also, I was very recently reminded that we watched this in high school for a class, which was… Certainly a choice!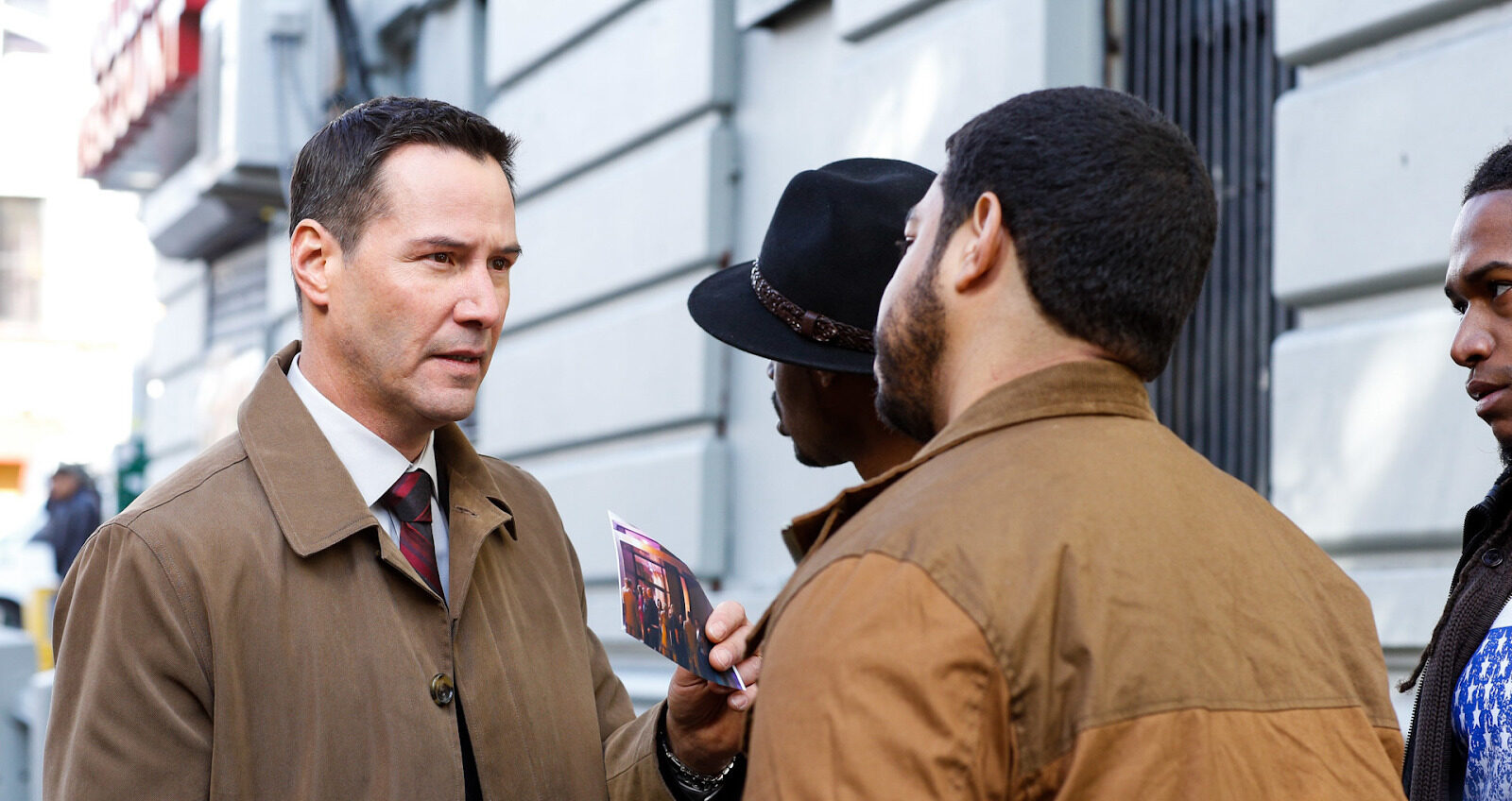 56. EXPOSED / Gee Malik Linton / 2016
To quote that Twitter thread where the girl sat behind Greta Gerwig during I FEEL PRETTY, "this movie is IN. COMP. RE. HENSIBLE!"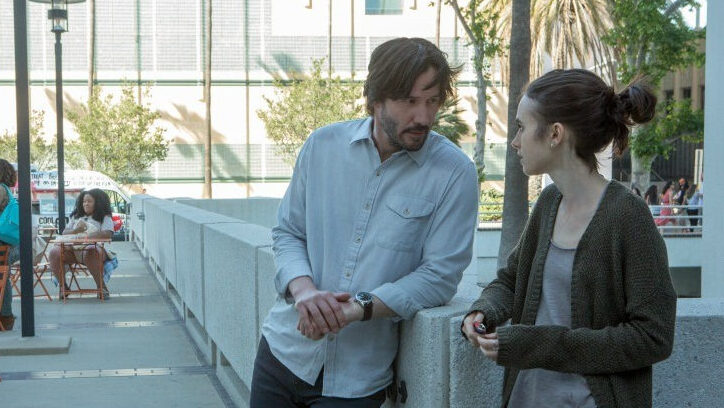 55. TO THE BONE* / Marti Noxon / 2017
This movie sucks, I scrubbed through most of it until I got to the Keanu scenes—he's hardly in it, but, Lord, when he is in it… What can I say, man looks EXTREMELY good. Keanu always looks good when a woman directs the picture. One of the girls in this movie sees Keanu and says, "Are you trying to turn me straight?" Same.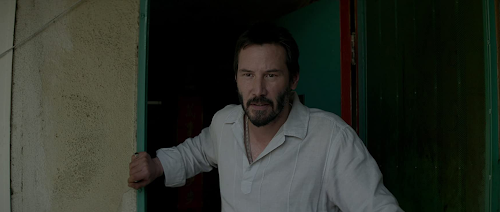 54. THE NEON DEMON / Nicolas Winding Refn / 2016
This movie fucking sucks. It's pretty in a very 2011 kind of way, but it is so vapid, so boring, and so irresponsible. Refn is the ultimate scam artist, somehow convincing white people that his films are anything more than overlong music videos peppered with cheap dialogue. Any movie that wastes Jena Malone like this should be banned (Can you ban movies? It should be BANNED!) Unfortunately, Keanu is really good in this, despite only appearing in like three scenes (what a waste). He is so powerful when he goes Full Sleazebag. Plus, Keanu living in Pasadena is something that can actually be so personal.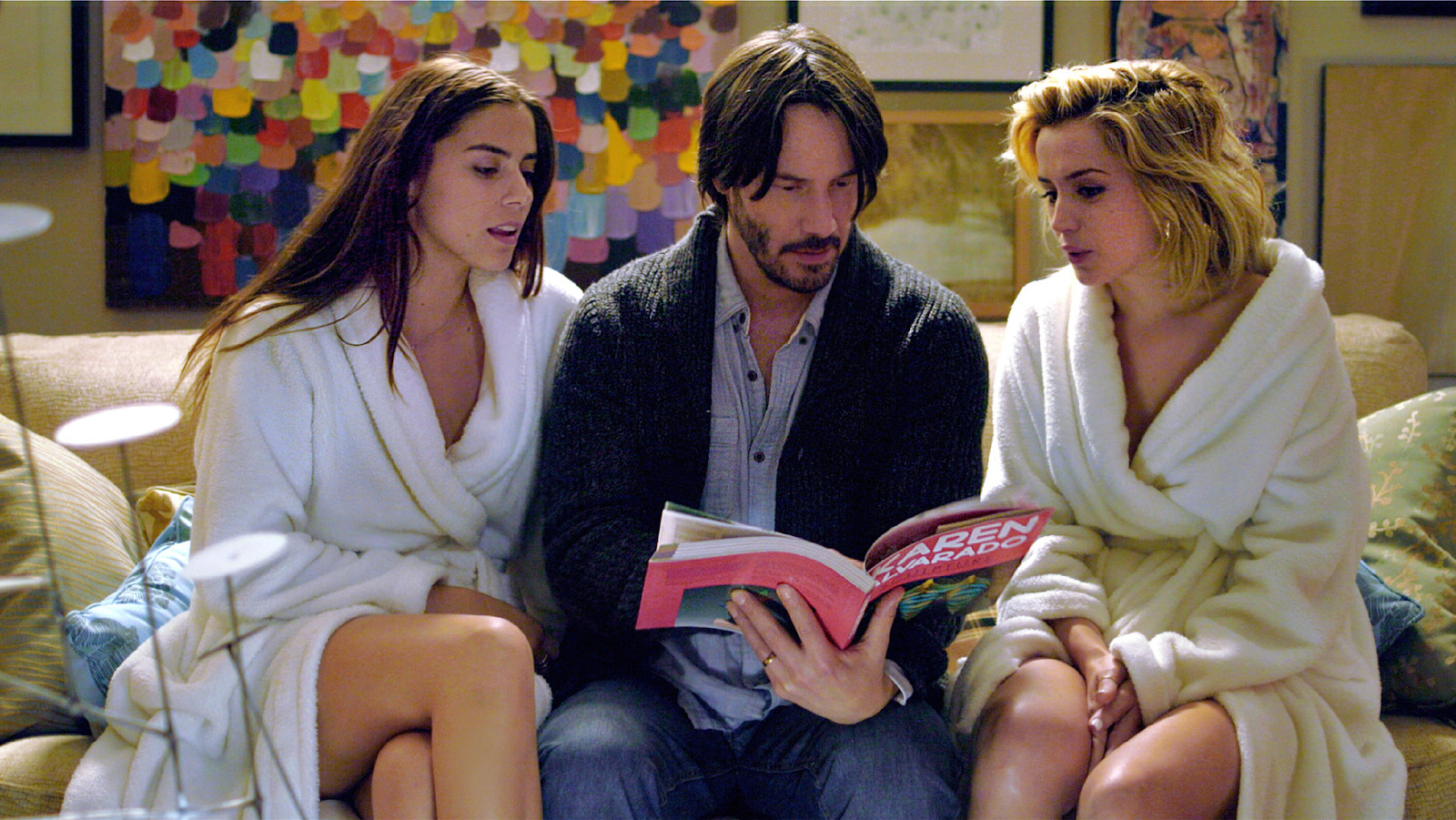 53. KNOCK KNOCK / Eli Roth / 2015
The interesting thing about Keanu's career is that he's gotten far more comfortable with pure, unabashed horniness the older he gets. I'm kind of obsessed with that, because I find him EXTREMELY hot at age 55, but it also gives you performances like KNOCK KNOCK. Personally, I would pay to be fake tortured by Ana de Armas and Lorenza Izzo, so I get Keanu's motivation here, but good Lord. Did anyone read this script? It's so bad, and even the parts that are supposed to be sexy are not sexy. Also, they allow Keanu to wear too many v-necks (a habit he unfortunately has in real life that I simply Loathe) for him to even kind of be hot in this. The thesis statement of this film is so strong that when it's presented to you in the last five minutes of the film, I was almost livid, imagining what this could've been.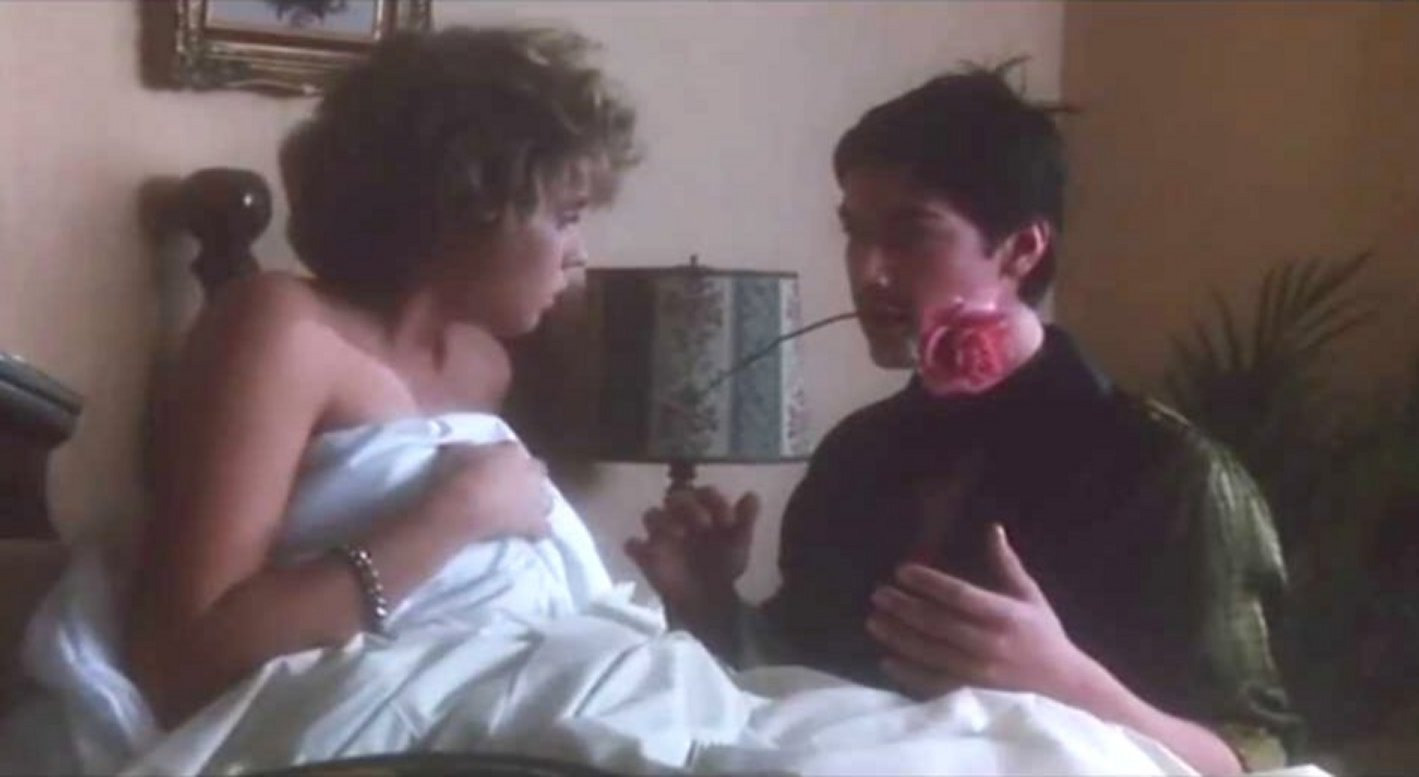 52. FLYING / Paul Lynch / 1986
I watched this in 240p on YouTube, so honestly I didn't quite follow the plot, but damn if I don't love some gymnastics tricks! Also, in the same year PRETTY IN PINK is released, Keanu plays a better Duckie. Wild.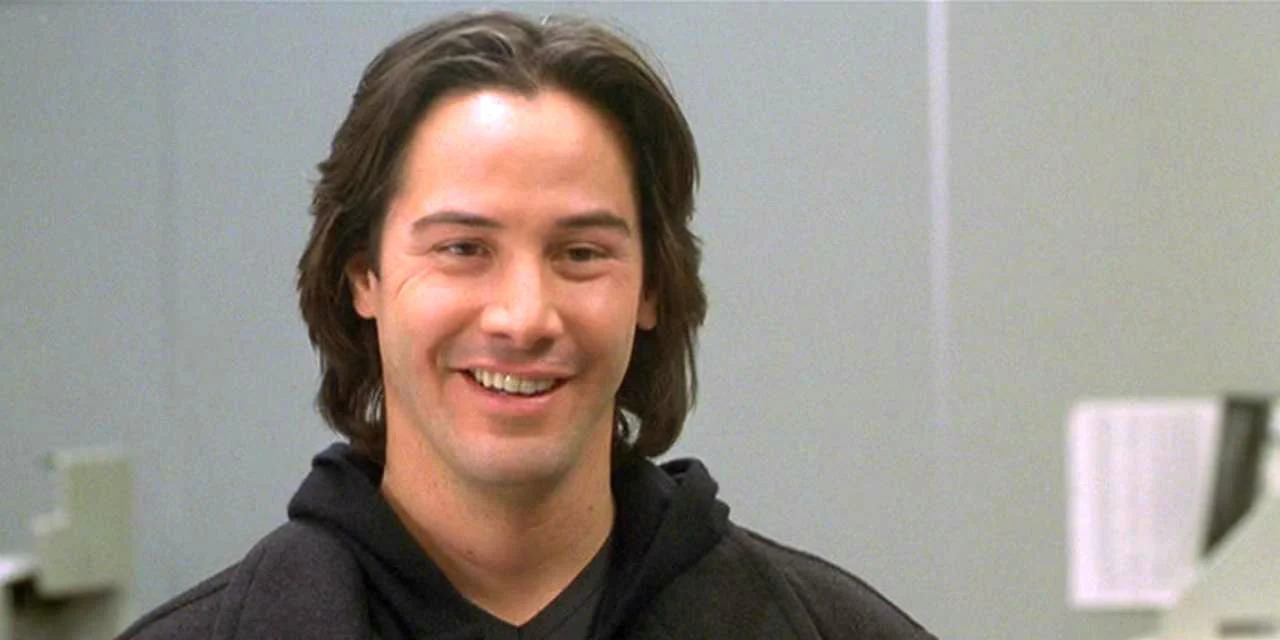 51. THE WATCHER / Joe Charbanic / 2000
Okay, THE WATCHER is hilarious because 1) Keanu plays a serial killer, which is just bizarre casting, and 2) Keanu was SCAMMED into making this movie; he claims his friend forged his signature on the contract, but because he couldn't prove it he sucked it up and made the movie. He does something a little goofy in this and it kind of works? It's still not worth a watch.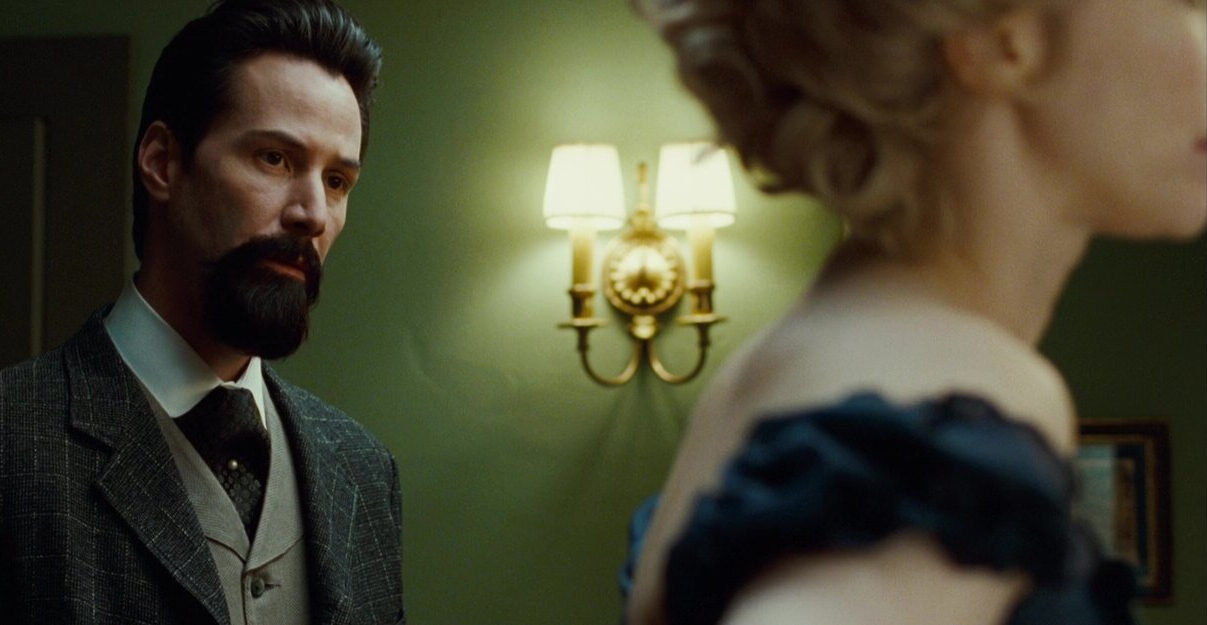 50. HENRY'S CRIME / Malcolm Venville / 2010
This made me so nostalgic for a three-hour afternoon flight. Picture it: you finished your book during the trip, so you find a weird plane movie starring a celebrity crush and just… Vibe. This is the absolute worst Keanu has ever looked in a movie (you heard me) and one of his worst performances. Keanu Reeves is not an everyman!!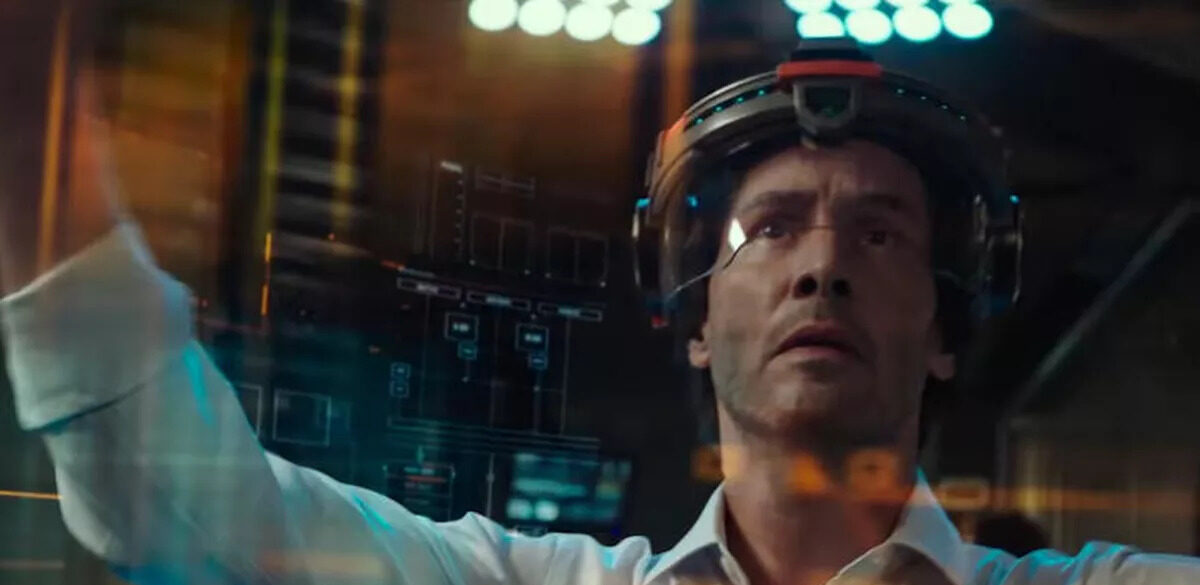 49. REPLICAS / Jeffrey Nachmanoff / 2018
It's very bad, and the effects are even worse, BUT at least it's totally unhinged. 
48. THE DAY THE EARTH STOOD STILL / Scott Derrickson / 2008
This movie was so boring I almost forgot to rank it. The only interesting thing about it is that Keanu has said he thinks this film halted his career for a while, which is probably true and ironic given the title! He's fine in it—it plays to one of his primary strengths (stoicism), and he has good chemistry with Jennifer Connelley. Also, Kathy Bates is in it!!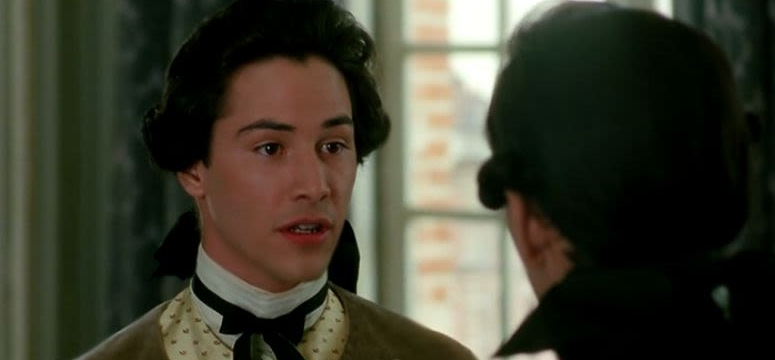 47. DANGEROUS LIAISONS / Stephen Frears / 1988
This was fun! Keanu is barely in it, but he plays Glenn Close's lover, which of course I am obsessed with! '80s/'90s period pieces that thoroughly miscast Keanu because he's a cute boy? That's what I like to see 🙂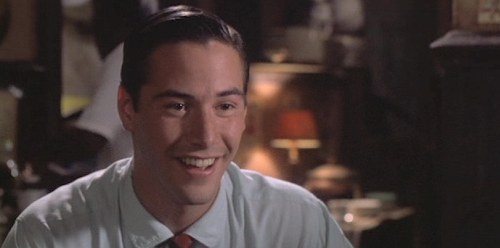 46. TUNE IN TOMORROW / Jon Amiel / 1990
There's not much going on here, besides Keanu wearing MANY bowties and seducing an older woman, two admittedly strong qualities.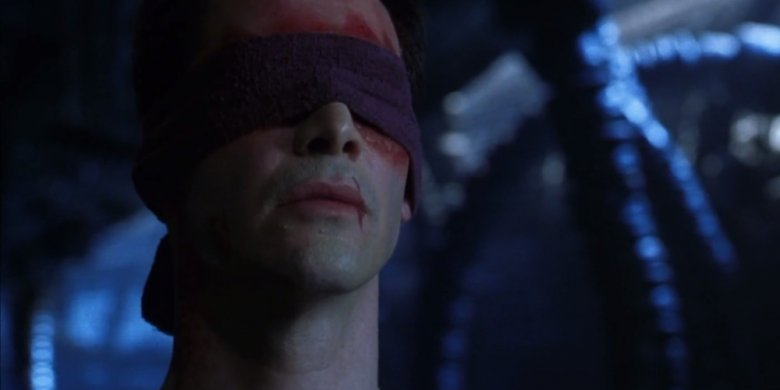 45. THE MATRIX REVOLUTIONS / Lana and Lilly Wachowski / 2003
And we thought THE RISE OF SKYWALKER was confounding… How are you going to give your entire third and (then) final installment to the B-team??? The plot of the MATRIX sequels is thoroughly incomprehensible, but at least in RELOADED you actually get to see Neo, the literal ONE, in the film!!! And to end it like that?!! I can't. I'm so glad I am not a MATRIX stannie, although this one left me CHOMPING at the bit for THE MATRIX 4, starring Keanu Reeves, Jonathan Groff, and Yahya Abdul-Mateen II, which at this rate I'll probably see in 2030.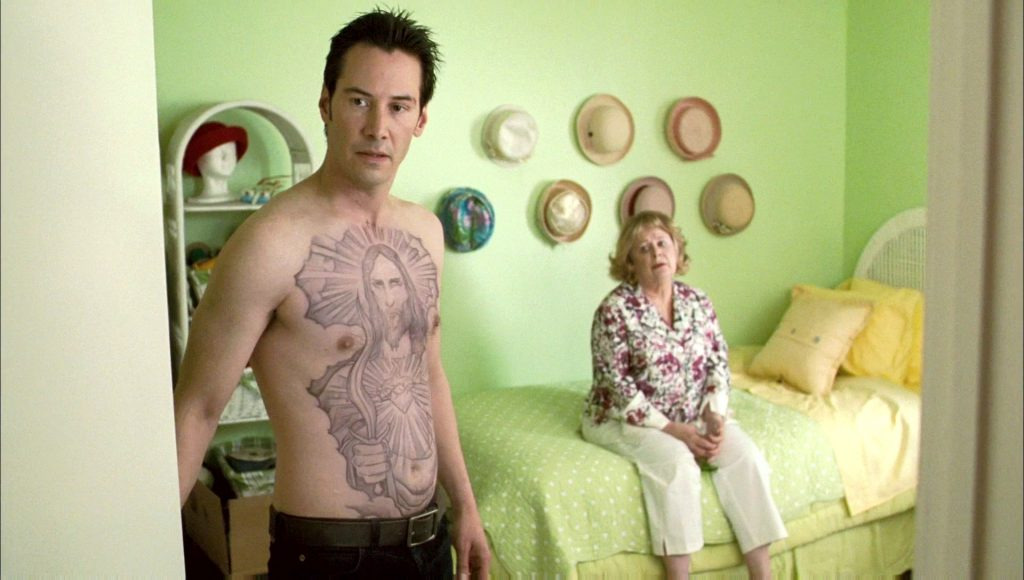 44. THE PRIVATE LIVES OF PIPPA LEE / Rebecca Miller / 2009
The way that women shoot Keanu… It's incomparable. The end of this film should not work: After a life of servitude to her husband (Alan Arkin????), Robin Wright runs off with Keanu, a man she's known for like two weeks. If it was ANYONE else I'd say, hey, she should probably take some time for herself right now. But it's fucking Keanu. Even with the bizarre, full-chest Jesus tattoo, it only makes sense. The way he Looks At A Woman. The way he listens. Keanu is for the girls. This movie killed me because the second the title card flashed across the screen, I felt this wave of nostalgia for a Tuesday afternoon at the Laemmle Pasadena with a bucket of their weird popcorn and a water cup from the lobby, surrounded by 70-year-olds, next to my best friend.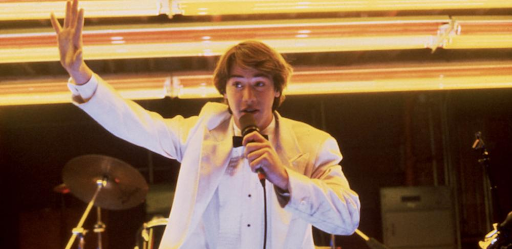 43. THE NIGHT BEFORE / Thom Eberhardt / 1988
This film is so racist it's actually almost funny, and I kind of want everyone I know to watch it. How did this get made?? Keanu and Lori Loughlin (of college admissions scandal fame) get lost in East L.A. and Keanu ends up accidentally selling Loughlin into prostitution. To further push your suspension of disbelief, they're on their way to prom together because Loughlin lost a bet and had to take the nerdiest guy in school. OK, I know Keanu wasn't yet Johnny Utah in 1988, but in no UNIVERSE do I buy that anyone would be forced to go out with Keanu after losing a bet. It's simply not believable, babe!!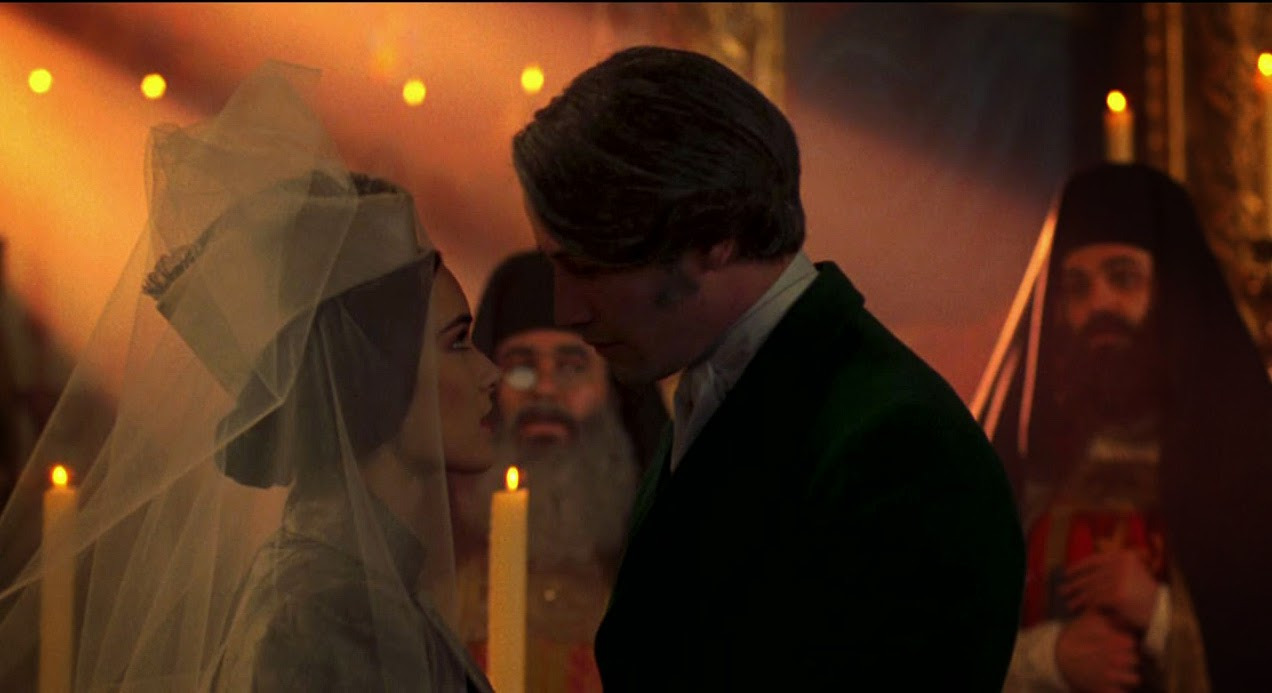 42. BRAM STOKER'S DRACULA* / Francis Ford Coppola / 1994
Obviously I am not here to argue that Keanu is a good actor, I wouldn't have watched ALL OF HIS FILMS if I felt that was a question. I think Keanu is really good at what he's really good at, and with the proper direction he can handle a role he's not necessarily suited for. This? Doomed from the start. Despite easily being Keanu's weakest performance, his chemistry with Winona is SO sexy in this. Their wedding scene is so hot, which like… Have you ever even seen a horny wedding scene? Now you have! Points also for including one of my favorite Keanu deliveries: "I KNOW WHERE THE BASTARD SLEEPS."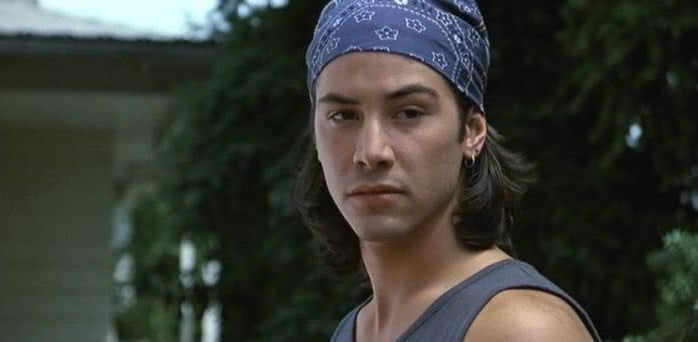 41. PERMANENT RECORD / Marisa Silver / 1988
There's just something about the way Keanu does male relationships. It's literally the foundation of his career, and it never ceases to amaze me how subtly he captures that closeness.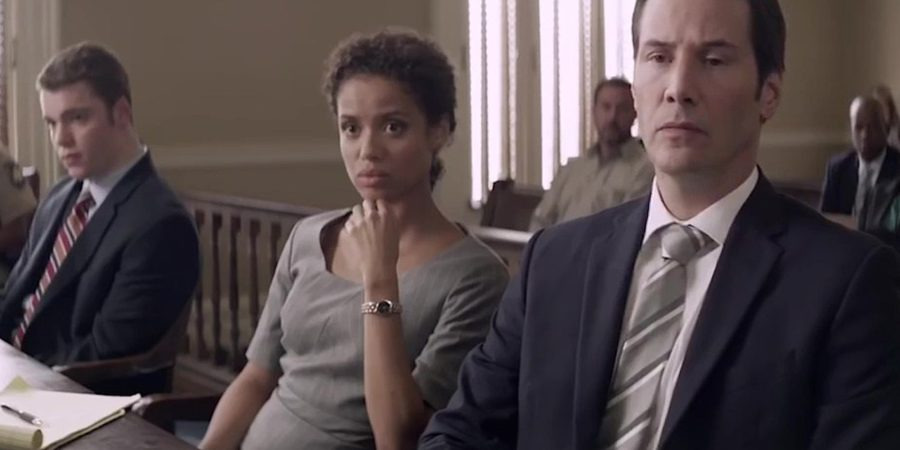 40. THE WHOLE TRUTH / Courtney Hunt / 2016
Yes, this is just an extended episode of any courtroom drama, but here's the thing: Keanu has incredible chemistry with both Renée Zellweger AND Gugu Mbatha-Raw!! I am only HUMAN.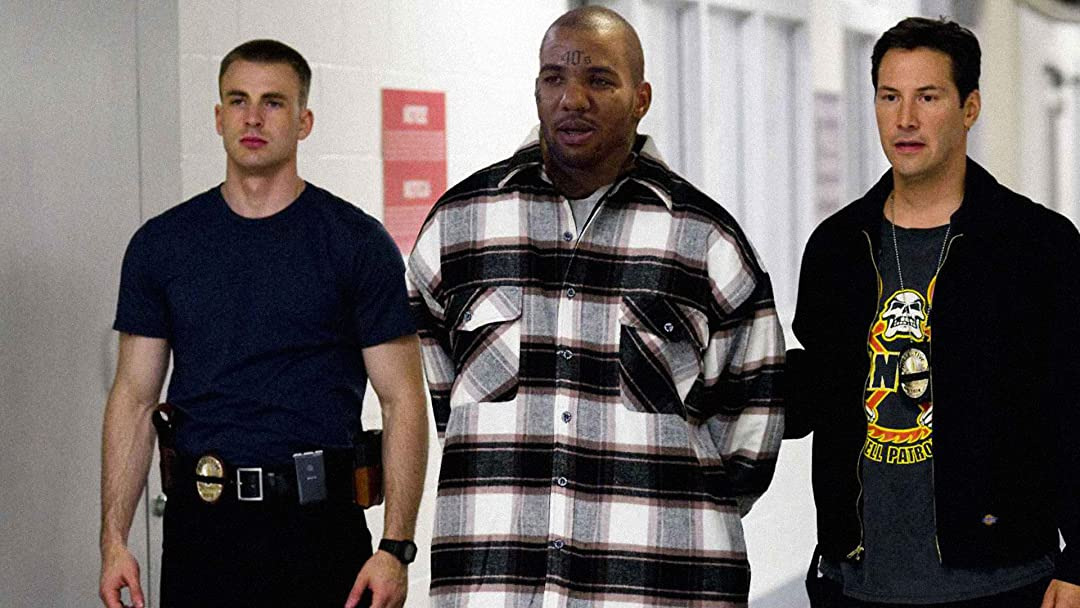 39. STREET KINGS / David Ayer / 2008
Alright, this brings me to the question I've been asking myself for the last month: is Keanu ACAB? In early June, a photo circulated of someone who looks like 25-year-old Keanu at a BLM protest in Baltimore and everyone freaked out; confirmation that Keanu really is as great as we all thought! But it wasn't Keanu—at the time, Keanu was somewhere between LA and Berlin for THE MATRIX 4. Keanu has always been extremely averse to talking politics, which I don't love, but it's his business and I suppose he communicates his politics via his filmography. Like, for example, STREET KINGS, a film about corruption in the LAPD. Does Keanu recognize the level of corruption in the actual LAPD? Does he care? His girlfriend is vocal about her support of BLM on Instagram so, for my own sanity, I'm going to ASSUME this extends to Keanu. STREET KINGS was surprisingly fun: Keanu and Chris Evans have MAD chemistry and I love when Keanu is a lil bad 😉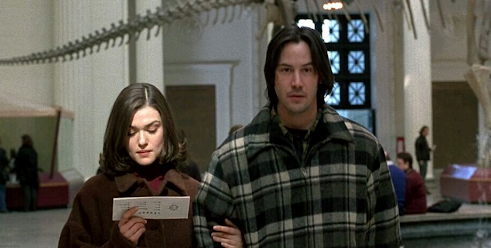 38. CHAIN REACTION / Andrew Davis / 1996
Rachel Weisz and Keanu have the sexiest flirtation, and literally all they do is hold hands and hug and it is… ELECTRIFYING. This movie is every single vaguely academic '90s action movie at once, and you know what… It's pretty fun.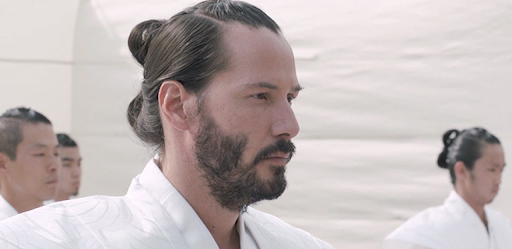 37. 47 RONIN / Carl Rinsch / 2013
This list is operating under the rules of the podcast ICONOGRAPHY, in which comedian Whitmer Thomas and hosts Ayo Edebiri and Olivia Craighead declared Keanu an icon. As a filmmaker, this is a double edged sword: Keanu Reeves is in your film! 
…oh shit, people are going to buy a ticket to see Keanu Reeves in your film. 
Carl Rinsch did not realize this when he cast Keanu in a film that's more of an ensemble piece than a Keanu Reeves vehicle, and the film went to shit when the studio realized that the movie was not, in fact, about him. 47 RONIN is hard to watch—there's the ghost of a really fun movie here that got lost in production hell, including a year's worth of reshoots to give Keanu a bigger role. Keanu is so not right for the part of Kai, despite this being one of the few films to actually bank on him being mixed race (a win for me, personally). His hair looks SO good in a bun though, and when he whispers, "I will search for you through 1,000 worlds and 10,000 lifetimes," I physically swooned. Also, Rinko Kikuchi is IN THIS MOVIE!!!!!!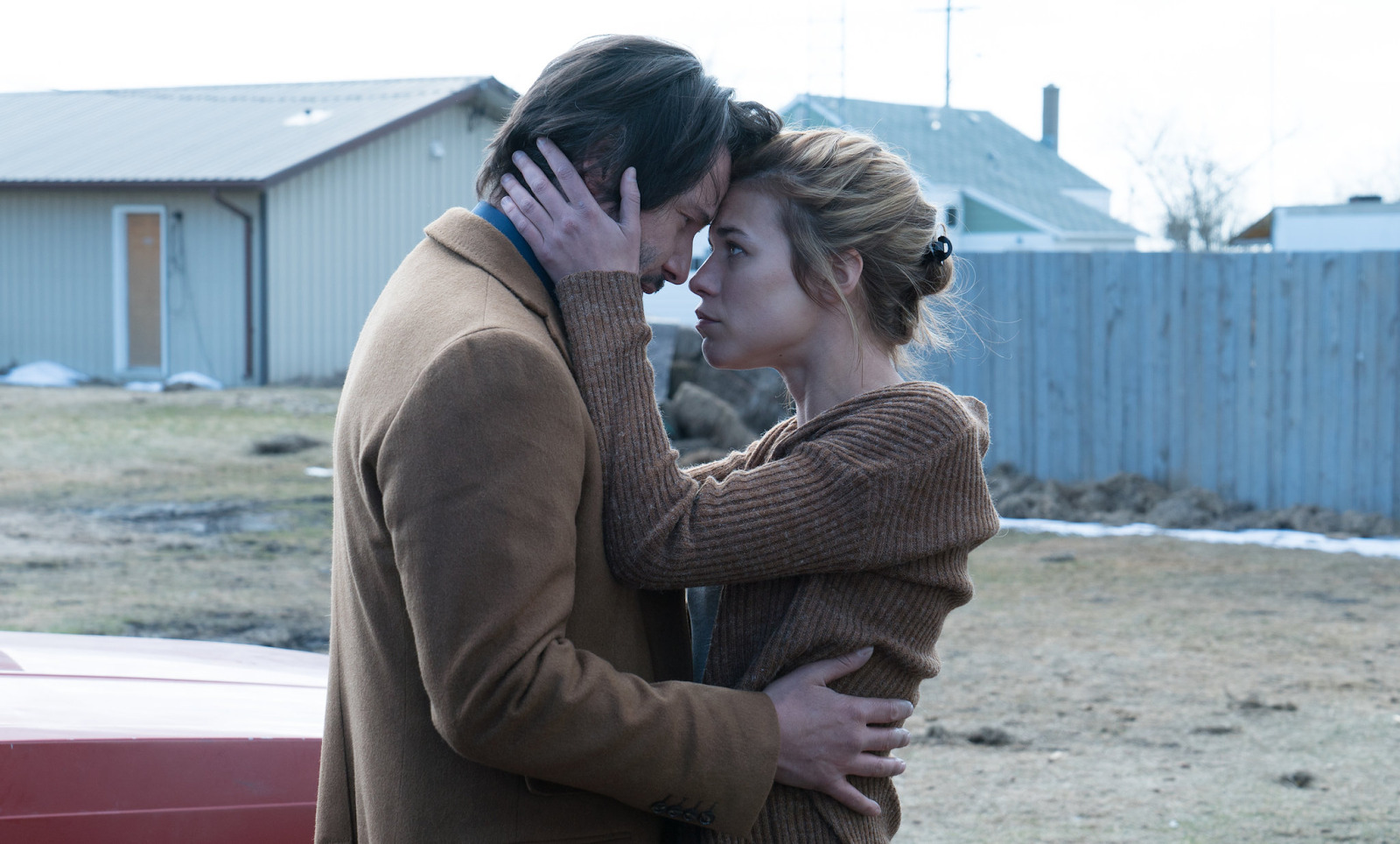 36. SIBERIA* / Matthew Ross / 2018
Keanu eats pussy in this movie.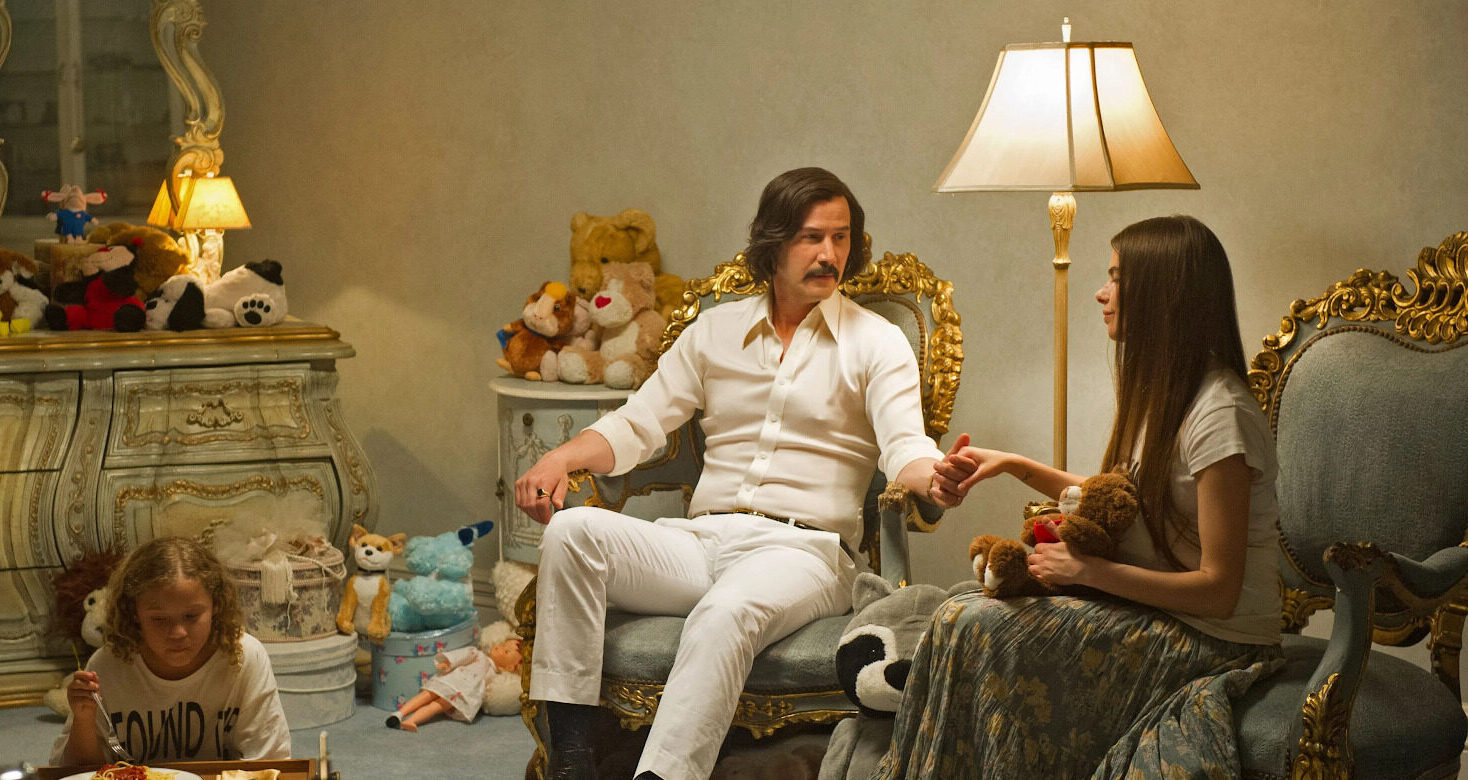 35. THE BAD BATCH* / Ana Lily Amirpour / 2017
I love A GIRL WALKS HOME ALONE AT NIGHT, so I was hoping to like this A LOT more, but unfortunately THE BAD BITCH was very bleh! Suki Waterhouse is cute and Jason Momoa delivers arguably the most racist caricature of a Latino character in modern cinema. Keanu is, again, unfortunately, a little miscast here: you must be explicit about Keanu's morality in any role, otherwise your audience will assume he is Good. He is Keanu Reeves, he is to be trusted. Yes he is surrounded by armed women he has impregnated in a mansion towering over extreme poverty, but he gave the little girl spaghetti!!! All that said… I come to you today… A humbled woman. Keanu in this movie Did Something To Me. The Tight all-white outfit. The basically-a-speedo. The mustache. My attraction to men is incredibly fraught as is, and Keanu in THE BAD BATCH sent me down a spiral that encouraged my roommate, Kelsie, to look me in the eye and say, "This is the first time I've truly judged you." Month Five of quarantine, folks. 🙂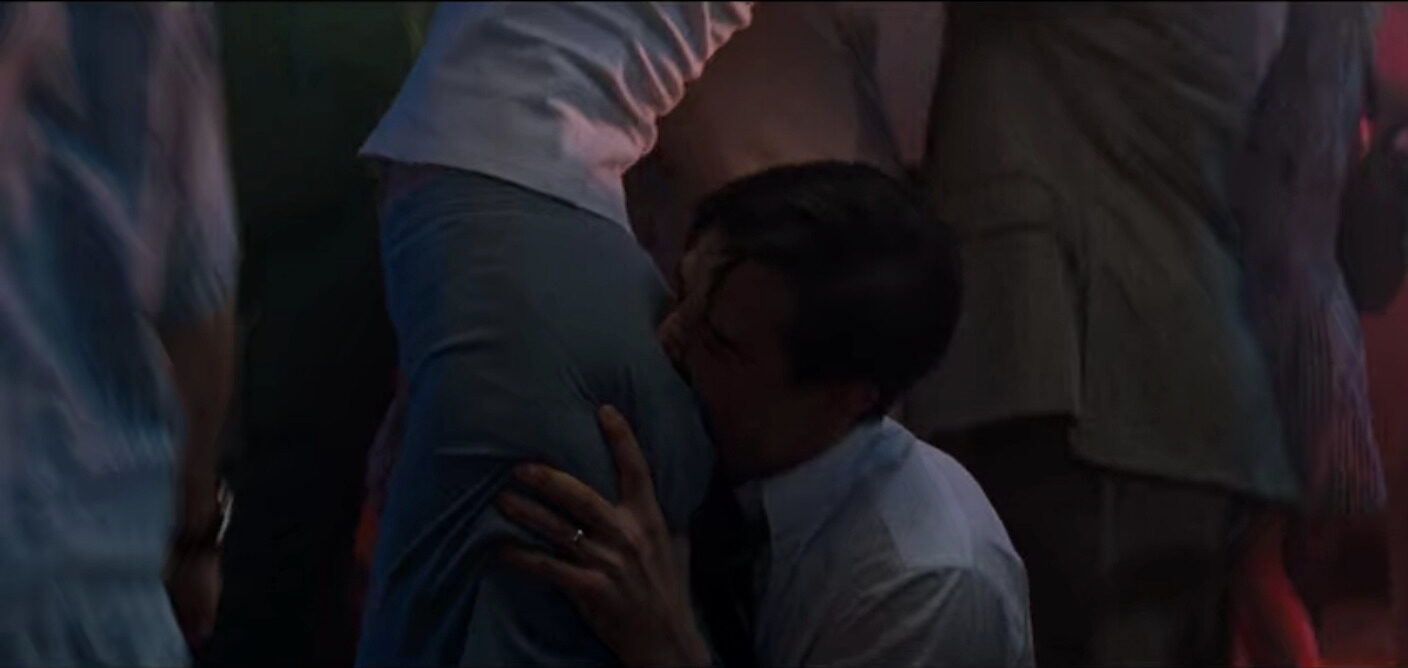 34. THE DEVIL'S ADVOCATE* / Taylor Hackford / 1997
My dad called me the other day: I said "Hi!" and he said "DEVIL'S ADVOCATE." and I said "YES." This movie absolutely honks. It's SO long, but halfway through I started it over because I NEEDED my roommate to watch with me to prove it actually exists. Keanu bites Charlize's ass. Their chemistry is kind of a dark horse, but it REALLY shines here.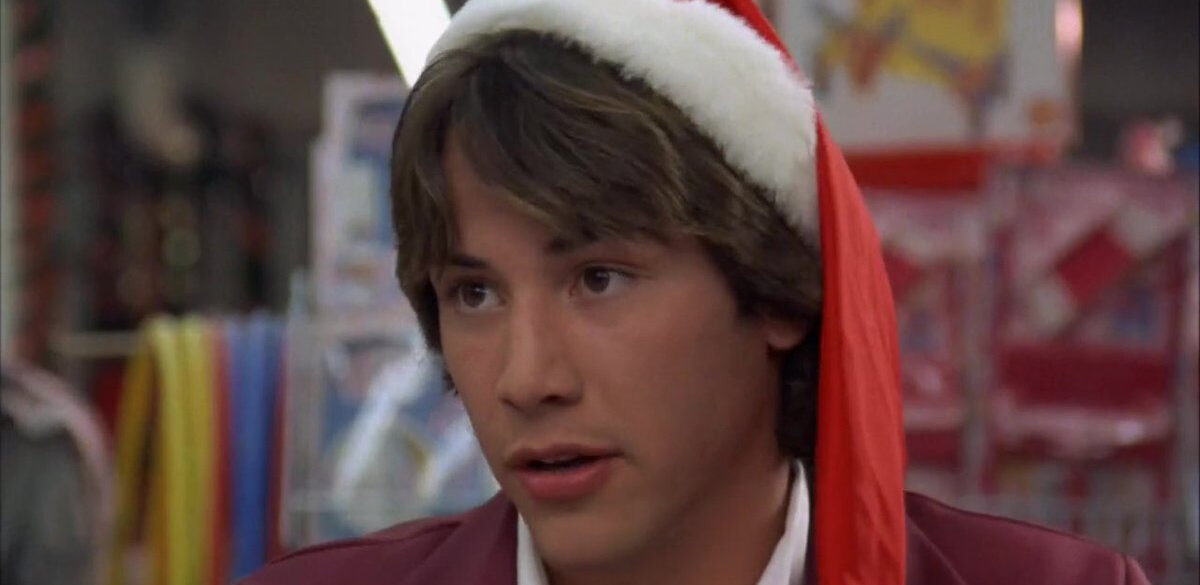 33. BABES IN TOYLAND / Clive Donner / 1986
What can I say, I am ADDICTED to any TV musical shot on a stage in Germany. Keanu is so cute here. He wears a Santa hat and he has a SONG (clearly not sung by him). Added bonus: Young Drew Barrymore is IN THIS MOVIE!!!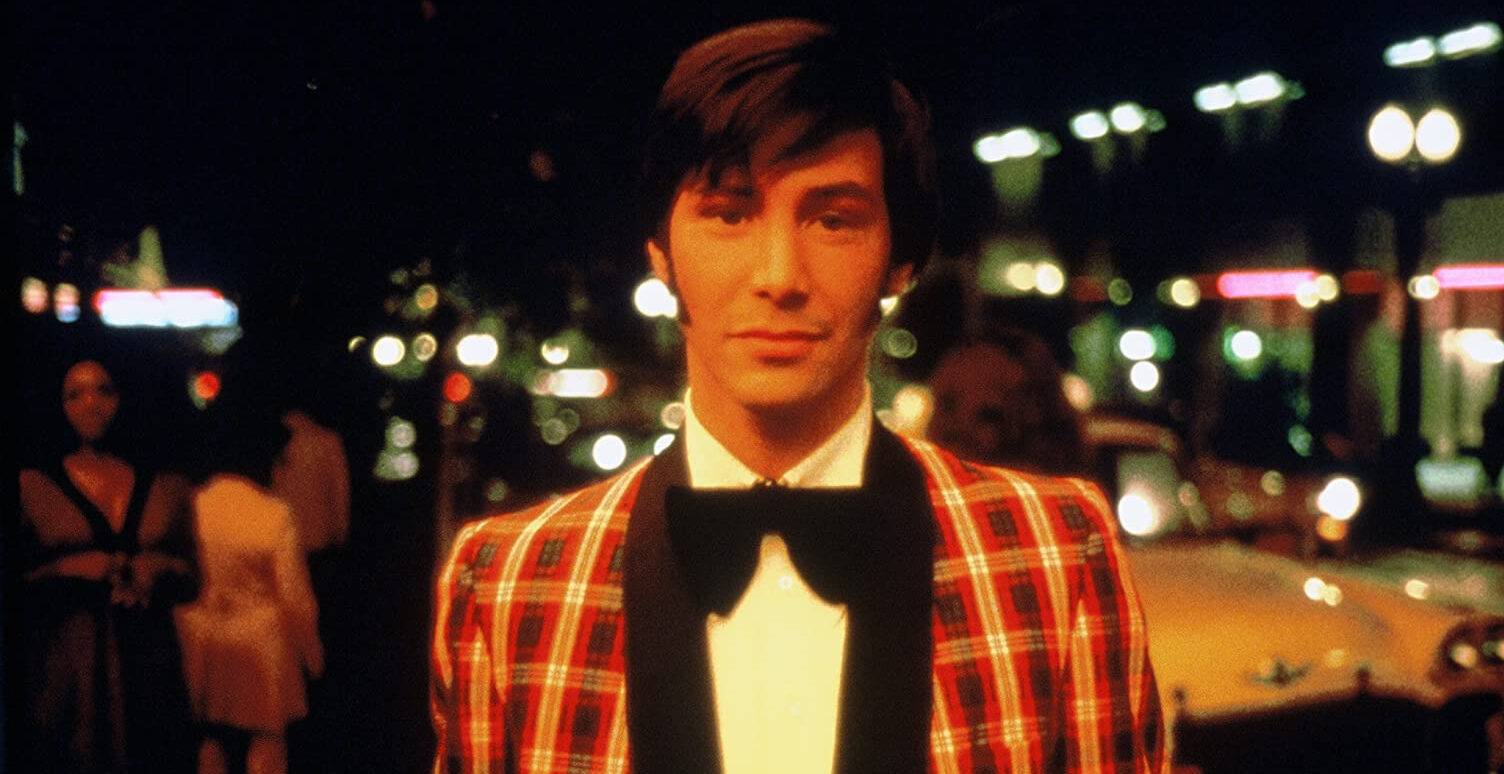 32. EVEN COWGIRLS GET THE BLUES / Gus Van Sant / 1993
Obviously Keanu did this movie as a favor for his old pal Gus Van Sant because he's a great freakin guy, which explains his one (technically two) scene appearance. It's racist (though, as we've seen, maybe not the most racist), as technically he's playing a Native American? An extraordinarily unnecessary detail, but it still feels bad, baby! He gets a fun little bit having an asthma attack the second he sees Uma Thurman (same) and being dragged out of a chic hotel by Carol Kane (goals). This movie should not be so high on my list, but UNFORTUNATELY, you give me a movie about gay cowgirls and I legally must say YES!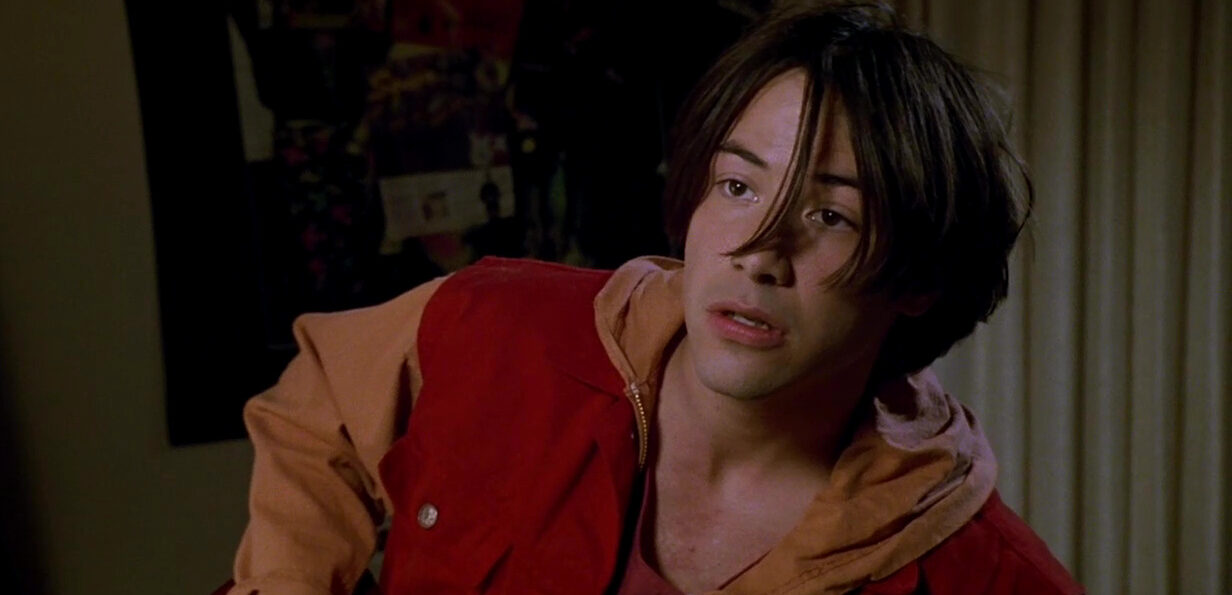 31. BILL & TED'S BOGUS JOURNEY* / Peter Hewitt / 1991
Look, I didn't want to split up the sequels any more than you did, but 1) My roommate Kelsie made me, and 2) The BILL AND TED films are SO different that I am not allowing this to ride the coattails of EXCELLENT ADVENTURE. This movie is very bad. It basically abandons all the best facets of EXCELLENT ADVENTURE in favor of something genuinely incomprehensible. What happens in this movie? I literally watched it the night before writing this and I cannot tell you. I'm more fascinated by the fact that this was released one week after POINT BREAK and several months before MY OWN PRIVATE IDAHO. This means several important things to me: 1) There was a time in 1991 when you could walk into any theater in America and do a double feature of POINT BREAK and BILL & TED'S BOGUS JOURNEY, 2) Keanu did three movies in a row about his intense relationship with another man, and 3) Keanu is in POINT BREAK shape here which makes BOGUS JOURNEY confusingly horny. This gets points for another favorite Keanu delivery: "I've got a full-on robot chubby."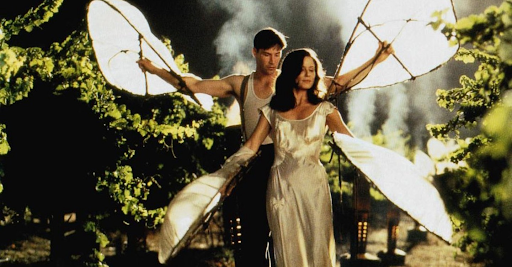 30. A WALK IN THE CLOUDS / Alfonso Arau / 1995
If you've ever read anything I've ever written, then you know: I love rom-coms. BUT, I do not like straight (by every definition of the word) romances! They are boring! A WALK IN THE CLOUDS has a slight edge because it involves one of the genre's greatest tropes: Fake. Married. 
Keanu is a soldier fresh outta WWII who is married to Debra Messing (!!!!), but meets a Mexican woman (huge for me) and agrees to pretend to be her husband. Her family loves him. They fall in love. In a particularly hot moment, he rips the root of a tree right out of the ground. For me, he's a little too clean cut in this, BUT my roommate's mom loves A WALK IN THE CLOUDS so much that she sent us a DVD copy. So, if you watch this, please pour one out for Traci.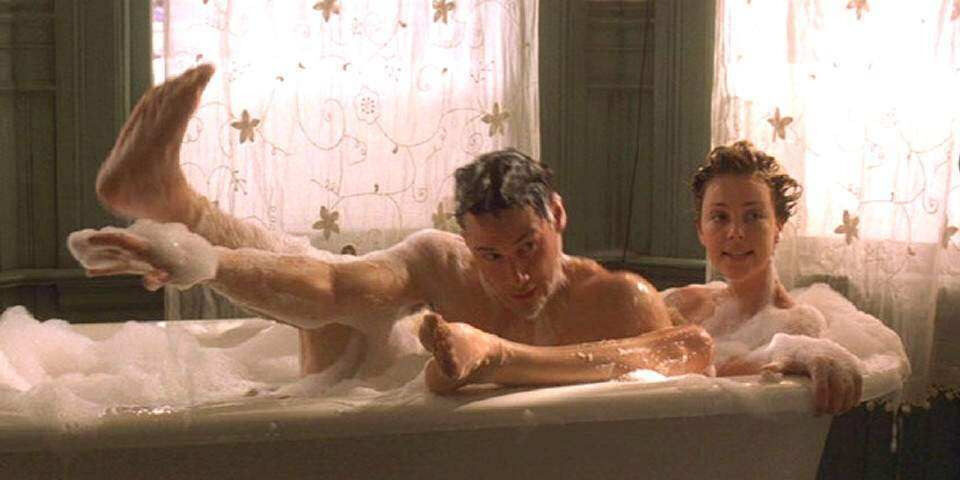 29. SWEET NOVEMBER / Pat O'Connor / 2001
My fascination with Keanu actually started in 2018 on the heels of someone else's—my friend realized that she had harbored a crush on Keanu her whole life that only reared its head in spring 2018. SWEET NOVEMBER was one of the first films we watched in the wake of this discovery, and, folks… Why do I… love… SWEET NOVEMBER? I have probably watched this four or five times, and every time… I love it more. Charlize and Keanu have SUCH weirdly sexy chemistry, it's literally the only thing that makes this movie work at all. What can I say, Keanu sadly meanders the streets of San Francisco while Enya's "Only Time" plays… TWICE!!! It's a perfect movie. You should 1000% watch it, or at the very least watch this scene.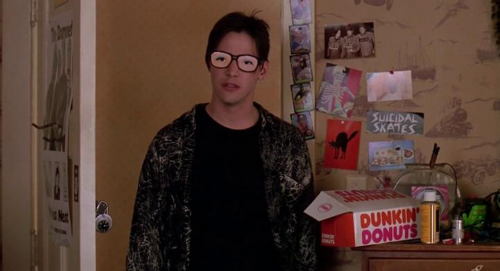 28. PARENTHOOD / Ron Howard / 1989
This movie is actually great, it's just very low on my list because it traumatized me when I watched it in high school and I really can't shake that. There is no better birth control than showing your teenage daughter this movie—every aspect of this is my worst nightmare, even being married to Keanu in high school. This is a beautiful film about the ups and downs of being a middle class white parent, and Keanu is so so so cute in it, stealing the show with one iconic line: "You need a license to buy a dog, or drive a car. Hell, you need a license to catch a fish! But they'll let any butt-reaming asshole be a father." :')
27. RIVER'S EDGE / Tim Hunter / 1986
There are a few films in Keanu's early years that not only prove what a star he would one day become, but make it clear that the other girls were just not doing it like he was. RIVER'S EDGE is great, even Lynchian in its shock value. Besides Keanu's surprisingly good performance, Crispin Glover is insane and, according to a Letterboxd review I read, the director told him this was a slapstick comedy, which explains why he's… Like that.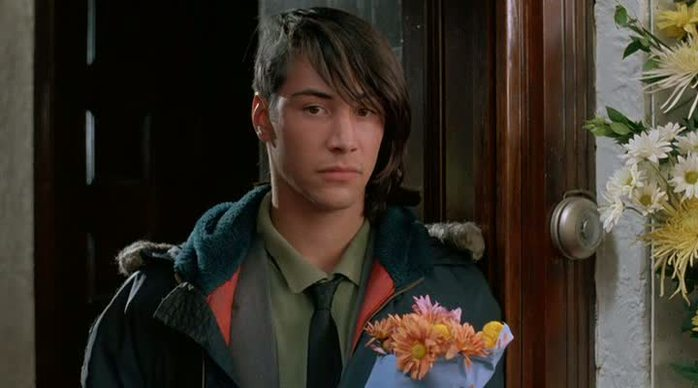 26. THE PRINCE OF PENNSYLVANIA / Ron Nyswaner / 1986
This was cute!!!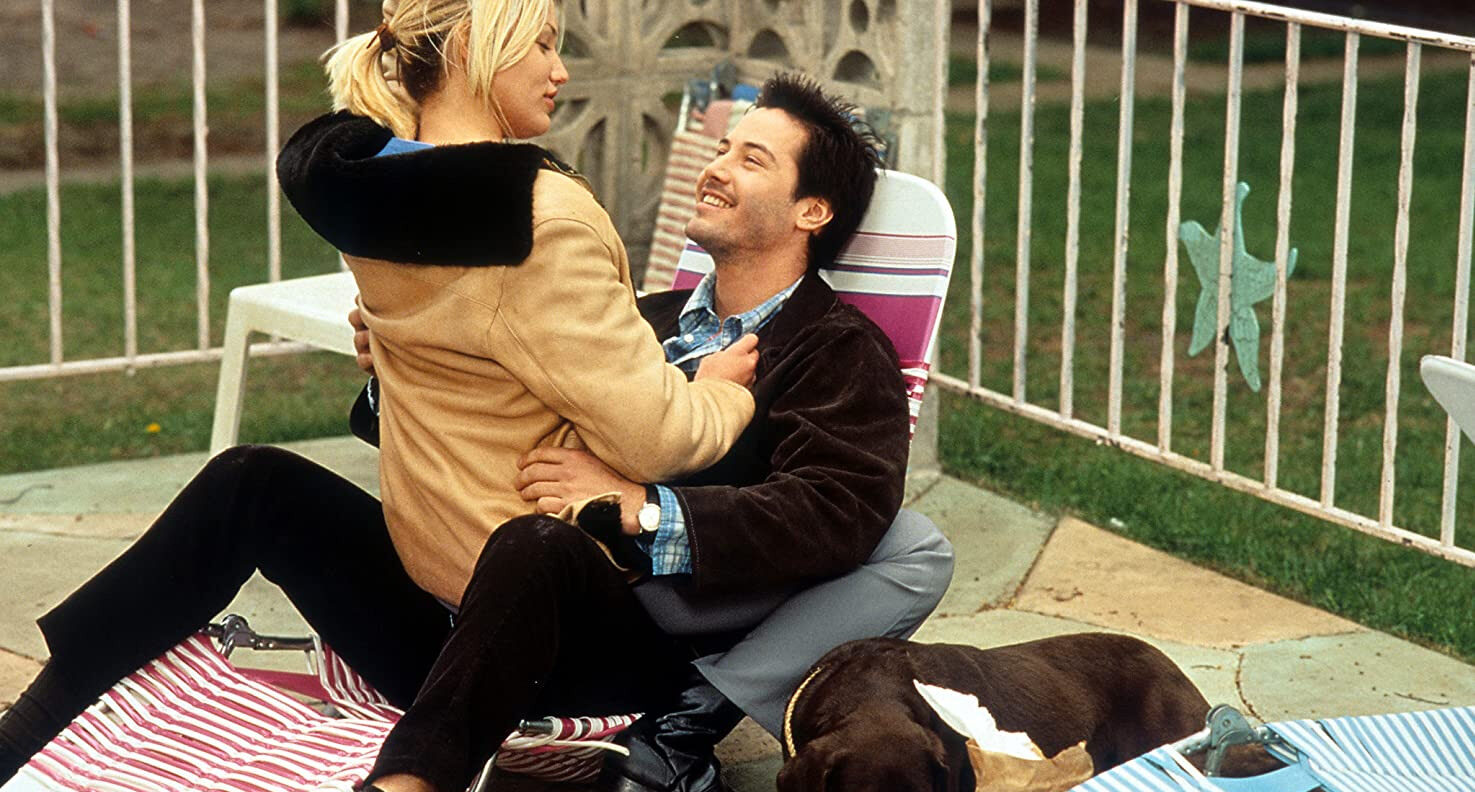 25. FEELING MINNESOTA / Steven Baigelman / 1996
CAMERON DIAZ: UNRETIRE BITCH!!!!!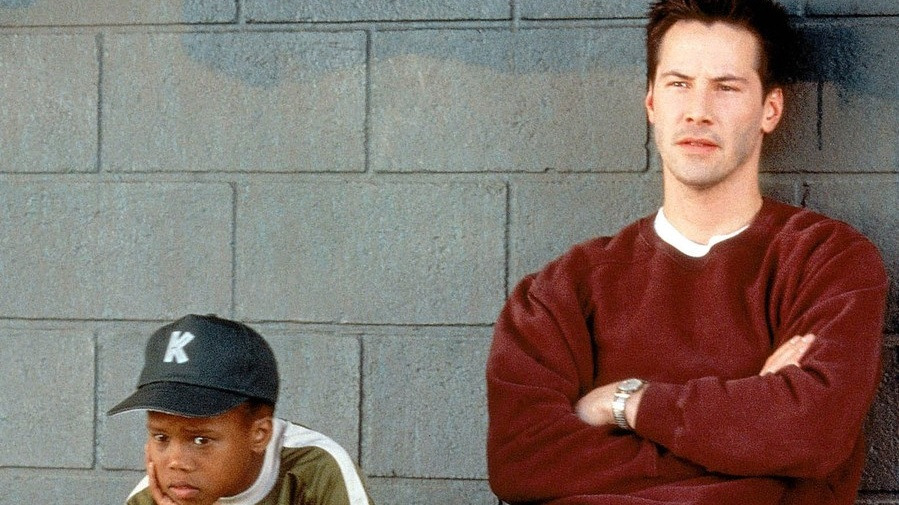 24. HARDBALL / Brian Robbins / 2001
Some of the most atrocious costumes Keanu rocks in his career appear in HARDBALL and yet… Man still looks good. I'm 90% sure he's supposed to be Irish in this, which makes absolutely zero sense, but it's just one more thing to add to the suspension of disbelief this film demands. Watching Keanu slowly but surely bond with a team of boys will ruin your life in the best way, almost as much as watching Keanu talk-sing "I LOVE IT WHEN YOU CALL ME BIG POPPA." Shouts to John Hawkes, KING, and Merry-Go-Round Magazine's own Rebecca Lengel, the last living HARDBALL stan.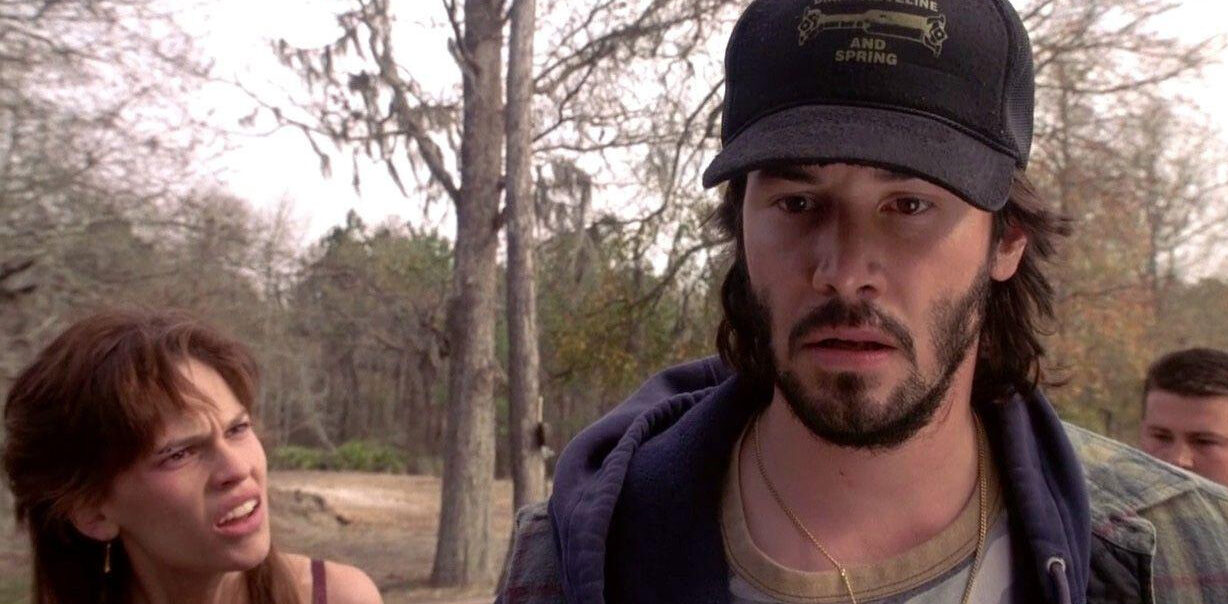 23. THE GIFT / Sam Raimi / 2000
One of Keanu's best performances. As previously discussed (See: #54), it's always shockingly good when Keanu goes full sleazebag and this is next level. Sam Raimi is really in his bag here.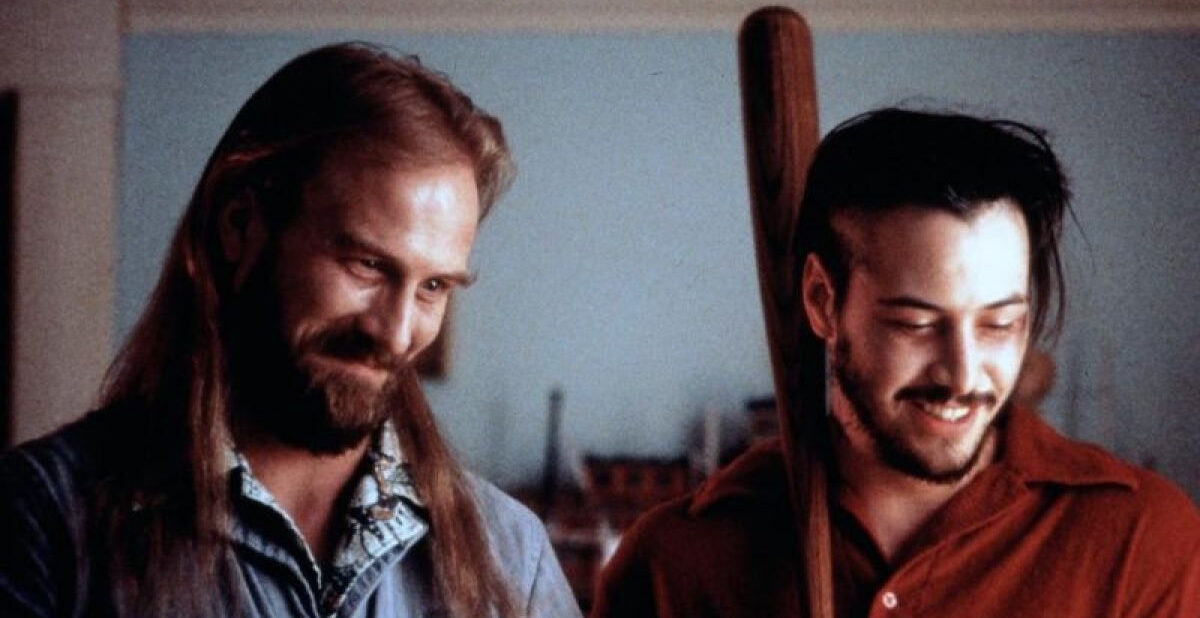 22. I LOVE YOU TO DEATH* / Lawrence Kasdan / 1990
The hair. The nose ring. The vacant stare. River Phoenix. Pizza. Obsessed. Addicted.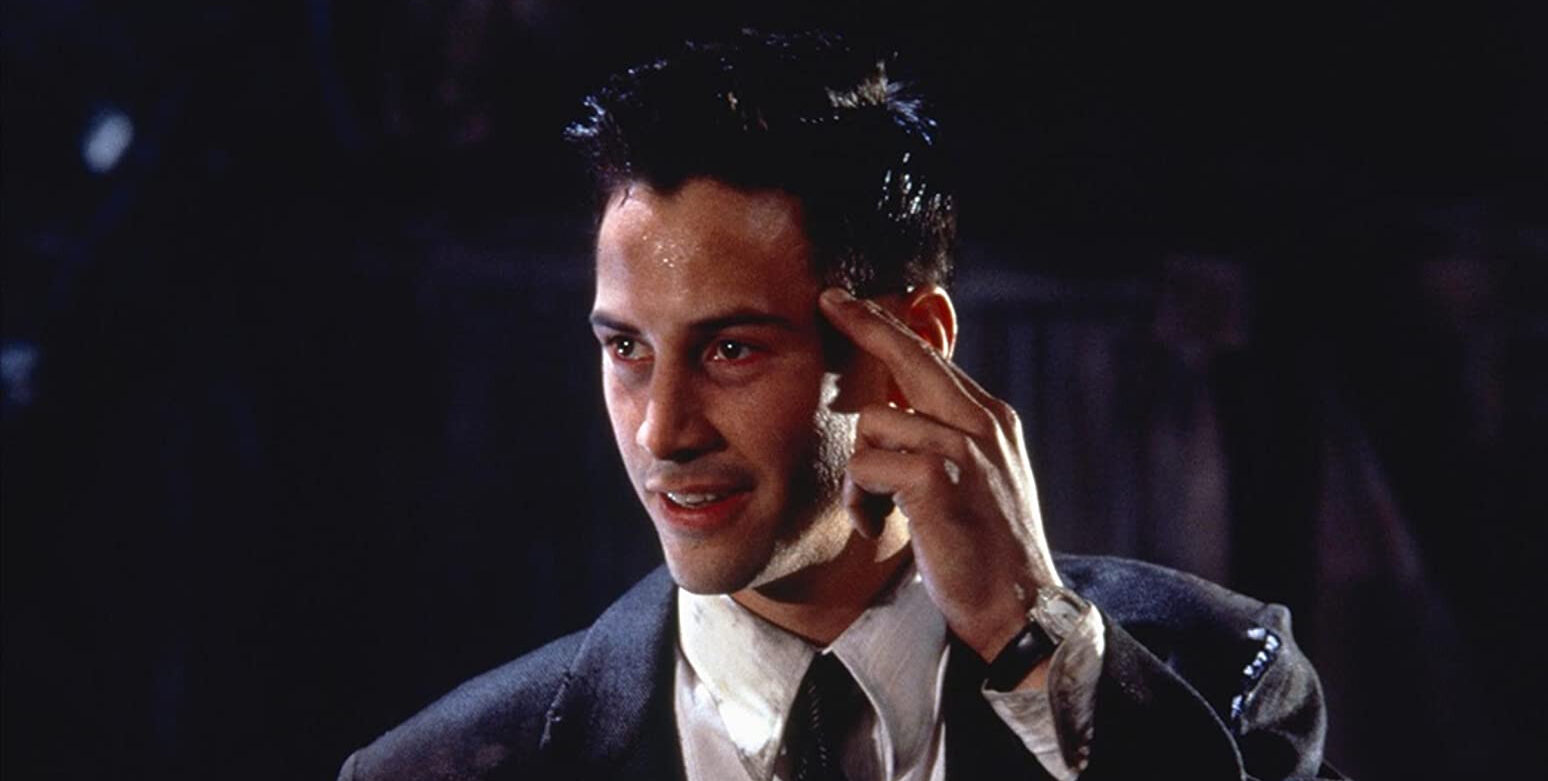 21. JOHNNY MNEMONIC / Robert Longo / 1995
OK, I fully understand that JOHNNY MNEMONIC is probably too high on this list. But it is a cyberpunk camp masterpiece. Ice-T is IN THIS MOVIE!!!!! It's so fun. A dolphin is a tech genius? I'll admit I'm a bit fuzzy on the plot, because I can't imagine having the capacity to follow this. I would kill to see this in theaters, I would KILL to sit in an audience and scream the absolute best line: "I want to get out of this rathole. I want to get online. I NEED. A COMPUTER."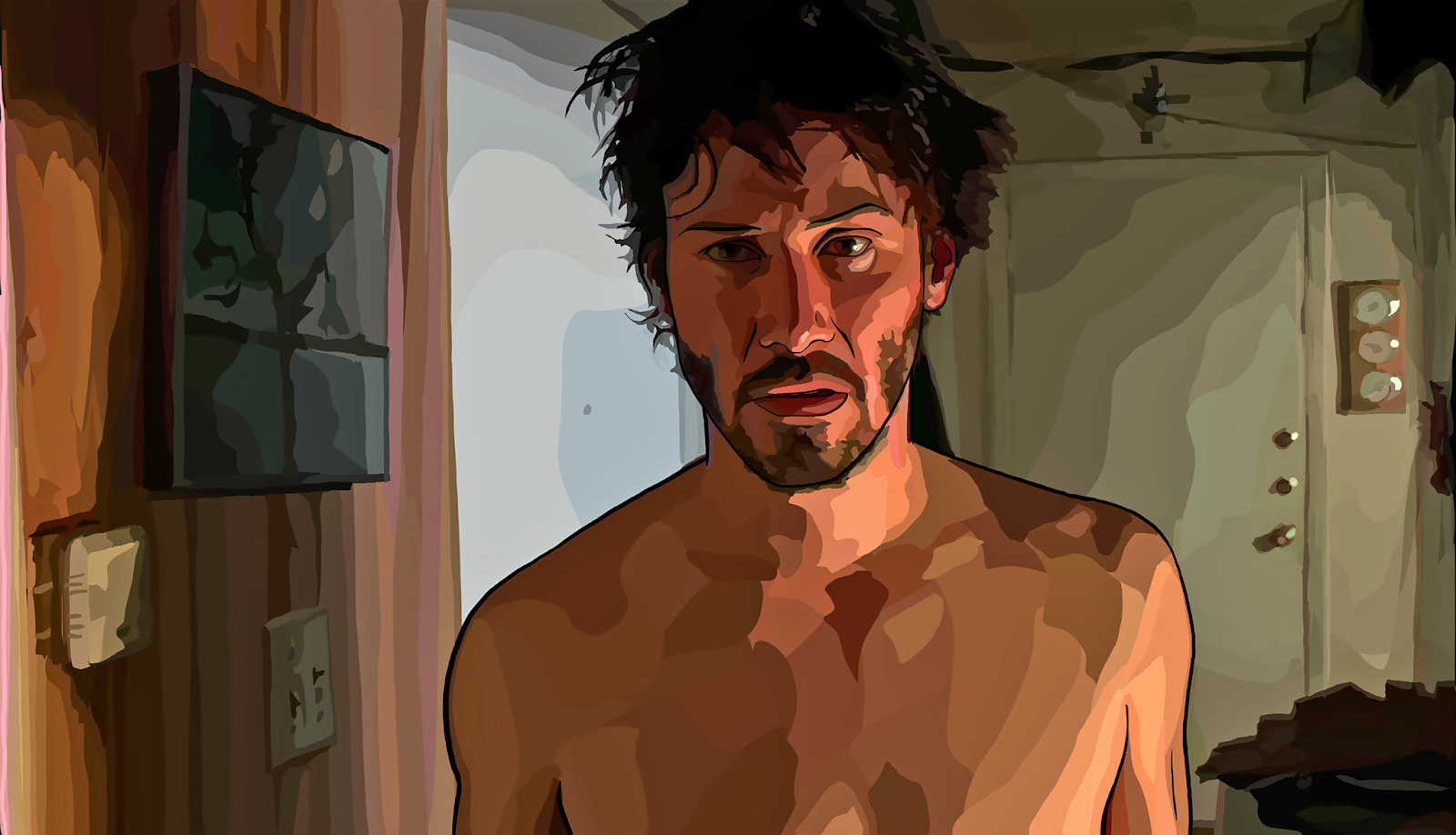 20. A SCANNER DARKLY* / Richard Linklater / 2006
Yeah you see that star correctly. He is so hot in this movie and I would REALLY like an ANSWER from Richard Linklater about WHY he looks SO HOT as an ANIMATED CHARACTER??? This movie is excellent, and features yet another GREAT Winona pairing. I don't love Linklater, but this surprised me. You know what else surprised me? How hot animated Keanu is. @RichardLinklater, ANSWER ME.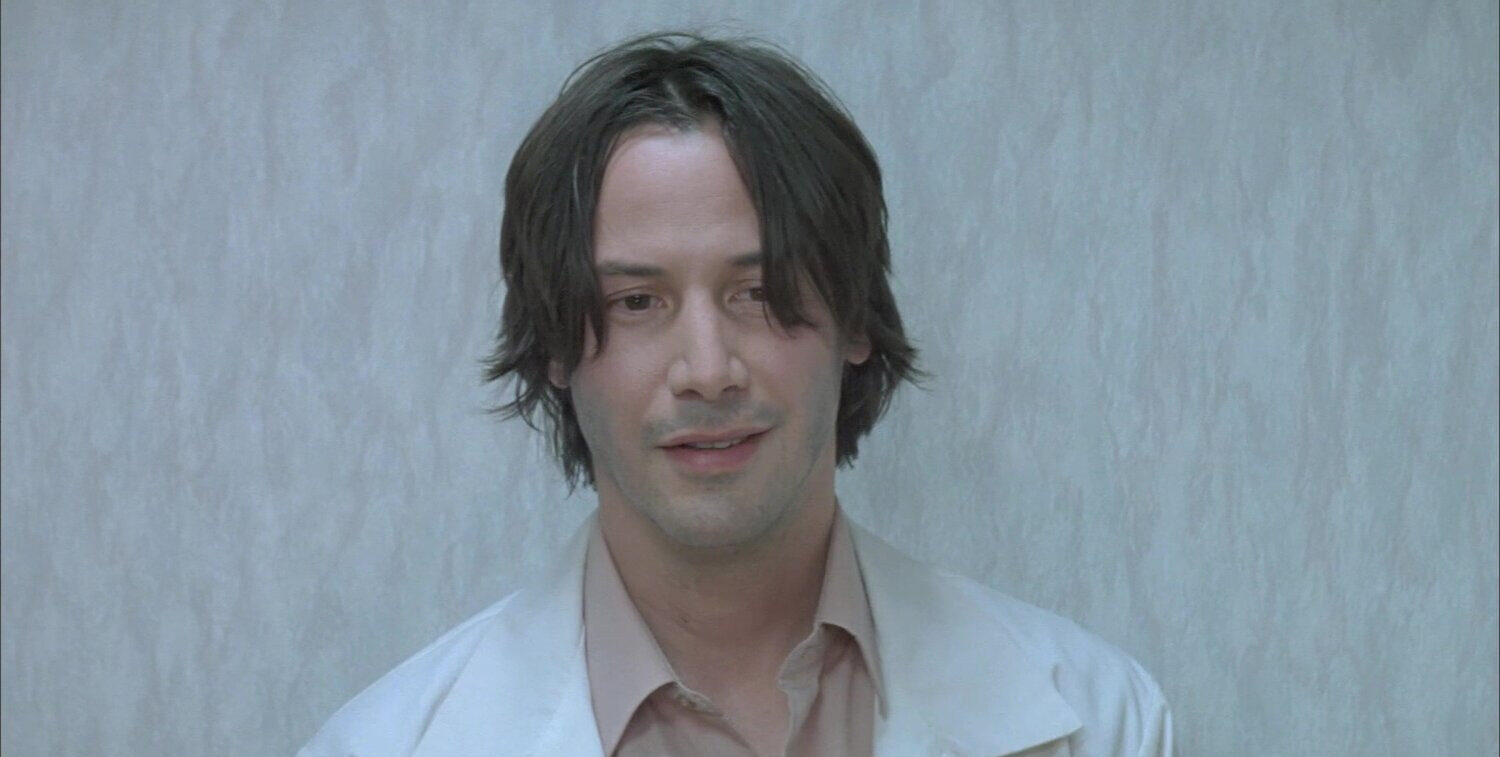 19. THUMBSUCKER / Mike Mills / 2005
A lovely film, and one of Keanu's first roles as a prophet of sorts. Gloriously cast as the titular thumbsucker's orthodontist, he offers one final nugget of wisdom that left me clutching my tiny heart. I loved THUMBSUCKER, but watching his final scene is worth the price of admission.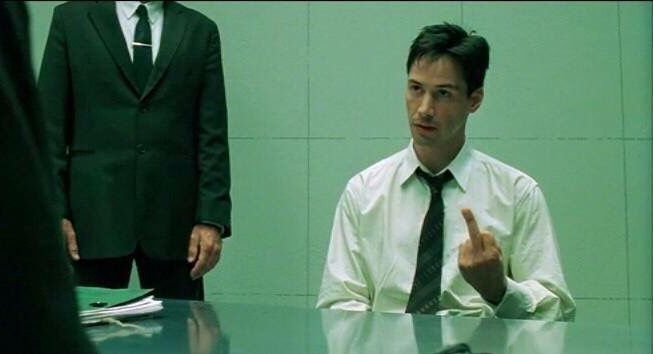 18. THE MATRIX / Lana and Lilly Wachowski / 1999
Sorry, babes! THE MATRIX is not for me! I get that it's iconic and I get what it means to people, particularly the trans community, but it's just not my bag! This meme I made sums up how I felt about it. God bless everyone who loves it, but it couldn't be me! For more of my absolutely unhinged takes on THE MATRIX, listen to AYA VS. THE BIG BOYS on Spotify, Apple Podcasts, Stitcher, and wherever else you listen to podcasts!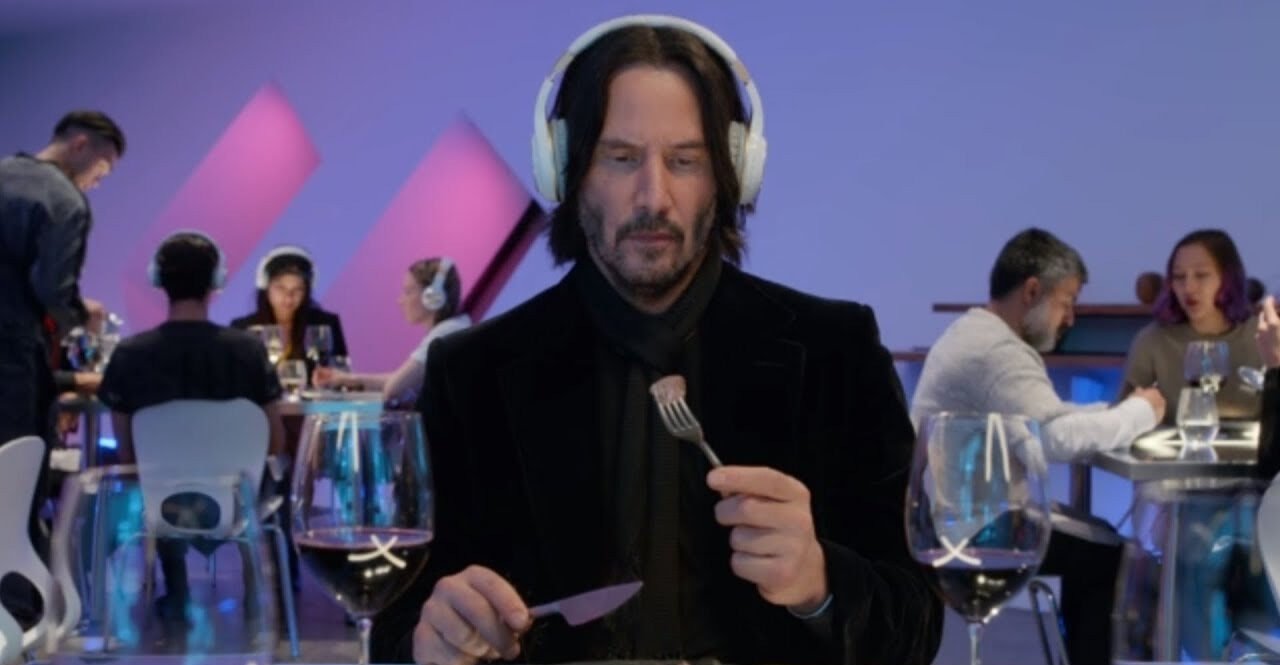 17. ALWAYS BE MY MAYBE / Nahnatchka Khan / 2019
I mean, what can I say? Keanu is perfect in this movie. When he walked on screen, my roommate whipped her shirt off because she INSTANTLY started perspiring. Per my own rules, this ranks incredibly high despite being a two-scene appearance, and I don't even love the second scene, but I mean!!!! That entrance!!! He looks great, he does self-parody so well, and it's so exciting that he's such an icon that this cameo was so huge. Plus, I'm addicted to this feature about Ali Wong and director Nahnatchka Khan meeting Keanu at the Chateau Marmont, particularly these details: Ali Wong wanted Keanu because of his Chinese heritage, a detail she's been aware of since SPEED because her "family and community wouldn't shut up about it," and Keanu ordered a Corona and mixed nuts. My mixed king.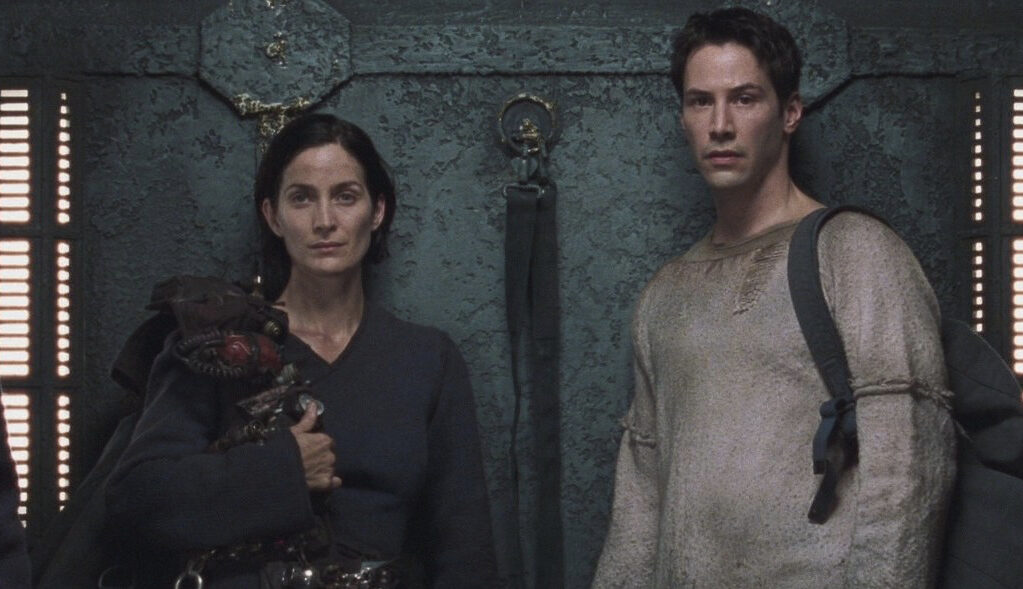 16. THE MATRIX RELOADED* / Lana and Lilly Wachowski / 2003
SORRY!!!!!! THE MATRIX RELOADED ABSOLUTELY HONKS!!!!! A story that's actually about FIGHTING OPPRESSION!!! Some of the coolest fight sequences I've ever seen (the Frenchman's house! The freeway fight! Neo vs. hundreds of Agent Smiths!!!!!)! This movie is horny and campy and COOL; Neo is cool in this, Trinity is SO cool in this, Morpheus is an icon, and JADA PINKETT SMITH IS FUCKING COOL IN THIS!!!! I'm sorry. I'M SORRY!!! THE MATRIX RELOADED is FUN!!! And Neo is HOT!!!!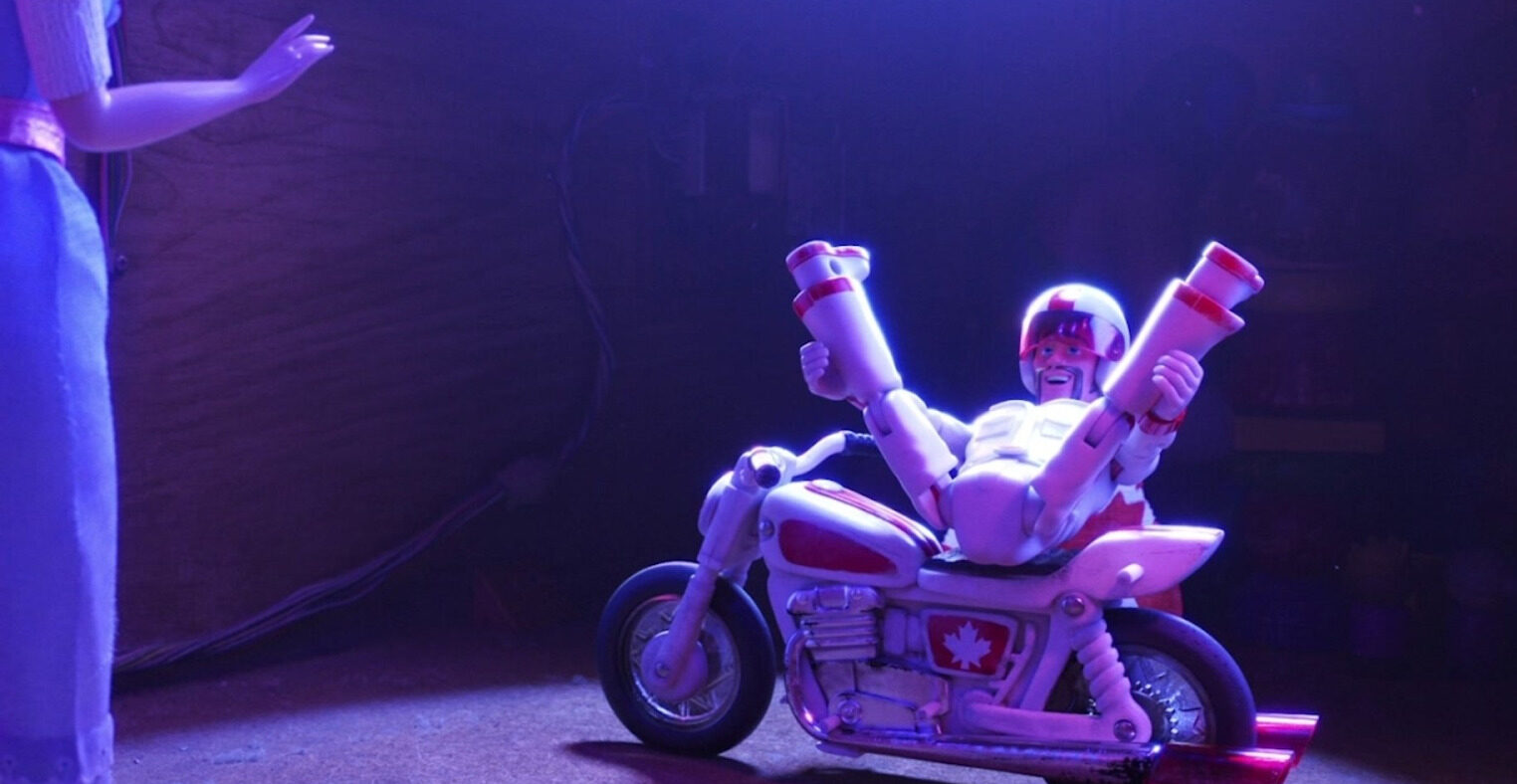 15. TOY STORY 4 / Josh Cooley / 2019
Simply obsessed with the fact that in the middle of the Keanaissance, he said, "Fuck it, I'll do TOY STORY 4." Duke Caboom is a KING, and I would sell my soul to see Keanu in the full Caboom fit. This role was a tiny gift from the gods to me personally, because I adore the TOY STORY franchise and my dad and I are obsessed with old Evel Kneivel tapes. So did I cry during this scene? You betcha!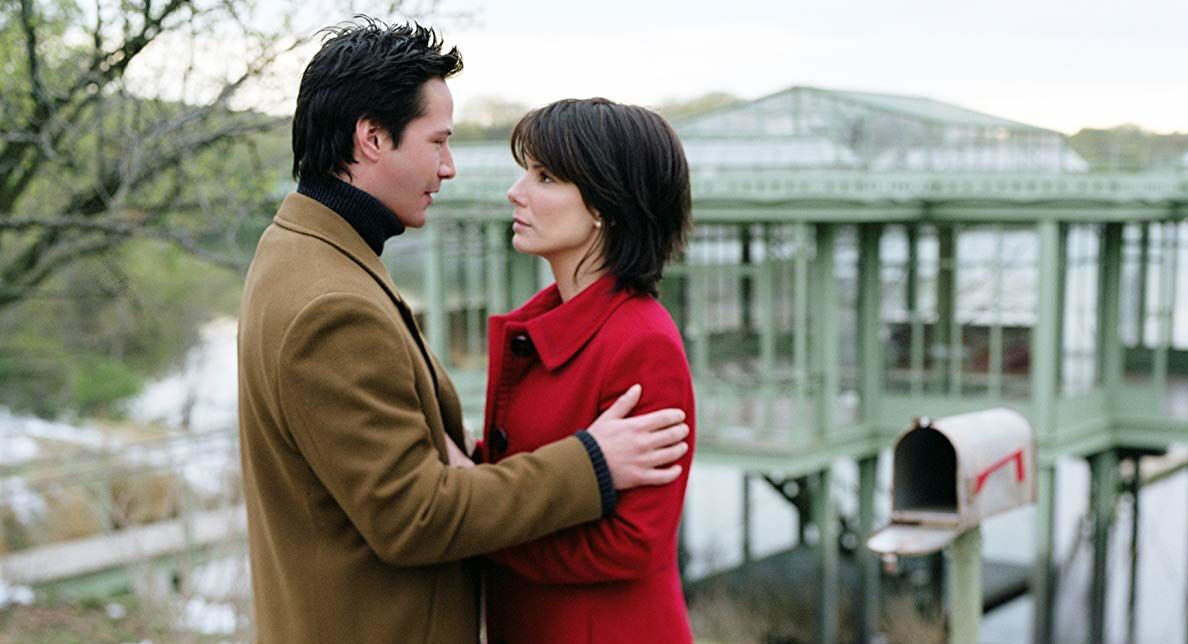 14. THE LAKE HOUSE / Alejandro Agresti / 2006
An Aya Lehman ranked list does not come without its absolutely psychotic takes. THE LAKE HOUSE fucks. A time travel romance that makes zero sense in which the leads meet two (2) times and both times are EXTREMELY TENSE AND SEXY! Keanu pining over a woman is God-tier, and this movie is 100% pining.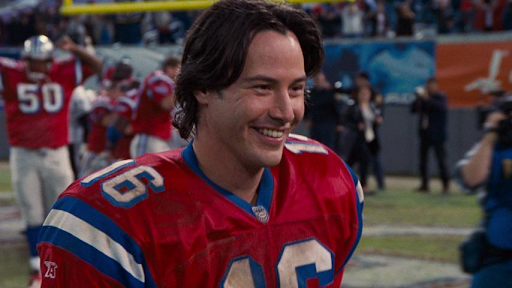 13. THE REPLACEMENTS* / Howard Deutch / 2000
My roommate Kelsie and I cracked some cold ones and sat down to watch this at 12:30 AM on a Saturday, which is actually the only appropriate time to watch THE REPLACEMENTS. As much as Keanu is for the girls, when you get Keanu with his boys, something magical happens. Quarterback Keanu is next-level, I'm 90% sure he wears a turtleneck in this film, which are two components that guarantee a star. This movie has everything: misogyny, racism, an incredible soundtrack, Keanu dancing to "I Will Survive," the Welsh guy from NOTTING HILL. Simultaneously a time capsule of 2000 and a throwback to '70s sports films: watch it with your dad.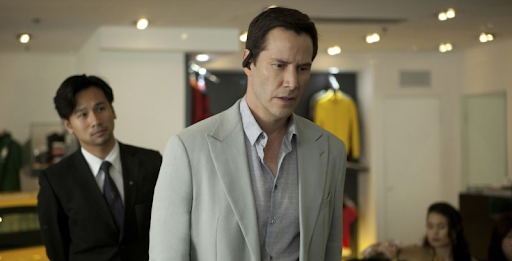 12. MAN OF TAI CHI* / Keanu Reeves / 2013
I didn't want to rank MAN OF TAI CHI because it doesn't feel fair! It's the only film Keanu directed! It's his baby! But, I said I'd rank every movie Keanu stars in, and man… He absolutely rips in this one. HE KNOWS HE'S A GOOD BAD GUY!! He knows his strengths! He's stoic, he's mysterious, and he's charming as hell. The entire movie you're thinking to yourself, "Alright, when's Keanu gonna fight?" And when that fight comes… Man… YOU OWE ME A LIFE!!!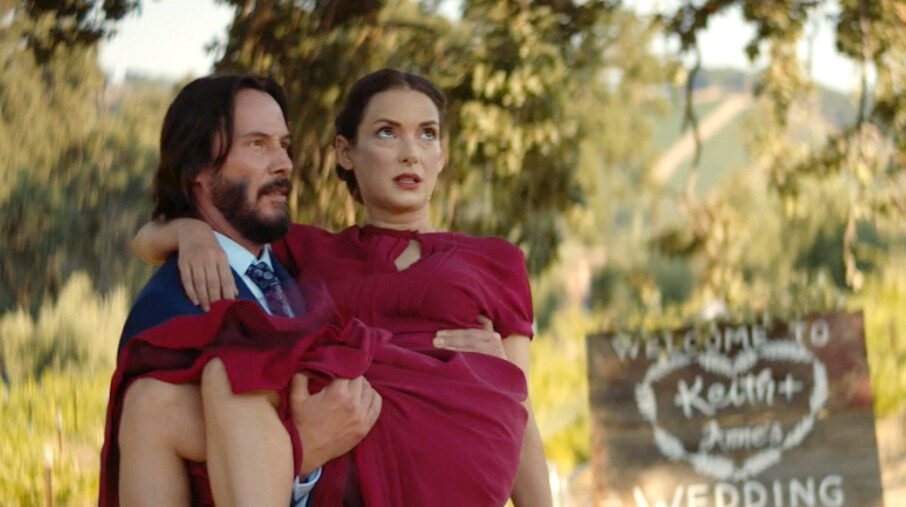 11. DESTINATION WEDDING* / Victor Levin / 2018
Oh, I'm SORRY, am I supposed to be ABOVE a rom-com about Keanu and Winona Ryder bickering flirtatiously in which you see Keanu's thighs three (3) times? Over 40 enemies-to-lovers flips at a WEDDING?? It all triggers something in my brain, and all I know is serotonin for 87 sweet, sweet minutes.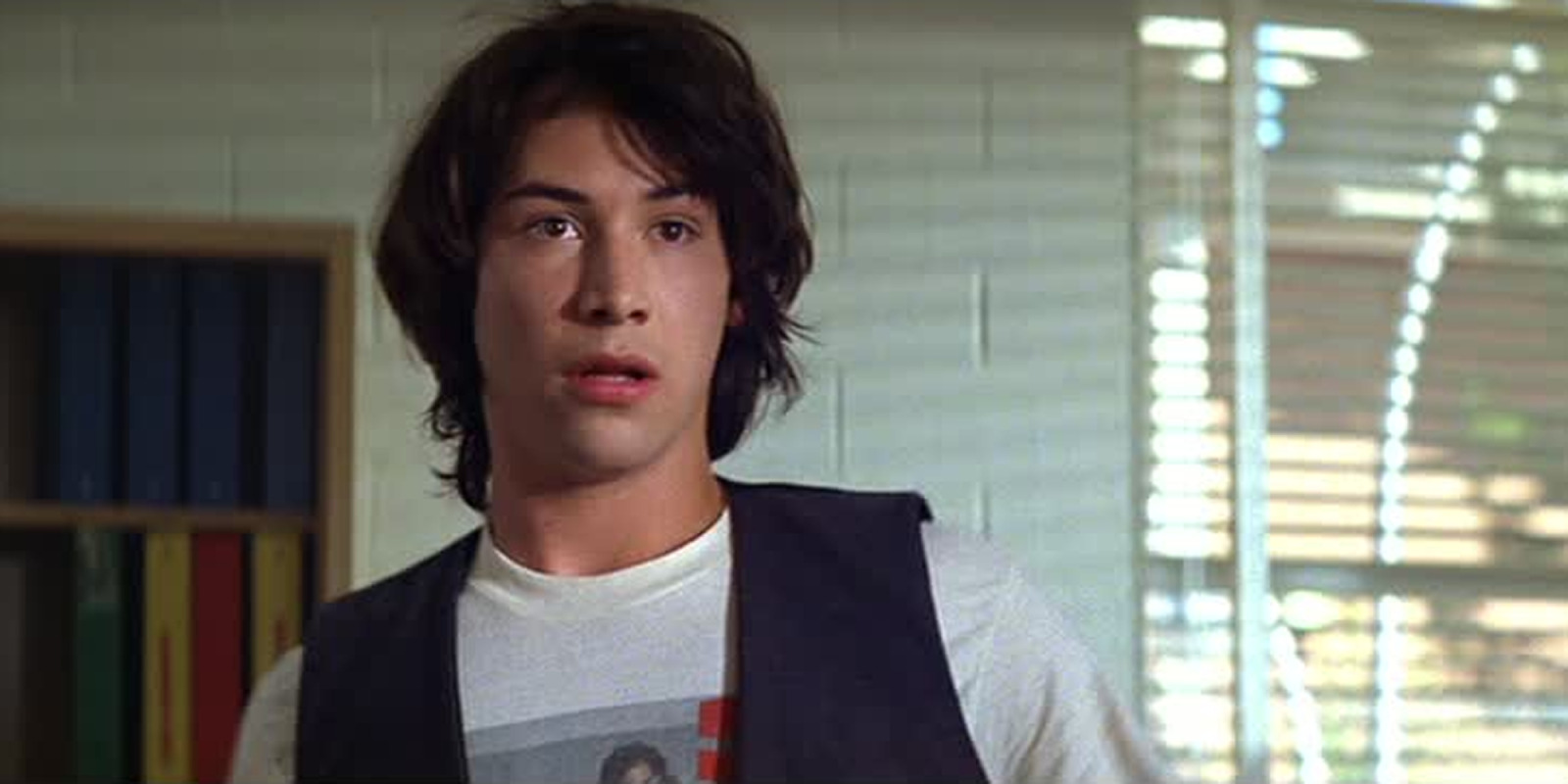 10. BILL AND TED'S EXCELLENT ADVENTURE / Stephen Herek / 1989
Strange things are afoot at the Circle K, baby!! How do you rank the original BILL AND TED? It was genuinely a cultural reset. No one really knew who Keanu was, but then BILL AND TED was released and the following year he's shooting POINT BREAK. He finds so much depth in a sweet, teenage airhead and it is endlessly heartwarming and endearing. Keanu's chemistry with Alex Winter is unparalleled—they're such good friends and it translates to the screen effortlessly. A beautiful, uncomplicated story about the purest form of male friendship, BILL AND TED is a MOST bodacious time. Also, shouts to this fancam, which my roommate and I have watched [REDACTED] times.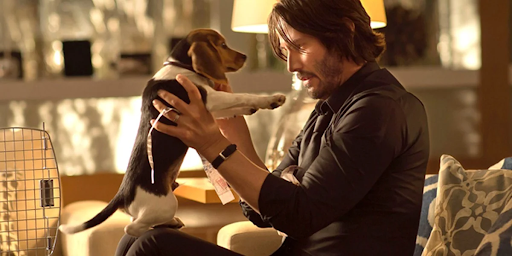 9-7. JOHN WICK*, JOHN WICK: CHAPTER 2*, JOHN WICK: CHAPTER 3 – PARABELLUM* / Chad Stahelski /  2014, 2017, 2019
But, sir! That's my emotional support hit man!!
I couldn't split these up because I feel they're so distinctly connected. If I'm going to rank them, it goes: 1, the first half of 3, the second half of 2, the second half of 3, the first half of 2. Make sense? I mean this is the mf CATALYST of the Keanaissance!!! John Wick is a perfect role for Keanu, not only in character but in story structure: the success of THREE films relies on one scene and the emotional nuance of a lead with like 10 lines. But again, it's Keanu, king of pining: pining over his dead wife, his beloved dog, and his paradise lost. At the beginning of JOHN WICK 2, you worry they may kill John's new dog, but the film doesn't need to—Keanu carries the weight of his losses from the first so strongly that they persist through THREE MOVIES. I love JOHN WICK, man. I loved seeing JOHN WICK at the Burbank 16 on a Saturday afternoon with everyone cheering at the opening titles. HOTTEST LOOKS FROM ALL THREE FILMS: 1, 2, 3. And my favorite: Keanu's hair clips.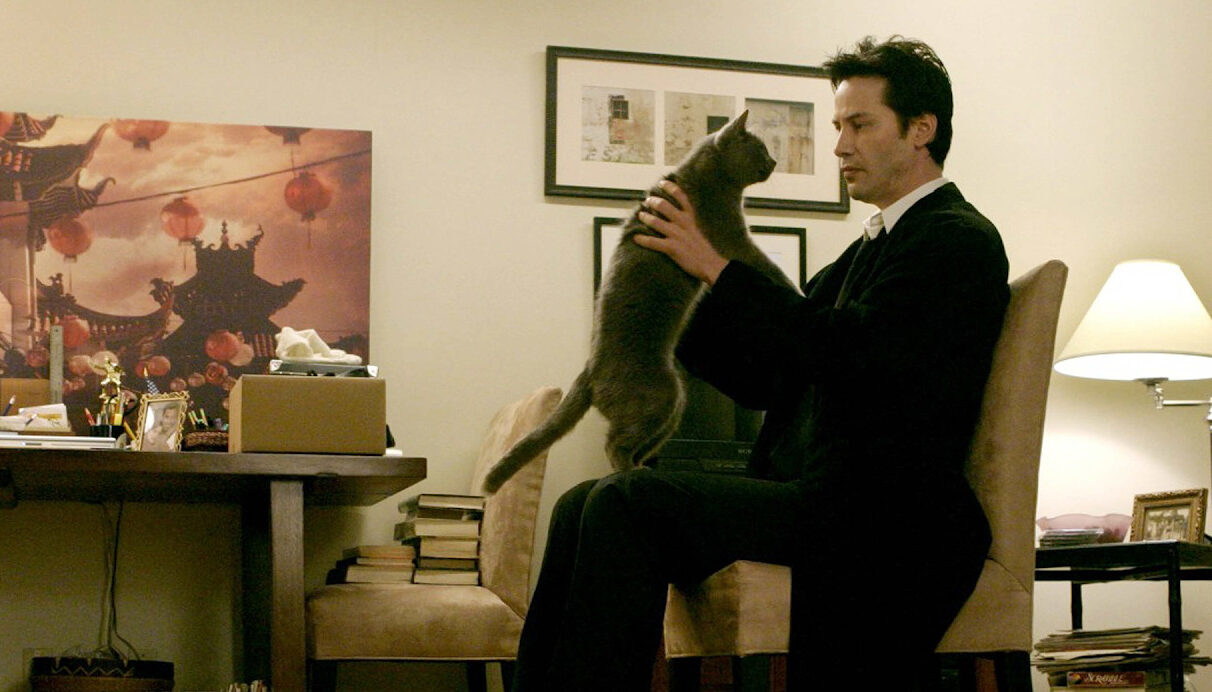 6. CONSTANTINE* / Francis Lawrence / 2005
CONSTANTINE fucks. I fully expected it would not be my cup of tea, but damn she's really that girl!! Keanu is so so so so so hot as John Constantine and ONCE AGAIN! Flirts with Rachel Weisz WITHOUT ONE SMOOCH! It's so hot. My favorite fact surrounding CONSTANTINE is that Keanu had it written into his contract that he would only do the film if they agreed to shoot in L.A. Keanu loves L.A. so much, he's lived here since he moved from Toronto in the '80s. He loves L.A. crews, he loves the feel of downtown; he always talks about riding his motorcycle down Sunset and Mulholland. He shops at small L.A. bookstores, sees movies at the Arclight, and obsesses over the Chateau Marmont. Everyone hates L.A. because of this whitewashed, bullshit notion that it's "fake," but of course, Keanu sees the beauty in it. CONSTANTINE deserves a sequel and Keanu said he's down so LET'S GET IT GOING!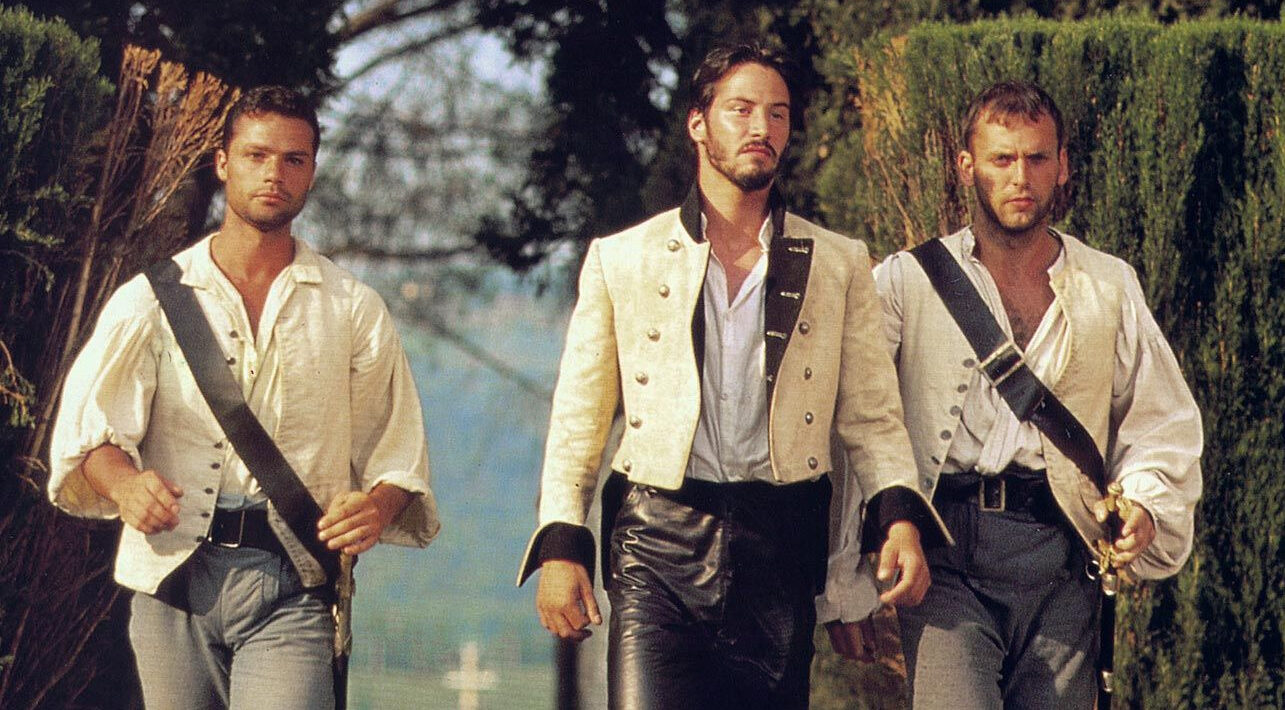 5. MUCH ADO ABOUT NOTHING** / Kenneth Branagh / 1993
This movie is my LITERAL DREAM! Keanu, looking hotter than he's ever looked, playing a VILLAIN, in a VILLA IN ITALY, while Kenneth Branagh and Emma Thompson flirt for two hours? Is his performance good? No. The man can't do accent work, we've discussed this (see: #60). But I raise you this scene. Sorry, folks, I am only human! And I LOVE Shakespeare, baby!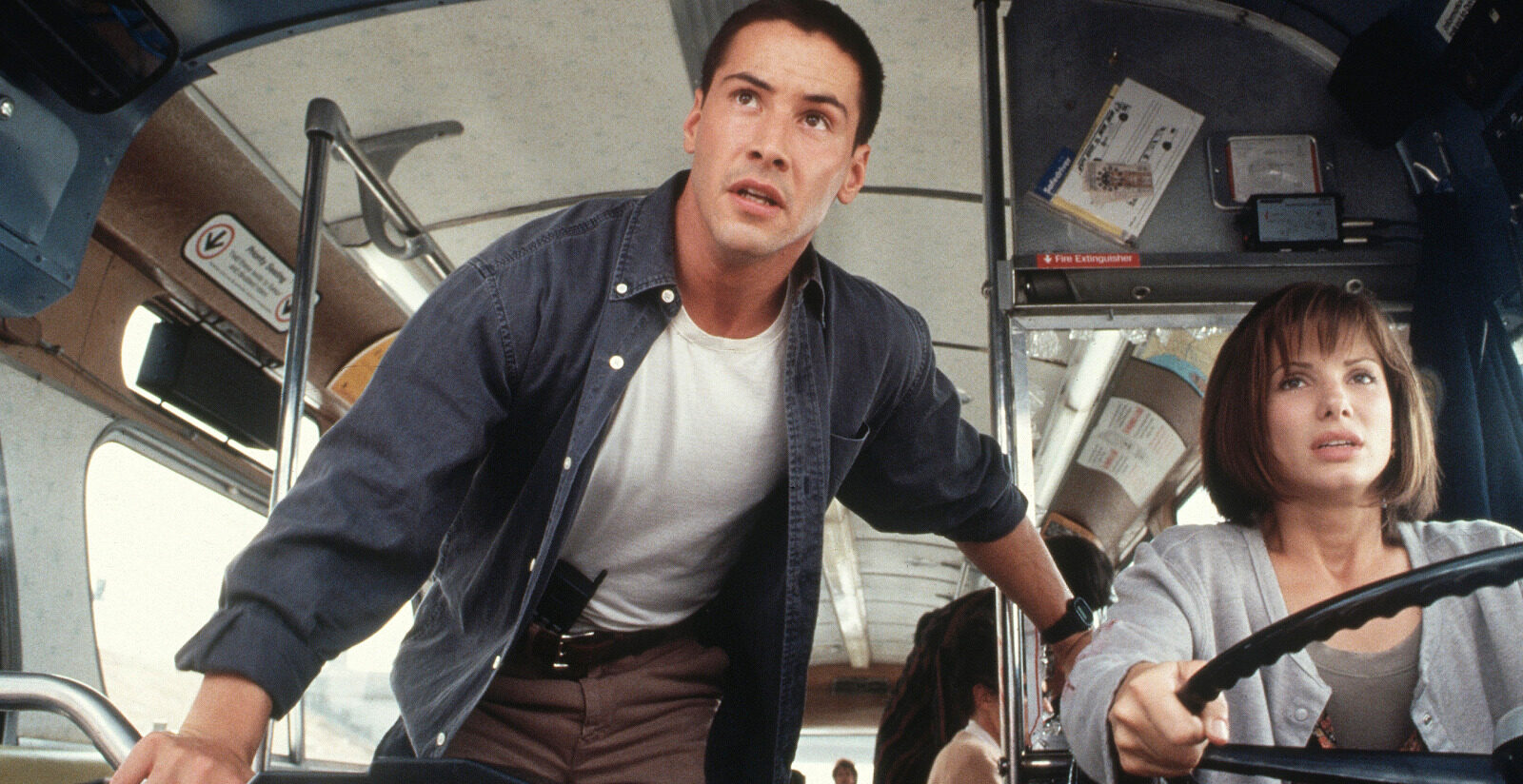 4. SPEED* / Jan de Bont / 1994
A perfect action movie, SPEED is the film that started this particular spiral. SPEED is so fun. Keanu is perfect for it. Unfortunately, he plays an LAPD c*p, but at least he's a bomb squad member so like… that's one facet of the police I guess we should probably keep. His flirtation with Sandra Bullock in this is Next Level. It's so hot, plus there's the whole story about them having crushes on each other while filming which just makes it even hotter! I'm obsessed with the fact that Fox freaked out when Keanu shaved his head and tried to push production so he could grow it back out. They should've known! 1994 Keanu is hot no matter what.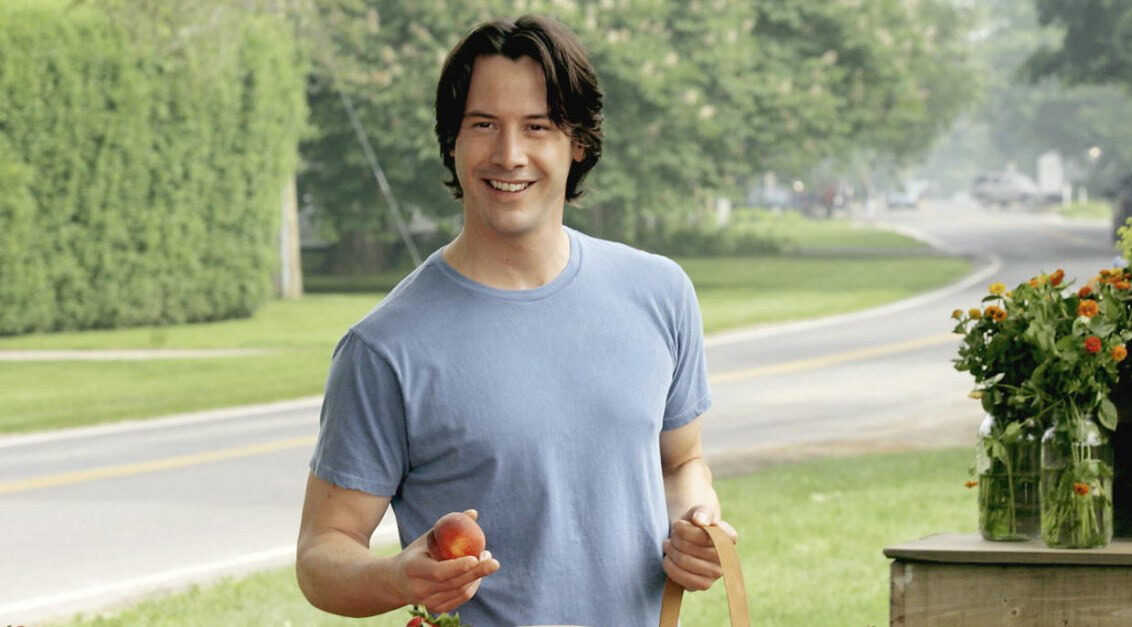 3. SOMETHING'S GOTTA GIVE* /  Nancy Meyers / 2003
THE WAY. 
KEANU LOOKS. 
AT A WOMAN. 
A perfect, 10/10, flawless, "I must've dreamt it" use of Keanu. Miss Nancy Meyers… MISS NANCY MEYERS. This role could so easily not work—a 30-something doctor falls madly in love with 55-year-old Diane Keaton. With any other director and any other male lead, it would've been a cheap joke, but with Nancy and Keanu, it's so honest, so real, so SEXY!! It's so good that it's almost to the detriment of the film—generations of women walked away deeply confused as to why (spoiler alert) Keanu doesn't get the girl. Even Nancy Meyers isn't sure anymore (just kidding, she knows she was right). God. I love SOMETHING'S GOTTA GIVE. I have watched it at least three times over quarantine alone. And nothing, NOTHING, gets me like Keanu in that tight navy t-shirt, with "Sunday Morning" by Maroon 5 playing softly in the background, carrying a bouquet of flowers for Diane Keaton. Thank You Nancy Meyers For My Life.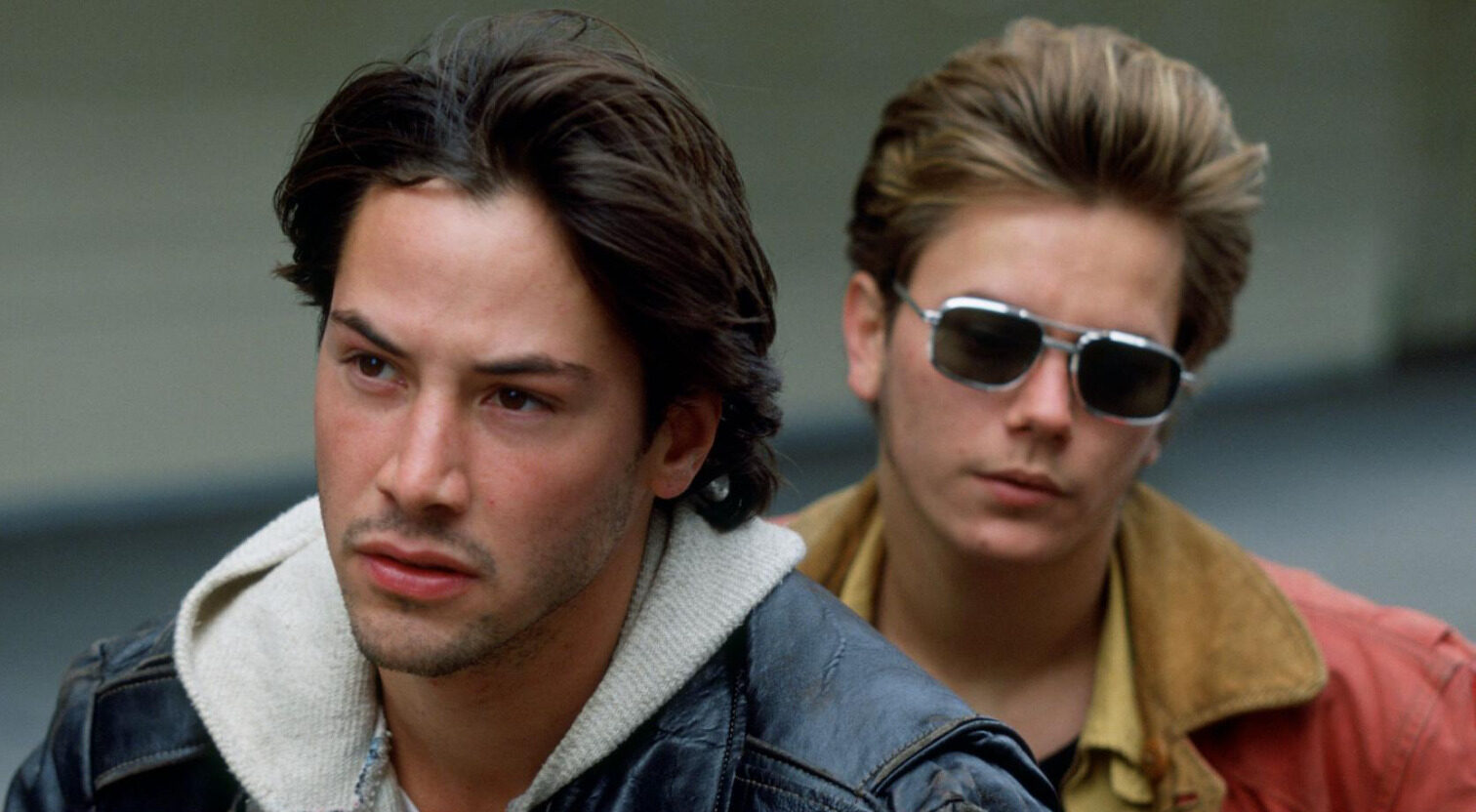 2. MY OWN PRIVATE IDAHO* / Gus Van Sant / 1991
Keanu's best performance of all time. Gus Van Sant taps into something otherworldly here, something maybe only Shakespeare himself could bring out in Keanu. A flawless cross section of all of his greatest strengths: the stoicism, the charm, The Look™, the intense connections with other men. It's all here. At this point, it's bizarre to think of Keanu doing Shakespeare, especially after such a mediocre performance in MUCH ADO ABOUT NOTHING (sorry, king, you know I love it), but Keanu was signed to an agency because of his performance as Mercutio in ROMEO AND JULIET, he refused to do SPEED 2 because he went to Winnipeg to do HAMLET, and his performance as Prince Hal in IDAHO is astounding. Keanu Play Prospero in THE TEMPEST Challenge. MY OWN PRIVATE IDAHO takes the cake for my favorite discovery in crafting this monstrous list. SORRY, I love unrequited gay love stories and Shakespeare adaptations! Have a nice day!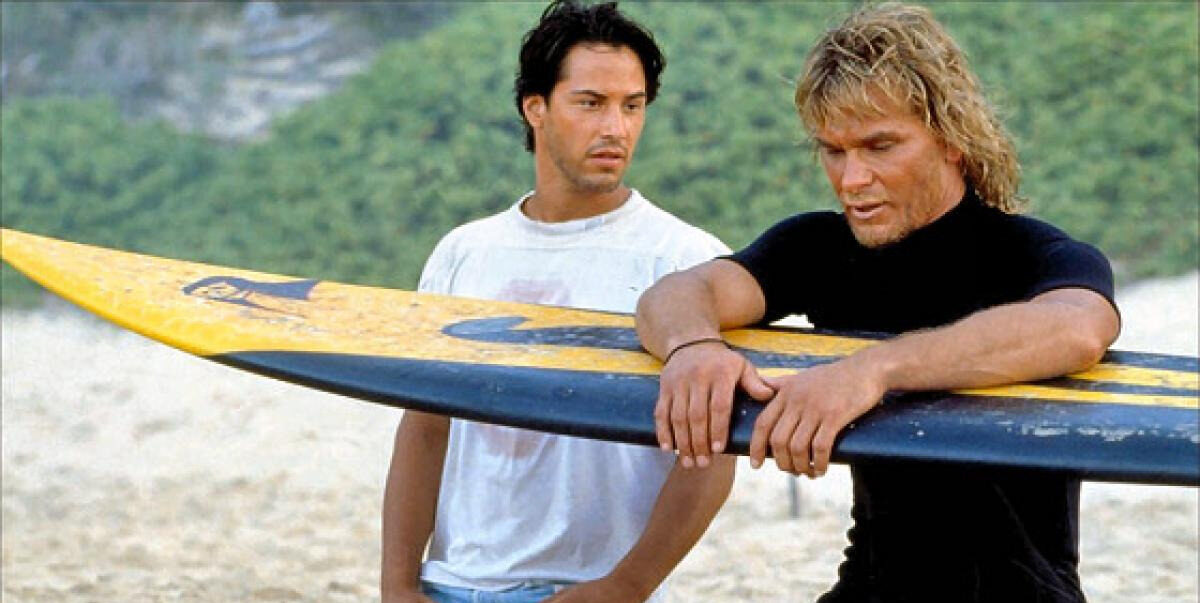 1. POINT BREAK** / Kathryn Bigelow / 1991
*Frank Sinatra's "It Had To Be You" plays softly*
The first time I watched POINT BREAK, the credits rolled, RATT's "Nobody Rides For Free" blared through my friend's living room, and I felt a level of bliss I had experienced only a few times before. I turned to her and whispered, "Can we watch it again?" 123 minutes of pure adrenaline. Not only is this a perfect film, it's a perfect Keanu Reeves Film™: complete with stunts, an insane premise, a crop top, homoeroticism, absurd line reads ("CAUGHT MY FIRST TUBE TODAY, SIR."), Keanu directed by a woman, sporty Keanu, ACAB Keanu, the greatest himbo of all time, my number one, the hottest version of Keanu: Johnny Utah. It's the better HEAT, the original THE FAST AND THE FURIOUS, and a major influence on every '90s/'00s/'10s crime film. It's the film that skyrocketed Keanu from "Ted from BILL & TED" to Movie Star Keanu Reeves. It's a masterpiece. I could watch it over and over and every time I would feel the same bliss I felt the first time I saw it. ¡VAYA CON DIOS!