I've heard exactly one song from Jonathan Larson's RENT (I'm sure you could guess which), a musical I only know the plot of because of TEAM AMERICA: WORLD POLICE. So, it's crucial to note that I have zero sentimental attachment to the subject matter of Lin-Manuel Miranda's directorial film debut TICK, TICK… BOOM! outside of loving ALL THAT JAZZ just like everyone else on this crew does, including the late Larson. Thankfully, being an adaptation of the titular "rock monologue," we're spared from a new book of Lin-Manuel Miranda lyrics where he rhymes "mofongo" with "Kamala 2024." Instead, he's yassified INSIDE LLEWYN DAVIS by way of THE SECRET LIFE OF WALTER MITTY, and he's brought along Andrew Garfield for the ride, flying high on his 14th year of being "an up-and-coming actor with promise." At the very least, Miranda maintained enough self-control to not cast himself as a 29-year-old! Progress for Mr. Alexander Hamilton!
To its credit, the movie does directly speak to those it's about! TICK, TICK… BOOM! evokes the very feeling of nursing a Modelo in a dark living room with a roomful of "creatives" who live to regurgitate what they've most recently consumed as their own philosophy, exclusively speaking in self-medicating platitudes of "I'm developing this" and "we sent out pitches", with no discernible worldly perspective outside of that of which is shared in any other living room filled with "creatives." It's a film in praise of a collective that calls each other geniuses, but homie making your ham & swiss at the corner store could school the most celebrated amongst them on any given second of any morning. I can understand why someone working in entertainment would gravitate to TICK, TICK… BOOM! as a form of validation (the filmmaker and playwright created this work for the exact same reason), but this needy thing, despite desiring to present itself as four-quadrant Netflix entertainment, is an endurance test for anyone who doesn't annually predict Tony winners.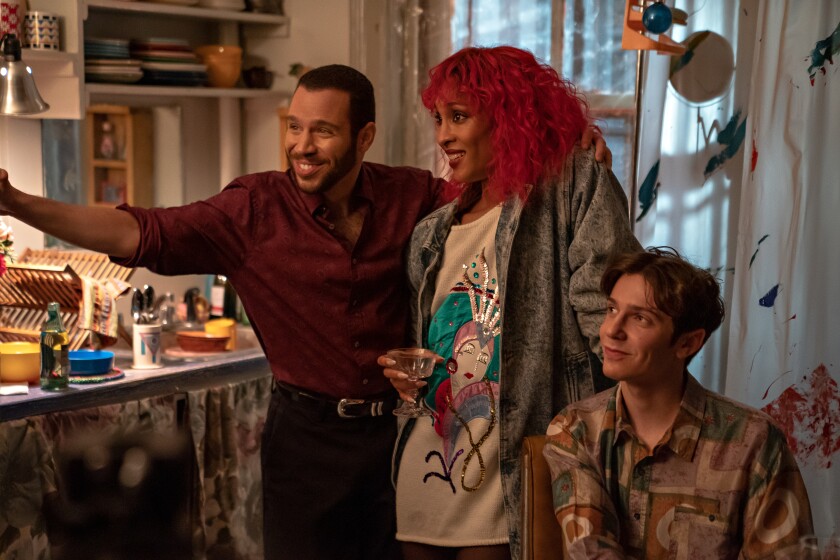 The bevy of Broadway cameos are cute (Joel Grey is looking incredible), and gives the movie a formal definition. To the benefit and ultimate detriment of theater kids everywhere, this is definitely your guys' movie. Andrew Garfield puts in wheelbarrows of effort, but it's mostly noise. I can't pin down what's been holding him back from breaking through as an in-demand talent, but whatever it is making Spider-Man struggle for the limelight, it's sticky, and it's the type of career failure that, whether or not Garfield or Miranda are aware of, TICK, TICK… BOOM! pokes at in its precious few honest asides. Miranda is treating this all as a pet project, but Garfield channels his character's desperation so fully that you're guilted into buying the miraculous Oscar buzz. Other than the meta dimensions of its muse, the film neatly fits into the streamer's STRANGER THINGS model of reappropriating set-pieces of older films unavailable on their service and hawking them as new wares: if you've never seen PENNIES FROM HEAVEN, prepare for TICK, TICK… BOOM! to blow your mind.
Miranda's directorial efforts in film mimic his vision of the stage, emitting a desire to be loved on a regal scale. The ambitions he exalts are so hyper-specific that they loop around to intentional generality: like 10 minutes of "All Too Well," this fellow student film dares you to not relate to its focus-tested heartaches. This is what keeps Miranda's bills paid, but it's also what's landed him in a creative rut. After dodging the sophomore slump with aplomb, he's in the midst of a… Junior junction? A freshman fuck-up? What do you call it when you use the clout of HAMILTON to green light a big-budget adaptation of your first musical and it flops tremendously, so now you're left in a gap period without a follow-up or a victory lap? The cost of becoming a forefront of cultural industry in the Twitter era is that your ethos and work become over-milked udders in two years flat. When we've discussed the role of Lin-Manuel Miranda in our popular culture, by the 2020s we were kicking around the same soccer ball; some people realize HAMILTON is a weirdo slave owner elegy sooner than others, but it'll come for all eventually, be it an SNL sketch that spurs a single-day discourse or a 16-year-old taking up seven minutes on TikTok to repeat "old white men are bad" in varying synonyms. Some in similar fortuitous creative positions would still heed the challenge to prove oneself, but Miranda gladly settles on following the guidebook verbatim.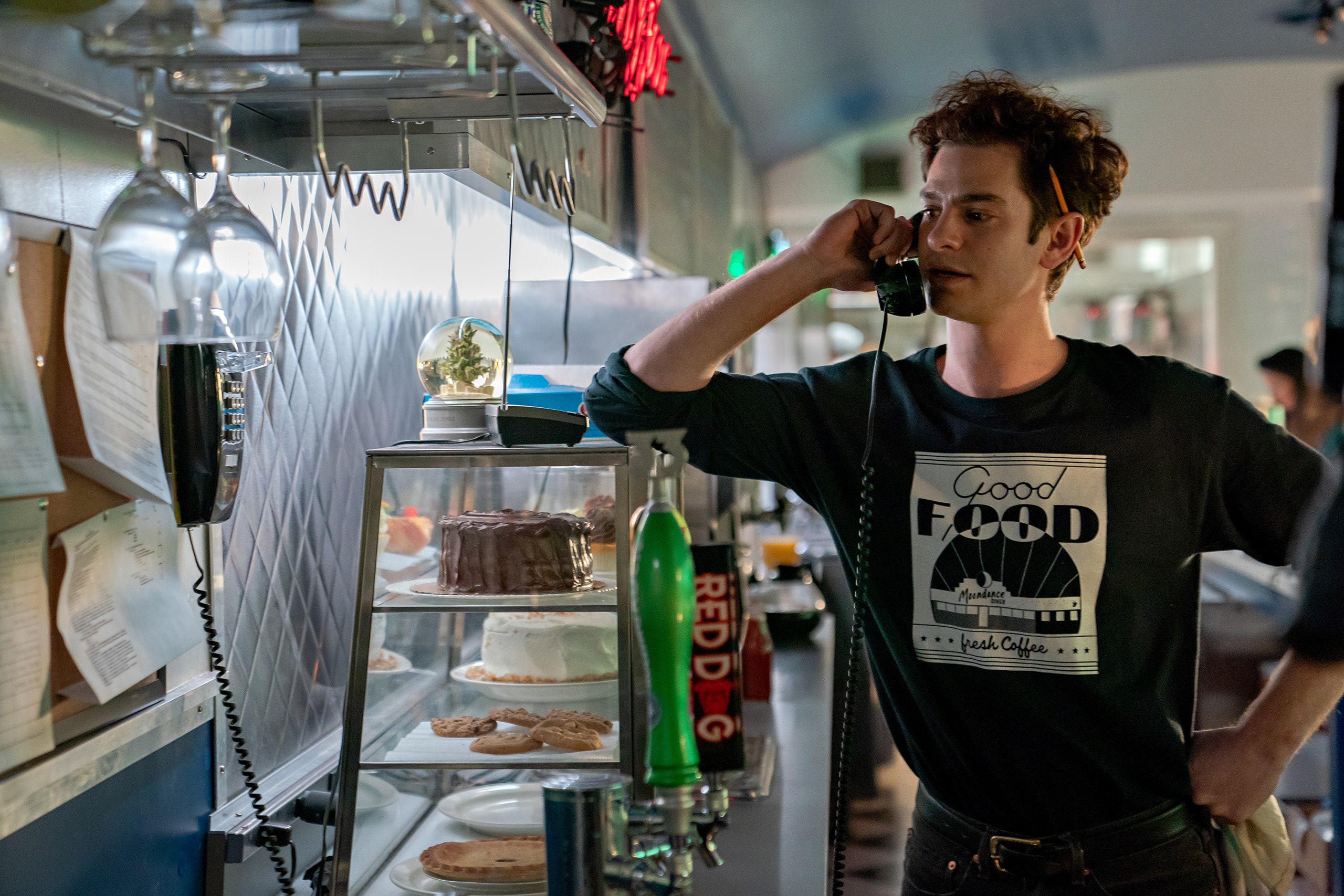 As such, he sticks the landing, largely via finally sourcing the anxieties of his film's oversized heart from a frenetic, multi-media structure. Video-taped memories are edited alongside staged recreation to make an ephemeral mosaic of memory, and it all clicks to the tempo of yellow pad scribblings. The film yada-yada's the ironic, nigh theatrical tragedy of Larson's death in the name of good taste, which is foolhardy when you're palling around in the gauche tonality of showtunes, but that's not the atmosphere Miranda has ever dealt in. It's a rocky road to a naive, well-meaning sentiment, which would be innocent enough in a work of fiction; TICK, TICK…BOOM! smooths out the beautiful nastiness of its subject, ultimately portraying its stalwart wunderkind as another generic, burnout genius in a borough flooded with them. He's comfortably reassured that "there's only one Jonathan Larson!" Are we sure about that?
At one point, Garfield sits in a two-hour market testing for a cooking oil substitute and behaves as though he's been sentenced to death row. Miranda and co. halt the movie to lead an anti-marketing parade in the name of the purity of art, and it's just like… Do you guys know what you do for a living? Save the fact that these fat cats decline Jonathan Larsons on the daily, but you make investor-friendly smash hits. And so does this version of Larson! He is indeed not saving rainforests! That is true! When he storms into his friend's posh marketing office, ranting about the generic state of blockbuster theatre, it's like hearing a doomsday madman on Main Street gawking his despair to deaf ears. Jonathan Larson, by many accounts, was an egotistical, lovable freak, but he feels trapped in a product he stubbornly vowed against. The work is often better when the artist starts thinking less of themselves; Larson's life was cut short before he ever embarked on that humbling. Racing towards death, Garfield is never permitted to escape the source material and go full Roy Scheider into the regretful abyss, thanks to a director who admires Fosse for his legacy status alone. TICK, TICK… BOOM! does its subject's memory the disservice of embalming him in arrested development, mawkishly selling his insecurities as grind culture gospel.