To say Anthony Bourdain is my hero is an understatement. I grew up binging NO RESERVATIONS and PARTS UNKNOWN, finding solace in his travels as a teenager stuck in the Virginia suburbs. I pored over his books as a college freshman, and while their self-indulgence shines through upon revist, it's that same knack for penning unabashedly debauched tales that makes devouring their pages so fun. Bourdain was Tom Verlaine with a spatula, William Burroughs with a cleaver instead of a gun. To this day, I've only shed legitimate tears because of one celebrity death, and it was his. If ROADRUNNER: A FILM ABOUT ANTHONY BOURDAIN was intended to be seen by only one person, it was probably me.
It's hard to imagine that the late Bourdain would have wanted a documentary made about him. While it's certainly not my place to speculate on the reasons why the drug addict-turned-chef-turned-television-host took his own life in 2018, I have to imagine it had at least something to do with the idolatry and voyeurism that accompanied his fame. ROADRUNNER is an ode to the man's legacy, and while it's a moving tribute, it also risks playing like the exact type of rock 'n' roll food porn I fear pushed him to the brink. However, as someone who spent their youth making regrettable decisions as a result of Bourdain's writing and persona, it's exactly the type of send-off I yearned for. With guest appearances from street artists, rockstars, and fellow outsider cooks, it captures the '80s New York City grit that made KITCHEN CONFIDENTIAL such a formative and gripping read.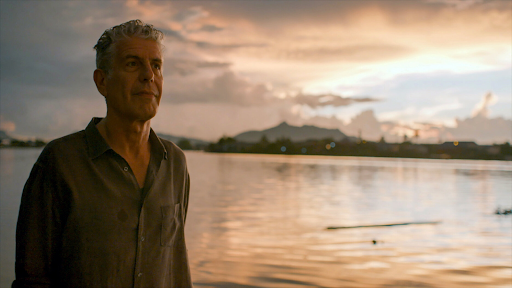 The best part of ROADRUNNER is that it sums up just how much fucking time Bourdain spent on camera. The footage isn't just from his global travels (although there's certainly a lot of that, too), it's from the grimy early adulthood that shaped his pre-celebrity writing. We see him smoking cigarettes at an old desktop computer, typing first thing in the morning before a long day in the kitchen. He gets hammered in some of the dirtiest looking basement dive bars you've ever seen. He waxes poetic about heroin addiction in front of the New England beach house where he and his mates first shot up. It's not news that Bourdain's backstory was twisted and alluring, but seeing the footage unearthed by friends, lovers, and early collaborators truly pinpoints the most honest elements of his unparalleled, effortless cool.
For every earthy, leathery vignette of Bourdain acting like the Keith Richards of The Bowery, though, there's a component of ROADRUNNER that oversteps its bounds. Most notably, the AI robot that director Morgan Neville's team built to record Bourdain's "ghost" is pretty damn weird. I can't imagine that Bourdain, an outspokenly analog curmudgeon, would have enjoyed having his words reduced to a dystopian display of technological prowess. On top of that, Neville didn't interview his last girlfriend, the Bourdain-proclaimed "crazy Italian actress," Asia Argento. "We considered every aspect of Asia's story but found that the more we opened the door on it, the deeper the complexity and the less insight the film had," Neville told The Hollywood Reporter. Nonetheless, she's an essential piece of the Bourdain puzzle, and without her, the film doesn't quite feel complete, especially since the documentary occasionally shies away from glorifying Bourdain.
Ultimately though, ROADRUNNER gives the viewer exactly what it promises. It wasn't made to unearth the reasons behind Bourdain's death or to cast him in any type of light. It's an homage to a singular icon, a rockstar who never picked up a guitar. Throughout the film, niche underground heroes such as Josh Homme, David Choe, and Eric Ripert reminisce about how fun, intelligent, and downright difficult Bourdain could be. I loved Bourdain for his well rounded and seemingly-honest persona. He was the rare celebrity who felt just as shitty and lovable and human as the people I spend my time hanging around. Even though it cuts ethical corners, ROADRUNNER is a solid salute to one of the best to ever do it.
You can read Merry-Go-Round Magazine's tribute to Bourdain here.