It's our Bandcamp Picks of the Week, featuring the dark, plodding rock of King Hannah and the hybridized punk and metal instincts of Beachheads! 
Beachheads – BEACHHEADS II
Genre: Power Pop, Punk
Favorite Songs: "Live And Let Live," "Death Of A Nation"
Beyond the snarls and graphic tees of your average metalhead, beats the shimmery heart of a power pop kid. At least that's the case for Beachheads, a band that features guitarist Vidar Landa and bassist Marvin Nygaard from Norwegian metal gods Kvelertak. And, sure, while Kvelertak has played around with genres like punk and hardcore, Beachheads lean into new ideas and sounds to make something all the more diverse and playful. It'd be easy enough to call BEACHHEADS II a perfect gradient between pop rock and Kvelertak's brand of crunchy metal, and in some cases that's an apt enough descriptor—"Nothing," for instance, feels like some bare-bones metal nihilism wrapped in a layer of jangly power pop. And that approach mostly works, as the band (which also features singer Børild Haughom and singer-drummer Espen Kvaløy) have the skills and experience to forge something that feels so deliberately centrist. But then you have a song like "Shine," which adds in some over-the-top drama by way of The Killers, and the whole "formula" just falls apart. It's not too punk for metal or vice versa; it just feels overly pedestrian.
The magic of this record comes when it's a little harder to tell what the band is going for in terms of the pop-punk-metal balancing act. "Death Of A Nation" sounds like '70s jangle rock—until you realize it's about the folly of "televised war," when it becomes clear that the band are pros at wonderfully subverting peoples' expectations. Or, "Live And Let Live," which is the most infectious and terrifying ode to robust existential dread. These songs, and to a lesser extent the burst of unseen sensuality in "Jupiter," feel like the best case scenario of metal heads trying to fly their pop-punk-whatever flag. A band blurring sonic ley lines to make something that's combative, charming, and always thoughtful. It's a perfect example that the best rock bands couldn't care less about genres; they flourish when nearly everything is up for grabs.
This is certainly a catchy album, and it's wormed its way to the top of my on-repeat pile for early 2022. Part of that is that some bands still operate like the punk-metal divide is the Berlin Wall and Beachheads clearly demonstrate that you can have it both ways—in doing so, you can achieve new understandings and feats in truly great rock music. Because at the end of the day, dear punks and metalheads, don't we all still wear terrible Chucks and have weird/dumb hair? Listen to it now over on Bandcamp. [Chris Coplan]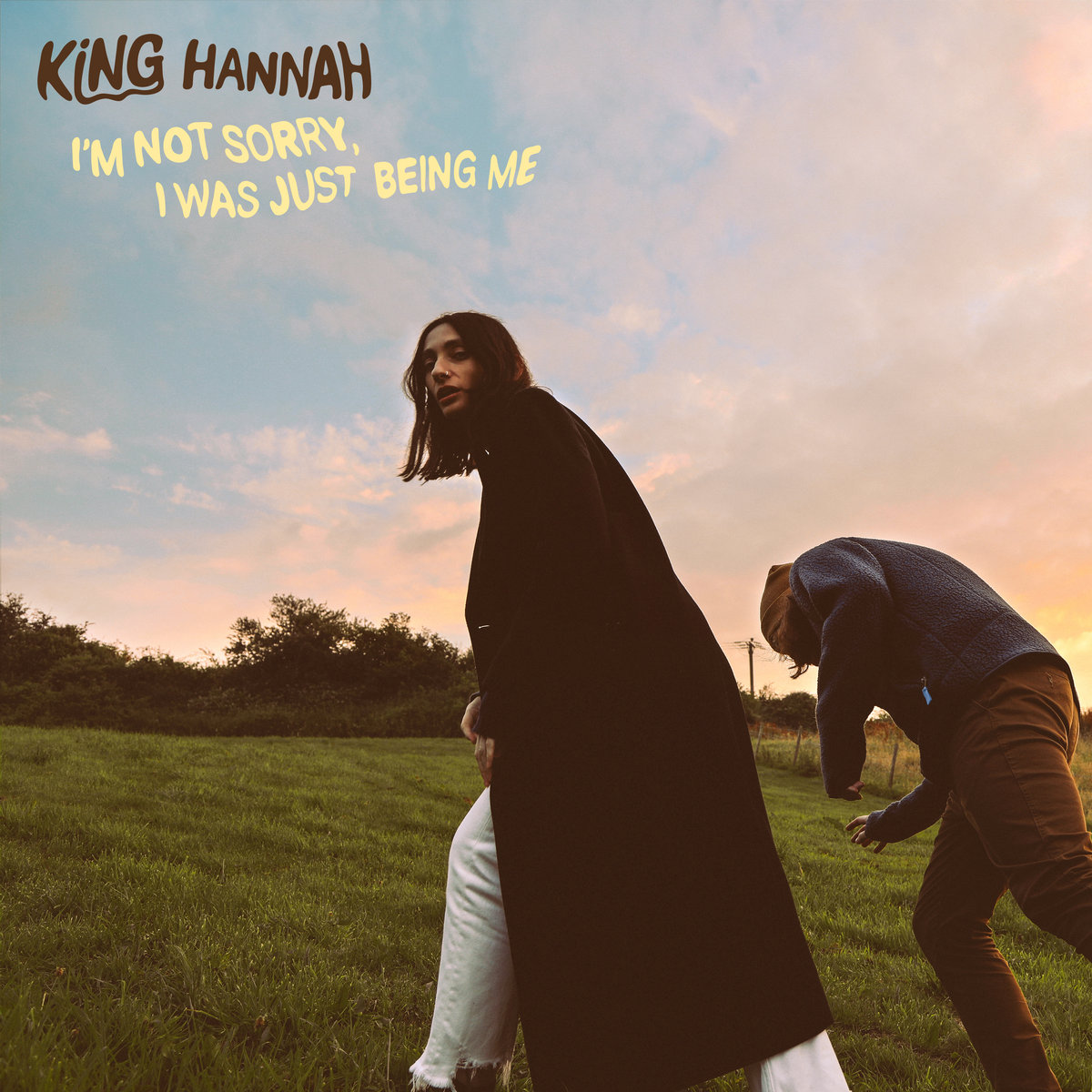 King Hannah – I'M NOT SORRY, I WAS JUST BEING ME
Genre: Garage Rock, Post Punk
Favorite Tracks: "A Well-Made Woman," "Ants Crawling on a Apple Stork," "The Moods That I Get In"
Hannah Merrick's dry delivery of "I'm a brave, brave woman" over the opening funeral dirge jamming of "A Well-Made Woman" is less an affirmative lyrical mantra and more a menacing, single-minded reckoning for those listening. The track serves as a proper template for UK duo King Hannah's I'M NOT SORRY, I WAS JUST BEING ME; a hellish, spacey blues rock build reminiscent of Nick Cave, Scott Walker, or PJ Harvey, that becomes doused in gasoline over five minutes. King Hannah dangerously holds the match, tempting the possibility of a powder keg to consume us without ever letting the track become engulfed in flames. Highlights "All Being Fine" and "The Moods That I Get In" similarly let Merrick's vacant whispers journey over the plodding, arid art rock.
This clouded weight informs everything on I'M NOT SORRY, I WAS JUST BEING ME, the heaviness as unabashed as the title would suggest. The familiarity of the album's many musical ticks become ingrained very quickly, the high-low intensity easily understood even on a first listen. When "Go-Kart Kid (Hell No)" arrives on the album's back half, you're prepared for the plunge into its explosive finale, awaiting the grungy, threatening guitar riffs and relentless drumming. Tracks like "Brenson" or "Ants Crawling on an Apple Stork," where the album opens up, less dead eyed and more aimless in its musical intentions, King Hannah have quickly informed us to be on the edge of our seat. Closer "It's Me and You, Kid" moves so quickly from low to high fidelity that it would be jarring if we hadn't spent the last 41 minutes understanding King Hannah's beautiful-but-brutal orchestrations. The more time you spend listening to the album, the more complex, dark, and deeply human the experience becomes. You can give the album a listen over on Bandcamp. [CJ Simonson]