Let's be real: there are a lot of superhero movies coming out these days. In a similar way to the genre's early 20th century monopolization of comic books, so, too, does it seem to be devouring the Hollywood calendar. With several a year now, it's becoming harder and harder to keep the genre new and fresh, especially if you're Marvel Studios, whose 2021 still holds two features and two seasons of streamable television in store. Now, on their 25th franchise film after the historic success of AVENGERS: ENDGAME, and the COVID-extended hiatus that followed it, the studio has made a bigger splash lately in their episodic content, with the massive water-cooler successes of WANDAVISION and LOKI. In theaters? Not as much. The studio's most recent title, BLACK WIDOW, released after a slew of COVID delays, was both critically divisive and failed to fully live up to the franchise's previous glory, recently marred by a nasty public lawsuit between star Scarlett Johansson and Disney over contracts and millionaire politicking often reserved for behind the velvet curtain. While Marvel is obviously still very successful, their slate was in need of something to jumpstart faith from the fandom post-ENDGAME: and I'm happy to report that that something might just be SHANG-CHI AND THE LEGEND OF THE TEN RINGS.
Simu Liu stars as the titular martial artist, bringing an unquestionable likeability to the role. It's a Marvel movie—there's going to be comedy—but Liu's performance here is impressively understated, managing to perfectly walk the line between wisecrack and stoicism, a refreshing change of pace in a franchise where it can sometimes feel like everyone and their mother are just trying to copy Robert Downey Jr.'s schtick. Shang-Chi was originally created as Marvel's answer to Bruce Lee, following the immense success of ENTER THE DRAGON back in the '70s. While no one can truly be Bruce, it's easy to see how Liu must've taken inspiration from the late, great legend, and it's a worthy tribute as, in addition to being a good superhero movie, TEN RINGS is also a great kung fu flick. It's not exactly CROUCHING TIGER, but it's also, thankfully, not IRON FIST, either. Fight sequences were choreographed by Andy Cheng, formerly of the Jackie Chan Stunt Team, and coordinated by the tragically lost Brad Allen, another athlete in Chan's stable, and it shows on-screen. While there's more cuts-per-punch than genre purists would care for, it is still a movie about kung fu, with immersive and artistic sequences that showcase the passionate, dance-like aspects of the practice. The sequences are well-paced, strikingly shot, and accompanied by a memorable and well-fitted original score. The soundtrack was less memorable, with some ill-fitting inclusions of new, popular music, but considering it's a commercial blockbuster, that can be forgiven. We all know what we're getting into here.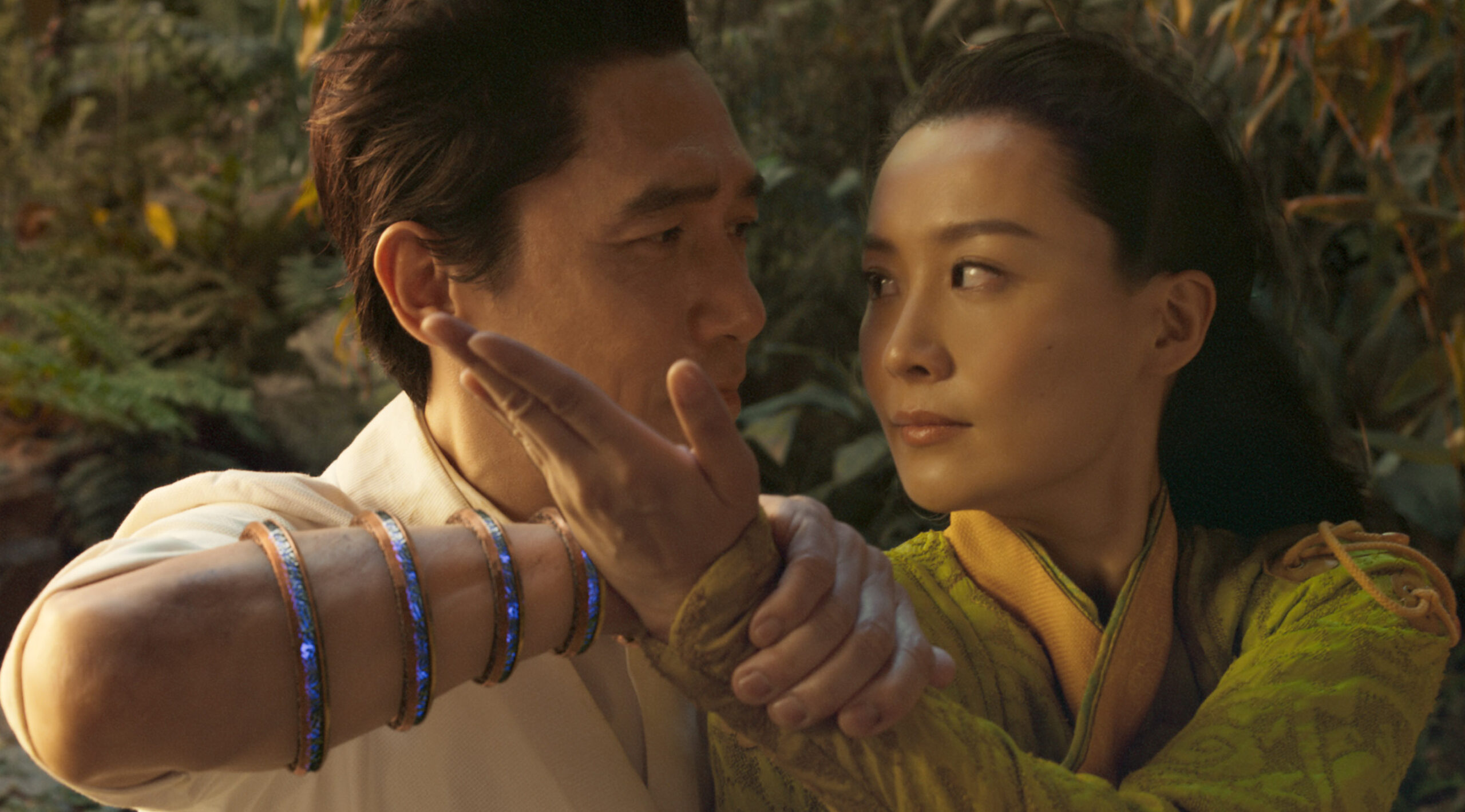 The antagonists are notably great, most of all Tony Leung, who convincingly plays a power-hungry, ancient patriarch in the form of Shang's father, Xu Wenwu. The motivations behind his maniacally nefarious deeds are fueled by grief and denial, all too human emotions that lend relatability and redemption to an otherwise immoral figure. Florian Munteanu is Razorfist, Wenwu's chief henchman, an Oddjob-type character that, while not given a whole lot of dialogue to work with, embodies the Viktor Drago routine so fully that he doesn't need it—standing at 6'4" with the density of a brick wall, he's an intimidating stand-out. Unsurprisingly, Michelle Yeoh knocks it out of the park as the mentor-archetype, even despite her presence being reserved for the third act. Zhang and Chen, too, are wonderful, and central to some of the film's greatest action sequences. Awkwafina is doing her Awkwafina thing: she's a welcome comedic relief, but I can't help but feel like her character was maybe given too much screen time. Her character, Katie, seems to be serving a larger role than feels in service of the actress's recent popularity rather than the script's need for her presence—Katie was likeable, she's just a little too-conveniently present for every important scene.
Being an entry in the MCU, SHANG-CHI does a good job telling a meaningful, self-contained story while still feeling involved with the greater universe and, of course, it sets up the hero's future relevance to the franchise. Fans hoping for a meaningful return for THE INCREDIBLE HULK antagonist Abomination, as teased in the trailer, will be disappointed, as the character's inclusion is more of a cameo than a central plot point, while fans of Benedict Wong's Wong won't be, as the character is central in hooking Shang up with the greater universe of heroes. Cretton even tastefully retcons IRON MAN 3's unpopular rendition of The Mandarin. SHANG-CHI AND THE LEGEND OF THE TEN RINGS is amongst the best of Marvel movies which, after 25 of them, is quite the success. Simu Liu and antagonist Tony Leung are clear standouts in this engaging, heartfelt, and welcome return to grace for Marvel Studios.