We're back with another music roundup, this week looking at the back-to-back collaborative albums released by Georgia phenom Tha God Fahim and Brooklyn rising star Your Old Droog!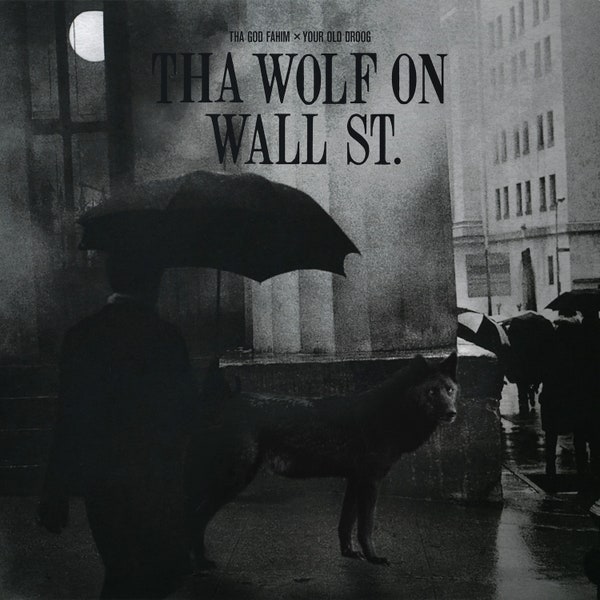 Your Old Droog & Tha God Fahim  – THE WOLF ON WALL ST
Genre: Underground Rap
Favorite Tracks: "All Bidness," "Meditation," "Gupta"
The self-help wisdom at the close of THE WOLF ON WALL ST, Your Old Droog and Tha God Fahim's first of two collaborative releases in 2021, offers insight into the ease of the two rising stars' relationship: "Biggest problem facing the world today is mental health. If everybody had good mental health, then all the other problems would be solved, because in order to take care of mechanical and practical problems, you have to have good mental health in order to attack those problems." What precedes that stoic, leading light optimism, and is on full display on their weeks-later follow-up THA YOD FAHIM (see below), is a sense of comfort. Fahim and YOD's relationship is not overly complicated—both their flows and vocal tonality make for a dynamic ebb and flow amidst (almost to a fault) lax, jazzy beats—and yet still, listening to THE WOLF ON WALL ST and its follow-up through the prism of two rappers trying to reclaim a sense of mental tranquility after a year like 2020 gives purpose to something that is, admittedly, maybe purposely purposeless.
That's not to say THE WOLF ON WALL ST is closed off in any way. While Droog and Fahim certainly feel as though they're making music together for more elevated reasons, the results remain both entertaining and relaxing. Unlike THA YOD FAHIM, which feels appropriately more direct, here both are trying to deliver a slightly more classically New York hip hop record and doing so with gusto, from clever bars about the struggle (Fahim's perfectly delivered "I rise like a high-rise, the top feels secluded / If you ain't Built 4 Cuban Linx, then you ain't goin' through it") to well-worn braggadocio (Droog's "Ayo, I got more rhymes than your top five combined / It's the pound-for-pound king, we could go line-for-line / I ain't that rapper that's beggin' to be signed / I just get the math and dip, throw up the peace sign"). The whole album, especially at a breezy 27 minutes, is easy, cutting to conventional id in a way that's pleasing if either rapper has ever been on your radar.
The close of album highlight "Meditation" plays a lengthy quote from British philosopher Alan Watts:
"Because when we make music, we don't do it in order to reach a certain point, such as the end of the composition. If that were the purpose of music, to get to the end of the piece, then obviously the fastest players would be the best. And so likewise, when we're dancing, we're not aiming to arrive at a particular place on the floor, as we would be if we were taking a journey. When we play music, the playing itself is the point, and exactly the same thing is true in meditation."
Nothing more appropriately captures the interplay of both albums and Tha God Fahim and YOD's relationship as constructed better. May 2021 bring more from both of them. [CJ Simonson]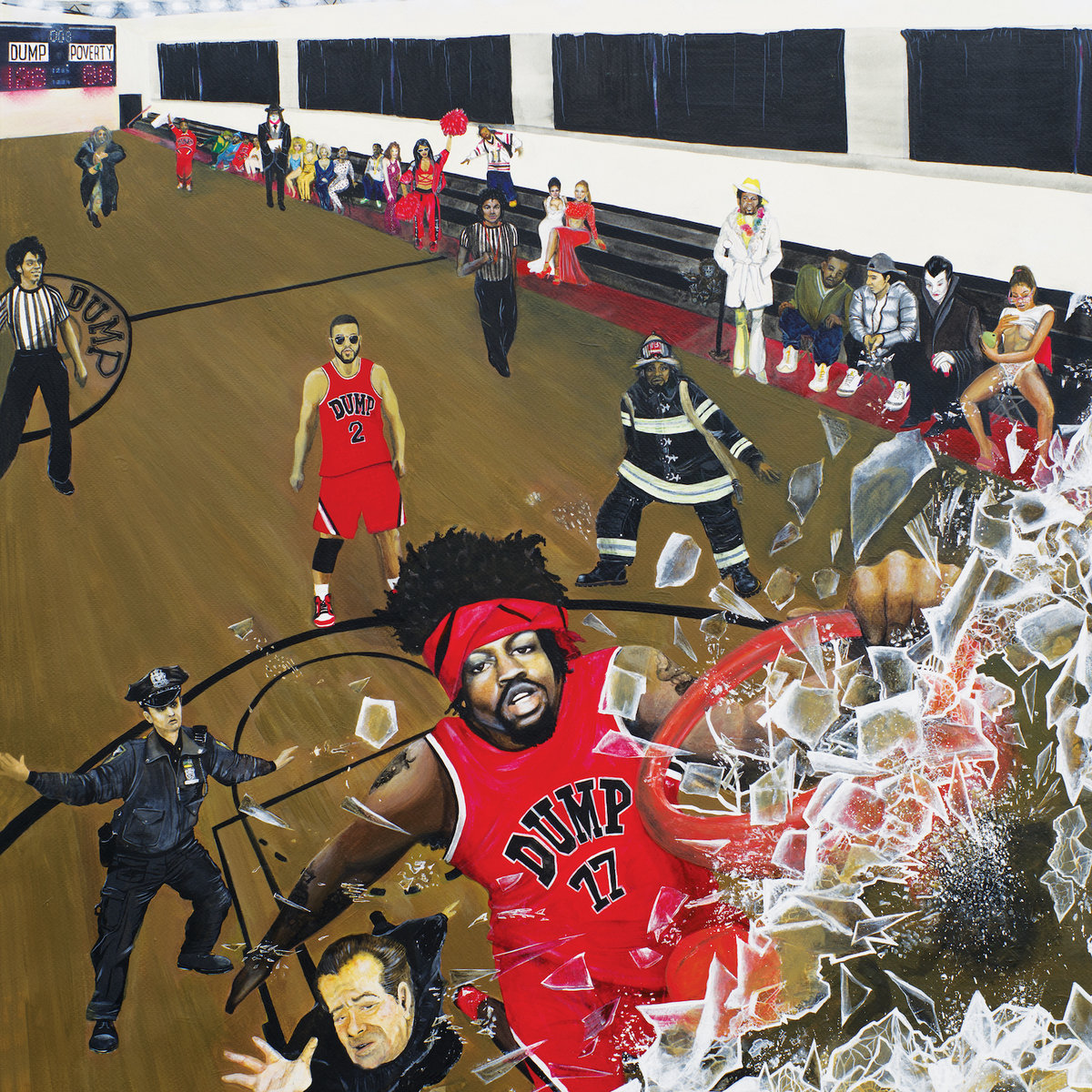 Your Old Droog & Tha God Fahim  – THA YOD FAHIM
Genre: Underground Rap
Favorite Tracks: "Charles Barkley," "Slam Dunk Contest," "Disney World," "Lost Smile," "90 From The Line Remix (Sarunas Marciulionis)"
Your Old Droog has come a long way from his origins as an anonymous voice mistaken for Nas, carving out a respectable, no-nonsense underground rap career as a Ukranian immigrant to Brooklyn. Taking up the mantle of his adopted hometown with dead seriousness, he diligently turns out revivalist boom bap and dense, skillful lyrics teaming up here with another low-key but consistent New York presence in rapper/producer Tha God Fahim. THA YOD FAHIM comes hot on the heels of THA WOLF ON WALL STREET, fleshing out the duo's strong chemistry further and wrapping the project in a deeply satisfying basketball theme that extends well beyond the lazy references to "shooters like Curry" and "tongue out like Jordan" that pepper modern rap lyrics. At its core, THA YOD FAHIM is exactly the sort of quality, straightforward neoclassical rap album old heads on Reddit constantly lament the death of, and then never turn up to listen to. It has a niche and doesn't extend beyond it, but the craft and attention to detail are both admirable and the album is a treasure trove of NBA callbacks any fan can appreciate.
Droog and Fahim are a natural pairing, though the album seems pretty aware that Droog is a step above his partner lyrically. Droog leads nearly every track and does the majority of the thematic heavy lifting. Fahim is far from a drag; his looser cadence and smoother vocals are a nice counterbalance to Droog's raspy dense verses. He turns in his most athletic effort on "Disney World," and "Lost Smile" gives him a chance to shine as the lead. Despite his efforts, the only bars I rewound to hear again come from Droog's mouth.
Droog builds his verse topics around sustained basketball metaphors, giving his lyrics a strong throughline that allows him to flex decades of NBA knowledge and find endless creative ways to draw comparisons to his own experience. His professional success and work ethic become slam dunks on "The Dunking Dutchman." His dedication to rap fundamentals and longevity are slyly compared to the art of graceful aging in the league on "90 From the Line Remix;" "When the threes stop fallin', and my speed startin' to decline / I'll be fine, because I make my money from the line, shootin' 90 percent." Individual references are equally impressive, forgoing easy allusions to KD and Dame Lillard to instead shout out a former Warriors 6th man and Lithuanian marksman, "I ain't even into moving units, that's a bonus / got Lithuanian shooters like Sarunas Marciulionis." The best reference deserves special mention however, and that is to the distinctive accent of The Round Mound of Rebound, rapping, "Rocking the OG Phoenix Suns colorways, orange and purple / callin out malarkey in my Charles Barkley voice, boy you turrible." Rounding out the lyrical highlights is a characteristically sharp Pharoahe Monch delivering a weird, wonderful verse composed entirely of food-based double entendres on "Slam Dunk Contest."
I haven't said much about the production, because a reasonably knowledgeable fan can probably hear it based on the descriptions above. Sparse percussion, vintage vocal loops and simple but lush arrangements abound, nothing new or groundbreaking for the New York underground. The ice cream truck instrumental of "Icee Shop/Entrees" and the fuzzy horns on "Brrt Simpson" are mild highlights, but the true draw here is Droog flexing lyrical muscle and putting himself on the shortlist for the next NBA2K soundtrack if they ever let Travis Scott out of his corporate cage. [Corey Guen]