Welcome to Hard Time Blues: The World of Pro Wrestling from Merry-Go-Round Magazine! It's a great time to get into professional wrestling. In each Hard Time Blues feature, MGRM contributors Luke Phillips and Max Flynn will be exploring the wild, weird, and wooly world of the squared circle, and all of the angles, feuds, gossip, and evil wizards therein. 
This week, they'll be recapping both nights of West Coast Pro's inaugural West Coast Cup tournament (available for replay on IndependentWrestling.tv)
LUKE PHILLIPS: You were boots on the ground for the inaugural West Coast Cup from West Coast Pro (WCP). You've been to a couple WCP shows now, huh? 
MAXWELL FLYNN: Yeah, this was my fourth WCP show.
LP: How long have they been active? 
MF: They started in 2018. The first show I went to was in July of 2021, it was their first show "post-COVID." They're really a commodity in the Northern California scene—that show was packed. Everybody was super pumped they were running shows again.
LP: Well, you know, if there's one thing that I think we've mentioned several times over the course of doing this column, it's that both of us love tournaments.
MF: Mm-hmm. Love tournaments. We love when there's a tournament and we love a tournament arc. A one or two night tourney dedicated to tiered matches that have brackets and stuff? Can't get enough of them!
LP: We always kind of mentioned that you can do a lot of storytelling in a very short amount of time in a tournament setting like that. This West Coast Pro you know, there was some very compelling—not only just compelling matches, but also just like a compelling thruline in terms of what kinds of stories were being told in the ring.
MF: You don't get that, seeing it live. Seeing it live and then coming back and rewatching the streams to kinda just do a little recap, it's interesting how much of the leg work the announcers are doing. They do a fantastic job filling the viewer in on the stakes of the match, the guts of it. Like I've seen Starboy Charlie and Titus Alexander wrestle before, but I wasn't caught up on any ongoing beef that kind of went beyond that. It's something I've never really stopped to consider.
LP: Yeah. I thought the commentary was great. I mean, Veda Scott's always great on commentary. They were able to highlight and give context in really cool ways. The big story coming out of the Cup was that it really prominently featured these three upstart talents in Starboy Charlie and Nick Wayne and Titus Alexander. I've seen all three of them through GCW shows in LA, but I've had my eye on Starboy Charlie ever since he kind of started to kind of come to prominence, at least for me, in pandemic era shows. I think he's really become—at least in like California and on the West Coast—he's really kind of become something of a fan favorite. But you know, obviously Titus Alexander also has his contingent. 
MF: Oh yeah definitely. So both of those guys, it's crazy… Staryboy Charlie, he's a favorite at WCP right now. He's not their ace, but he's their rising ace I'd say. He's from Pacifica, CA, which is basically just a few blocks away from The State Room [the venue where WCP runs]; and Titus Alexander kind of blows my mind. I saw him wrestle for the first time for five bucks at like a fairground. He's really come up through these super local promotions. My old boss used to drag me to these kinda low-budget grange hall wrestling shows, always a ton of fun, but it's usually a bunch of dudes you'll never hear of again unless you keep going to these promotions. Titus Alexander worked his way up through those. I mean I'd see that as a wild success story already. Seeing his name pop up over the past year, he's gotten more and more bigger matches. He was supposed to wrestle Davey Richards in the tournament but apparently Davey Richards couldn't make it so they swapped him out with Chris Sabin… that match banged.
LP: Dude yeah. Sabin is incredible, obviously. DEEEEEEETROOOOOIIIIIIIIIIT. That match was sick. Yeah. Sabin's always a good hand. I obviously love the Motor City Machine Guns. That was a great veteran versus upstart kind of match. Saban was pulling a lot out of Titus. I've seen Titus twice now at GCW. I saw him against Tony Deppen and then I saw him versus Alex Zane last month. He lost both times, but I remember in both matches had really great engagement with the crowd. 
MF: Oh, the crowd loves to hate him. I mean, If I had any criticism about him, he's kind of plain looking, but it works. I mean, whatever he's doing, you know, the crowd eats it up. 
LP: Well, I think in-ring work speaks for itself. I think he's a great professional wrestler, and it's really obvious that this kid has intangibles. He just seems like a future star, you know? 
MF: Oh, definitely. There's definitely a star power there that I feel like Nick Wayne and Starboy, like great as they are, and as over as they are, I feel like you can't replicate. I'll say: Titus Alexander definitely has a top guy material look to him, you know? It's a look that Starboy and Nick Wayne are missing at the moment, but they're both a decade-plus younger. I can't even imagine where they'll be in ten years. It's unfortunate to say but in my opinion I feel like Nick Wayne is getting overexposed in some ways. 
LP: Yeah, they definitely need to kind of cool off Nick Wayne.
MF: I had Nick Wayne going to the finals, so I was completely shocked to see how it played out. I actually had Starboy booked to win the whole thing. I thought he was gonna kinda get a big win after being on the shelf for a year with that injury he suffered. I shouldn't be surprised that it wasn't booked so obviously, but I felt like it was incredibly well done. Incredibly gripping the entire time.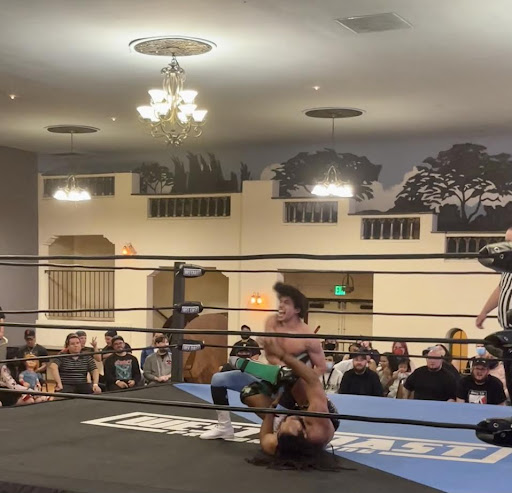 LP: Totally. They brought in these lucha guys who were putting on great matches, you know? It was cool to see all those guys. The shit Kommander was pulling off was just insane. When they did the tag match…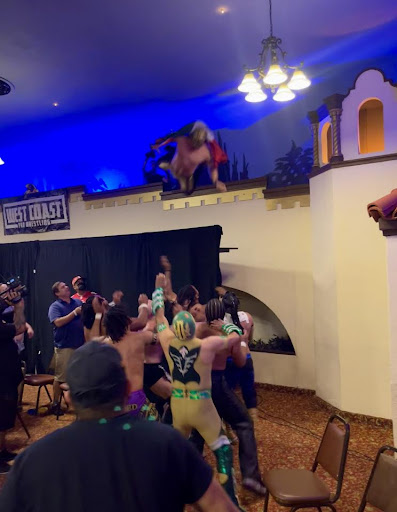 MF: Like that corner to corner top rope run? He was like doing the fucking footwork on the top rope; the whole house went fucking insane when he did that bouncy, bouncy, back and forth jig on the ropes, It tore. the house. down! The home talent in the tournament Alpha Zo, Midas Kreed, and D-Rogue, those guys are great too!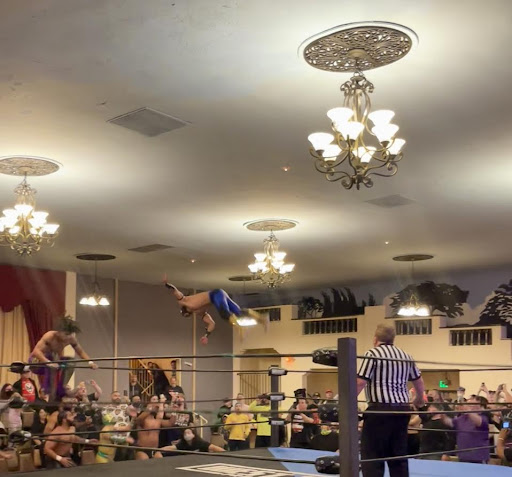 LP: The Conglomerate. Yeah, those guys, the crowd loves them. It's a cool scene. They kinda represent everything. 
MF: WCP really does hit all the different marks. Levi Shapiro, he's kind of doing the whole old school wrestler thing.
LP: Italian representation with Vinnie Massaro.
MF: Vinnie Massaro has been around the block. Toured around the world, and was featured on Lucha Underground. 
LP: Good gimmick. The Cup definitely had a nice mixture of veteran talent and younger talent.
MF: Like I said earlier, the booking was really well done. It allowed these younger, aspiring talents to really shine.
LP: It's funny—to piggyback on that—the more I was watching the Cup, the more it dawned on me that Nick Wayne looks a lot like Skyler Gisondo. He also looks like he can do a crazy trick on the trampoline. That's literally Nick Wayne's gimmick. It's who he is as a guy, and as a wrestler. He does the fucking sick front flips on a trampoline, you know the type of shit. He's Jim Cornette's worst nightmare. It's the influence of Ospreay, you know? So many young wrestlers unfortunately worship Will Ospreay. Titus and Nick in their matc were, like, doing cutters against each other, you know?
MF: Yeah. Everyone's doing the fucking springboard Jay Lethal cutter. I mean, Nick Wayne, just makes it look really good. He loves Will Ospreay, so he even does the little hand thing before he does it.
LP: Nick Wayne's finisher is like the OsCutter. 
MF: But it's called the Wayne's World? I don't know about all that…
LP: I think Titus Alexander just has the juice. And yeah, I think he's definitely got a really bright future ahead of him. 
MF: I've got tickets to the WCP show in October. I actually bought them during the West Coast Cup. They announced a new Women's Championship and I was like "Oh, I have to get tickets, that show is going to sell out!" I want to be there when they determine their first women's champion; but also that show is when Titus gets the title shot against Jacob Fatu that he won in the Cup. Jacob Fatu is another insanely talented dude. I've seen him wrestle Vinnie Massaro, Bandido, and now Speedball Mike Bailey… Jacob Fatu is wild. His mobility in the ring just blows me away.
LP: Oh, the match with Speedball is fun.
MF: He does an incredible job matching the energy of his opponent, or like their style. Seeing him basically keep up with Bandido and Speedball, mind blowing.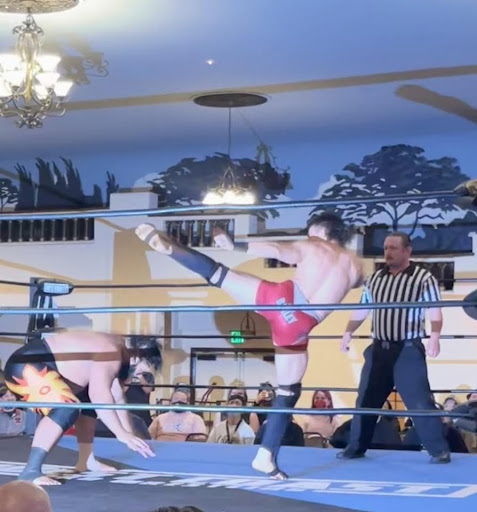 LP: I mean also you know, he had that title match too at Flair's last match, you know?
MF: Yeah, against Josh Alexander. 
LP: Josh Alexander. Yeah. Which is—that was a good match, one of the better matches on that card too. 
MF: I'm also going to the collaborative show, King of the Indies, in November. Titus Alexander also won a spot in that tournament for winning the West Coast Cup. It's going to feature talent from multiple promotions, including Pro Wrestling NOAH and Dragon's Gate from Japan. This dude is really getting some incredible opportunities this year!
LP: Totally. I think a lot of people are really high on him, clearly. But that's the thing I keep noticing, especially during all of his matches over the course of the cup, is when he comes out, he's getting booed, but then, you know, halfway through the match, the crowd goes back into his favor.
MF: It's like he gets the crowd on his side through sheer ability, like just awesome wrestling ability!
LP: Like there's just the intangibles that he has, and he's so good in the ring and so smooth for how young he is. I mean… him doing his finisher off the top rope to Starboy Charlie… 
MF: He did this back flip, rolling German suplex like three times across the two nights and every time he did that I was out of my seat losing my mind.
LP: Yeah. That, that backroll German suplex is so fucking tight. It looks brutal too.
MF: And his selling is great too. During his match against Masha [Slamovich] where she kicks him and he lands on his neck on the apron, then just like slowly slid down onto his shoulders, that moment was just nuts. That's Naito level selling. Some Kota Ibushi-level break your own neck shit.
LP: I love when he sells by getting tangled and caught up in the ropes.
MF: Oh yeah, incredible. He's definitely someone that's going to have a lot of options in the future.
LP: Oh, I'm sure. Within the next year or so, definitely. This seems like his rise right now. Tony Khan and Triple H both being guys who scout indie talent, you gotta think that they're looking at this match and others like it. I mean, you're looking at guys like Titus Alexander, you're looking at guys like Starboy Charlie. Nick Wayne already has an AEW contract, I don't think he can even start wrestling there until he is 18.
MF: Yeah, I think that's what the deal is.
LP: He's kind of, you know, in a holding pattern 
MF: Which is interesting. He's been on a hot streak for a long time and I felt like it was because of this whole AEW contract situation. I've seen him win, I don't know, most if not all of his past few GCW matches? That's where I feel like the overexposure is happening. The matches aren't so different every time… But seeing him take a big loss in the semi-finals here was pretty interesting.
LP: I loved when they hugged but then Titus turned on him. He bullied him into hugging him and then stabbed him in the back. So cold!
MF: Speaking of cold, Alan Angels had a lot of heat for some reason. He's going by 'The Pistol' now, people were booing him out the gate, cussing him out.
LP: Huh. Is Alan Angels a heel? 
MF: Yeah, I think he must be. I know people were mad that Davey Richards pulled out and that Angels was his replacement. Maybe the crowd was projecting. But it worked for him, he definitely played off of it well.
LP: Angels is another younger talent who's on the rise as well. He's what? 23? 
MF: He's 24. Honestly if you had just seen his AEW work, you wouldn't think that this would be the shake he would get post-AEW.
LP: His AEW career wasn't without a certain amount of infamy. He kicked out of a V-Trigger like, two years ago. When you think about how he was wrestling Kenny Omega, in the very early pandemic era DYNAMITE when he was like 22. 
MF: It's one of those things where it's like, maybe having some time away from AEW to kind of like develop on his own is going to get him to the next level.
LP: Maybe he'll do the Cody, you know? He'll go from undesirable to undeniable. I feel like he kind of got overshadowed a bit in Dark Order and he was even overshadowed on the vlog crew with Sammy… piece by piece The Sammy Guevara blog crew is just whitling away, you know? Tony Khan hates the vlog crew. 
MF: It's the vlog. He's not pro vlog. 
LP: He's not pro vlog. We keep going back to Titus Alexander, every time he came out for a match I perked up a bit. It was crazy, he really was persevering through a lot of shit, you know? I mean, he was busted open during the Nick Wayne match, when he was bleeding from his forehead, that was gnarly.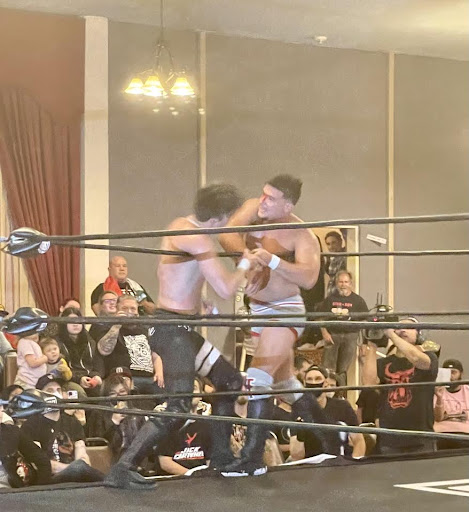 MF: There was a great moment in the the final of the tournament where Starboy Charlie is going in on him and his fucking bandaid comes off and flies into the crowd and lands right in front of this dude. You can see a brief reaction on the stream, but he was freaking out, cus this bloody bandaid basically landed in his lap! 
LP: Very funny. Good for Titus Alexander, definitely somebody to keep an eye on. I'd like to see where he pops up going forward… That's one thing too is, I mean, it's cool to watch just like a really well done, well booked indie show. You really can kind of just go in almost blind and like an organic story will kind of develop, or like you'll just see guys or see matches that make you a fan of a guy.
MF: Oh definitely. That's one of my favorite parts about going to indie shows. Like getting a completely cold introduction to a wrestler and seeing their style and having, like you said, that organic experience of figuring out why you like that person versus going in with the anticipation of crazy matches they've had before or having preconceived expectations. Learning the roster just based on experiences with them. I mean, the first few times I saw Titus Alexander, it was definitely like "Who is this guy?" He's kind of plain looking, you know? But he kind of reminds me of AJ Styles.
LP: It seems like he's kinda doing an AJ Styles type thing for sure. It's like AJ Styles, but with the demeanor of a Daniel Garcia or something, you know? Like he's just kind of this dismissive young man that doesn't have respect for anybody, you know? He's just a cocky asshole. But like he can put up or shut up. That 100% bears itself out in all of his matches.
MF: His ability to get the crowd behind him is really powerful. Once he gets going he's got an incredible presence.
LP: Yeah, really good, really great stuff. And yeah, I mean, I 100% could see him easily signing with either WWE or AEW. 
MF: Yeah. I mean, I could definitely see him as an NXT guy.
LP: Yeah. He'd be great with NXT. 
MF: Wherever he lands I'm excited for the journey there, but for the immediate future I'm really looking forward to his next few months in WCP. Could he be the guy to end Jacob Fatu's 168-day [as of writing] reign? Will he go back to back in tournament wins and take the King of the Indies as well? We'll keep you posted! But it's always a good time to get into professional wrestling and if you're in Northern California and have the itch I highly recommend checking out a West Coast Pro show. Great people, great wrestling, great energy!