Thanks for clicking into our end of the year coverage! Merry-Go-Round Magazine is an independent culture site funded by people like you! If you're enjoying our End of 2022 Coverage, consider becoming a member of our Patreon, or even donating to our operation here!
We had a great time covering all the crazy twists, turns, and grapples of professional wrestling in 2022. There's so much great wrestling out there—rather than do tired ranked lists or consensus picks for Best Matches, we decided to ask some of our friends to join us in writing about their single favorite match of 2022. The results cover the breadth of wrestling and prove that no matter what, there's something for everybody in the squared circle. Here's to more Hard Time Blues in 2023!
HELL IN A CELL (2022)
Cody Rhodes vs. Seth Rollins
Cody Knew. 2022 was a year filled with internal tumult and backstage turmoil writ large; CM Punk and the Brawl Out fiasco loomed large in the same year Vince McMahon (kind of) retired from WWE amidst years-simmering allegations, amongst several other high profile indications of discord in other various promotions. Perhaps no professional wrestler has embodied the chaotic twists and turns of the past several years in the business as one Cody Garrett Runnels Rhodes. 
Considering he's been raised in it for his entire life, Rhodes understands the wrestling business more than any other pro wrestler. He can't live his own gimmick because he IS the gimmick. The son of the Son of a Plumber, the American Nightmare, the namesake of this very column itself… He is as close to a real life Mantaro Kinniku as we are likely to get in the current wrestling age. With respect to Kidd Bandit, Cody is the true anime protagonist of pro wrestling, and bah gawd he knows it.
In 2022 Cody played the wrestling business as his own 4D chessboard. Frustrated with his spot in WWE and saddled with the Stardust gimmick that put them in the shadow of his older brother Dustin/Goldust, Cody went into business for himself and left the Fed in 2016, kickstarting a career on the indies under his own name (although for a time legally prohibited from using his own last name due to WWE legal chicanery.) As Cody himself said in his famous DYNAMITE promo, he ensured to take himself "from undesirable to undeniable" and parlayed his indies and New Japan stints into helping co-found AEW with The Elite and Tony Khan. There was no doubt when AEW started that Cody was the face of the brand—its premiere babyface hero. As the Codester is wont to do, he set insane stipulations against himself early in his AEW career, losing the opportunity to ever challenge for the AEW world title belt early on. An incredible run as the first TNT television champion was some of the most thrilling wrestling of the early parts of the pandemic. Cody put his heart, soul, and oftentimes several ounces of blood into his initial AEW run, but by 2021 his focus seemed scattershot with balancing the various executive AEW responsibilities he had with his in-ring acumen. His angles and programs started being referred to as "Cody Island" and he was seen by fans as nothing more than a midcard gatekeeper who needed a desperate heel turn and creative rejuvenation. He steadfastly refused to give in to these demands of the audience, and ultimately now we know why.
When Cody left AEW in March 2022, it sent a shock wave through the wrestling community. Ultimately, Cody had peaked and hit a glass ceiling in AEW—perhaps even by his own design—and the only way to go was up. Back to WWE. Back to the parent company that held the IP to his family's legacy. Back to the world championship that had eluded his own father. His appearance at WRESTLEMANIA 38 was one of the most electric returns in wrestling ever, and he seemed absolutely poised to finally take the belt off of the indomitable Roman Reigns.
Cody Rhodes being Cody Rhodes, he ripped his entire goddamn pectoral muscle off the bone while working out, and then decided to continue his match at HELL IN A CELL with Seth Rollins anyway. This was the third of three matches with Rollins that Cody had since his WWE return, and he probably didn't even need to do it—for kayfabe sake or otherwise. He figured out a way to blade in WWE without actually blading (ripping your entire pectoral muscle off the bone will do that). He wrestled the full match with Rollins with one of the gnarliest internal contusions I have ever seen on someone; it looked excruciating, but that was because it was real. The illusions of kayfabe and predetermined contests go out the window when A GUY'S TITTY IS BLEEDING OUT INTERNALLY BEFORE YOUR VERY EYES.
2022 featured a lot of thrilling matches. Matches that were thrilling because the programs and angles were booked so well that the feud felt palpable. Matches that were thrilling from a pure technical perspective. Matches that were thrilling because they seemed like true struggles, or in some cases actually devolved into bloody skirmishes. But wrestling is in Cody Rhodes' blood, the same blood in that internal contusion at Hell in a Cell. Just staring at that contusion, at that bruised wound, and you could perfectly see everything that makes Cody Rhodes undeniable. 
Cody Rhodes is ready. Cody Rhodes has his Rumble stats. It's time to bring the belt home. [Luke Phillips]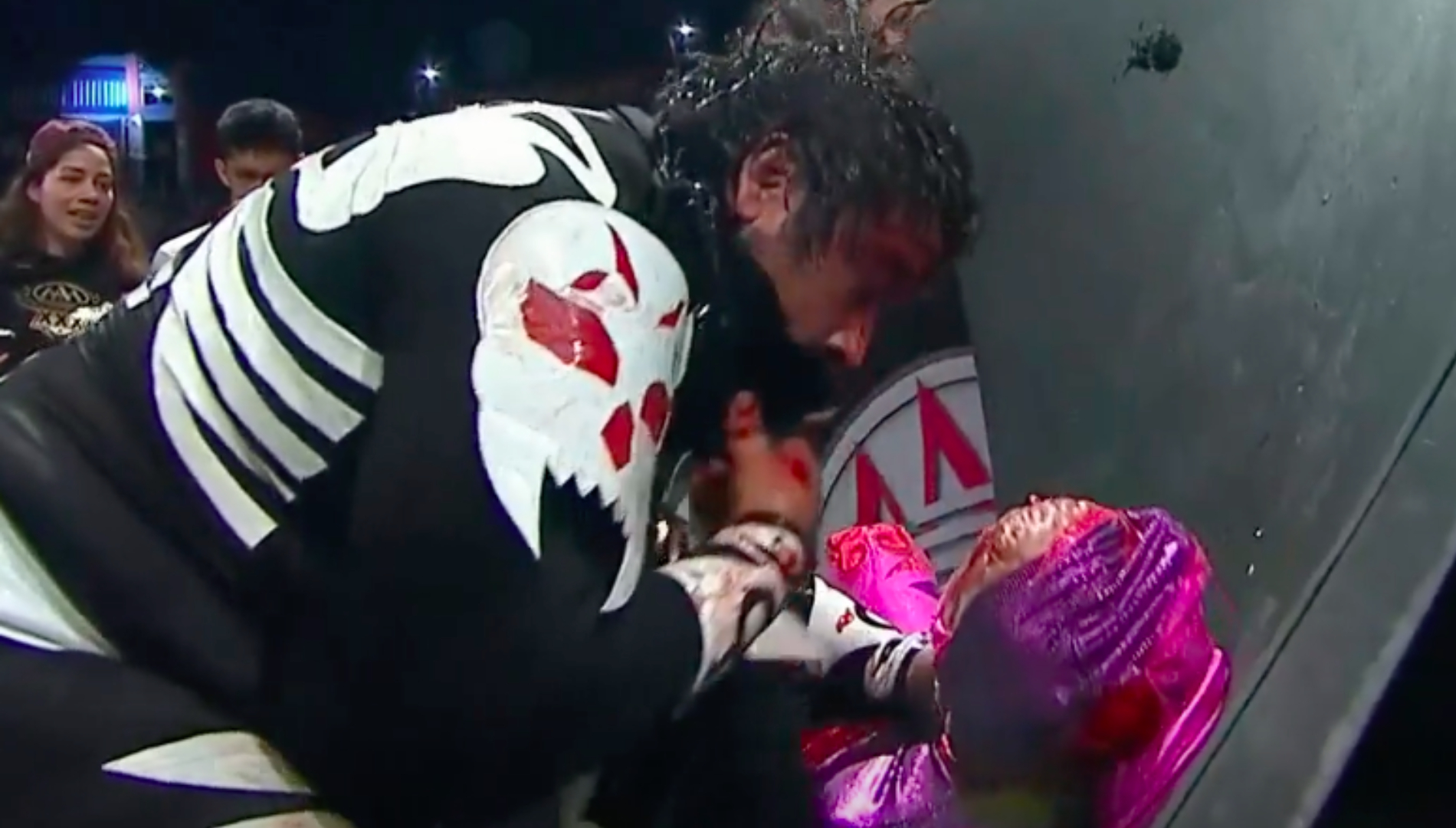 AAA TRIPLEMANIA XXX: MONTERREY
Villano IV vs. L.A. Park 
With a history of match-fixing dating back to a wrestling match between two teens in Egypt, 267 A.D., the art of making a fight look believable has a rich and storied history—that is to say, professional wrestling can take the form of nearly anything as long as there is a struggle leading to a predetermined outcome. As my match of the year contender I submit two masked men in their late 50s, one dressed as a skeleton, clobbering one another in an attempt to preserve their masked identity. AAA's TRIPLEMANIA XXX: MONTERREY, Villano IV vs L.A. Park in the first round of the Ruleta de la Muerte (a tournament of masked luchadors in which the losers move on and the final loser must permanently unmask) had these two men going to war. Brawling through the audience and utilizing every weapon at hand, from chairs, to recycling buckets, to biting the bloody forehead of your opponent and spraying his blood into the air in a fine mist, this match is a display of heart and thunder. [Maxwell Flynn]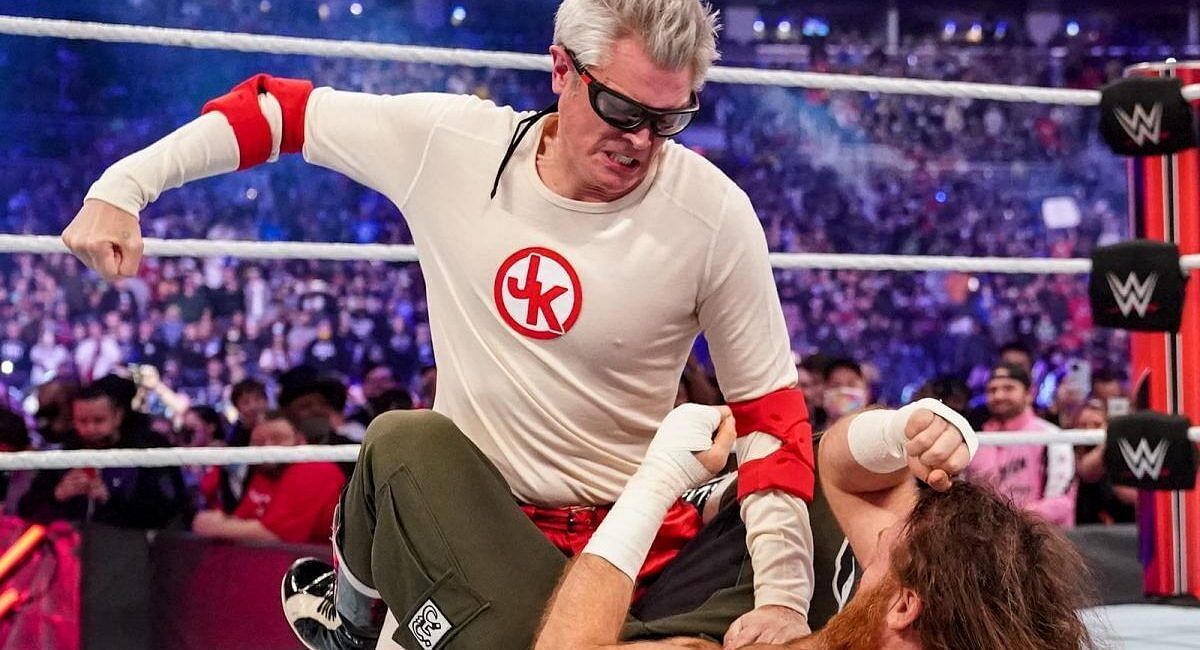 WRESTLEMANIA 38
Johnny Knoxville vs. Sami Zayn
There are plenty of good wrestling matches, but my favorite matches all tend to have the same elements in common: creativity and genuine motivation. What separates a good match from a great match is when I can get a clear sense of why wrestlers want to get in the ring and beat the shit out of one another—it's my emotional hook. That's one reason why, in all of its slapstick ridiculousness, Sami Zayn vs. Johnny Knoxville at Wrestlemania is my MOTY. The build-up was phenomenal: Knoxville and Zayn engaged in an all-out prank war. Knoxville hired a plane to fly over Los Angeles towing a banner emblazoned with Zayn's personal phone number, and Zayn crashed JACKASS 4's red carpet premiere. Building the story outside of the ring in both the real world and social media made each wrestler's motivation feel justified, and appropriately set the tone for a match filled with…even more pranks. A clothesline from an oversized hand on a spring? Check. Wee Man emerging from under the ring to deliver a nasty bodyslam? Check. Zayn getting pinned in a gigantic mousetrap? Fantastic. As one disgraced former WWE chairman might say, "This is some good shit." [Kate Meizner]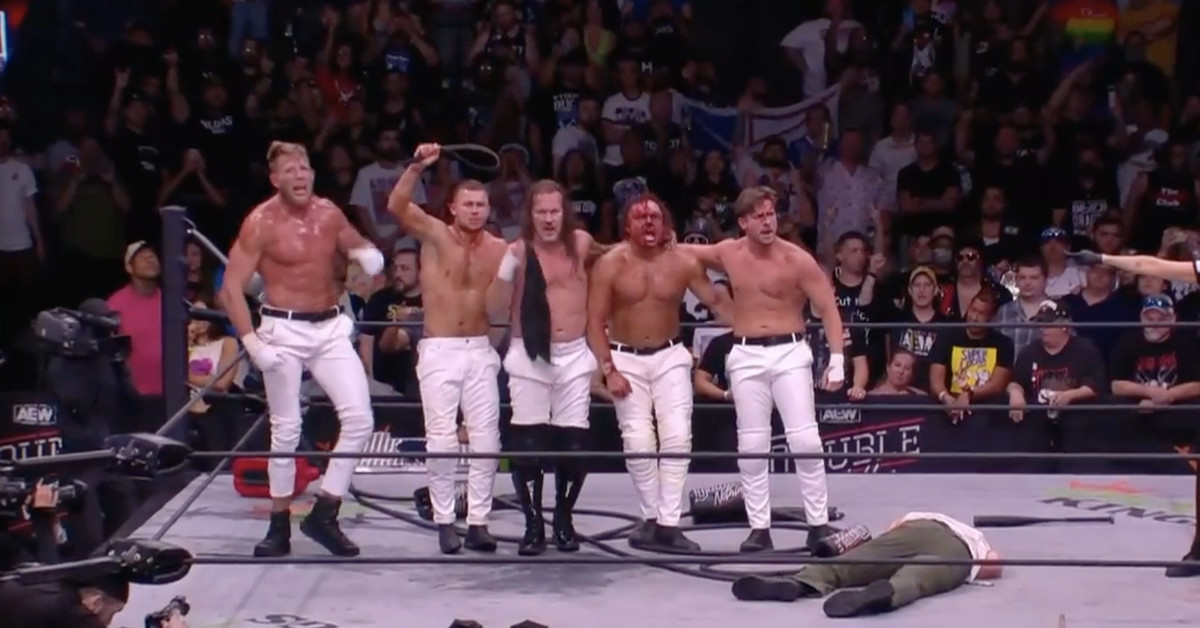 AEW DOUBLE OR NOTHING 2022
Anarchy in the Arena 
The Jericho Appreciation Society (Chris Jericho, Daniel Garcia, Jake Hager, Angelo Parker, and Matt Menard) vs. The Blackpool Combat Club (Bryan Danielson and Jon Moxley), Eddie Kingston, Santana and Ortiz
Anarchy In The Arena initially struck me as the Match Of The Year because it's so fun and chaotic, but my second and third viewings got me admiring the meticulous craft that kept it from quickly deteriorating into a giant ungraspable mess. I can't recall any other recent match so densely stuffed with insane ideas. Highlights include Moxley dismantling the ring cables after receiving a fire extinguisher blast to the face and attacking Jericho with both a camera crane and an igloo cooler. Covered in his own blood and several bottles of mustard, Kingston is dragged from the neck with a belt. He later emerges dazed from the wreckage, gas can in hand, prepared to set Jericho ablaze. It's a huge moment in the match that not only shocks the crowd but elevates the storyline between Kingston and Bryan Danielson. Jericho later disclosed the looped entrance of "Wild Thing" as a subtle New Jack tribute, but it elevates the storyline between Kingston and Bryan Danielson. [Michael Falcone]
AEW ALL OUT 2022
AEW Tag Title Match 
Swerve In Our Glory vs. The Acclaimed
At its essence, pro wrestling should be about storytelling, and the AEW Tag Title Match between Swerve In Our Glory vs. The Acclaimed at AEW All Out 2022 is one of the finest examples of storytelling in the ring that I've seen all year. Going into the match, you wouldn't have thought that these four guys were gonna do that—especially on a PPV that saw some of wrestling's finest storytellers like CM Punk, Jon Moxley, "Hangman" Adam Page, and Kenny Omega on the card. The buildup to this match was lackluster at best, but that didn't matter in the end. What mattered is that these four guys had the crowd in the arena and at home on the edge of their seats and in the palm of their hands. I can't tell you how many times I screamed at the screen when another false finish happened, because I so desperately wanted The Acclaimed to stay in the fight and win those tag team titles: god damn it they fucking deserve it. The Acclaimed have consistently been the most entertaining act on AEW programming for almost two years now, never wasting a second of TV time they get. Their face-turn throughout the back half of the year feels extremely natural, and I'm shocked Tony Khan didn't pull an Uno reverse card like he has to MJF and Daniel Garcia in their turns back to the dark side.
In a chaotic year for All Elite Wrestling, The Acclaimed have felt like anchors for the young company, two guys you can always rely on for entertaining television every week beyond their wrestling skills. But with this match at All Out, it proved that both Max Caster and Anthony Bowens are the total package, and the future of this business if all is right in the world. Now scissor me Daddy Ass! [Matty Monroe]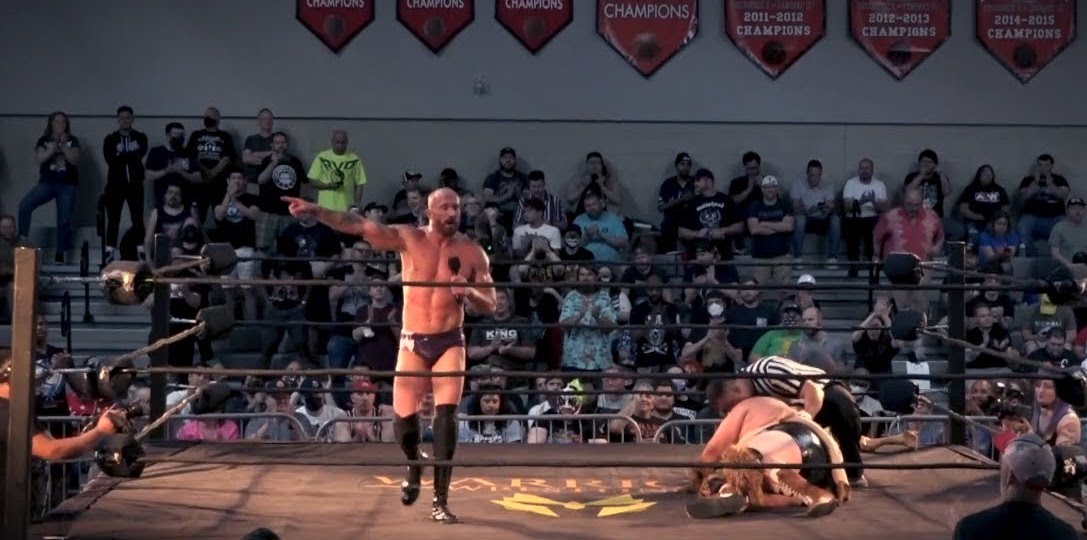 WARRIOR WRESTLING 24
Mike Bennett vs. Beast Man 
June 26, 2022. Armed with a fighting spirit and a fanny pack that used to be full of edibles, I took my seat at WARRIOR WRESTLING 24. FORBIDDEN DOOR was still a few hours away, but My Match of the Year took place there, in the gymnasium of Malcolm X College just across the Street from United Center. Mike Bennett vs. Beast Man was a 10-minute thrill ride. The Strong, Smiling Good Guy facing off against a literal monster: a snarling, bone-wielding, fur-clad wrecking machine with only Mike's destruction on his mind. Bennett performed in this match like it was the fight of his life, Beast Man was a terrifying presence that's become exceedingly rare in The Age of Cool Heels, and the crowd ate it up like we were in the Sportatorium on a Sunday afternoon. Pure Professional Wrestling. [Paul Sebastian]
ICW NO HOLDS BARRED 36
American Deathmatch Championship Match
Kasey Catal vs. Mickie Knuckles
2022 was a marquee year for women's deathmatch wrestling. Alongside the rise of Sawyer Wreck in GCW and the Kennedi Copeland heel turn in H2O, Kasey Catal has been a breakout star. This culminated in the main event of ICWNHB36, when Catal defended the American Deathmatch Championship against women's deathmatch legend Mickie Knuckles. It was a brutal, dangerous, tube-heavy affair where all mutual respect went out the window until the three was counted. It also served as a wonderful passing of the torch, with Knuckles highlighting all the opportunities not available to her at that stage in her career. A title defense and rematch against her husband Brandon is up next for Kasey. 2023 looks very exciting for these—and hopefully many other—young competitors. [Andrew McNally]