Young Jesus deliver a stunning new album, Luke Bryan recycles country conventions, plus takes on Glass Animals and Fontaines D.C. in the latest music roundup.
Luke Bryan – BORN HERE LIVE HERE DIE HERE
Genre: Country
Favorite Tracks: "Build Me a Daddy," "For a Boat"
I was going to start off by praising "God's Country," a shocking and radical new direction for an otherwise milquetoast silent majority act, an inspiring tale of an artist refusing to follow trends and go the safe route after his career hit a bit of a slump. An ominous, swampy atmosphere supported by bells, elegiac strumming, and a normally obnoxious massive fake clap a la Rag N'Bone Man's "Human" that fits perfectly with the song's dramatic bombast and is surrounded by enough organic instrumentation to work. Most of all, the artist responsible always had plenty of charisma, yet he outdid himself with the raw intensity he brought to this tale of God's benevolence and wrath. And then I realized that song wasn't by Luke Bryan, it was by Blake Shelton. Fuck.
Before I ever knew his name, I was first introduced to Luke Bryan's music while at an ice rink watching my brother play hockey. During an intermission, "Country Girl (Shake It For Me)" came on, a song in which Luke Bryan encourages a girl to shake her ass for the birds, bees, catfish, crickets, critters, squirrels, and moon. To this day, I have never been able to forget it because my mind refuses to accept it as a real song. Though that era of bro-country has long since passed, it's not like his music has improved much with time. He still fills out focus-grouped checklists with rapacious efficiency. Staying true to your hometown and refusing to leave on the title track? Check. Partying at the beach on "One Margarita," which brazenly doubles down by directly referencing Marley, Chesney, and Buffet? Check. Odes to father figures on "Build Me a Daddy" and "For A Boat"? Check and check. Throwing a bone to his female audience by fawning over strong, sexually empowered women on the incompetent "What She Wants Tonight," which ends up painting her as borderline abusive, violent, and rapey and him as suffering from Stockholm syndrome? Check. Bad pick-up lines on "Too Drunk to Drive" and "Knockin' Boots," which' should not be coming from a 44-year-old man and approach Mike Lowe-levels of creepiness from the Beach Boys' SUMMER IN PARADISE? Also check. There's nothing wrong with having a limited range of topics, but Bryan can't even manage to do most of them well thanks to his continued incompetence at production and composition.
To its credit, Bryan's seventh record BORN HERE LIVE HERE DIE HERE doesn't suffer from the most malignant production mistakes of his last few records. There isn't any overdriven Luke Combs-esque chugging more fit for a Godsmack song, and the drum machines of "Kick the Dust Up" and overmixed synths of "Light It Up" are toned down. It's shorter than his last release WHAT MAKES YOU COUNTRY, and any pretense about proving his authenticity a la Florida Georgia Line's similarly titled CAN'T SAY I AIN'T COUNTRY has been dropped for the better. However, his affinity for unintentional dourness, unlike the very intentional heaviness of "God's Country," has not disappeared. "What She Wants Tonight" and "Too Drunk to Drive" suffer especially from tense rhythms with no pay-off. Vocal harmonies usually add warmth and melodic richness to a song, yet their implementation on "One Margarita" becomes stiff and robotic. The same could be said for the mixes as a whole. Keyboards and guitars end up competing for space rather than playing off one another. As a result, the best songs on the record are the two stripped-down ballads; "For a Boat" is an especially poignant moment thanking his father for teaching him to be grateful for what he has. The solos on "Down To One," "One Margarita," and "What She Wants Tonight" rock pretty hard for the five seconds of airtime they are given, tantalizing you with the promise of proper mixing before diving right back into flimsy muddiness. Bryan is far from the worst person making radio country now (at least he's not Sam Hunt) but at this point he is the most tired and redundant. [Blake Michelle]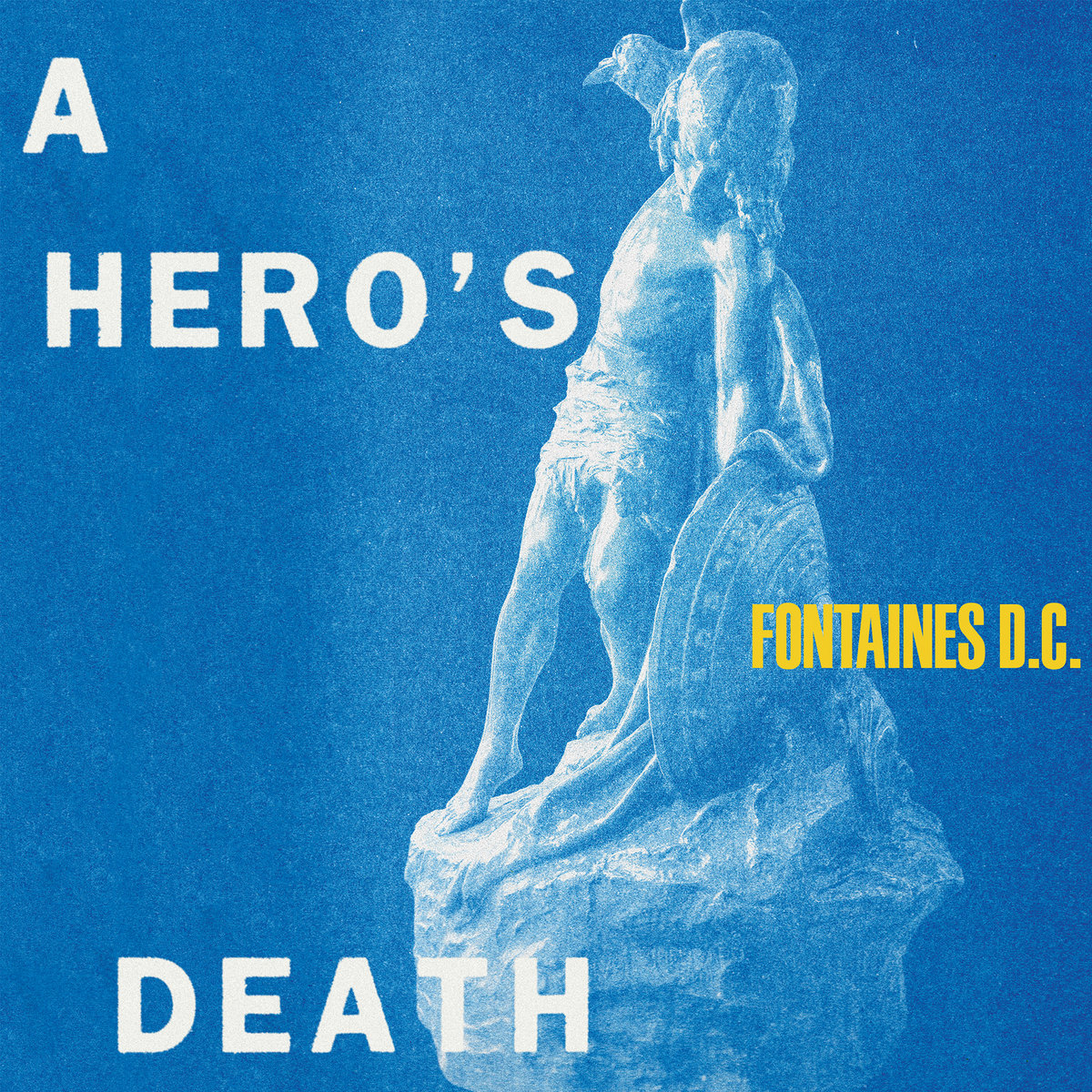 Fontaines D.C. – A HERO'S DEATH
Genre: Post-Punk, Modern Rock
Best tracks: "I Don't Belong", "Televised Mind", "A Hero's Death", "Living In America"
After the rousing success of their debut album DOGREL just last year, anticipation for the sophomore follow-up from Dublin post-punks Fontaines D.C. was perhaps higher among some than almost any other release on the 2020 calendar. Where DOGREL was dry, plainstated, and direct, the teaser tracks from A HERO'S DEATH hinted at something a bit more produced and meditative, a record with more to say and more sonic territory to explore without surrendering the band's unique niche or infectious energy. Unfortunately, A HERO'S DEATH suffers somewhat from a classic case of "lead single syndrome," with the first three songs released from the record largely representing the best it has to offer. However, don't mistake this for saying that there isn't good material to be found. The three aforementioned singles, along with a couple of the album's later cuts like "Living In America" and the aching closer "No," are all excellent looks at what make Fontaines D.C. such an exciting young band, with instrumentals full of latent urgency and the deadpanned delivery of frontman Grian Chatten at its droll best. Chatten in particular is a bright spot of this record, his presence self-assured and his lyrics hitting that sweet spot between playfully provocative and sarcastically biting that so many punk acts fail at pulling off. Ultimately, A HERO'S DEATH is saddled with too much less-than-memorable material and an anemic sense of pacing that prevent it from truly living up to its predecessor, but still carry with it the promise of a talented new group on the rise with a singular vision, whose missteps can be forgiven and chalked up to the growing pains of finding their footing in their fledgling years. [Jacob Martin]
Glass Animals – DREAMLAND
Genre: Psychedelic Pop
Favorite Tracks: "Dreamland," "Melon and the Coconut," "Waterfalls Coming Out Your Mouth," "Heat Waves"
Glass Animals' third album, DREAMLAND, is a lot to unpack. There are undercurrents of nostalgia, overt trauma, and a desperate plea to flee. Escapism not only in the wake of the Coronavirus, but by the bedside of their drummer, who suffered serious head trauma in a cycling accident. Macrocosmically, microcosmically, or Deep Space 9, the world of Glass Animals was a shit show. Yet rather than gripe, frontman-turned-producer Dave Bayley decided "Why not make a better one?" Thus DREAMLAND, an album, moreover a world, with erratic visuals, listless lyrics, and heavy R&B composition was born. In his production Bayley has TLC and Missy Elliot collabortaing with Depeche Mode and Duran Duran. While that sounds like it could only result in a catastrophe, Glass Animals add a deeply necessary attribute for cohesion; personal experience. The lyrics chronicle intimate parts of Bayley's adolescence, livelihood, and the way he perceives himself. Glass Animals is cognisant that nostalgia is solace while making a Didion analysis that, "In a time like that, all you can seem to do is start thinking about the past." He compares it to peeling off a Band-Aid; once he'd taken one memory off, more follow. While it feels obtuse to compare Glass Animals and Joan Didion, both recognize the past as an entity that is in and of itself another world. 

DREAMLAND is a layered record that prompts multiple listens. Bayley articulates gender norms, masculinity, and the pain of leaving friends behind, all of which are saturated in synthesizers and vaporwave imagery. Whether listening to it directly or reading about it, the album risks being excessive, but Glass Animals succeed solely by making it fun. The past is painful and there's so much in retrospect that we regret, but Bayley radically accepts it for what it was and tries to forge a better future. If I was approached by a skeptic, I would tell them that DREAMLAND sounds like James Blake was tasked to build a nostalgia theme park for CHROMATICA, so strap in or miss out. [Jesse Herb]
Young Jesus – WELCOME TO CONCEPTUAL BEACH
Genre: Art Rock
Favorite Tracks: "Faith," "Pattern Doubt," "(un)knowing," "Meditations," "Root and Crown"
If you're someone who's followed indie rock Twitter over the past few weeks, you've probably seen some pretty big names in the music journalism world Tweeting about the Los Angeles quartet Young Jesus. In the days leading up to the release of WELCOME TO CONCEPTUAL BEACH, it felt like I was hearing more about a youthful Christ than I do in the days leading up to Christmas. The band's fifth record in just eight years, WELCOME TO CONCEPTUAL BEACH's 46 minutes of surreal feudal hermitage are shocking, fluid, and dynamically fascinating. From the shuffling, Hovvdy-esque melodic art pop of opening track "Faith" to the 10-minute crasher of an album closer "Magicians," the group's latest is a record that impressively merges mid-aughts math rock, Phil Elverum philosophical neurosis, and Mahavishnu Orchestra fusion. While the record's maximalism and singularity may look like its main selling point on paper, the album's greatness lies in its ability to mash together those different genres and elements in a way that feels perfectly normal.
Discovering Young Jesus through the lens of their latest record evokes the feeling of stumbling upon a small but beloved artist early in the day at some hypothetical music festival. The soulful saxophones and piano glissandos on "Pattern Doubt" sound like something you'd hear floating across an empty field that would single-handedly save your mental health from a crushing hangover, while the dynamic fluctuations and soaring vocals on "(un)knowing" perfectly capture the energy of an introverted mood swing. WELCOME TO CONCEPTUAL BEACH feels different, more eclectic compared to its predecessors. Where the records that came before it employed a familiar post-Codeine sludginess, the band's latest harkens Glass Beach or Crack Cloud in its genre-defying likability. In a lot of ways, Young Jesus' growth between 2018's THE WHOLE THING IS JUST THERE and their most recent endeavour recalls the development the occurred between Destroyer's bona fide indie rocker TROUBLE IN DREAMS and his smooth jazz opus KAPUTT. While the internet may fail me on some level almost every day, the enthusiastic Tweets and Instagram stories that led me to pay attention to Young Jesus did not let me down. [Ted Davis]