In the pre-COVID era, I would not have had this privilege of introducing my horror movie marathon, but alas, here we are! 
I have personally never considered 1983 a significant year in movie history, but three of the films on this list were released then, so maybe 1983 is actually the greatest cinematic year? I did not have a theme in mind when I started choosing the films, but as I narrowed down my personal favorites, I learned that I have gravitated towards films that show the importance and power of women in horror films: this list is a compilation featuring female characters that have a piece of them ripped apart, seemingly making them "crazy" or "mad."
Now sit back, relax, grab some popcorn and read this article from the comfort of your own home! Welcome to a Nightmare Alley, a 12-hour descent into madness!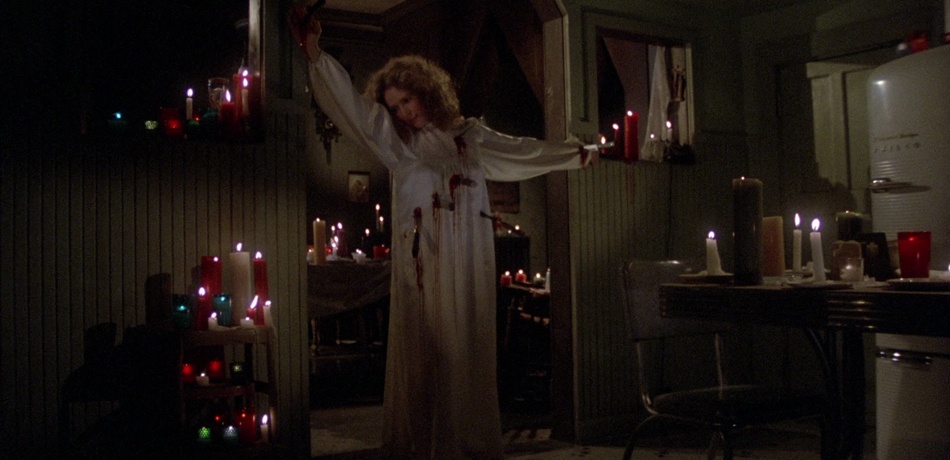 8 PM – 10 PM
CARRIE (Dir. Brian De Palma, 1976)
CARRIE is not a slasher flick, nor a typical teenage horror film, but Piper Laurie might be one of the most horrifying mother figures in horror films. Directed by New Hollywood filmmaker Brian De Palma, CARRIE remains an essential Halloween viewing. Sissy Spacek is perfect as Carrie White, a sheltered high school student who is just coming into puberty; based on the novel by the same name, Stephen King creates a world of characters who punish and bully Carrie, ultimately making this a revenge story. CARRIE is the 8 PM to 10 PM film for this marathon because it's the first to revolve around a woman being driven to her ultimate state of madness. Carrie ultimately gets her revenge in the end against her tormentors, and the famous scene with the pig's blood is such a significant sequence because the audience is craving it. CARRIE is a classic and definitely sets the tone for how this marathon will go, one murderous woman at a time!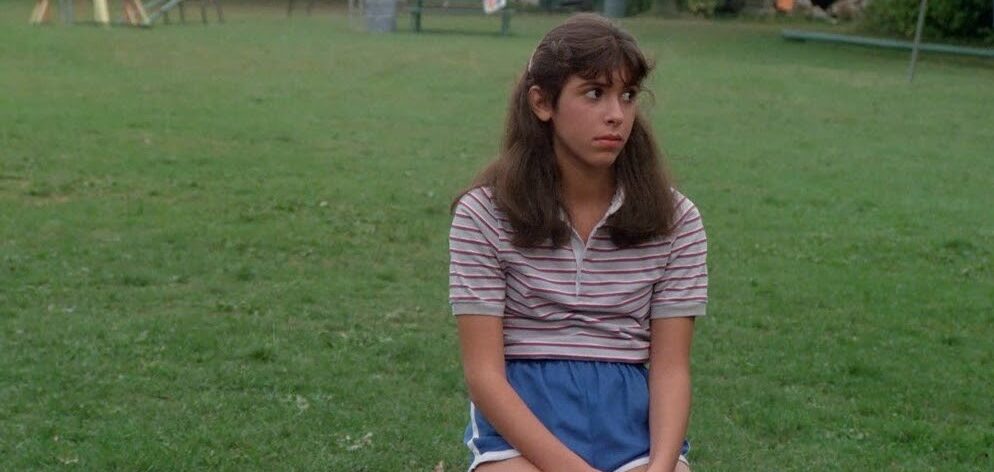 10 PM – 12 AM
SLEEPAWAY CAMP (Dir. Robert Hiltzik, 1983)
[Spoilers for SLEEPAWAY CAMP Ahead]
I went back and forth with myself, because I wanted to include a classic '80s slasher, but was unsure which one to go with. But after much deliberation, I thought SLEEPAWAY CAMP would fit well with the other films on the list. One of two films directed by Robert Hiltzik (who apparently works at a law firm now), it's a bonafide cult classic. The film follows Angela, who is pushed to murder after several traumatic experiences. All of Angela's victims are bullies or abusers, coincidentally making it the second revenge film on the list. SLEEPAWAY CAMP is infamous for a twist ending that relates Angela's traumatic past to her present. It's an over-the-top, campy slasher flick but, oddly, deals with a number of serious issues at its core; ultimately SLEEPAWAY CAMP is about a young girl looking to get back at her attackers, but it strikes a perfect balance between outright horror and outrageousness. At this stage in the night, most people are still paying attention and just want to be entertained. SLEEPAWAY CAMP does just that as it powers through its primetime slot, ending close to midnight.

12 AM – 2 AM
THE LOVE WITCH (Dir. Anna Biller, 2016)
Anna Biller's beautiful, haunting, seductive 2016 film THE LOVE WITCH is a contemporary look at love through an anachronistic aesthetic. It follows Elaine, a witch who uses her powers to cast love spells after a failed marriage. In the beginning, Elaine tells her friend Trish that she wants to give men "exactly what they want." The spells start to become too powerful as the men's displayed love towards Elaine begins to suffocate her. Several relationships start to go awry as Elaine becomes more and more desperate to find the perfect man. Director Anna Biller ultimately designs THE LOVE WITCH to look like it was unearthed from a bygone era, and utilizes visual influences from 1960s and '70s films, as well as femme fatale tropes. It was shot on 35mm, which is a lofty feat for an indie of this size, but gives the film an unforgettable look. Although not a go-to horror movie, THE LOVE WITCH is mesmerizing. As it clocks toward 2 AM, the audience will feel more and more possessed by Elaine's spells.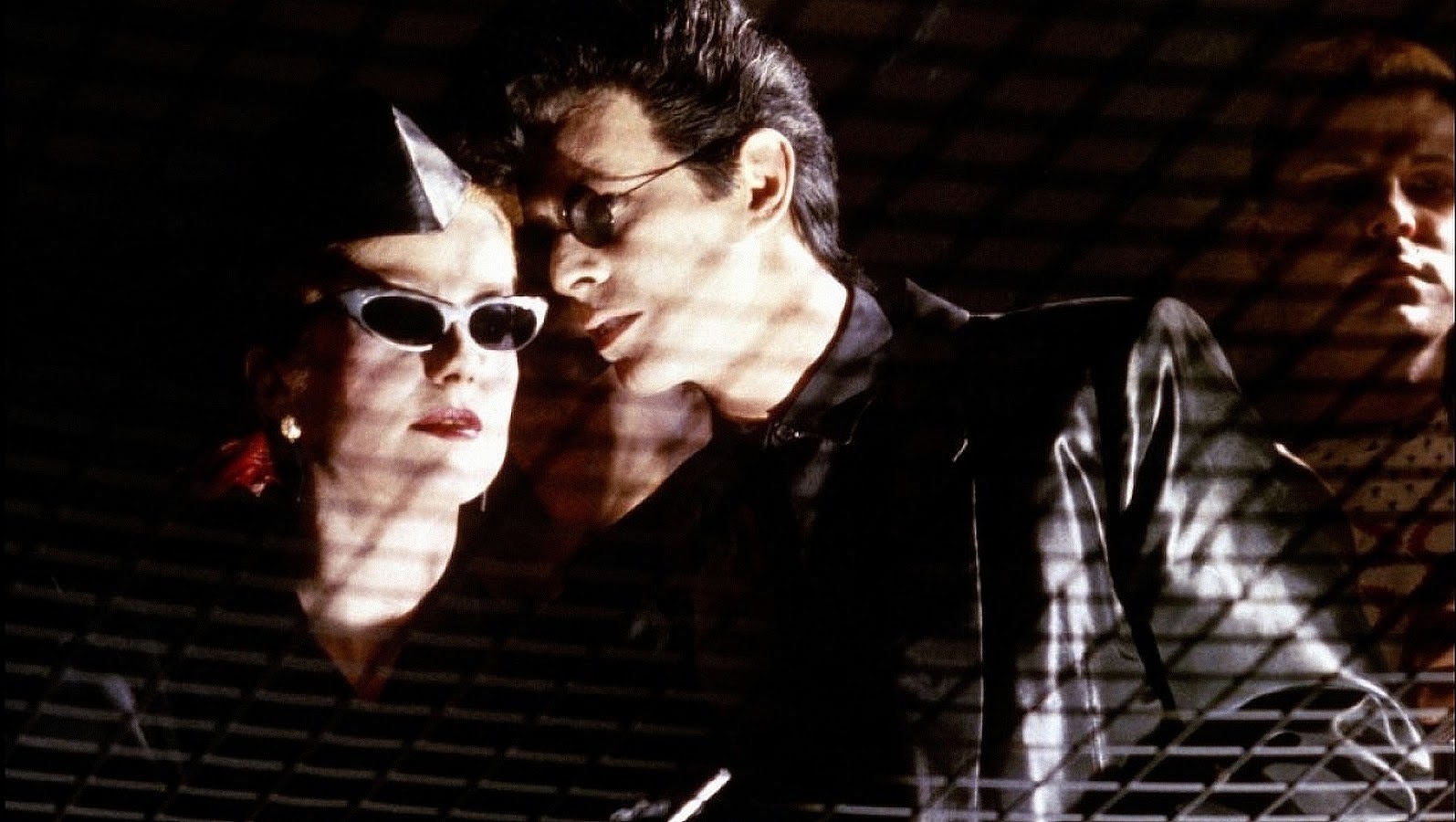 2 AM – 4 AM
THE HUNGER (Dir. Tony Scott, 1983)
THE HUNGER starts at 2 AM and, with it, begins a trilogy of films where the concentrated focus is a descent into absolute madness. This evocative, '80s vampire film is another haunting classic. It opens with music from gothic post-punk band Bauhaus, perfectly setting the tone for the film, and stars David Bowie, Susan Sarandon, and Catherine Deneuve as vampires in a love triangle. Need I say more? Bowie and Deneuve have lived with "the hunger," which they thought would grant them eternal life, until one day Bowie's character, John Blaylock, begins to rapidly age. THE HUNGER is a sexy, totally goth vampire love story filled to the brim with poignant visuals. The story is rather easy to follow, but it's a style of storytelling that heavily relies on the technical elements of filmmaking; once your eye-lids start to weigh heavy, and the brain begins to mellow, your eyes will still enjoy the way THE HUNGER makes you view these lustful vampires.

4 AM – 6 AM
VIDEODROME (Dir. David Cronenberg, 1983)
VIDEODROME is the perfect movie for a horror marathon. One of David Cronenberg's finest, this body horror classic is a metaphor for how overconsumption of media can, ultimately, consume you—ironically, it might make you question your choice to watch 12 straight hours of horror films. In a world where people are granted instant gratification with porn sites and a whole world of resources on the Internet, the 1983 release VIDEODROME still holds up today. James Woods stars as Max, who desperately needs a new program for his television station and fulfills this need in a mysterious show called Videodrome, a television program that gives the public exactly what they want: both pornographic and abusive content. Cronenberg explores what happens to the body and mind when a person consumes Videodrome. Plus, it also stars the alluring Debbie Harry. VIDEODROME will have you questioning your own relation to television. The surrealist, grotesque elements will make it come to life during this hazy 4 AM slot.

6 AM – 9 AM
INLAND EMPIRE (Dir. David Lynch, 2006)
INLAND EMPIRE is the final film during this marathon. I'm not sure if people regard this as a horror film, exactly, but the eerie score, nightmarish scenarios, and rather disturbing content should classify it as such. Trying to explain the plot of this film in short form is a difficult task, but the most simplified version is that the audience follows an actress who has taken method acting to an extreme: she is slowly becoming the character that she is playing in a film. David Lynch directed, wrote, produced, edited, and composed most of the music for the film, so it is as Lynchian as it gets. Laura Dern gives one of her most impressive performances as she develops more and more of her character's personality. The film is an intimidating 180 minutes, but Dern is a powerhouse who encompasses Lynch's very particular brand of "woman in peril" archetype. Lynch is one of my favorite filmmakers of all time, and INLAND EMPIRE is one of my favorite works of his—he filmed it on a Sony camcorder and it's still beautiful. I end the marathon with INLAND EMPIRE because there's nothing like it. If this was viewed in a theater during the dewy, early hours of morning and the viewer fell asleep for a few moments, they wouldn't be any less confused than if they were awake the whole time. INLAND EMPIRE is a great fit for the last film of the night (day?) because you'll probably want to go home and rethink your entire life.