Bandcamp Picks of the Week is back and better than ever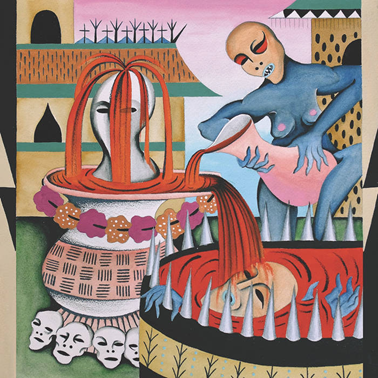 Gulch – IMPENETRABLE CEREBRAL FORTRESS
Genre: Crust Punk, Post-Hardcore
Favorite Tracks: "Self-Inflicted Mental Terror," "Fucking Toward Salvation," "All Fall Down the Well" 
Yes, this record ends with a Siouxsie and the Banshees cover. ("Sin In My Heart" from JUJU, the best Banshees record). No, the goodwill from paying tribute to one of my favorite bands is not the only reason I encourage you to check these guys out. Southern California punks Gulch have steadily built a reputation for great live shows and highly sought-after merch, and now they've teamed up with Deafheaven and Jeff Rosenstock producer Jack Shirley for a debut record that is only slightly longer than previous EPs. IMPENETRABLE CEREBRAL FORTRESS continues their combination of turn-on-a-dime post-hardcore a la Dillinger Escape Plan with the trembling buzzsaw-like tones from death metal and d-beat. It's a blistering combination made manageable by short song-lengths and more moments of melodic mid-tempo riffs a la the death'n'roll of Entombed's WOLVERINE BLUES. Shirley gives the drums, guitars, and frontman Elliot Morrow's unhinged, raspy delivery plenty of room to breathe while maintaining an ugly sludginess worthy of the word "gulch." The aforementioned cover is a great way to end the record; it replicates the original's haunting leads to maintain familiarity before pumping up the post-punk drive into a crushing metal riff that helps the song fit seamlessly onto IMPENETRABLE. Not since Code Orange's LOVE IS LOVE/RETURN TO DUST has a punk debut succeeded at fulfilling all your headbanging needs while incorporating enough fresh ideas and sounds to leave you wondering what the band could do next. If you've got 15 minutes of free time, there's no excuse to not check out one of the most exciting new acts of the year here. [Blake Michelle]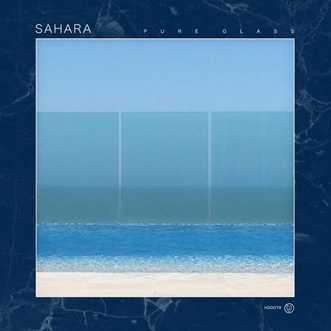 Sahara – PURE GLASS
Genre: Dream Pop
Favorite Tracks: "Cold Summer," "Chimes," "Indoor Pool," "Warped Mirror"
I can remember the exact moment I fell in love with Wild Nothing's "Summer Holiday." It was July 5th, 2011—in my mind I don't contextually place it as a post-4th of July hangover in any way. But that's the date because 1) That's the day I discovered the track on music sharing platform turntable.fm (remember turntable.fm?) and 2) It happened the day the first Haboob hit Phoenix. I've thought a lot about "Summer Holiday" and that seemingly innocuous evening a lot the past few months, because there's some cosmic coincidence surrounding that day a decade ago and my life right now. July 5th, 2011 was in the middle of the last summer I lived in Phoenix, a city I've intermittently been visiting amidst the pandemic to stay with my folks. We, Merry-Go-Round Magazine, have also been throwing events on JQBX.fm, which essentially became the successor to turntable.fm after the site went away years ago. And we just passed the 10th anniversary of Wild Nothing's GEMINI, an album that had a pretty seismic impact on the state of indie pop through the beginning part of the 2010s.
But amidst all those cosmic coincidences, the detail of the story that sticks with me most about "Summer Holiday" is how much that day felt like the world was ending.
I didn't know what a "Haboob" was (any person from Phoenix telling you they did prior to that day is a liar). I remember the sky turning very dark, going out with my parents and climbing up on our roof, and watching as a massive, miles long wave of dust slowly crawled towards us, like that dust storm in THE MUMMY. I remember being in the house as the dust passed through, and everything coated in a thick layer of brown the next morning. And all the while "Summer Holiday" was playing in the background. While I was aware of the Brooklyn dream pop act, and had heard them on 8tracks for the better part of a year (remember 8tracks?), I'm not sure that song had hit me as definitively as it did that day. It would go on to become, in my opinion, the definitive dream pop song of the 2010s, the yearning youthfulness and playful-yet-dark tone as close to a modern pop update to Galaxie 500's similar thematic energies as could be asked, and it rewired my brain.
So imagine my surprise that amidst those many simultaneous moments colliding at once for me this past month, a song that brings with it the same energy as "Summer Holiday" would fall into my lap—arguably the strangest coincidence of them all to be honest. The track is called "Cold Summer" from Toronto scene stalwarts Sahara (an area known for Haboobs? Maybe I'm reaching for connections now…) off the band's recent debut PURE GLASS. And while "Cold Summer" is the glossy, bright guitar pop jam that rushed me back to July 5th with vivid memory, the entire debut could fittingly sit next to GEMINI and, in a different era and music market, would likely feel essential to the genre. Sahara define their crisp take on dream pop with distinctive focus; these songs are hazy, yes, but clean, the vocals the most distant aspect of the music. It's DIIV'y in some of the guitar playing, it has some of the late-night atmosphere of The Radio Dept. at times, and it makes me wish I could be waiting in the haze of a neon=lit bar sign waiting for a ride after a quiet, drunk, emotionally enriching evening. Every song scratches that Captured Tracks-at-the-turn-of-the-decade itch, moody but optimistic with playful pop whimsy—the drive of "Chimes" is intense but fun, the soaring nostalgia of "Indoor Pool" warming in nature. That the world is literally ending as PURE GLASS is coming out makes it a credible, blissed-out soundtrack for such a moment. The sense of apocalyptic dread that filled me as I watched that dark dust storm swallow my hometown was given a sonic cue that day through "Summer Holiday," so how fitting for our current moment to play out to Sahara. You can listen to their extremely well-crafted debut over on Bandcamp. [CJ Simonson]