It's another music roundup, featuring takes on the delightful new glass beach remix album, as well as Foo Fighters' much publicized latest MEDICINE AT MIDNIGHT.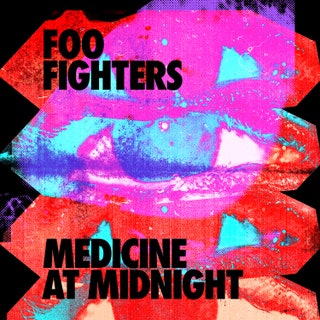 Foo Fighters – MEDICINE AT MIDNIGHT
Genre: Alternative Rock
Favorite Tracks: "No Son Of Mine," "Chasing Birds," "Love Dies Young"
So much of the larger narrative around MEDICINE AT MIDNIGHT is that this is Foo Fighters' dance record; be it faux major label soothsaying, an earnest musical desire Dave Grohl himself is perpetuating, or simply the gasping, dying breath of a bygone era desperate for radio rock music to mean something more than it does, that is a message that's been well communicated. Grohl himself has, on multiple occasions, voiced that this is akin to Bowie's LET'S DANCE, an album that, of its time, was perhaps a peak hybridization of funk and disco energies bending to a new era's art rock knee. Certainly there are components, largely in the percussion and production choices, that make me think Grohl honestly does believe this idea—as much as it's a desperate marketing line meant for you to, even momentarily, reconsider one of rock's most important long standing acts, Foo Fighters are giving you bursts of backing chorus and hoedown clapping ("Making A Fire"), cowbell shimmies ("Cloudspotter"), and squelching guitar pop ("Holding Poison"), daring you to not believe evolution is possible.
But be it the cynical view with which we consume music now, or the fact that we've seen this alternative rock notion of what "genre" is countlessly reinvented time and time again with little to sonically show for it, I don't think a single person who has listened to or engaged with MEDICINE AT MIDNIGHT has thought to themselves that it's anything more than a Foo Fighters album. And it's a genuinely fine Foo Fighters album, one that does sneak in some of their most interesting songs in decades, even if they exist outside of whatever dance nonsense powers that be want to force onto it. For years Grohl has spoken of his admiration of McCartney and the Beatles, and "Chasing Birds" is perhaps as close as he's toed within the Foo Fighters sound to landing something that could be a Wings song. Closer "Love Dies Young" is refreshingly bald-faced arena rock, among the best versions we've heard of it from the band since they aspired to be a massive rock band back on WASTING LIGHT. Grohl is still a decent screamer when he wants to swallow a mic, and even if it's no "Monkey Wrench," "No Son of Mine" headbangs with enough snarl that you could close your eyes and pretend it's 2004. But to say that MEDICINE AT MIDNIGHT is the best Foo Fighters album in a decade really doesn't mean anything—it's a Foo Fighters album, a band who live in a nebulous grey area musically beyond both actual radio contemporaries and rock peers. If that's your thing, narratives, gimmicks, and bullshit aside, you probably already listened to it. And if you didn't, well, I'm sure you'll be just fine. [CJ SImonson]
glass beach – ALCHEMIST RATS BEG BASHFUL (REMIXES)
Genre: Emo, Electronic, Hyperpop
Favorite Tracks: "jhariah dies and goes to hell," "(rat castle)," "(FOREVER!!!!!!!!!)," "Dallas," "yoshis island," "Planetarium," "Bone Skull," "cold weather," "blood rivers"
Every few years I stumble upon an emo song that eternally makes its way into my listening rotation. In middle school it was "The City" by The Dismemberment Plan, as well as "Tiny Vessels" by Death Cab for Cutie. In high school it was "Constant Headache" by Joyce Manor, while over the quarantine, I fell hopelessly in love with "Your Deep Rest" by The Hotelier. My senior year of college, in the wake of a whole lot of academic stress and emotional turbulence, "cold weather" by the genre-bending Los Angeles quartet glass beach distinctly shaped a period of my life that was as funny as it was mind-numbingly shitty.
glass beach was formed in 2016 by J McClendon of the project casio dad, who enlisted their roommates William White and Jonas Newhouse of the band 8-bit Johnson for help fleshing out the project. While it took three years for glass beach to release their 2019 debut, THE FIRST GLASS BEACH ALBUM, it takes only a cursory listen to understand why glass beach's debut is incredibly ornate, a labor of love unlike almost any punk-oriented album I've ever heard before. Poignant lyrics adapt to fluid melodies and rapidly shifting arrangements that come together to create something that sounds like your high school theatre department putting on a musical adaptation of A FEVER YOU CAN'T SWEAT OUT by Panic! At The Disco. As someone who usually can't be bothered to listen to a remix album, I was skeptical when putting on its reimagation, ALCHEMIST RATS BEG BASHFUL, but in true glass beach band fashion, I was blown the fuck away. Flipping the songs on THE FIRST GLASS BEACH ALBUM was a daunting feat, but the crew enlisted the right collaborators to do the tricky task.
With the help of GWIZ, "cold weather" becomes a distorted drum and bass banger that hovers between melodic mallgoth kitsch and ecstatic synthpop a la 100 gecs. "(rat castle)" sounds like SOPHIE (RIP) trying her hand at making a YouTube-ready chiptune banger, and jackson from online's spin on "Dallas" wouldn't sound out of place on an uptempo Slav house playlist. 2020 MVPs Bartees Strange and Dogleg make appearances on the album, but, for the most part, ALCHEMIST RATS BEG BASHFUL pulls from a wide range of largely overlooked artists. It comes together to feel as wonderfully amalgamated as THE FIRST GLASS BEACH ALBUM, the rare remix collection that still captures an artist's unadulterated essence. Like all things glass beach, ALCHEMIST RATS rarely stays in one place for too long, but there are a number of cuts that I am excited to drop in a hypothetical DJ set at some point in the future. Until then, I'll keep damaging my ears without regret, blasting glass beach at full volume in my AirPods on my daily post-work walk. [Ted Davis]