Fresh out of the 2021 New York Film Festival, Hilary Jane Smith downed a double dose of undiluted auteur-driven cinema: Joanna Hogg's THE SOUVENIR PART II and the legendary Paul Verhoeven's BENEDETTA.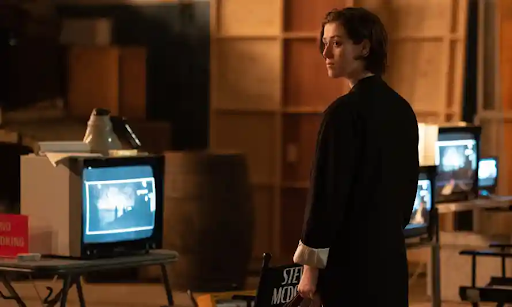 THE SOUVENIR PART II
Director: Joanna Hogg
Part II of Joanna Hogg's autobiographical drama about grief and coming-of-age is a neatly adorned gift box of wonderment if you're a major Hogg Head, and an out-of-touch stream of consciousness montage if you're not. I identify as a full-fledged Hogg fan, but had trouble appreciating her second installment to 2019's THE SOUVENIR due to its unnerving and conflicting hyper-personal narrative. The 2019 film follows Julie Harte (surrogate for Joanna Hogg) as she falls in love with a heroin addict, and the trials and tribulations that come from this doomed relationship. Part II focuses on Julie's grief following the events of the first film, and her graduate school film production that is wholly inspired by her experiences with the boyfriend. It's a film within a film… Within a film, and while at times beautiful, it's mainly indulgent. THE SOUVENIR was entirely enjoyable, and watchable, to a Hogg novice, but Part II reeks of privilege. Like a diary entry, it's really only enjoyable to those that have a full understanding of who Hogg is, or to those who even bother to learn. I know this is a sequel, and by nature one would assume that the audience has seen the first film, but Hogg leans far too much on her audience to understand her characters' motivation. Her depiction of the character's trauma in the first film is more relatable, especially for those who have either lived with or loved an addict. 
I had no clue who Joanna Hogg was as a person, but adored the first chapter. All of this identification is lost as we struggle to understand exactly what is occurring on screen; objectivity is lost along the way. In one of the film's strongest scenes, Julie's film crew argues in the car over the creative direction of their school project. Both crew and actors are confused and angry about what is occurring in the story and how Julie cannot provide clear direction to the woman portraying her on screen. It's a brilliant inclusion, a direct allegory to what we're also grappling with as viewers of THE SOUVENIR PART II. Grief is a strange, complicated feeling, and the memory of a person will never be objective. Even though Hogg attempts to shine a light on her own shortcomings as a narrator and filmmaker, it doesn't redeem some of these outstanding issues. Hogg does little to bridge the gap between her experience and those on the outside.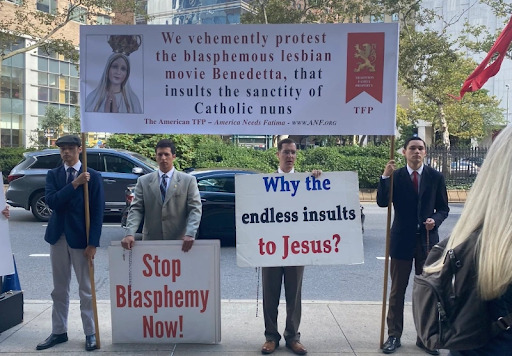 BENEDETTA
Director: Paul Verhoeven
BENEDETTA is a captivating tale based on the true events of a 17th century nun who experienced personal visions of Jesus Christ while discovering herself as a sapphic, sexual being. Look: give me a movie about nuns any day of the week. I absolutely love stories about any religion's overlooked female followers, and Paul Verhoeven's latest in erotica is much deeper than just a "lesbian nun movie." The parallel play of the titular Benedetta as both devotee to Jesus Christ and woman awakened and aroused by her newfound sexual power unfolds with such intelligence and narrative clarity that you forget that it's a Verhoeven movie. Oh wait, no this is definitely one of his films – it's a cornucopia of naked women, their bodily functions from sexual climax to lactation, and his signature ambiguity when it comes to violence. Virginie Efira portrays Benedetta with an impassioned demeanor that captures the real-life figure's immense ego and spiritual appetite without leaning too heavily into Verhoeven's exploitative tendencies. I was actually surprised by the sex scenes with Bartolomea (played by Daphe Patakia) and, dare I say, how witty and honest they were? Plenty of hijinks and hilarity abound, and there are several tongue-in-cheek visuals that link religious iconography with either wealth or sex. Verhoeven does an amazing job eviscerating both religious dogma and organizational faith's stronghold on sexual politics: when a powerful Catholic bro from Florence rides into town to muzzle Benedetta, he totally botches the response to the bubonic plague to serve his own agenda. I couldn't help but think of coronavirus and the religious right's bizarre forays into public health in the U.S. The Catholic Church was clearly upset that this movie was made because there were at least 20 people protesting outside the NYFF screening, which I'm sure pleased Verhoeven, the dirty Dane. BENEDETTA is a bit of an exploitative sapphic drama, but it's also a compelling journey and a wild ride.