We're here to tell you what's hot and what's not in this week's music roundup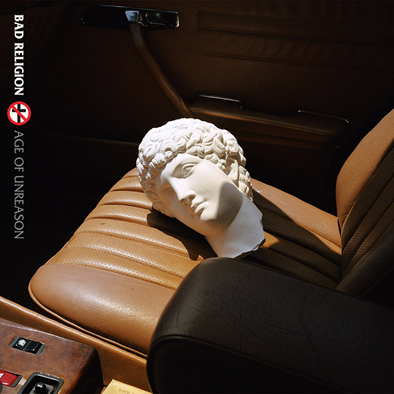 Bad Religion – AGE OF UNREASON
Genre: Melodic Hardcore, Punk Rock
Favorite Tracks: "My Sanity," "Do the Paranoid Style," "Lose Your Head," "End of History," "Old Regime"
What do you want me to say about this? It's a Bad Religion album! With that said, one might expect AGE OF UNREASON, their long-delayed 17th album and their first in six years, to be different for two reasons. The first is our current political climate, which should serve as a catalyst for more intense, meaningful art, right? Well, that hypothesis ignores that the people that can make that art are often hit the hardest by said climate and have other matters on their plate, and our contemporary horror show is as much a continuation as it is an aberration. (Bad Religion even reference this idea on "Old Regime," a definite album highlight.) Anyone who lived through the Bush years knows that having obvious targets or song topics is not an infallible determinant of good punk music. The second nascent development is that Bad Religion chose a new producer, who also happened to have handled the new Charly Bliss album (featured in this roundup below).
New producer and new era aside, not much has changed aside from a few clear lyrical references: AGE OF UNREASON is just another solid Bad Religion release. Their trademark vocal arrangements are developed and harmonically rich from the opening to the closing track, every solo kicks ass, and the compositions thrust forward, tense up, and open up with melodic swell at all the right moments. Thoughtful quotables abound: "Self-pity is always a case of mistaken identity," "Nostalgia is an excuse for stupidity," "Sometimes there's no sane reason for optimism," "It's never really clear when the end is near / 'Til you take a hard look in the rear view mirror." There are some definite low points: "Candidate" reminded me way too much of XTC's "Here Comes President Kill Again" in its blunt satire that's simultaneously too over-the-top lyrically and yet played way too straight musically, and the album runs out of steam pretty hard by ending with the stilted hand-claps and odd, buzzy accents on "Downfall" and the flat clickity-clack of the guitars on "Since Now." Nevertheless, most great punk bands, from Rage Against the Machine and Minor Threat to Rites of Spring and At-The-Drive, burn out after four, three, or even one albums, whereas Greg Graffin once proclaimed that "Against the grain / that's where i'll stay" and he and his band are still living up to that promise 29 years later. [Blake Michelle]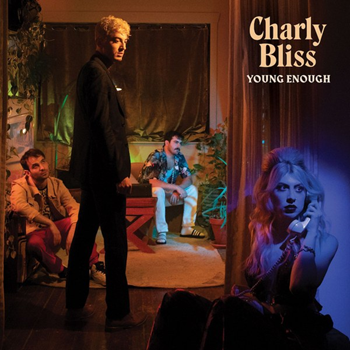 Charly Bliss – YOUNG ENOUGH
Genre: Pop Rock
Favorite Tracks: "Blown to Bits," "Capacity," "Young Enough," "The Truth"
Charly Bliss' sophomore effort, YOUNG ENOUGH, is a distinct separation from their 2017 debut, GUPPY. Where GUPPY paints a sun-drenched audial landscape that grips from the start in layered power pop guitars, YOUNG ENOUGH has them pulling back and letting the build-ups come in as slower, almost meditative waves. The droning opener "Blown to Bits" sees Eva Hendricks list seemingly mundane, everyday experiences that take on new meaning in the looming threat of losing not just the monotonous aspects of life, but everything and everyone else. The slow rise to the crushing drop of the synthesizers gives way to a high-energy opening with immensely life-affirming messages while staring right into the face of disaster. "Sell it for parts, I'm asking for more / I don't what's coming for me after 24" suggests the uncertainty of youth, but an unmistakable desire to tackle a world no matter the challenge.
Far more insightful than her lyrics as a whole, Hendricks' voice shines through with a more self-aware honesty. No longer muffled in the background by the Pity Sex-esque guitars of GUPPY, her vocal clarity almost mirrors the personal lessons she's trying to reconcile within herself from a more mature and clearer point of view. "I used to think / I should do right by everyone," uttered in the opening lines of "Capacity," suggests learning the hard truth that our insecurities tends to direct our attentions on other people, very often to hide from the shortcomings we don't want to see within ourselves. There are no shortages of the realizations we make when adulthood looms and demands our attention—young, painful love looked back on fondly for what it was, but glad to have grown from it. Self-affirmation and inner strength in the wake of personal tragedy.
Both GUPPY and YOUNG ENOUGH are unmistakably power pop, but each explores the same genre in ways very distinguishable from each other. Like a band exploring numerous sides of a however-many-sided die, YOUNG ENOUGH shows Charly Bliss' versatility and potential to ignite joy in the heart as much as a mosh pit of emotional catharsis. It's no surprise that Joe Chiccarelli has his producing hands on this record given his work in the indie pop realm with artists such as The Shins and Spoon, both who've managed to stay fresh and relevant for nearly two decades without departing too far from the style that made them household names in the first place. We can only hope that this pattern continues for the quartet. [Nathaniel Dueber]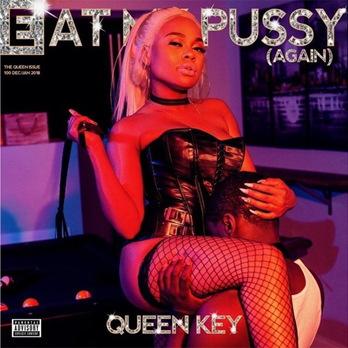 Queen Key – EAT MY PUSSY AGAIN
Genre: Trap Rap
Favorite Tracks: "Gimme $," "Evil," "I Like Me Better," "Ms. Understood"
At only 20 minutes, you owe it to yourself to minimize this screen and give 2018's EAT MY PUSSY a listen, a seven-song mixtape in which Chicago rising star Queen Key cops Lil Wayne's sly and Missy Elliot's theatricality for something that is, at times, both funny and surreally cool—look no further than the delivery and writing of "I just met a n**** who ate ass all night / Got that shit on camera, had my flash on bright / Cinnamon shit, n**** ate pussy like he eatin' cinnamon sticks / Grinin' and shit" on "Spenda Night."
Less than a year later, Queen Key is back with a more substantial sequel to her calling card, aptly titled EAT MY PUSSY AGAIN, and you don't have to ask twice. At the risk of reductively comparing Queen Key to CupcakKe (something I'll dare not do, as women in rap's fight for dominance is often undermined by these kinds of comparisons—see Tom Briehan's excellent examination of Cardi vs. Nicki), the two realistically complement each other very well. While CupcakKe makes funny, cartoonish, over-the-top and frequently surreal sexual rap, Queen Key is making funny, slick, fierce-yet-tame and frequently surreal sexual rap (a team-up would do this world good). Smartly pushing herself to relevance, EAT MY PUSSY AGAIN let's us analyze Queen Key with an eye towards pop music; from the Cuban swagger of "RBA" to THA CARTER III glitch of "Gimme $," the entire tape is filled with arguments for stardom. Highlights include the slowed-down R&B rockabye "I Like Me Better," the intense and cutting songwriting showcase "Evil," and "Substitute," which is just begging for a big room EDM remix from Diplo. Queen Key leaves us with a production high point in her limited discography, a jazzy banger with tinny production and some delightful flourishes of soprano sax, sending us out with a Kenny G jazz-rap ripper. Her lyrics are filled with a fair amount of innuendo (and sometimes just blatant directives but, then again, look at the title), but her production choices on EAT MY PUSSY AGAIN are argument enough for her to start getting major looks from important gatekeepers. Is it a perfect mixtape? It could use bigger choruses and longer songs, things to build into. But to look at the project like that would be to ignore the fact that, if everything goes to plan, Queen Key season is coming. And that's a good thing. [CJ Simonson]