We're here to tell you what's hot and what's not on this week's music roundup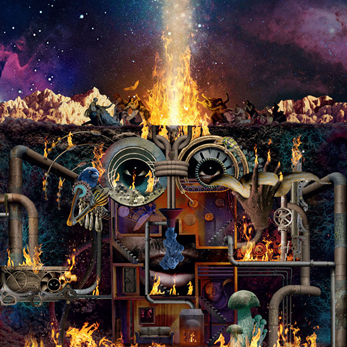 Flying Lotus – FLAMAGRA
Genre: Left-Field Hip Hop, Electronic Jazz
Favorite Tracks: "Post Requisite," "Yellow Belly," "Black Balloons Reprise," "Fire Is Coming," "Andromeda," "Remind U," "Find Your Own Way Home," "FF4"
If you're a culture-savvy hip hop fan in 2019, you've probably gone through the same Flying Lotus phase that I went through a couple years ago. The Los Angeles virtuoso makes music that is simultaneously deeply unnerving and meditative. Along with his understudies on Brainfeeder Records, Steven Ellison has taken on the role of a millennial J Dilla and has won over the hearts and blown the minds of millions of chillers and weirdos with his bebop-indebted take on modern beat making. In the silence following YOU'RE DEAD!, it seemed as if Ellison was reinventing his entire creative persona to be a superstar-adjacent oddball. He released the vomit-inducing art film KUSO, headlined the Hollywood Bowl ahead of Parliament-Funkadelic, presented fans with a wild 3D liveshow, and had his head blown off in the WORKAHOLICS-produced film GAME OVER, MAN. In that span, however, fans were met with the longest break between new material in Flying Lotus history.
His latest, FLAMAGRA was anteceded by the freaky David Lynch collab single "Fire Is Coming," and although the track is quite possibly the album's best, it also lets David Lynch being a weird-ass guy for a couple minutes do the dirty work before Ellison drops a minimal but propulsive beat halfway through the song. There are some cool vocal manipulations, but the track ultimately leans more on its collaborator than it does on FlyLo's impressive jazz or hip hop chops. Crippling collaboration is a recurring theme on FLAMAGRA, an album whose list of features reads like a best-artists-of-2019-so-far list. Anderson .Paak, George Clinton, Little Dragon, Tierra Whack, Denzel Curry, Shabazz Palaces, Thundercat, Toro Y Moi, and Solange all have their moments in the spotlight on the hour-and-seven-minute record. If Flying Lotus does one thing best on FLAMAGRA, that thing is flex the hell out of his unassuming celebrity status.
On the record's solo material, Flying Lotus also starts to adopt the techniques and sonic uniquities of his funkier collaborators. Where Ellison's previous work melted conventions and sounded like 100 different paint colors bleeding into one, FLAMAGRA's best moments sound like Thundercat, .Paak, and Funkadelic. The instrumentals have the old-school LA funk that is popular on records like OXNARD, sounding like the artists who owe elements of their personal brands to Flying Lotus; "Post Requisite" sounds like a cheap FL Studio replica of 2012's ambient masterpiece "Getting There," while "Spontaneous" and "Heroes In A Half Shell" employ the same annoying synthesized harpsichord sound that worked much better on Oneohtrix Point Never's AGE OF. The album begins to take on a more unique identity in its latter half, with tracks like "Remind U," "Find Your Own Way Home," and "FF4" sounding more like Flying Lotus than they do the MASCHINE sample pack designed to emulate the organic pallette employed by stereotypical New Age SoCal beat makers.
Walking around East Los Angeles and looking at the FLAMAGRA posters that cling to stucco walls and dumpsters and the street tags in front of benches, it is clear that Ellison is trying to claim his rightful throne as the godfather of West Coast avant garde, but the mainstream marketing behind the record is untrue to his jazz roots and ultimately abandons the formula (or lack thereof) that made FlyLo so prolific to begin with. Where records like LOS ANGELES and COSMOGRAMMA evoked a sherbet-colored sunset over Malibu, the new record brings to mind the grassless mountains of Eagle Rock waiting to be set ablaze. It's a bleak portrayal of the city Ellison made a career out of loving, but it doesn't have the same dystopian gut that made YOU'RE DEAD! or KUSO such effectively desolate odes to a beloved but doomed urban wasteland. It's nice to have Flying Lotus back, but FLAMAGRA ultimately evokes the bland endlessness of the valley more than it does the futuristic Hollywood character that makes the other four Flying Lotus full-lengths so opaque and untouchable. [Ted Davis]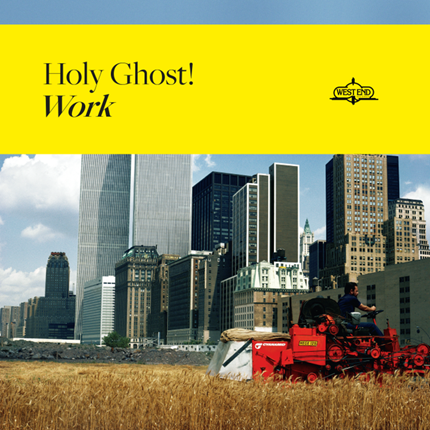 Holy Ghost! – WORK
Genre: Funk, Nu-Disco
Favorite Tracks: "Do This," "My Happy House," "Soon," "Slow Burn," "Escape From New York"
In spite of its unevenness, Holy Ghost!'s DYNAMICS offered us the New York dance wizard's best song: "Dumb Disco Ideas." The longest track in the group's catalog by a significant margin, the dizzying eight-minute workout represented, for a time, respite from the now short-lived post-LCD Soundsystem vacuum. DYNAMICS ultimately failed to deliver on whatever massive promise "Dumb Disco Ideas" offered; rather than focusing on marathon '80s dance video zaniness filtered through sweaty Brooklyn-bar late-night swarays, the duo held back, offering tracks where the vocals felt restrained behind shmaltzy synth tracks that lacked the valley-peak-valley volcanic explosiveness and, frankly, the slow-burn intensity but immediate satisfaction of "Dumb Disco Ideas."
Six years later, WORK is unquestionably a step up. It's an album that smooths over the clunky, unpolished nature of DYNAMICS while staying the course with a thick sheen of a West End Records vibing that they now wholly embrace. Though "Dumb Disco Ideas" continues to feel like warped, untapped potential with every passing release, the entire album at least somewhat strives to be more of a collective piece, with more fluid sequencing that plays out with a healthy amount of dancefloor interita. The two-part, six-minute opener "Epton on Broadway" features a slapping slow-build guitar and is the record's heaviest piece of piano funk, and it's a nice reintroduction to the group's inspired 1980s flair. "Anxious" certainly has some Donna Summer in its bones and "My Happy Place" cops a lot of Patrick Cowley's take-no-prisoners funk—both standalone highlights. The pendulum-swinging slap of the drums on "Soon" is another bright moment, with a post-chorus that bangs in its build like a take on "Call Me" by Blondie. And we even have a few tracks that capture the slick modern bop of the duo's earliest work, in particular the indifferent, attitude-driven performance of "Slow Burn" and the quick-hitting chorus of "Do This," where the group's love of hip hop certainly brightens the vocal delivery in a way that other dance producers would potentially slip. Closer "Escape From New York" is the closest thing to "Dumb Disco Ideas" we have on the album, a driving, seven-minute gear-turner that has some really satisfying peaks and sends the album out on an immensely high note. Even though some of this is clearly benign nu-disco goofiness that isn't going to hit with much impact (the two-track stretch of the ballad "Heaven Knows What" and bland folktronica riff "Nicky Buckingham" in particular is a rough hump early in the record), ultimately that's kind of what Holy Ghost! is attempting to create; in spite of the record mostly working as a collective whole, it nonetheless works as a collection of 45s to be used as fodder in vinyl bars and dance nights. While I miss the arguably more straightforward indie synthwave rushes they were so good at capturing on their debut, their slow descent into Pet Shop Boys' worship has resulted in something fun (if less impactful) on WORK. [CJ Simonson]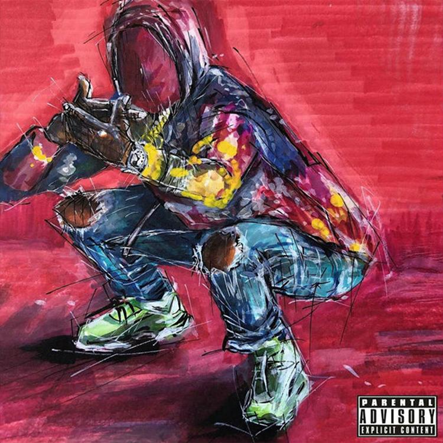 Westside Gunn – FLYGOD IS AN AWESOME GOD
Genre: East Coast Hip Hop
Favorite Tracks: "Jul 27th," "Sensational Sherri," "Thousand Shot Mac," "Pete Sake," "Lakers vs. Rockets"
Ad-libs are a wonderful thing. Some rappers make entire careers out of them, either in conjunction with actual rapping or just on their own. The problem is that Migos and Lil Jon have bombast or momentum to them, so the nonsense syllables and verbal pantomiming gets you hyped; the rappers seem so into their music that they can't stay silent for even a second. Westside Gunn, on the other hand, is a much more methodical, cold-blooded rapper, so the constant brrs and skrrts don't match the energy and lean into self-parody. The scratchy, Big Pun-esque throat clearing is different because it grabs your attention for particularly hard bars to come, yet it's hard to take otherwise menacing threats of violence seriously when you hear him imitating an explosion on the final hook of "Bautista" or machine-gun fire on "Lunchin" and "Birkin."
Outside of the overuse of ad-libs and a disappointingly shorter run-time than his previous album, FLYGOD IS AN AWESOME GOD is a pretty stellar rap record. It makes sense that Westside Gunn is one of the first rappers to get big out of Buffalo; his style is like a misshapen facsimile of classic New York hip hop, with cinematic yet understated splendor and soulful vocal loops contorted in unique ways or boiled down to their most minimal form. The looming drums and spikey, sustained synthesizers behind Raekwon filling the role of a street-wise mentor on the opener "Jul 27th" sets the mood perfectly for the youthful hedonism and quiet confidence of what follows. Other production highlights include the sparse, three-note piano melody that is allowed to stretch out and reverberate on "Sensational Sherri," the rise and fall of gospel swell on "Thousand Shot Mac," and the distorted guitar smolder, sandy organ, and rough-edged vocal sample of "Lakers and Rockets." Gunn's scrappy, junkyard dog temperament is the perfect fit for coke-dealing, gang violence, and opening a love song where he ushers "Come here, bitch" on "Dance Floor Love." His guest stars also hold their own in terms of bars, to the point where one of the best songs, "Pete Sake," does not feature Gunn at all as Conway the Machine and Benny the Butcher flex. Much like the rest of the record, it has little thematic ambition beyond cooking drugs and a lot of references to expensive brands that they make sure to mention are foreign, but there's a distinct charm to it between the sports references and skits of Andy Warhol being interviewed at a WWE event and Macho Man proposing to a girlfriend. The record's appeal is similar to that of Pusha-T, with a similar affinity for cocaine, the same magnetic swagger that frames all the flexing as fought and sacrificed for, and beats rooted in soul that branch out in unexpected directions. It's an AWESOME testament to Gunn and his Griselda label that makes you want to check out more from everyone involved, which is more than you can say for most label compilations, let alone stand-alone records. [Blake Michelle]