This year's New York Film Festival is markedly different. I'm usually distantly creeping on Tilda Swinton or Martin Scorsese in Alice Tully Hall at Lincoln Center, hundreds of feet away while they're on an out-of-reach red carpet reserved for the high-level patrons. Due to the pandemic, all attendees are equally at home, watching a virtual cinema feed from the NYFF website, the glitz gone with the exception of perhaps a glass of Pinot Noir or artisanal popcorn in a cereal bowl beside me. The anticipation of a film's festival premiere, coupled with the thrill of creators ingratiating us with newness, sometimes can gloss over the truth of a film's merit. Keeping these distractions in mind, I sat down to view ON THE ROCKS Wednesday night, Sofia Coppola's latest work, at its New York premiere on my couch. Without Coppola giving a Q&A, a Bill Murray sighting, or an audience of hundreds of adoring fans around me, I was left with only the film and a can of LaCroix. The result? A much more sober viewing of a sleek picture that, for all it's trying to say about love and marriage, ends up as a sad, shallow hangout movie with eye-roll inducing monologues from a misogynist. If it achieved anything, it's in the glittering aesthetic of a pre-pandemic New York energy, and a love letter to the iconic top-shelf clubs around Manhattan. It had me longing for the pre-pandemic life when you could drink a French 75 indoors without peril, but morally unfulfilled.
ON THE ROCKS is Sofia Coppola's seventh film, her second with Bill Murray, and her first starring a Black person, and she does not delve into the topic of race at all. Bill Murray and Rashida Jones play a formerly estranged father and daughter, who are reunited after Felix (Murray), a true cad and relic of 1960s masculinity, suspects Laura's (Jones) workaholic husband of cheating. To make matters more interesting, Felix takes Laura to several iconic New York drinking establishments to discuss the annals of her marriage, while elaborating why men are innate scoundrels dating back to the Stone Age. This premise sets up what should be some culture-clash hijinx to expose the truth of a cheating man, but what we get is an uneven narrative of a woman reckoning with middle age and a melancholy, "so what" sentiment. Did we really learn anything besides where you can get a good cocktail in the city?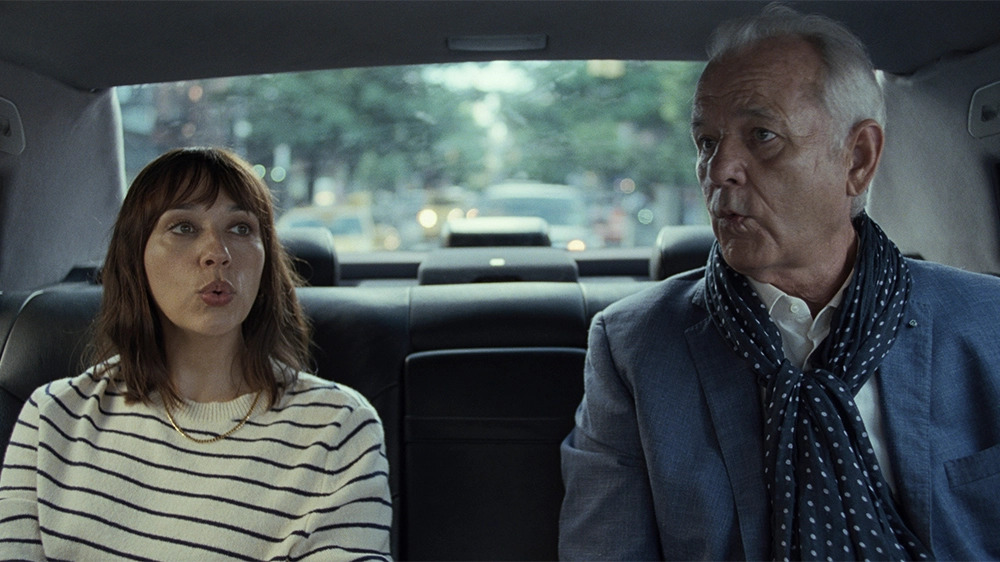 We are taken through Laura's monotonous life as a downtown Manhattan mom and uninspired author who has effectively fallen victim to persisting writers' block, grappling with her suspicions over her absent-minded husband not showing enough passion in their intimate moments. When Felix enters to save her from this routine, we're hoping for a Laura renaissance ushered in by a man of old world glamour. Perhaps he can empower his daughter to find herself. Unfortunately, this 20th-century relic of the male ego is written with an over-the-top chauvinism that pushes the viewer to the edge. He's much more of a malady than a salve for inspiration, and the two of them descend into an abyss of late-night drinks in joints from The Carlyle to The 21 Club.
While single versus domestic life can be an excellent mechanism to push forward personal development, like in Coppola's Academy Award winning LOST IN TRANSLATION, it doesn't work in this iteration of an urban meander like it did in the early 2000s. The way that ON THE ROCKS expresses the underlying emptiness of both married and single life doesn't present a true juxtaposition, and Bill Murray's Felix is unfortunately too flawed and unrealistic of a character to provide necessary comic relief. It's a tall order to ask for solutions for both the stagnation of Laura's writers' block and reigniting the love in her marriage from an indulgent absent father who's playfulness has a hard edge and selfish core. Laura doesn't evolve, knowing all along that her father is not the best mentor, and Felix remains the same privileged cad misogynist he always was. It's this thread of animus and lack of growth that tarnishes ON THE ROCKS and depletes its story: it's a fun premise in a frosty container.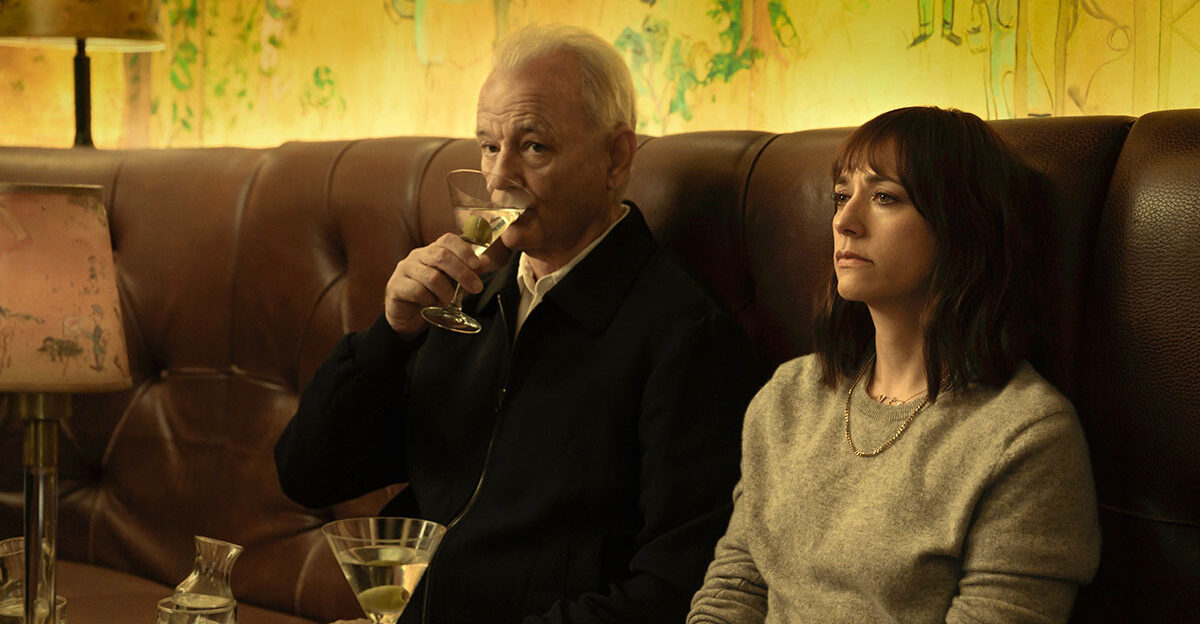 Each time Felix and Laura meet for a meal and cocktail, he regals her with some oral history about how terrible men are. By the third tale of male desire and the anthropological origins of man's reluctance towards monogamy (spoiler alert: it's not a primal instinct according to Felix), the viewer is a bit exhausted by his tangents. Once we weave our way towards the climax of the film, and the eventual reveal of the truth of Laura's marriage when she opts for confrontation, there's a feeling of unease no matter the result. Laura even tells her father in anger that no matter the ending, she has ruined her marriage. There are some sweet moments along the way, in particular the scenes that feature Laura's children, and the ending is not terribly sad nor happy; it just is. Perhaps because this followed her last achievement, THE BEGUILED, my expectations were too high.
The film achieves beautiful photography and a dream-like tableau of Manhattan as the beautiful, thriving collective it was pre-pandemic. Coppola does for New York what she did for Tokyo in LOST IN TRANSLATION, pairing a patient story with a kaleidoscopic survey of one of humanity's greatest outposts for nightlife and socializing. It made me yearn for those nights where I'd begrudgingly spend $15 on a gin cocktail at a Tribeca hotel bar, where perhaps I'd glimpse a celebrity or, better yet, just feel fancy myself, even if the drink wasn't worth the price of admission. Much like the last sip in an near-empty martini glass, ON THE ROCKS is a little sad, but hard to leave untouched. It's forgettable, but fine, and perhaps if I had the atmosphere of Lincoln Center and a martini actually in-hand I would have appreciated it for the chic aesthetics and forgiven its flaws.