After an original trilogy, a failed reboot series, and a new reboot in the MCU, the idea of yet another Spider-Man film hardly generates the amount of excitement it once did. The announcement of an animated Miles Morales film faced a mixed response, the notion of yet another origin story met with a shrug. Once the trailer dropped, however, SPIDER-MAN: INTO THE SPIDER-VERSE delivered a stunning showcase of a unique visual style that felt like a comic book come to life. The ambition of story that brings together a large number of Spider-Man heroes and villains was exciting, but also led to worry that, that in typical Sony fashion, they would bite off more than they could chew (i.e THE AMAZING SPIDER-MAN 2). Yet, against expectations, Sony's SPIDER-MAN: INTO THE SPIDER-VERSE delivers an exhilarating Spider-Man story with plenty of heart, stunning visuals, and some of the best superhero storytelling to date.
First and foremost, this film is a love letter to the Spider-Man mythos, bursting at the seams with various references, visual cues, and call backs to the legacy of Spider-Man, from the films, to the comics, and even the newest PS4 exclusive. Every frame is meticulously crafted to mimic the visual aesthetic of a comic panel, down to the word bubbles popping up through various actions. It's eye-candy galore and features some of the best designs of Spider-Man's iconic rogue gallery to date, with an especially menacing Kingpin at the forefront. But through all this technical mastery, the real heart and selling point is the script, finding a perfect blend of Phil Lord and Chris Miller's humor with the usual superhero flair.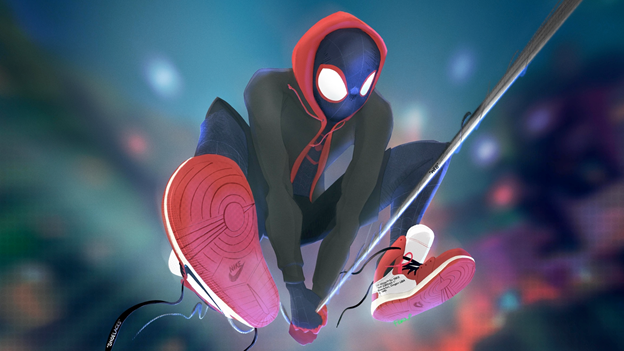 At the center of this Spider-Man is Miles Morales (voiced by Shameik Moore), a black and Latino youth who lives in Brooklyn. His father is forcing him to relocate to a school more fitting of his obvious intellect, much to the dismay of Miles, who is afraid of meeting those expectations, a struggle many viewers can relate to. This sort of common struggle is exactly why Spider-Man has remained so relevant and iconic. You can save the world, but at the end of the day still struggle to pay rent. This human focus is beautifully conveyed in the film's quieter moments, but is never lost when the punches and web zips start flying. Miles' journey from normal citizen to hero feels fresh and grounded, subverting the typical superhero origin story and instead becoming something instantly iconic. Although Miles and Peter B. Parker have different upbringings, the same theme of great responsibility coming with great power echoes true throughout the film. His relationship with his police officer father, Jefferson, is complicated, delivering some truly gut-wrenching moments. What's more, the film takes its time allowing its characters to develop rather than push them towards the visual spectacle of a finale. We see that Miles'life is complicated long before becoming a superhero. This kind of character development isn't only present in the heroes, but also in the villains, especially in Liev Schreiber's Kingpin. The Kingpin has his human justifications for his actions. He is physically terrifying, engulfing nearly the entire screen with his enormous body, but at the same time struggles with his own humanity, needing to fix a terrible wrong.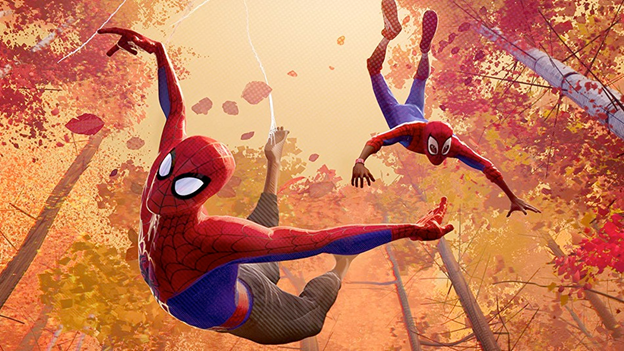 Although Miles is at the forefront, Peter B. Parker nearly steals the show. This Spider-Man is going through his own crisis, unsure if he is ready to be a father and meeting the expectations before him. The scenes between him and Miles are some of the film's strongest, most heartfelt moments. Whether it's comforting each other over a character's death, or simply learning the ropes of web-slinging, the chemistry between these characters is a treat to behold.

The other Spider-verse characters aren't too far behind. Spider-Gwen, voiced by Hailee Steinfeld, is commanding in her performance, delivering a strong first outing for her character, building anticipation for her own spin-off film. Other Spider characters include Spider-Man Noir, voiced by Nicolas Cage, who hilariously camps it up in a '50s serial throwback. The other standout, Spider-Ham, voiced by John Mulaney, will have audiences in tears with his hilarious homages to classic Looney Toons. The"weakest" character is Peni Parker, voiced by Kimiko Glenn, who isn't given the same attention when it comes to character development. Nonetheless, her character is instantly likeable and visually stunning in the various action sequences.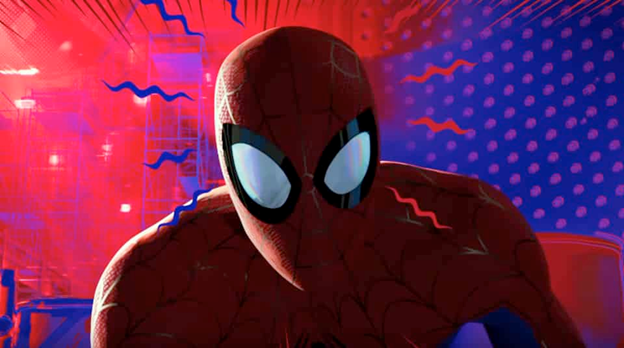 The story, structure, animation, characters, and homages to the legacy of Spider-Man make SPIDER-MAN: INTO THE SPIDER-VERSE a must-see. The film is fun from start to finish, but isn't afraid to get serious and heartfelt towards the final act. This is truly some of the best storytelling I have seen this year, effortlessly jumping from comedic, to serious, to horror, to fun all in one scene. This year has been the year of Spider-Man, with the release of the PS4 game, VENOM, and his (depressing) outing in Marvel's AVENGERS: INFINITY WAR. Somehow in a year crammed with various continuities and Spider-Man adventures, SPIDER-MAN:INTO THE SPIDER-VERSE is a rousing success that demands to be seen in a packed theater on the biggest screen possible.
SPIDER-MAN: INTO THE SPIDERVERSE is a love letter to the hard work and creative genius of Stan Lee and Steve Ditko. It encapsulates the themes of what it means to be Spider-Man, while also offering a uniquely fresh take on the character. For a film all about meeting expectations, it's fitting that at every corner the film has exceeded them. This isn't just a good Spider-Man movie, but very well could be up there with the best films of the year. Bring on the next one!