After last year's big splash with KINGDOM HEARTS 3, I wasn't sure what Square Enix could do to top the long-percolating franchise hype. And then, in May, Square dropped the mother of all announcements. FINAL FANTASY VII, one of the studio's most beloved games, would be completely remade. Crisp graphics, beautiful animation, and a reworked battle system were teased in an all-too-short initial trailer, and fans were left hungry for more.
It was fitting that Square Enix's conference had a WIZARD OF OZ theme. Green light bathed the pavilion in an emerald hue, and various gilded picture frames populated the screen, swirling with crackling storm clouds. It felt like we were finally getting a peak behind the curtain, and waited to be dazzled by the Wizard.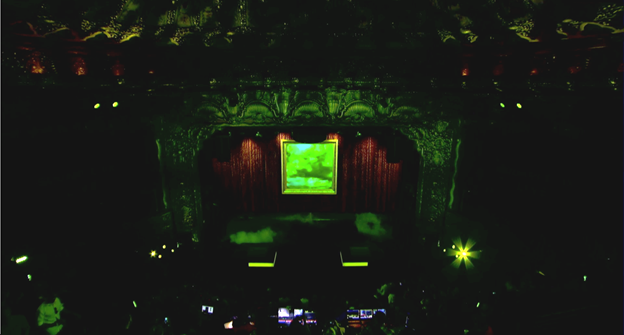 What wonders does Oz have in store for us?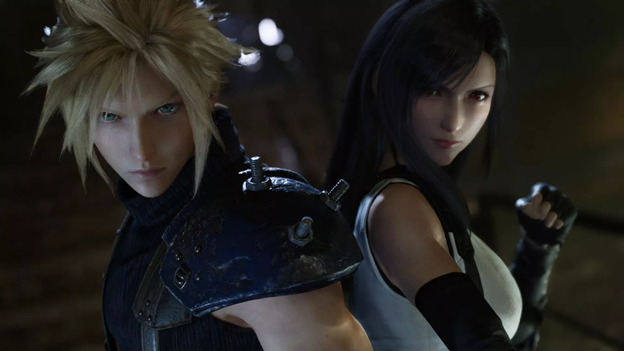 FINAL FANTASY VII: REMAKE
Hundreds of fans crammed into the room, eager for news about the studio's most anticipated title. So, Square indulged their audience, and led the conference with FINAL FANTASY VII. After two brief cinematic clips, the game's producer, Yoshinori Kitase, presented the game, alongside Square Enix USA representative, Neal Pabon.
Kitase promised two Blu-Ray discs worth of content, with the first disc telling a stand-alone story. Pabon then walked viewers through the gameplay, which has been completely revamped and reimagined. Combat uses the ATB system, which was described as a hybrid of real-time action with a command-based menu structure.
Gone are the days of turn-based fights, and I'm all too happy to wave goodbye. The ATB system is gorgeous and, well, easy. Although the subfolder structure of command-based combat can be daunting, Square assured that abilities will be able to be assigned shortcuts. Additionally, unlike in KINGDOM HEARTS, time will actually slow down during key moments in fights, allowing the player enough time to select their abilities and switch between characters.
Only Cloud and Barrett's combat was shown in full, but the full-length trailer debuted at this conference teased Tifa and Aerith's move sets. I'm a little concerned about the boss fights in this game, since the demo made them look really long. Both Cloud and Barrett's abilities didn't seem to do much damage, and it's unclear how much time a single fight would take, since the demo video jumps forward at a couple points in the battle. I wonder if FINAL FANTASY VII's going to attempt that "DARK SOULS" level of difficulty, but it's still too early to say.
Overall this game looks stunning, and I can't wait for the 03/03/20 release date. Special editions of the game will feature an audio disc of the soundtrack, and an exclusive Cloud figure astride a motorbike.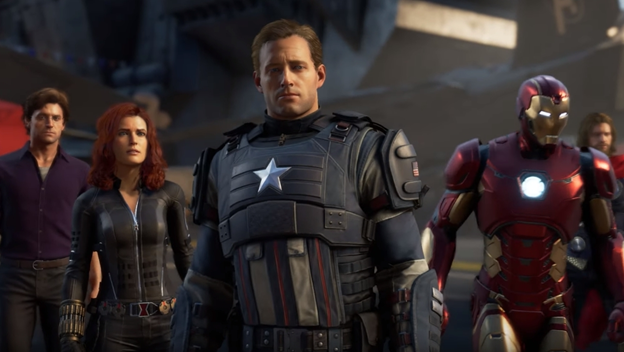 MARVEL'S AVENGERS
Now this game announcement was a mixed bag. Some like it, some hate it. I, for one, am solidly in the hype-camp, but I can see where this game rubs fans the wrong way. For starters, it doesn't quite have that MCU charm.
When we look at Captain America, we expect to see Chris Evans… or something close. But the likenesses bear little resemblance to their cinematic universe counterparts, and, at times, to the comic characters themselves. Tony Stark seems too young. Thor's face and costume were redesigned. And, as is heavily implied in the trailer, Captain America dies in the beginning of the game.
This is a bit of a slap in the face to players like me, who had hoped for game time as their favorite Avenger. However, I'm keeping an open mind considering we don't actually know what the combat and play-style of the game will be. It seems like it leans third-person shooter, reminiscent of the latest SPIDER-MAN game, but this is still just a guess, since no demo footage was shown.
Crystal Dynamics has done an excellent job making the graphics and the game look incredible, and I'm excited to see more in the coming months. I was also pleasantly surprised that, in an increasingly pay-to-play world, every new hero and region in this game will be patched in at no extra cost. There won't be any loot boxes or pay-to-win scenarios either, which is refreshing.
Online play—up to four per team—will be available, and MARVEL'S AVENGERS will release on PS4, Google Stadia, Xbox One, and PC on 05/15/20.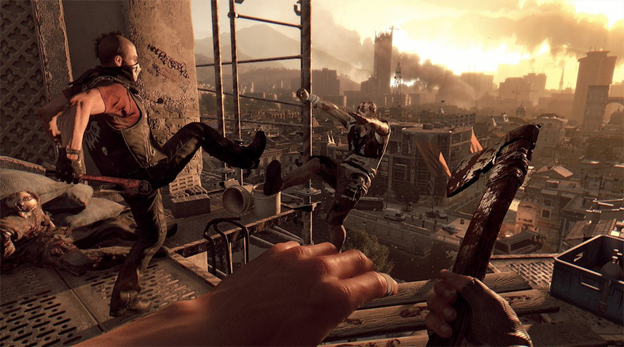 DYING LIGHT 2
This game almost didn't make it to E3, but thanks to Square Enix, we got to see a new trailer for this emo, apocalyptic sequel to 2015's DYING LIGHT. Set to the tone of one of my favorite songs—Metric's "Help I'm Alive"—DYING LIGHT 2 takes place 15 years after the events of the first game. We're thrust into a ruinous wasteland, full of crumbling buildings, plant overgrowth, and a whole lot of zombies and scavengers.
The world of the game is immersive—I know, you hear that a lot—but it's really gorgeous. The game changes entirely from day to night—enemies change, and your survival objectives become more urgent. It's tense, scary, and very atmospheric. Additionally, the MIRROR'S EDGE-inspired parkour mechanics make for some interesting combat interactions. I just loved the moment Aiden Caldwell das boots an enemy off of a high-rise.
DYING LIGHT 2 is poised for a Spring 2020 release, and will be available on Xbox One, PS4, and PC.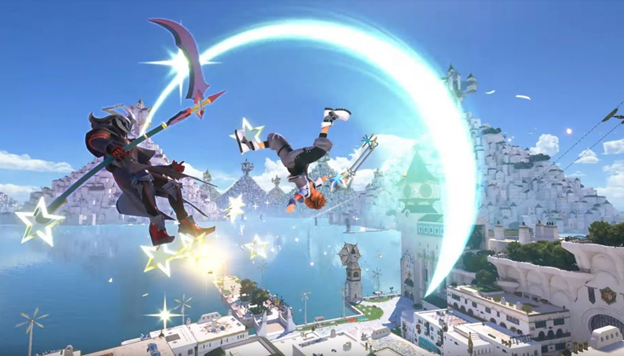 KINGDOM HEARTS 3 DLC: RE-MIND
Square Enix's presentation was frustratingly light when it came to new KINGDOM HEARTS 3 content. The trailer for this DLC came out before E3, at a symphonic concert event, and it created more questions than it answered. How big of a DLC is this going to be? Is it a tangent from the main narrative?
All we know is that you will be able to play as Aqua, Roxas, and Riku. It's unclear if you can choose who to battle as, or if it's just assigned to you as the gameplay dictates. Square also promised a "Winter 2019" release, but given KINGDOM HEARTS has a history of delayed development, it wouldn't surprise me if this ended up releasing in early 2020.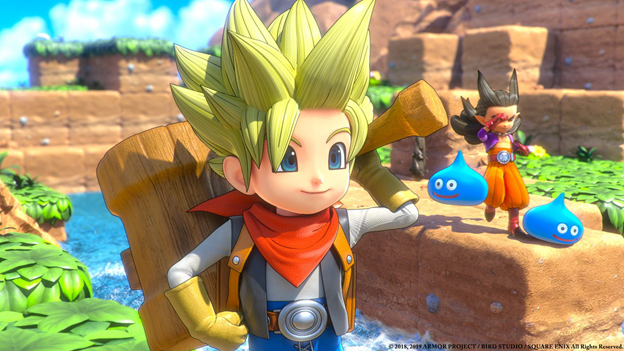 DRAGON QUEST BUILDERS 2
There wasn't much of a reaction to this game during the conference, but it looks really cute. The gameplay is reminiscent of HARVEST MOON and MINECRAFT, with an anime RPG storyline lifted straight out of THE LEGO MOVIE stitched onto the surface.
In a world where building, cooking, and creating anything is outlawed, an apprentice Master Builder ventures out into the blocky, square-shaped world to learn the craft and work towards defeating the evil Hargon. There's monsters, vehicles, and an open-world terrain at your fingertips, and you can even bypass the tedium of MINECRAFT by delegating jobs to NPCs.
DRAGON QUEST BUILDERS 2 is a fun twist on a familiar frame. It blends all of the elements rather well into a game that is both new and very, very recognizable. It leans towards younger players, and seems most suitable for kids, but it would land really well with fans of HARVEST MOON and STARDEW VALLEY.
DRAGON QUEST BUILDERS 2 releases on Nintendo Switch on 06/27/19.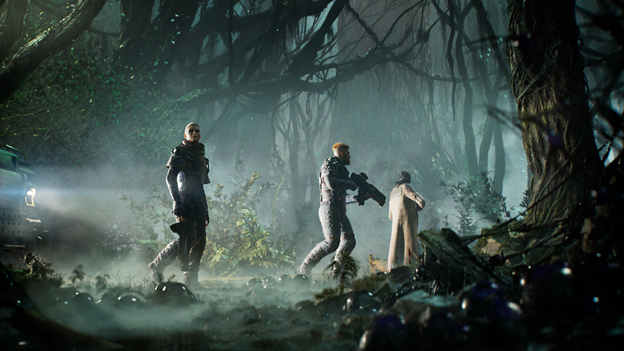 OUTRIDERS
Poland's People Can Fly has been busy since cutting ties with Epic Games. It's been six years since their last release, but it appears those years have been well-spent. OUTRIDERS is an original sci-fi shooter, in the vein of MAD MAX and ALIEN.
More information will be announced this winter, but we know this game will be co-op and a third-person shooter. The creatures, and especially the weapons, have a gorgeous, inspired fantasy-style design. Additionally, like BORDERLANDS and DESTINY, OUTRIDERS will incorporate custom character creation, special powers and abilities, and intense gunplay.
OUTRIDERS releases in 2020, and will launch on PS4, Xbox One, and PC.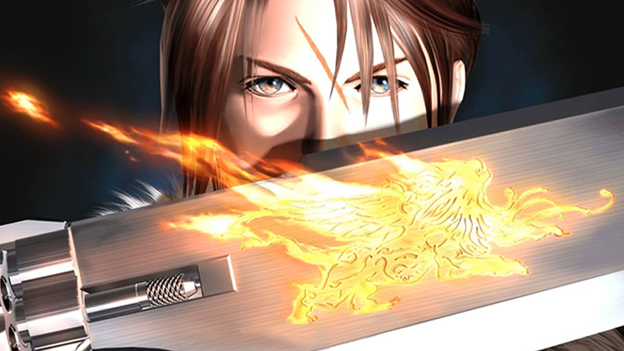 FINAL FANTASY VII: REMASTERED
It's not getting anywhere near the amount of love and attention its younger sibling is receiving, but Square Enix announced that FINAL FANTASY VIII will be remastered. Apart from a re-skin and some animation improvements, it's not expected this game is going to change too drastically, but the update does look significantly better.
I loved FINAL FANTASY VIII when I was younger. It had a really compelling romance, and I enjoyed Rinoa and Squall's journey through the game. However, this update isn't enough to sell me a copy, considering how flat FINAL FANTASY X's remaster felt. I just wish Square took the time to give both VIII and X the HD, beautifully animated treatment that VII got.
Maybe we'll get remake games in 2060. But for now, I guess we'll have to settle for "slightly-better than it was before."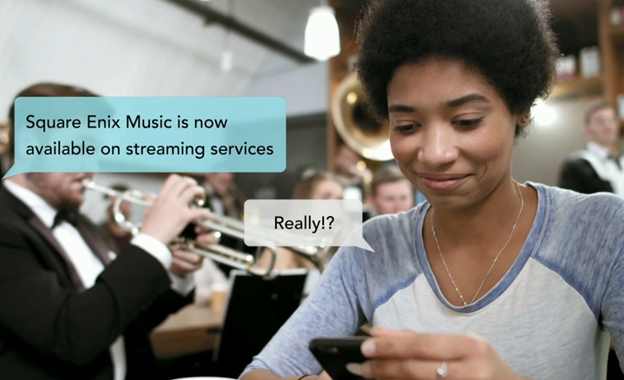 SQUARE ENIX MUSIC
As a closer, in some "what the fuck" news, Square Enix announced that they would be launching a music service, and would be making the FINAL FANTASY series soundtracks available for listening. As it will be available on multiple platforms, including Apple Music and Spotify, I'm not really sure why this even needed to be announced. They don't even appear to be orchestrating any of the songs… it looks like it's just straight game music.
Read our thoughts on Microsoft's conference here
Read our thoughts on Bethesda's conference here
Continue checking Merry-Go-Round Magazine for all of your E3 coverage