#NBATwitter is probably the only joyous part of Twitter at this point, if we're being totally transparent. And as a casual observer of the sport who loves drama and is on Twitter, it's hard not to be totally enraptured by the social media presence it's gained over the last decade. Part of that social media clout has been finding out who the real fans are—what celebrity types and artists are a fan of the sport. Which led to this: MGRM's Music NBA Preview of the 2019-2020 season, featuring everyone from Ben Frost and Charly Bliss' Sam Hendricks to Dave Hartley from the motherfucking War on Drugs. Hot takes! Bold claims! Some true, wide-eyed optimism from Knicks fan and Oso Oso frontman Jade Lilitri! While you're reading, go ahead and pop on this mix we made of all the artists in this piece! Go Suns!
Dan Campbell, The Wonder Years
It felt like a weird offseason for the Sixers. You don't usually come one errant bounce off the iron from going to the finals and then lose two of your starting five and actually feel just as good about the team (if not better) the following year, but here we are. We added Al Horford, so he's no longer on the Celtics to somehow magically always have Embiid's number. I also think that's going to make us one of the best defensive teams in the league.
Joel, Ben, and Tobias get another year together which is obviously good considering how few minutes they actually all got together last year to gel and I think losing Butler and JJ might actually benefit Tobias by giving him a more clearly defined role. I desperately wanted to just run the whole thing back, but since that wasn't a possibility, I'm pretty happy with where we ended up. Mostly though, I think I'll just miss TJ. Have fun in Indiana, sweet prince.
The Wonder Years latest album, SISTER CITIES, is available now.
Tucker Halpern, SOFI TUKKER
I think the Celtics are going to surprise the East. I know it's not a full surprise because the Celtics are the Celtics, but with Hayward apparently looking back to himself (finally) and the young guys getting more mature playing this summer for Team USA, I think we're going to be a tough out for anyone, especially since Kawhi went back to the West. Also we have the best coach in the land, Mr. Brad Stevens (don't @ me on that, its true). Also I now live in LA, so it's an admittedly super exciting place to be as a huge NBA fan right now, but I'll be wearing my Paul Pierce jersey in Staples for sure when the Celts come to town (praying I'll be off tour, need to look at schedule ASAP).
SOFI TUKKER's latest album TREEHOUSE is available now.
Matt Tanner, Pro Teens
I think the Suns are going to surprise a lot of people. Anybody watching last year saw how much we needed a pass-first point guard, and we went and got THE pass-first point guard. I've wanted to see Rubio in a Suns uniform since 2009, I'm so hyped. I think TJ Warren is going to make the all-star team out East.
Josh Jackson isn't going to stay in the G-league for long.
Dragan Bender is going to work his way into a rotation spot with Milwaukee. We gave up too soon on all of those guys.
Sixers take the East. West is crazy, I could see somebody out of left-field, like Portland, winning. I still think the Warriors are the team to beat.
I don't think the national media is ready for how good Devin Booker is going to be. When he finally got all-the-way healthy last year, he was carrying THAT team to wins v. Milwaukee, a win in Oakland, a win in Denver, etc. Lost on a Siakam buzzer beater in Toronto. I think he's better at basketball than even I realize; I think his career will eclipse James Harden's when he's all done.
Check out our coverage of Pro Teen's excellent new album, TWOS, here.
Jade Lilitri, Oso Oso
Okay Knicks fans. Dare I say this is the most excited I have been about the Knicks since the "f*ck the play, throw up a three-ball" 2012 team. To be clear: We are not a playoff team. But for the first time in a long time, I think we will get to see the fruits of our labor and patience come to fruition. We've got a coach I've liked since he was on the bench in Miami, and this year we can really see him coach and not just kinda test out rotations and silently tank (we all know what was going on there). We finally have a solid young core, and with RJ as the centerpiece, I think we can let players like Kevin Knox and Dennis Smith Jr. find valuable roles where they fit the team best and grow as players and flourish. We've got some shiny new pieces in solid short-term contracts (I like Julius Randle, and I truly think Bobby Portis is going to ball out). What I'm most excited for, though, aside from RJ, is to see the development of Mitchell Robinson and Allonzo Trier, two absolute steals. Like I said, are we a playoff team? Unlikely. But all I want to see is some moments, please just give me moments. Moments where you are absolutely reassured this team is on the right track. Maybe some big time Garden wins (lookin at you 76ers and Brooklyn). Some big DSJ dunks, couple of block parties from Mitch. It's going to be fun. Above all else I hope our young guys stay healthy. I think 30+ wins in a decently balanced league would be something to celebrate.
Anyways, Clippers vs. Bucks finals. Clippers in six and then Kawhi rockets to a god-tier level of superstardom Stephen Curry could never fathom. See me next July—if I'm right, Merry-Go-Round Magazine owes me a coffee, if I'm wrong, coffee's on me. *Drops Mic*
Check out our review of Oso Oso's excellent new album, BASKING IN THE GLOW here. 
Ben Frost
Harden/Westbrook running the seven-second offense in Texas is the stuff dreams are made of. And Russ looks happy down there, which I'd like to think makes him an even more dangerous player.
Anyone underestimating the new Blazers lineup does so at their peril.
Ben Frost's DARK: CYCLE 1 and CYCLE 2 are available digitally now. 
Dave Hartley, The War on Drugs / Nightlands
The thing that I love most is that the Sixers are the most interesting team in the NBA. We have the truest personality in the league and are one of the only teams supersizing their roster as everyone falls in love with the long ball. I'm not totally sure how we are going to score late in games, but I am even less sure how opposing teams are going to score on our incredible-looking defense. Ben Simmons erased D'Angelo Russell last year, just decided he wasn't going to be good anymore and it was over. Embiid is one of the five best defenders in the entire league. Josh Richardson is a top-tier perimeter defender. Al Horford is certainly one of the smartest defenders in the association (and one of the few guys who gave Embiid problems), now he's ours. We also drafted a guy who is already getting hyped as a defensive player of the year candidate in Thybull. I'm really excited to watch us bully teams on defense. I think we are really going to miss Jimmy Butler, though, and giving Tobias Harris a max deal is really just one of those things that I suppose "you have to do" given what we traded to get him—but did we really have to do it? He's so average. He's a solid rotation player on a contender, that's about it. He can't score in isolation, he's below average defensively. He can shoot, I guess? Sure, give him nearly 200 million. Talk about a golden parachute.
Follow Dave Hartley on Twitter and check out his excellent 2017 release I CAN FEEL THE NIGHT AROUND ME.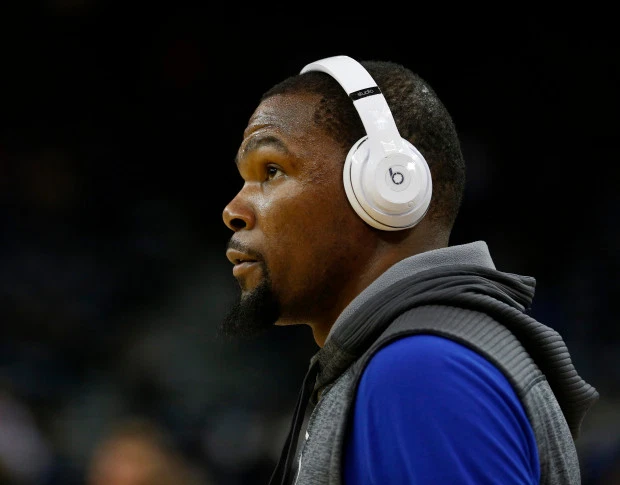 KD is listening to the Spotify mix we made of all these artists! Get better soon, KD
Jason Hawk Harris
Chris Paul is going to remind everyone that he's still the best pure point guard in the game by taking OKC to the playoffs. There's a reason Chris Paul didn't demand a trade from the small market immediately after being traded from Houston: their roster is a perfect fit for a ball-dominant pure point guard. They'll be a lot better than everyone thinks. Bravo Sam Presti.
The Clippers might have the best defensive backcourt of all time in Paul George, Kawhi Leonard, and Pat Beverly. Watching them suffocate opposing back courts is going to be exhilarating or rage-inducing depending on whether it's your team they're guarding.
I'm excited to see Luka Doncic and Porzingis play together. Doncic should enter superstar status either this year or next year. Everyone talks about James Harden's step-back jumper as being unstoppable, and it is, but Doncic's is just as good, and will be better once he starts shooting it with the same frequency Harden does.
Speaking of James Harden, he's going to have another monster season, and I don't think it's crazy to think he'll average even more points per game this season than the 35 he averaged last season. If Russell Westbrook buys in to playing sidekick to James Harden, the Rockets will be in the finals. If he doesn't, the Rockets will implode and signal the end of the Daryl Morey era in Houston.
MVP: Giannis Anteto
ROY: Cam Reddish
MIP: Jason Tatum
DPOY: Rudy Gobert
COY: Steve Kerr
Western Conference Finals: Rockets vs. Clippers
Eastern Conference Finals: Bucks vs. 76ers
Finals: Bucks vs. Clippers
Champion: Bucks
Check out our profile of Jason Hawk Harris and his excellent new album LOVE & THE DARK here.
Tré Hester, Wild Pink
Given the fact that I'm a Florida kid, I'm excited to see what what Markelle Fultz will bring to the Orlando Magic after his short stint with the Philadelphia 76ers—he was the number one overall pick but is now with us a year later.
Wild Pink's latest album YOLK IN THE FUR came in at #30 on our best albums of 2018. Check out that list here.
Jamison Issak, Teen Daze
Here's my fire take for the upcoming season: The Raptors losing Kawhi is a plus. Any sort of talk I've heard about the upcoming season focuses on all the shiny and obvious things (how insane the West is, will Alex Caruso grow his stache back, etc), but people: The returning champs are STILL GOOD. Lowry had the best season of his career, the spice lord Spicey P was easily MIP, Serge is a top five best-dressed player in the NBA, Freddy VV stared up KD in the finals; I could go on and on. Besides, the Raptors need to be underdogs. Anyways, all of this is to say: don't count the raps out just yet. Let Kawhi go do his thing in LA, we'll be just fine.
Teen Daze's latest album BIOLUMINESCENCE is available now.   
Sam Hendricks, Charly Bliss
I love what the NBA landscape looks like right now. Not only is everything wide open at the top, but there are also some really talented young teams like the Hawks and Pelicans that are going to be really fun to watch. My unbiased championship prediction is Clippers in six over the 76ers, but my biased prediction is that the Nets will go 82-0 and win it all.
I've been a diehard Nets fan for about 20 years now and I haven't been this excited about our team since the early Jason Kidd years. The culture that's being built in Brooklyn is something special and I'm in awe of the job Sean Marks and Kenny Atkinson have done to turn the franchise around. We're going to be a lot scarier than people think this year, even without KD. Let's go Nets.
Check out our review of Charly Bliss's excellent new album, YOUNG ENOUGH, here.
Ryan McKinley, Pkew Pkew Pkew
We're more of a football band, but Mike and I hopped on the Raptors bandwagon last year, even though we've both lived in Toronto for like 10 years. Here's my warm take: I think the Raptors will still be a top-four seed in the East and Spicy P will be in the MVP discussion. They'll also lose in the first round of the playoffs.
Pkew Pkew Pkew's latest album OPTIMAL LIFESTYLE is available now.
Evan Benoit, Happy Just To See You
The Celtics are fun again! Kemba Walker already looks like a good addition. If Jaylen and Jayson ball out the Celtics could reach the Eastern Conference Finals… I hope? The new class of rookies look promising in many ways—they're athletic, they're sharp shooters, they're team-first guys with really good attitudes. It's going to be so fun watching them grow and galvanize around strong leadership from Smart and Walker. Lack of defensive bigs could be the only real weakness this team has. Losing Al was tough (I'll always love you Horf!) and Kanter is not exactly known for his stellar defense (aside from being a rebound machine). Hopefully Timelord can start getting more familiar with the system and become a crucial big. Time will tell! Until then Marcus Smart can and WILL defend anybody.
Check out our coverage of Happy Just To See You's excellent self-titled debut here.