From the minute we meet Fran Rogowski's Tomas in Ira Sachs' PASSAGES, he's a wolf in twink's clothing. Tomas manipulates his actor with an impassioned force—similar to how he treats his romantic partners. "It's not that you have to come down the staircase, it's that you want to come down the staircase," he barks, directing what seems to be a cliché and overly stylized film (also called "PASSAGES"). As we learn more about Tomas' egotistical emotional life, it's easy to imagine him using that direction on his husband Martin (Ben Whishaw) and girlfriend Agathe (Adèle Exarchopolos): It's not that you have to love me, it's that you want to love me. Tomas believes that he has control over what his lovers think, say, and do, like they're his actors, but he has another thing coming.
Tomas is a gaping, frayed nerve begging to be loved, constantly making decisions that will make loving him near impossible. He is wheedling, insecure, impulsive, untrustworthy, and selfish. He is a sexual opportunist. Always the victim, Tomas tells Martin that he slept with a woman, and then immediately follows that bomb up with the question "Are you mad at me?" as if anger would be an unreasonable reaction to his infidelity. Tomas is somehow totally blind to the feelings of others, yet hyper-aware of how to exploit those feelings; he knows exactly when to drop what piece of information—and exactly what to omit—in order to keep Martin and Agathe around. Who is he without someone nearby to love him?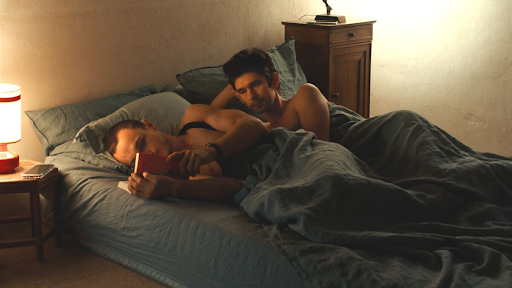 If Tomas were without his appeal, then it would be a lot easier for Martin and Agathe to be indifferent toward his advances. Like most "toxic" guys, Tomas is equally as charismatic as he is pernicious; he has a piercing gaze, he's caustically funny, and he's passionate about his artistic pursuits. That's not even mentioning his most temptingly magnetic quality—his dexterity in the sack. It is a truth universally acknowledged that emotionally unstable guys are better at fucking than stable ones, and sex is always more fun when it's a little bit wrong. Tomas uses his sexual magnetism to his advantage, able to convince both himself and his lovers that sexual chemistry is an adequate substitute for a reliable, sustainable, trustworthy relationship. In other words, the exact kind of relationship he is incapable of.
Take, for example, the scene in which Tomas is set to meet Agathe's parents, after she has announced her pregnancy. Tomas shows up late, unshowered, having spent the night with Martin. When Tomas takes off his coat, he reveals last night's tight mesh crop top and baggy animal print pants (the aforementioned twink's clothing). This is not the kind of man you want to knock up your daughter, never mind the fact that he was married to a man before. If he can't show up to meet the parents on time, then what else won't he show up for? 
The catharsis of PASSAGES can be found not in Tomas' growth, which never comes, but in the growth of those around him who learn to live healed lives without him, no matter how painful. By the end of PASSAGES, we are in a monster movie, rooting for Agathe in the same way we root for Sally at the end of THE TEXAS CHAINSAW MASSACRE. "Run!" we want to scream when Tomas shows up at her elementary school teaching job to beg for her forgiveness, hands jumping up to shield eyeballs. Sally lives to the end of TEXAS CHAINSAW, fleeing in the back of a pickup truck… Will Agathe and Martin live to see the end of PASSAGES? 
PASSAGES never explains itself, it just is. As far as we know, Tomas isn't "toxic" because his parents didn't love him properly, or because of an early childhood traumatic event, or for any other reason. There is no "I can fix him" sob story to backup Tomas' many betrayals. Tomas is a selfish asshole because he's a selfish asshole, and PASSAGES doesn't tell us that with blaring neon signs because it doesn't have to. The consequences of Tomas' actions speak for themselves. Critics and the MUBI marketing team have worn out their thesauruses looking up other terms for "erotic" to describe PASSAGES—steamy, sensual, arousing—but those words largely miss the character study of the sad, deeply lonely narcissist at PASSAGES' core.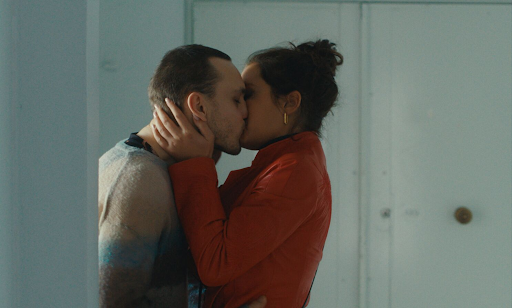 A word on the sex scenes: the film was given an NC-17 rating by the squares at the MPA (fka, the MPAA), most likely for a sex scene between Tomas and Martin (with Martin on top, which was an unexpected, but telling, touch). Their lovemaking is both a reunion and a goodbye. The scene is, yes, erotic, and well choreographed, but it in no way warrants an NC-17 rating; if the scene in question were between a man and a woman, there is no doubt in my mind that PASSAGES would be rated R, no matter how many times the MPA denies their homophobia. There's very little male nudity, and barely any titties at all. We are hardly talking about BLUE IS THE WARMEST COLOR levels of sexually explicit content, the film for which Adèle Exarchopolos is probably best known. Another NC-17 queer erotic film, BLUE famously carries a lot of baggage, but it made a lot of money, proving that audiences can handle more than a little steam in their cinema. 
The rating has helped and hurt the movie; an NC-17 notoriously makes U.S. distribution more difficult, but an NC-17 is also undeniably sexy. Make a movie more difficult to see on the basis of sexual content, and horny cinephiles will seek it out even harder. Luckily for the film's chances at the box office, MUBI was able to slap on an "Unrated" label. Director Ira Sachs slammed the MPA's decision as "censorship" in IndieWire. "It's so 1950s that this still exists," Sachs said, and I have to agree. PASSAGES' undeserved NC-17 is another sign of the creatively puritanical times.
Why am I so drawn to movies about terrible people ruining their lives and the lives of the people who love them? Amad (Erwan Kepoa Falé), Martin's novelist friend and eventual lover, is the only character who consistently sees Tomas for who he truly is, probably because he's not wearing the rose-colored love lenses. Amad warns Martin about the spiral of misery he will face if he goes back to Tomas, and he's totally correct. Even before Tomas and Martin's split, Tomas is jealous of Amad, most likely because he can sense that Amad is intuitive, creative, and emotionally intelligent in ways that he is not. Amad seems like a great lover, and while his character is insightful—and magnetic in his own ways—I'm glad that Sachs opted to mine his vices, rather than his virtues.