Welcome to Hard Time Blues: The World of Pro Wrestling from Merry-Go-Round Magazine! It's a great time to get into professional wrestling. In each Hard Time Blues feature, MGRM contributors Luke Phillips and Max Flynn will be exploring the wild, weird, and wooly world of the squared circle, and all of the angles, feuds, gossip, and evil wizards therein.
This week, they'll be recapping WWE's recent Hell in a Cell premium live event (WWE parlance for their monthly pay-per-view style specials on Peacock) as well as the following episode of RAW on Monday night.
WWE is at a crossroads. While still far and away the #1 promotion in the entire pro wrestling landscape and a profitable global brand, the nearly two decades-long monopolistic stranglehold they had on the North American pro wrestling industry is starting to wane. Stiff competition from the upstart AEW as a WCW-esque alternative brand, as well as a litany of post-pandemic cuts that saw nearly half of their roster let go, has led to backstage creative and morale lows, dwindled ratings and live event attendance, and a dearth of general mainstream interest.
Despite this turbulence, there have been several new interesting and intertwining storylines, angles, and evergreen backstage drama developing in WWE post-Wrestlemania (generally a time when WWE proverbially hits "reset.") Most interestingly, this year's WRESTLEMANIA 38 featured the much discussed return of Cody Rhodes to the WWE fold.
Son of the legendary Dusty Rhodes (whose "Hard Times" promo this very column is named after), Cody is one of the most fascinating figures in modern pro wrestling. Without delving into too many roads/Rhodes puns, literally and hyperbolically all roads lead to Cody in the last decade of wrestling. Dusty's youngest son, and brother of fellow wrestler Dustin Rhodes/Goldust, Cody wrestled for WWE for a decade, between 2006-2016. Never featured as anything more than a midcard performer, and with growing creative frustration, Cody acrimoniously left WWE and began establishing himself on the independent wrestling circuit, eventually wrestling for the likes of TNA, Ring of Honor, and Japan's NJPW, where he was a member of the villainous American-style wrestling faction Bullet Club. 
In 2019, Cody was one of the founders of All Elite Wrestling, a partnership with billionaire scion Tony Khan and Cody's Bullet Club stablemates The Elite (a sub-faction within Bullet Club that consisted of Kenny Omega and tag team the Young Bucks—Matt and Nick Jackson.) Rhodes, Omega, and the Jacksons served as Executive Vice Presidents at AEW and had a major hand in backstage creative, while Tony Khan oversaw operations as owner and head booker. For the first two years of AEW's existence, Cody was far and away the face of the brand, and built on his indie wrestling following and accolades by developing angles and storylines where he frequently bled, took risk-taking high spots, and indulged in his eccentricities (Cody famously stipulated that if he were to lose his title opportunity at AEW's FULL GEAR pay-per-view, he would never challenge for the AEW World Championship again – he then proceeded to lose and shut himself out of title contention.) 
In 2020, Cody not only debuted a contentious new neck tattoo featuring his American Nightmare logo, but was also the inaugural TNT Title holder at AEW, establishing the belt with a famous run where he held weekly open challenges for a variety of diverse opponents from AEW's roster and beyond. Cody would go on to win the TNT title a record three times. Amidst a rollercoaster 2021 that saw Cody shift focus to his commitments co-hosting the GO-BIG SHOW game show and co-starring in the reality TV series RHODES TO THE TOP with his wife Brandi, while also taking some time off after the birth of their first child. Cody's AEW storylines in 2021 were not as well received as his previous years in the company, and his status with fans and crowds began to wane, with some audiences beginning to boo and jeer him outright by the end of the year. Cody's often loopy, indulgent promo style and his insistence to not "go heel" and develop a villainous persona didn't help matters. 
Earlier this year, Cody's AEW contract expired, and much to the shock of the pro wrestling industry, he decided to step down from AEW and his role as EVP in March, taking Brandi with him. For the next month, rumors swirled that Cody was imminently going to re-debut for WWE at WRESTLEMANIA 38, which turned out to be true when he was the surprise "mystery opponent" for Seth Rollins. Cody retained his "American Nightmare" gimmick from AEW and saw a rapturous response from fans, defeating Rollins in a marquee match of the weekend. In the months since Cody's return to WWE, he has established himself as the next "top guy" in the promotion, giving promos with the stated intention of becoming the next undisputed WWE world champion and winning the belt that eluded even his father—the most high profile title in all professional wrestling. Sunday night's Hell in a Cell premium live event featured Cody and Rollins' third bout as its main event, in the titular steel cage. Shortly before their match, it was announced that Cody had a torn pectoral muscle that would require surgery, though he still wrestled the match in a gutsy performance that received critical accolades from across the wrestling sphere. During the match, Cody had a visible internal contusion bruise that was viscerally disturbing to watch but also immeasurably added an imminently compelling element to the match, which Cody won, essentially with a handicap.
Cody Rhodes vs Seth "Freakin" Rollins
Hell in a Cell Match 
Luke Phillips: In terms of WWE premium live events—as far as those go—I think this was an above-average one.
Maxwell Flynn: I think so too! I would put this one up with Night 1 of Wrestlemania, as far as top to bottom entertainment.
LP: I don't think there were any outright bad matches.
MF: No! Not at all. There were some matches I didn't care for for various reasons, but we'll get into that.
LP: Obviously, this was Cody Rhodes' pay-per-view—the first PPV where WWE is really pushing Cody as the top guy. He was featured on all the marketing materials and main evented the show. Cody is such a key, integral figure in wrestling—in some ways the PROTAGONIST of pro wrestling (apologies to Kidd Bandit!). Cody going from being the face and ace of AEW, to debuting at Wrestlemania, going back to WWE, and positioning himself in promos and backstage as the next top guy—the guy who wants to bring back the classic World Heavyweight Championship to honor his family name. Cody being a huge wrestling nerd himself – someone who deeply CARES about holding that title is a huge factor too. I think Cody even said he wants to bring back the classic "winged eagle" style WWF belt.
MF: Honestly, that's badass! It makes me 100% more behind Cody than I already was.
LP: He's been super over with the crowds, and they've been making a point to mention in promos how hot the audience is for Cody. It seems like all signs are pointing to him being the one to take the championship off Roman Reigns [currently the undisputed world champion in WWE and cousin of The Rock.] That being said, that dovetails with the fact that every top guy in wrestling right now is injured. [Practically every champion at every major promotion Stateside is out with injury, including the newly crowned AEW World Heavyweight Champion CM Punk and NWA/Impact/Cody's best friend Matt Cardona.]
MF: A monkey's paw must have happened!
LP: A true monkey's paw, or else Cody's 4D chess wrestling mind just saw that Punk and Cardona were injured and decided to work shoot an injury himself.
MF: I was wondering about this, because I don't know if the "partial injury due to a brawl with Seth Rollins" is purely kayfabe or not, because how do you work out so hard that you tear your pec off the bone? Like, calm down a little bit, bro! A lot of people were saying his bruise was makeup and we were all getting worked. I don't think that's true. The bruising was too good.
LP: That can't be true either. It was too gnarly! I think everyone's thinking they're getting worked right now post-MJF's 4th wall breaking "pipebomb" promo on AEW Dynamite last week. Any way you slice it, Cody wrestling that match in the condition he was in is insane. Even the presentation of it—taking off his "Codylander" gear in the ring to reveal his bruise was gnarly. He looked like Siegfried from SOUL CALIBER after getting possessed by Soul Edge.
MF: Given the circumstances of the match, I have to put it in my Top Five matches of the year, to be honest. The changes they had to make to the match due to the injury, and the way they had to shift it so that Cody could still compete and tell the story of that match, without having to do much literal heavy lifting, is really fascinating to me.
LP: It's easily a match of the year candidate. And they went for 24 minutes!
MF: Blew me away! And he was taking bumps on that side of his body, and Seth was working the injury. He did everything but any actual heavy lifting.
LP: God, the spot with the sledgehammer. Obviously Seth and him have been teasing which of the two of them deserve Triple H's love, or whatever. Who Triple H's real son is. I loved the finish with the Sledghammer and Cody hitting the Pedigree earlier in the match. The tease of him even attempting to lift the sledgehammer with his injury popped me.
MF: Do you think it was a worked sledgehammer? 
LP: I assume everything is worked.
MF: I think maybe that one might have been a foam mallet, to help him pick it up.
LP: Either way, kayfabe sledgehammer or not, just the fact that Cody was taking bumps throughout the match was impressive. In a CM Punk-esque way, I couldn't tell when Cody was selling or just for shoot in extreme pain. It had to have still sucked to wrestle that match. But wow, talk about suffering for your art. I was pretty blown away. Meltzer called it "one of the most compelling matches in pro wrestling history." It's instantly one of the greatest matches of the modern era. I see a lot of negative chatter online right now and people trying to pooh-pooh it, but I think this is a situation where you really just gotta hand it to 'em.
MF: If you're saying bad things about that match, you're just being a hater. The only complaint you could have is "maybe he shouldn't have done that, he's kind of dumb."
LP: I've seen people say it was irresponsible for WWE to have allowed Cody to wrestle the match.
MF: I 100% believe this was purely Cody's decision. WWE were probably like "you don't have to do this."
LP: I don't think for a minute that Cody didn't make the decision himself to wrestle the PPV. WWE have pulled wrestlers before for less. Cody is also fucking insane! He has no fear and is constantly trying to kill himself in spots. He fucking loves to bleed. He's not allowed to bleed in WWE so this motherfucker gave himself a contusion and wrestled a match bleeding internally!
MF: He was covered in blood on the inside.
LP: It made it a crazy GROSS Cody Rhodes match due to pure happenstance. I'm really interested in how that match was going to play out or what the structure of it would be had that not happened.
MF: I loved the Crossrhodes spots in this match. When Seth hit one on him, and then Cody immediately popped up and hit two more on Seth, that was so sick.
LP: There were so many considered and good spots in this match. I loved Cody pulling out the bullrope.
MF: The bullrope was unexpected! A great callback to his family history. It makes me wonder if that was always in the match… Given the situation, I figured they wouldn't leave the cage. Most Hell in A Cell's leave the cage at some point. The commentary was putting Cody over super hard. At one point, Corey Graves said "I've never seen a WWE Superstar do what Cody Rhodes is doing right now," and it put him over as next level. I think this storyline and that match has now put him on the level of Roman Reigns—I think it's ultimately great that he accomplished what he did and wrestled the match.
LP: I think Cody's matches in WWE since his return have all been no less than very good, but tonight was his first truly great, definitive match since he came back. This is the match that proves why he IS the next guy. Seth Rollins is basically the most executive suite enhancement talent you could ask for. Kudos to Seth for being able to wrestle around Cody like that and work as well as he possibly could in that situation. He was quarterbacking the whole match really.
MF: Tanahashi wrestled with a torn bicep for a while. He was also doing maniac shit, skinning the cat with a torn bicep and shit. It's just like, "why are you doing that??"
LP: You were saying how Corey was putting Cody over. I'm not the biggest Graves guy, but he was putting in some work yesterday.
MF: Even if it was just Vince feeding things into his ear, it still made it clear that WWE are VERY behind Cody.
LP: It for sure made me feel like WWE brass are very confident in Cody. There was that incredible line at the end of the match where Graves said "a fallen angel with a broken wing descended into Hell and went to battle with the Devil himself." That type of purple phrasing works so well with Cody—pardon the pun, since Cody was literally purple last night.
MF: That statement also puts over Seth Rollins! Calling him The Devil Himself. People have been talking about how Seth Rollins has lost three times clean to Cody, but he's not losing any rub for it.
LP: If anything it just makes him have even more of a justification to be a crazed Da Joker Baby heel. That's the one thing about this entire angle I can't jibe with. I'd assume Rollins acting like the Joker is an edict coming top down from WWE execs, I don't necessarily think it's his fault he has to talk like that, unless they're giving him some leash and that's just what he's coming up with. It's not good. I think him being a swaggy guy as a gimmick is fine. A swaggy Armenian guy. Him acting like The Joker is so much worse and it's so weird. He acts like a TWIN PEAKS antagonist—and not the ones who are literally demons. Specifically the weird old men.
MF: The ones where there's no explanation for why they act that way!
LP: It's just the mystical robbed Native American land voodoo of the town. I think Rollins' Joker act kind of works in the context of the Cody feud works, but only because he works as like the evil supervillain antagonist to Cody's superhero.
MF: Until you brought up that he was acting like the Joker, I just thought he was being an awkward former scene kid who slam danced. He used to slam dance to the ring all the time and I thought the Joker dancing was an extension of him awkwardly punk dancing. It makes more sense in the Heath Ledger or Joaquin Phoenix Joker context.
LP: For ill, Heath Ledger's portrayal of the Joker has had a pervasive but almost uniformly negative influence on pro wrestler's mannerisms and promos. But Cody makes a great superhero. I think that's how Cody should be portrayed as a character. That archetype of wrestler—the larger than life Hulk Hogan-esque superhero type character—is something that WWE has been consciously pushing away from for the last couple decades. Cena still kind of had that presentation, but his gimmick was that he was a white rapper. And for shoot, he's one of the greatest white rappers of all time. It's especially interesting that Cody can so perfectly take up the mantle of that larger than life top guy. 
MF: Which is interesting, because Roman Reigns is also a larger than life guy, but in a completely different style. Roman Reigns is like the 2000s X-Men movies with the all-black leather suits.
LP: Roman Reigns is Shadow the Hedgehog. I think Roman works that way because he's definitively portrayed as a heel now.
MF: Cody Rhodes is like the MCU.
LP: I was going to say! In the post-MCU, post-DCEU era, with geek and comic book culture more mainstream than ever, how do you reintegrate 80s superhero style gimmicks that fell to the wayside by the turn of the millennium? I think the answer is Cody. Cody's entire presentation, the way he does promos, comes off like an anime protagonist. He has this ROCKY-esque family legacy of being a defender for the common man despite also having an overt jingoistic Übermensch quality. He's the champion of legacy and family and history.
MF: He's fighting for his family legacy, he's fighting for his right to earn and carry the mantle.
LP: It just works, and it's the Ultimate Cody Storyline, a storyline he could only do in WWE given their ability to use his father's likeness and family history and archival footage, etc. AEW simply did not have the resources available to them to pull this story off.
MF: I was shocked that commentary was referencing Cody breaking Triple H's throne in AEW on commentary, and that Seth mentioned it in his promo. I was never expecting them to explicitly reference things he did in AEW.
LP: They've been sneaking in the AEW references and I think it's great! Obviously letting Cody use his AEW gimmick is huge—it just makes it seem like they have total faith and trust in Cody as a performer that they're allowing him to use his own gimmicks. Cody got himself over on the indies and in AEW and then bet on himself in renegotiating with WWE and immediately coming in hot as the next potential champion face of the brand. He's poised to be the top superstar figure in wrestling period! We're definitely at a crossroads in wrestling right now, and Cody is such an emblematic figure in it. Both AEW and WWE have two guys in CM Punk and Cody primed and ready to build their brands on for the next couple years, and ironically both guys are also injured for an indefinite but hopefully short amount of time.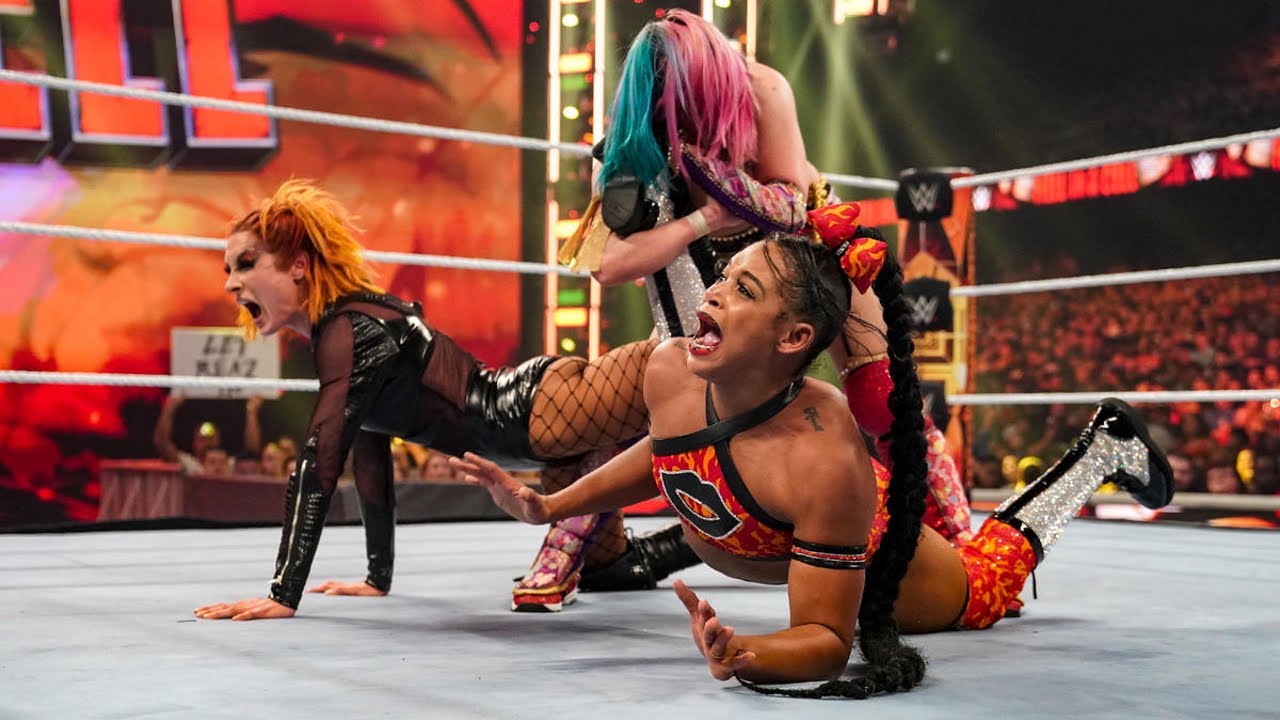 Bianca Belair (c) vs Asuka vs Becky Lynch
Triple Threat Match for the WWE Raw Women's Championship
On the RAW after Hell in a Cell, Cody did a promo insinuating he'd only be out for four weeks and intended to compete at the Money in the Bank event and earn himself a title shot opportunity. A defeated Rollins approached him in-ring and offered a handshake and his respect, before emerging from backstage with the sledgehammer from the match and attacking Cody, kayfabe "writing him off TV" to actually get surgery and heal.
LP: I thought the opening match, the women's triple threat match, was great.
MF: My dude. That gave me WRESTLEMANIA 2000 vibes. That was an all-time triple threat match.
LP: Oh 100%. It's a testament to all three competitors. I think Becky was firing on all cylinders, and obviously the story of the match was how dominant she was. That entire match was about Bianca and Asuka having to contest with her. It's so good to have Asuka back, as well.
MF: All three of them are three of the absolute best wrestlers in the world.
LP: Look at Asuka—look at her record. For shoot and in kayfabe, Asuka worked harder than any other WWE Superstar in 2020. She worked more matches on TV and more matches during the pandemic than anybody, far and away. You wanna talk about workrate? She was the workhorse champion of WWE during the pandemic, and she's one of the best wrestlers in the world. Talk about someone who can do it all! She was great in this match. Commentary did a great job of selling her striking—her strikes are gnarly when she wants them to be!
MF: When she was doing the Thai kicks to Bianca and Becky, it was beautiful, and then she did a strike kick to Bianca that looked shoot.
LP: People talk about how Shinsuke Nakamura still wrestles strong style in WWE, but Asuka has also always done joshi strong style. She's an absolute beast. The spinning backhands she was doing to Becky—gnarly! All three women looked incredible in the ring.
MF: That perfect fucking suplex Bianca Belair did where she did the high step knees like four times… Bianca Belair is nuts. She's insane.
LP: There's a reason they hotshotted Bianca as soon as she debuted on the main roster.
MF: They strapped the rocket to her.
LP: She won the Rumble, she immediately had the title program with Sasha and won the belt at Wrestlemania. It sucked at the time to have her lose the belt to Becky the way she did at Summerslam, but now that we're past that and we're past her beating Becky at Mania, and Bianca is at the point where she's a strong defending champion who now has developed rivalries and angles, I think it's safe to say that she's completely proven herself and is easily one of the best wrestlers in the world. She's a genetic freak. Her strength is unreal. That's her gimmick, right? She's the EST. But part of it too is what an incredible babyface she is, on top of being this unreal performer and worker. I don't want her to turn heel anytime soon. WWE loves to get in their own way all the time, but they pulled the trigger at the right time on Bianca, and I think she's really lived up to the hype. She's so incredible. Hopefully she has a bunch of other matches and title defenses down the line.
MF: I'd love to see a program with Asuka down the line.
LP: Prior to the Sasha/Naomi situation, wasn't the plan that Naomi would get the title shot at Hell in a Cell? On one hand, it's cool that they wanted to give Naomi a high profile singles match, but also why would you do that with your tag champion?
MF: Exactly—why feed one of your current champions to a "main" champion? It undermines the whole situation. But I mean, as we've seen, those women's tag team championship belts are not a priority. They said they were going to have a women's tag team championship tournament to get the belts onto somebody, and that just never happened. They didn't put enough manpower into it and it fizzled out.
LP: Crazy. Absolutely crazy.
MF: There's something in the air with professional wrestling right now! I feel like this whole situation with the interim AEW champion is also a situation where they're flying by the seat of their pants with the booking because of unexpected circumstances.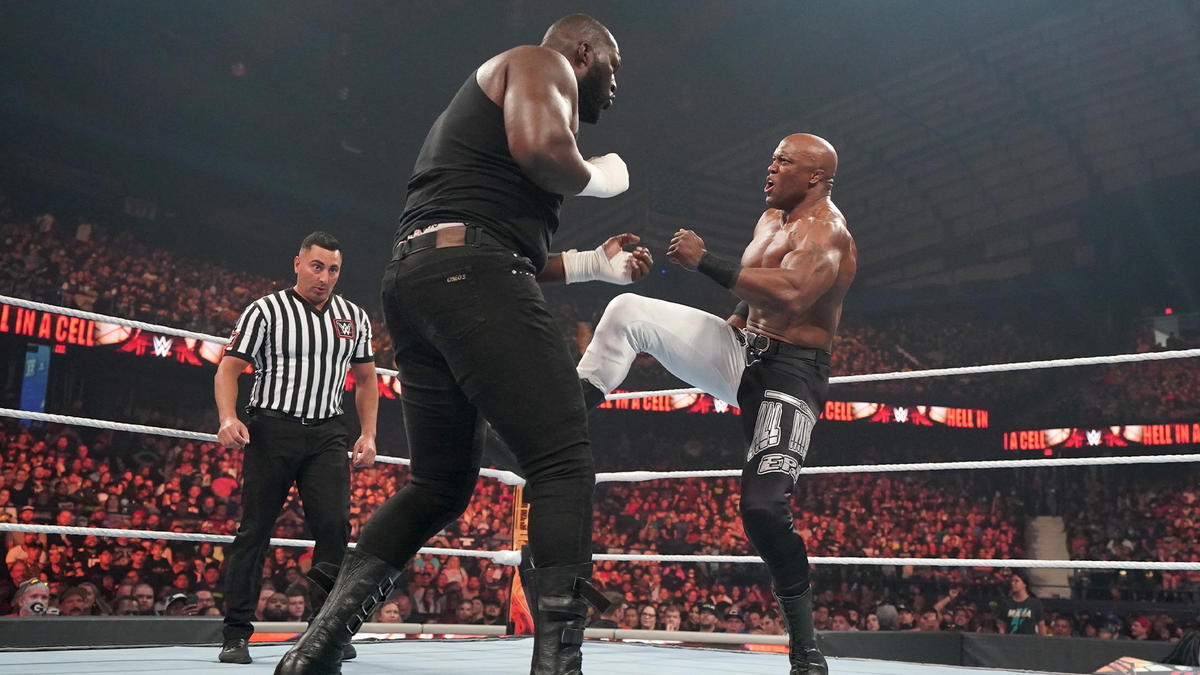 Bobby Lashley vs Omos and MVP
MF: Sick diss track from MVP to set the match off.
LP: The fucking rap he did was sick. It was awesome. Here's the thing: that match made Bobby look good and I liked the Cedric Alexander appearance. 
MF: Do you think it'll lead to a feud between Cedric and Bobby? That's kind of the vibes I got.
LP: It seemed like they were trying to set up a friendly rivalry, but The Hurt Business has—pardon another pun—unfinished business as well. 
MF: Maybe Jimmy Lloyd will show up and reunite The Hurt Business. [Independent wrestler Jimmy Lloyd was famously seen front row at Wrestlemania 37 in a GCW shirt and WWE security made him change into a Hurt Business shirt.]
LP: Hurt Business was such a cool faction and held gold but unfortunately I think they were victim to lazy, racist booking from WWE – how many times did they wrestle Apollo Crews. I really liked having MVP back and active, and it was a great spotlight for Bobby, Cedric, and Shelton, but unfortunately there's only so much ceiling you can hit in WWE. We've seen what happens time and time again to The New Day—the most long-running and over faction they've had in 20 years.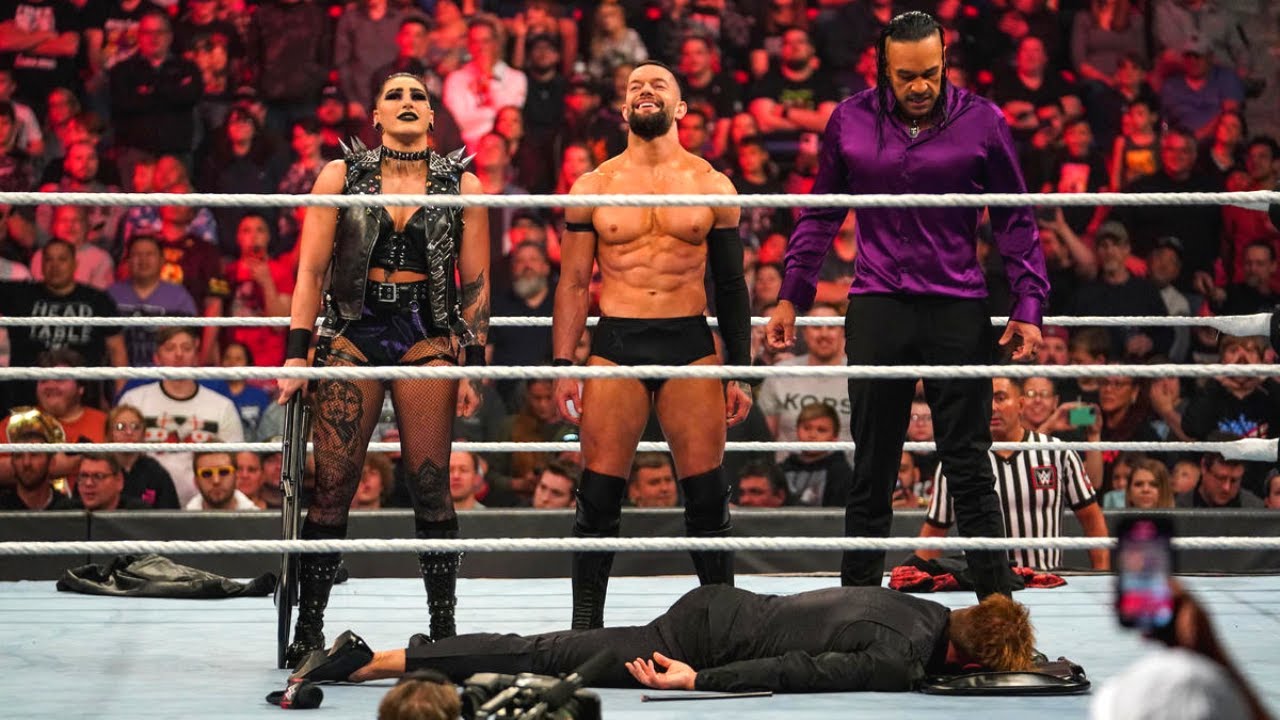 The Judgement Day (Edge, Damian Priest, and Rhea Ripley) vs AJ Styles, Finn Bálor, and Liv Morgan 
Six Person Mixed Tag Team Match
MF: When we talk about Cody retaining his AEW gimmick when he jumped back to WWE we can mention that AJ Styles got that treatment himself—he came back as just "AJ Styles." I think that further shows the kind of backing Cody is getting this run.
LP: When AJ debuted in WWE, they immediately had a great build for him where they made him champion by the end of the year. I don't think anyone would complain about AJ Styles being misused in WWE.
MF: He mostly has dream matches!  
LP: AJ Styles vs anyone is a dream!
MF: AJ Styles is definitely a generational talent. That Phenomenal Forearm he hit on Edge was so great! I think one of his best in WWE. He got so much air on it! Edge set it up perfectly for him. There were more Bullet Club references last night, which they've only kind of alluded to in the past.
LP: I thought it was a really good match. It's kind of what this whole angle has needed. I really like the team of AJ, Finn, and Liv Morgan. I love that Liv Morgan is in the Bullet Club now. I love that they're Too Sweet'ing each other. As WWE is totally wont to do, it could never last. Obviously the story of the match was that Judgement Day were targeting Finn Balor, and then in turn Balor joined them and helped them betray Edge the following night. Balor was being singled out as the weak link during the match, and then he seems to be joining Judgement Day not as a leader but as a follower. I think commentary stressed that he was the "new member" of Judgement Day and not the new leader. I don't really understand why there's such a disconnect between an obvious truth—that Finn Balor is one of the best and most over people in WWE—and yet, especially recently, he's been booked as if he's being punished for being so popular and good at what he does.
MF: I think he's got Christian disorder! I think Vince would love to put a blue dot over his face whenever he's onscreen—he just doesn't like him for some reason. And he's punished people previously who have gotten themselves over before coming to WWE.
LP: He's a two time NXT champion. He's a two time Intercontinental Champion.
MF: He's the inaugural Universal Champion! I really wonder what the world looks like where he was able to have that run. And he had that freak injury too and had to relinquish it immediately, which happened again when he won the NXT title the second time. I wonder if Vince is punishing him for getting hurt and ruining the booking.
LP: You compare and contrast that with Cody—I mean, Cody did that match, right? It doesn't seem like they're going to go soft on Cody because he got injured.
MF: That's why he needs to stay on TV. I'm worried he's going to come back and fizzle out.
LP: It's a reasonable thing to be worried about and there's precedent to be worried! Anyway, they've really been booking Finn like a geek lately, which irks me. I just wish we could have an actual Bullet Club faction with AJ, Finn, and Liv but WWE keeps insisting on breaking up tag teams or factions as soon as they form them.
MF: The partnerships are purely for story purposes, for a PIECE of a story. It's just their approach. They're not a tag team and faction-focused promotion like AEW. I think that's part of the reason Sasha and Naomi walked, because they were going to screw over their tag team and they wanted to continue telling that story.
LP: Totally. And Sasha has such a history as a tag team wrestler. But you're right. It's happened with almost every other tag team lately, especially in the women's division, where there are no tag teams left. They broke up Rhea and Liv to start the Judgment Day angle. You can just see these storylines coming from a mile away, because they happen so frequently on WWE programming. I'm just sick of it. Do something that's going to surprise me, like NOT breaking up a faction! That's part and parcel the issue with watching any WWE show.
MF: That's I think why I enjoy the PPVs more than the weekly TV shows. I've been watching more of RAW lately. The wrestling is fine again. For the most part, the wrestling itself is still entertaining. The storylines themselves, however… they're not hooking. They're fast and loose and not compelling. Getting all of the angles in a little vignette before the PPV match tells the story in a way I enjoy way more, because it actually has a payoff. You're not wading through promos and setup that goes nowhere.
LP: I wanted to talk about the level of quality in terms of current angles at WWE. With Cody coming in, y'know—worked or shoot, they are potentially trying to bring in more AEW talent like MJF and whoever else they're in touch with. Perhaps there is a chance they've attempted to up the creative through Wrestlemania and post-Wrestlemania. I think that's kind of bearing out. Are there still more storylines I don't care about than storylines I actually care about? Yeah. 
MF: [sarcastically] You mean, you don't like the breakup of Happy Corbin and Madcap Moss?
LP: We'll cross that bridge when we get there. Anyway, in the forming of Judgement Day and all of the promos leading up to this tag match, I wanna talk about Edge a little bit. I think I tolerate Edge more than some people do. I think Edge has been great since he came back. I think he's put on great matches.
MF: He looks like he shouldn't be wrestling. He looks sick.
LP: He looks insane.
MF: He looks like a wight.
LP: He looks like a scarecrow.
MF: He's like a lich.
LP: This year's definitely been a fallow period for him. He got stuck in that program where it was him and Beth vs Miz and Maryse.
MF: This Judgment Day stuff is the most compelling work he's done since coming back. I didn't care about the masturbatory Randy Orton matches. 
LP: Some of that shit was goofy. "The Greatest Wrestling Match Ever"—that's just carny shit.
MF: The Last Man Standing match at Mania had that really awkward Chris Benoit reference?
LP: I totally forgot about that! Yeesh. I thought the initial "Blue Edge" promo that instigated the Judgement Day angle was pretty compelling in a bizarre way. Then they stopped making him blue, and I lost interest. He was kind of purple after that and had vague implied but not actual supernatural powers. He should be blue and have powers like Genie in ALADDIN. People say Judgment Day is like a bad House of Black ripoff but they're more like pickup artists or magicians—which is also a pro wrestling trope at this point, I guess. The promos Edge was cutting week to week during the initial Judgement Day angle got so overwrought (speaking of purple shit.) They're literally purple! I think in a vacuum that faction was fine – "Heel Edge and his Spooky Friends" or whatever, but the execution left a lot to be desired. That being said, I think this was a good match and I wish they could've kept the faux-Bullet Club stable going, but we'll see how Balor fares as a new member of a post-Edge Judgement Day moving forward.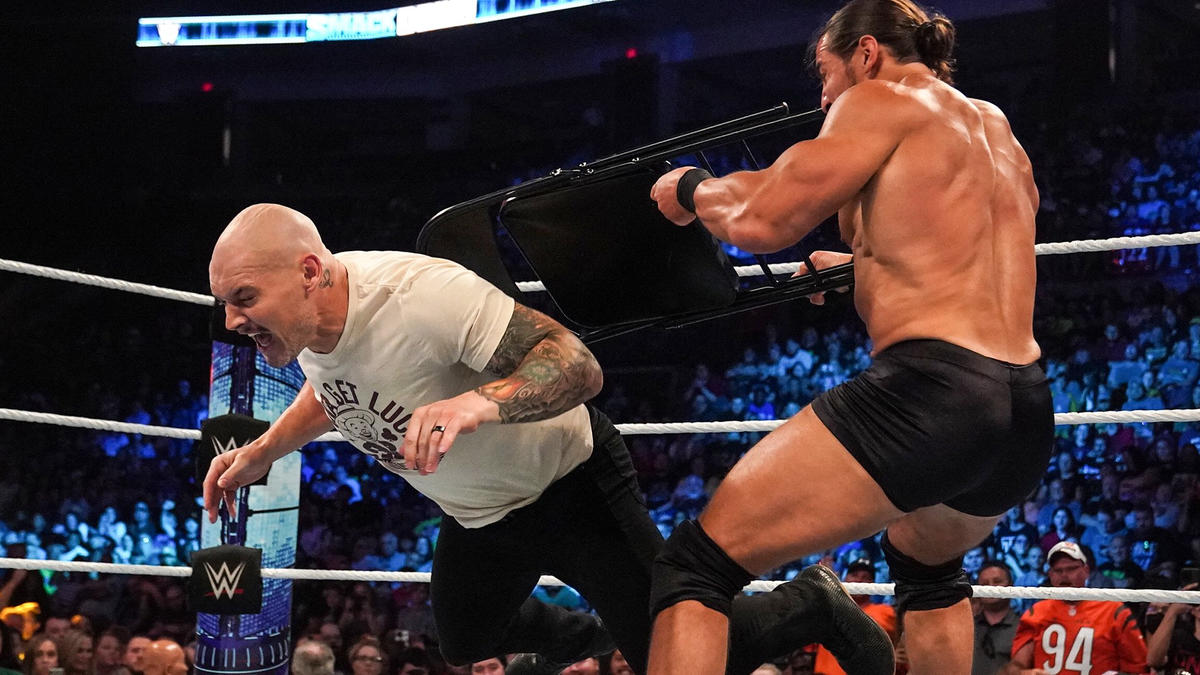 Madcap Moss vs Happy Corbin
No Holds Barred Match
LP: Let's talk about Madcap Moss vs Happy Corbin. It's definitely two guys and a gimmick that never got over with me, so this was just a blowoff match for another team that they're breaking up for the sake of breaking them up. 
MF: Maybe they've got better plans for Madcap Moss, because they sure as shit don't have better plans for Corbin. During the match, the commentary team said Happy Corbin would "rather be broke again than lose to Madcap Moss." Which, he did lose. I feel like they're going to have to bounce Corbin between being broke and rich. Once a wrestler's gimmick is how rich he is, I feel like you can't escape that.
LP: I think THE BEST work Baron Corbin ever did on the main roster was as Broke Corbin last year.
MF: Oh, absolutely! When he had ravioli all over himself all the time, and was down and out.
LP: "My wife HATES me and is filing for divorce because I'm such a broke piece of shit!" Incredible character work. If they want to revert him back to that gimmick, it would be really funny. That'd be good. One thing I noticed in the presentation of Madcap Moss now—I guess they're still calling him Madcap Moss? I thought at least they were going to start calling him MOSS.
MF: They probably will. It'll honestly be interesting if they keep it up with the telling jokes thing until Vince does the full reset.
LP: Yeah, because right now he's just at a midpoint where he wears black trunks now and he's WET. This is a trope that's in both AEW and WWE, but it's always out of left field in modern WWE stuff and gives me whiplash—when the ostensible face of the match out-heels the heel and hurts them even worse than they could have ever dreamed of. Madcap Moss like KILLED Baron Corbin.
MF: That's a common WWE face trope—a babyface is PUSHED SO FAR that they have to do whatever it takes to end it. It's very bizarre to see where they're taking these characters all of a sudden considering their most recent gimmick. They were basically Vince Vaughn and Jon Favreau in SWINGERS.
LP: Essentially! It's so tonally bizarre. They told awful forced hack jokes. I couldn't tell you who actually cares about this angle or these guys.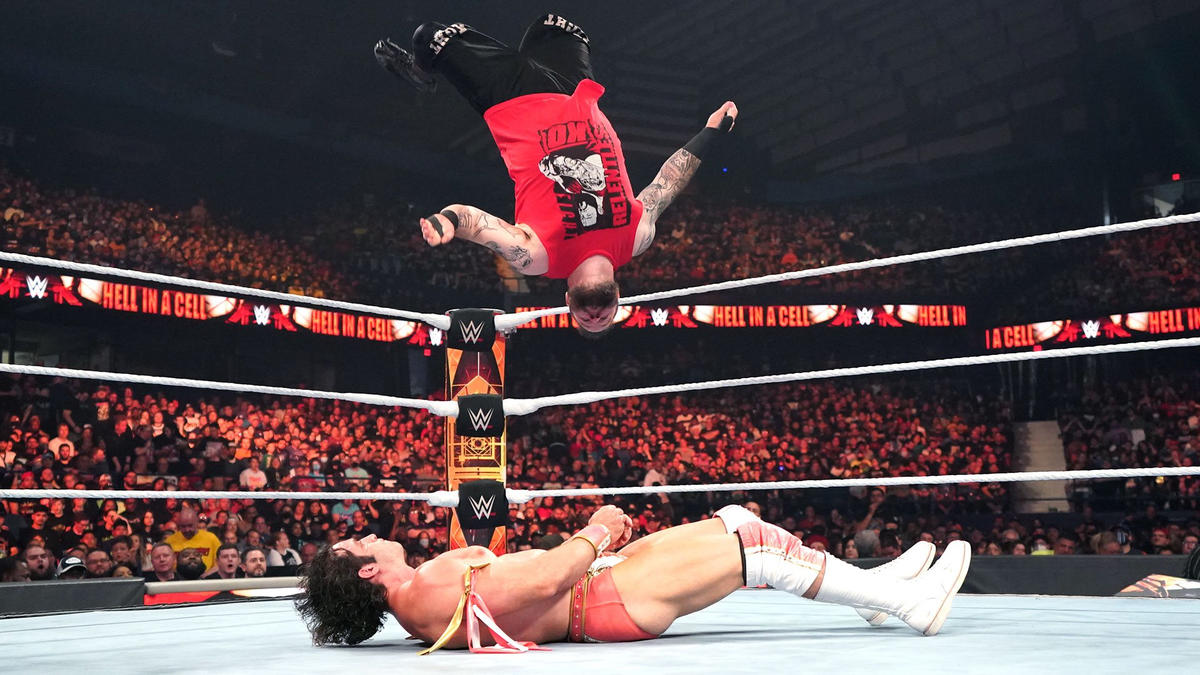 Kevin Owens vs Ezekiel
MF: Comparing and contrasting the Moss vs Corbin angle with Kevin Owens and Ezeiel is interesting. The Kevin vs Ezekiel angle is genuinely funny!
LP: It's one of the better running angles right now in WWE!
MF: It's a very WWE angle too.
LP: Totally. For how painful WWE programming typically is, sometimes they'll do an angle that's funny and is funny on purpose and is legitimately funny. Usually it involves carny vaudevillian humor. This angle is exactly that. It's perfect. A perfect comedy pro wrestling angle that's fun and works. WWE seems to be excelling at comedy wrestling now, between this angle and Sami Zayn's match with Johnny Knoxville at Wrestlemania.
MF: Those guys are hilarious! There was one point during the KO match where Kevin was calling him Elias and taunting him until Ezekiel got the upper hand, and then Kevin started pleading and called him Ezekiel as soon as he got his hands on him. Great spineless heel work. Kevin Owens has been one of my favorites for a while. I got back into wrestling in 2014—I hadn't seen him in Ring of Honor, I didn't know Kevin Steen—but as soon as I saw him in NXT he was one of my favorites. He's got a presentation about him that just works, and he's a good worker.
LP: For sure. And same with Sami. They're just both incredible wrestlers in their own right, but are also incredibly funny guys and can put people over in comedy matches and do comedy wrestling pitch perfect as well. That's something a lot of their contemporary wrestlers play around with—The Elite, Best Friends, a lot of those former indie guys have backgrounds in comedy wrestling. 
MF: They especially come from a PWG background. PWG is basically genuinely good wrestling with a comedy bent.
LP: I'm really interested in where this angle goes. I'm just waiting for the inevitable Charlie Kaufman-esque scene we're going to get where Ezekiel is in the middle of the ring, and then Elias in the full beard calls him on Zoom.
MF: They're definitely at some point going to bring Elias back into it.
LP: He's going to have to grow the beard back, or have a fake beard.
MF: They'll have to explain it away. Didn't commentary say Elias was in Shangri La studying with monks?
LP: I think Ezekiel mentioned in an interview that even he didn't know where Elias really was at any given time.
MF: The whole bit is so stupid that it's hilarious.
LP: It's down to the fact that the central bit—shaving Elias' bard—makes him look insane and like a different person.
MF: I love the tassels. Talk about somebody who's going back to an 80s style gimmick! Give me an Ezekiel/Cody tag team! Rustle up a Russian and Iranian for them to feud with!
LP: You've got WWF SUPERSTARS OF WRESTLING again.
MF: Stick 'em on a fuckin ice cream bar. He's kind of a Macho Man—he does that nice elbow drop.
LP: The moveset is definitely more throwback and differentiating itself from Elias. I also love the tassels. I love the pink, white, and gold pastel gear. I love pretty much everything top to bottom about this angle and Ezekiel's gimmick. No notes.
MF: The lie detector test angle they did with Chad Gable was hilarious – everyone in the ring was knocking it out of the park. Kevin imploring Chad over whether Ezekiel is lying and Chad looking horrified and saying, "It's the truth…" I lost my mind. They're all selling it perfectly. If that's the kind of comedy WWE wants to do, keep doing it!
LP: It's very sports entertaining! I love being sports entertained by it.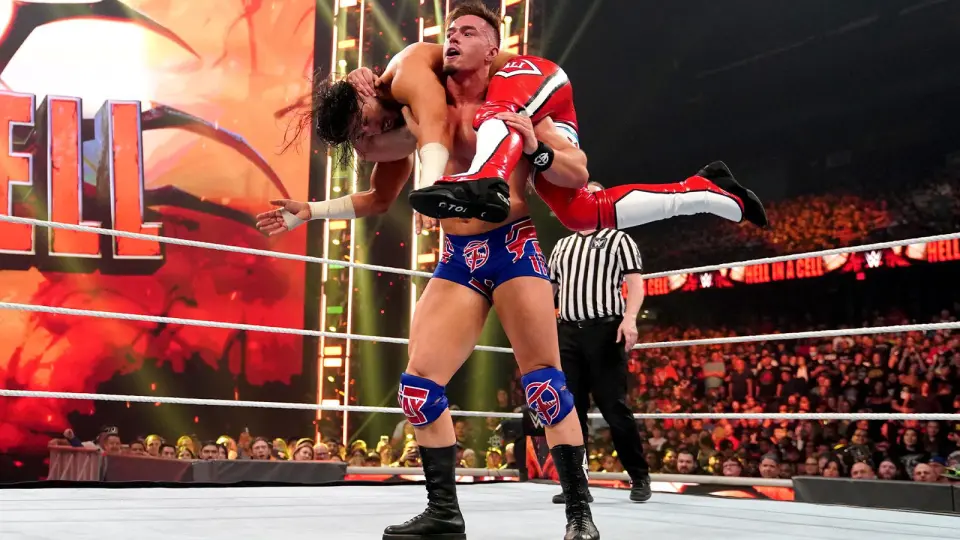 Theory (c) vs Mustafa Ali
US Title Match
MF: This is the match I was least invested and interested in, mostly because I can't stand Austin Theory and he's an alleged pedophile. I really don't think he's a compelling wrestler either. He doesn't have a good or interesting look, either. He's all teeth and forehead.
LP: He looks like a character on BIG MOUTH. He looks like a third trimester John Cena.
MF: He looks like The Fiend's mask.
LP: I don't know what Vince and the boys see in him other than him looking like Cena Jr.
MF: Cena posted a photo of someone stepping on the US championship.
LP: Based on Cena's social media posts about Theory as of late, it certainly seems like they're setting up an angle where they feud over the US Championship. I think Cena is the best modern United States Champion.
MF: Maybe the annual Cena appearance at Summerslam will keep being a thing going forward. Anyway, I think Mustafa Ali is a good wrestler.
LP: I think he's really good! I was worried when he was having proto-MJF-style shoot backstage drama and was essentially protesting and getting blackballed from making appearances.
MF: I understand wanting to go back to doing what you love because you love it. If they weren't budging, he couldn't stick to his guns forever.
LP: Obviously they came to some sort of agreement. 
MF: Ali got some really good high spots in this match. That sideways crossbody he did from the top rope—at the angle he was at, I was like "This isn't gonna be good…" Turning your body, I wonder if there's better ways to stop your momentum when you're that high up. Maybe he knew if he turned his body that way it would be easier to catch than coming head on. Either way, it was wild! 
LP: I thought the high spots were really cool! I'm definitely 100% also not interested whatsoever in Austin Theory because I also consider him a pedophile.
MF: Did you hear the comments Corey Graves was making about Theory during the match? He was like, "we're not going to talk about any allegations against Austin Theory."
LP: He also mentioned something about how Austin Theory was going to be sliding into people's DMs??? What the fuck?! 
MF: It was not cute!! He's gotta know about the chatter. Corey Graves seems like such an asshole. Not appropriate. He's clearly a company guy and this is probably their way of trying to make light of the situation and downplay it and get people to move on from it. 
LP: That seems to be what the playbook is, but it's really fucking gross and bizarre. And thaaaaat's WWE in a nutshell, folks!