This writer does not possess graduate-level education in semiotics, so he doesn't really get i'm thinking of ending things, but he'll try.
The story, such as it exists, tracks Young Woman, whose name is frequently confused or obscured, played by Irish actress Jessie Buckley. She is joined by her boyfriend, Jake, to meet his parents for the first time; Jake is played by Jesse Plemons, continuing to move through one of the most quietly stacked filmographies in recent years. Jake is Midwestern and unceasingly apologetic in nature—meek, while also prone to rambling forever. Young Woman is a waitress and a remarkable writer, but she has a definite sharpness, a bite in her treatment of Jake. Young Woman's voiceover, beginning with 'I'm thinking of ending things with Jake…' is basically a space for the audience to lodge with her subconscious. Where Jake rambles endlessly to Young Woman, Young Woman rambles endlessly to the audience. This is likely the most effective pocket of the film, an endless, suffocating Midwestern blizzard. We gather the sense that this is a relationship on its last legs. Jake is a sordid type, a David Foster Wallace-essay-collection-recommending type; once we arrive at his family's house, we understand the deal pretty fast. His mother is played by Toni Colette; his vaguely emasculated father, David Thewlis.
The film here lapses into a standard meet-the-parents comedy of errors, swinging its wildly depressive energies into an extreme focus on how Jake's mother has smothered him, how Jake's father has idly enabled him, and how it's forced Jake into a form of hyperconscious escapism. He can only talk in stories, in bullet-points, and Young Woman can really only sit and watch as Jake wriggles under his parents, repeatedly asking if she can go home to sleep and repeatedly hearing delays. 
Toni Colette, following HEREDITARY and KNIVES OUT, has shrunken her acting away from any sort of human proportions; this is a very difficult performance to watch. Jessie Buckley, by contrast, has a wry, bone-dry humor that gives the movie the majority of its appeal. Moving slightly, if not overtly into spoiler territory: Jake's parents age rapidly over the course of the night and then de-age. People start saying impossible things in casual conversation, outrageous non-sequiturs that have their own odd menace and the audience develops the sense that we are in someone's head. Jake's? Young Woman's? Some sort of stranger limbo hovering in the middle? If you've read Iain Reid's source novel, you know the answer. I didn't and so I don't.
More likely than not, you're approaching a Charlie Kaufman film with the expectation that your input-output receptors are going to be scrambled on the way out—a quandary not unlike M. Night Shyamalan's, except far more difficult in that people weren't epiphany-seeking with THE VILLAGE. The bar set for Charlie Kaufman, every time out, by Charlie Kaufman, is transcendence.
Independent of all that: What the fuck is this shit?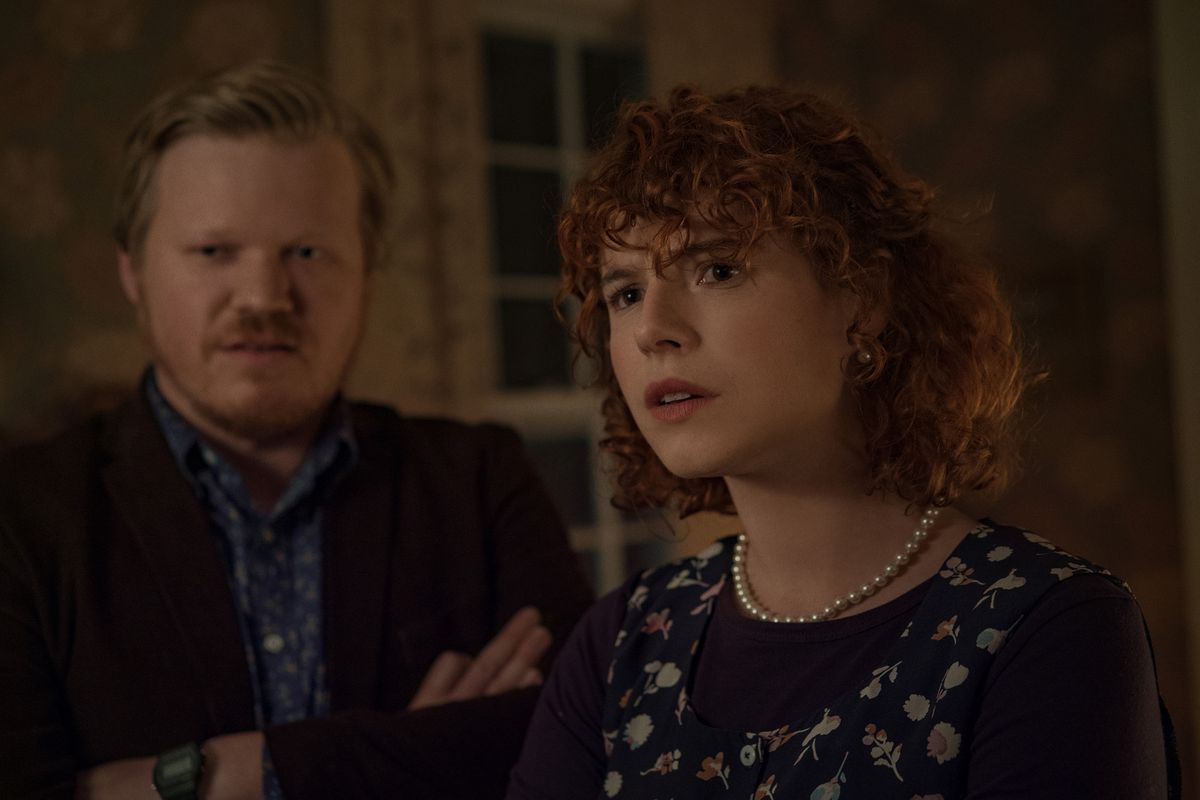 This film is, among other things, a sturdy time capsule to a prior era when any of us would be interested in watching anything like it. It requires a very special kind of arrogance to direct your film to look like the inside of a pair of woolen socks—the presented "absence" of aesthetic decisions is not a virtue, but actually a deficit in directorial curiosity. Like in Amy Seimetz's recent SHE DIES TOMORROW, this movie is rigged. Charlie Kaufman can take his Netflix check and figure out ways to use his art, his media, to tunnel us further into the realm of uncertainty with art and media—of paranoid hostility and distrust with those incredibly vital systems that we need, that we would do anything to keep honest in some way. He can. I appreciate his trying, and I recognize its resonance with the grand experiment of 2015's stop-motion ANOMALISA, where he used his puppets' limited affect as a blunt-force depressive metaphor. That shit was cool.
But metaphors cannot be metaphors for other metaphors. And agonizing movies cannot, really—like, really, really—clarify agonizing experiences, nor the agony of experience. Kaufman has suffocated his material, subordinating it to gesture and to quirk in ways that are not entertaining or helpful at all. I'm uncertain if the source novel demanded verbatim references to Wordsworth, Wilde, Emerson, Cassavetes, Kael, Ron Howard movies, or Robert Zemeckis (?), but I am aware of what Kaufman is trying to do with that. His male lead, Jake, is trapped in his head, with his books and his stories, and so Kaufman is layering in the references to try to similarly numb his audience. 
i'm thinking of ending things feels like a phantom limb sprouting out of the coolest shit of the 1990s, a sort of lost voicemail from a world in which Warner Bros. kept giving Spike Jonze checks after 2009. A time when it seemed like Kaufman was capable of using Paramount's resources to somehow break and recompose the material of the motion picture. It's not for lack of trying and I am not ridiculing Kaufman's sublime 2008 debut SYNECDOCHE, NEW YORK at all: the DARK TWISTED FANTASY of Kaufmanland, the obituary, the point. What I am doing is lamenting—lamenting that the timeline of cinema never occurred where all that uncut, freaky Gen X id kept working its way into the fabric of mainstream American movies, supported by studios and audiences. Because these experiments fell so sharply out of fashion in the 2010s, they arrive to us now as Frankensteins. Heartbroken orphans hostile to their audiences, returning with fire for not staying in fashion. I submit that i'm thinking of ending things is a deliberately fucking numbing film whose circularity clarifies nothing. I'm sorry that Charlie Kaufman couldn't get more movies made in the 2010s. I wish he wouldn't punish us in the 2020s.