It's trite and cliche when someone dies to say there will never be someone like them again. But in the case of MF DOOM, saying there will never be another rapper like him doesn't simply apply to his undeniable abilities and ear as a performer—to say that his talent is irreplaceable is simply a given, as he was one of, if not the best, to ever do it. Instead, it perhaps more importantly applies to the sheer idea of MF DOOM, to the idea that mystery and persona could be more central to who you were as an artist than who you were as a person. DOOM's iconoclastic and mystifying presentation amidst several decades of hip hop and celebrity slowly fusing together is something I'm not sure we'll be able to see again, not the way that modern music and news narratives play out anyway (remember Ka getting dragged by the New York Post). Even in the days since we learned of his passing, with videos of his career resurfacing, I don't feel like I have any stronger grasp on who DOOM was than I did the first time I heard MADVILLAINY over a decade ago. He was a super villain. He was a philosopher. He was a standup comedian. He was a recluse. And eventually he was an icon. But he never seemed mortal—both his skills and his backstory rejected the notion that MF DOOM was simply walking among us and it's hard to conceive that we'll ever see another rapper like that. In his own words: "Folks leave out the show feelin' truly enlightened / They say 'The Villain been spitting enough lightning / To rock shock the Boogie Down to Brighton.'" It was true his entire career. Alright, then.
— CJ Simonson, Editor-in-Chief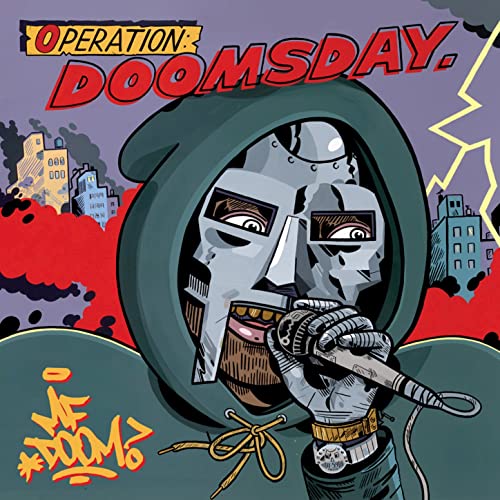 "Hey!" from OPERATION: DOOMSDAY 
Perhaps the most heartening thing surrounding the announcement that supervillain rap god MF DOOM had passed away last Halloween was that, suddenly, his master plan for dominion over hip hop finally seemed like it was within his grasp. In all of the tributes and obituaries I saw flood my social media timeline on New Year's Eve, one recurring theme struck me: everyone had a story about how hearing DOOM for the first time completely shifted their perception of rap music and the artistry of hip hop. No matter your gateway to his music (for me, it was his feature on Gorillaz' "November Has Come," followed by his Danger Mouse/Adult Swim collaboration DangerDoom), DOOM's discography offered a series of records and projects under various pseudonyms, collaborations that were all purely singular and worthy in their own right. His discography was as labyrinthian as his twisted internal rhyme schemes. 
Daniel Dumile's life was full of the kind of tragedy that actual supervillain origin stories are made of: his younger brother and collaborator DJ Subroc was killed when he was struck by a car in 1993; their group, KMD, were subsequently dropped by Elektra records; ICE prevented him from re-entering the United States in 2010, forcing him to spend the rest of his life in London without his wife and three children; his 14-year-old son King Malachi Ezekiel Dumile passed away in 2017. Such an incredible artist deserved better than our awful, racist world provided him. No one more than him deserved to be loved and celebrated for his accomplishments in his lifetime, and we can only hope that he felt that love before his untimely passing. 
If there's a Rosetta Stone in the MF Doom discography, it's his breakthrough solo release OPERATION: DOOMSDAY, one of the most fully realized debuts in the rap canon. Self-produced and with the MF DOOM persona in full form, the album is a crucial document bridging the golden age rap of DOOM's initial KMD records, the gritty NYC boom bap of his contemporaries the Wu-Tang Clan et. al, and the alternative/underground rap of Company Flow and Kool Keith that was breaking at the time. "Hey!" stands as one of his most celebrated early productions. On this track, Metal Fingers infamously flips the theme to THE NEW SCOOBY-DOO MOVIES into an unsettling, shrill, lo-fi horrorcore beat that would have befitted Gravediggaz, Three 6 Mafia, or SpaceGhostPurrp alike. That dichotomy no better summarizes the genius of MF DOOM— wringing otherworldly sounds out of a goofy '70s cartoon, transforming comic book and kaiju storylines into self-mythology. A self-styled rap supervillain beleaguered on all sides by personal and systemic tragedy, at heart a funny, charming, witty nerd. On their DangerDoom collaboration track "Old School Rules," Talib Kwelli articulated the excitement of hearing MF DOOM for the first time, referencing "Hey!" in his rhyme: "Maybe I'm trippin' and it's just a cartoon to you / but I got chills when I heard how DOOM flipped the Scooby Doo." DOOM meant so much to so many on a personal level, not only as a rapper, but also as a producer and full-fledged artist in his own right; the fact that we all held him up as a universally beloved GOAT was an open secret we apparently kept to ourselves. [Luke Phillips]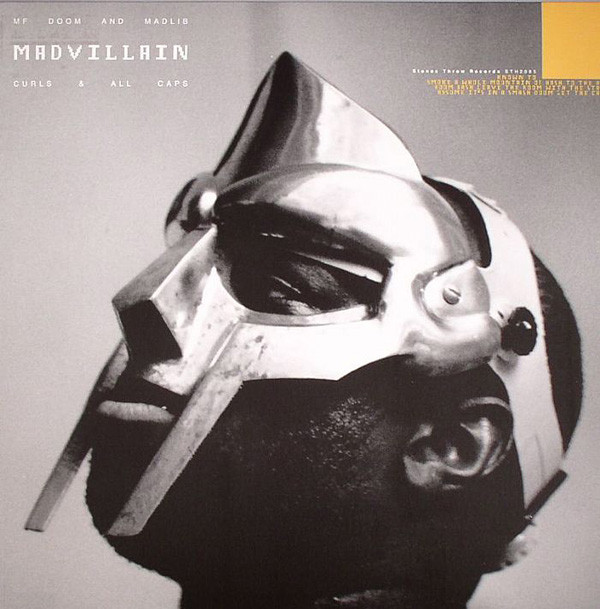 "All Caps" from MADVILLAINY
MF DOOM knew better than anybody that first impressions matter; no matter how you first heard The Villain, it was guaranteed to land you flat on your ass. This could be said of more artists than just DOOM, certainly, but nobody else reinforced that ability so consistently throughout their body of work. Every album, track, and verse of DOOM's starts like a sprinter already at top speed—there's no gear shift or need for acceleration, he's at maximum capacity from needle drop— and yet he sounds like he's sitting on the couch. On paper, DOOM's cool, raspy demeanor should make cramming so many verbose rhymes into such narrow windows of time impossible. I mean, the way, "You know it won't / stick yo, and it's not his fault you kick slow / Should've let your trick ho chick hold your sick glow" just falls out of his mouth is like watching an All-Pro offensive lineman's footwork—it just does not make a lick of physical sense. 
What struck me most after MF DOOM's passing was that everyone's tributes touched on something different. Not since David Bowie's passing had I seen people's touchstones differ so deeply. A great bulk of them came, of course, off of MADVILLAINY, both he and Madlib's artistic zenith, but Thursday night's Twitter timeline turned into a wall of deep cuts that spanned all of DOOM's many monikers and collaborations. For the unfamiliar, MADVILLAINY is absolutely the gateway drug that'll send you down one of the best discography deep-dives you'll ever take. "All Caps" is, to me, the exemplary model of what made DOOM so magical. Riding on Madlib's best beat ever (a true marvel concocted almost entirely out of a '60s crime drama credits sequence that deserves its own essay), DOOM is his usual braggadociously chill self, tossing off disses, rhymes, and punchlines into a single verse that damn near every other MC couldn't dream to match. 
DOOM operated at a higher level. He wasn't just one of the greatest rappers of all time, he was so good he convinced people that rap was worth listening to, that rap is capital-A Art. He was a master who was always working to be better at his craft, better at understanding others, and better at understanding his place in the world. As he once said in an interview: "When people feel like they lost somebody that they love, to know that they're not gone. There's no such thing as out of existence. They're just in another realm. They can hear us and all that from that realm, we just can't see them and hear them with these tools that we have. Or we do have the tools to see them and hear them, we just have to go inside and utilize those tools. Not to get too mushy with the shit." [Ryan Moloney]
"THAT'S THAT" from BORN LIKE THIS
The way I listen to rap music is governed by moments which seize my attention; clever turns of phrase, a killer line, or a perfect production choice can land a track in daily rotation for days or weeks at a time. "THAT'S THAT" hit me differently. The first time I heard it, I stopped in my tracks. A second, third, fourth time, I replayed the song, awed by the abstract tapestry of rhymes DOOM weaves over those mournful strings. It was captivating, from end-to-end a delirious celebration of rhyme unlike anything I'd heard. Now that the world mourns the tragic passing of one of the art form's greatest practitioners, it feels like the purest distillation of what DOOM meant to me as a fan, what he meant to rap and the legacy he sought and succeeded in leaving. There is no one moment on "THAT'S THAT" which rose above another, rather the entire song is extraordinary, poetic and unmistakably DOOM.
The first sound on the track is a quick inhalation; every following second is a wholehearted, unparalleled devotion to rhyme, a dense, fascinating daisy-chain of compound, multi-syllable rhyme that eschews sustained meaning in favor of complete commitment to scheme. DOOM gave few direct explanations of his mindset and philosophy over his storied career, but one of the few things he deigned to clarify was his purpose for donning the legendary mask. The mask separated the art from the artist, removing Daniel Dumile from the singular focus and craftsmanship of MF DOOM. Names and personal details were unimportant to Dumile, so much so that he waved off angry accusations of using imposters at his shows as a part of the DOOM experience. What was important, uncompromisingly so, was his craft, his devotion to rapping as an expression of creativity and technical precision in equal measure. By not sacrificing a second to anything other than his glorious rhymes, "THAT'S THAT" achieves everything DOOM espoused as important in little more than two minutes. There is but one concession, one that hits with significant weight and poignancy in the days following news of his death. After laying waste to the beat, DOOM serenades the listener, "Can it be I've stayed away too long? / Did you miss these rhymes when I was gone? / As you listen to these crazy tracks / check them stats and you know where I'm at / and that's that." That is now officially that, and indeed millions will dearly miss the masked man and his gifted tongue. Yet, if the outpouring of support from all corners of the world is any indication, his legacy is unimpeachable, secure in his massive catalog, and the countless artists and fans who call his work an inspiration. [Corey Guen]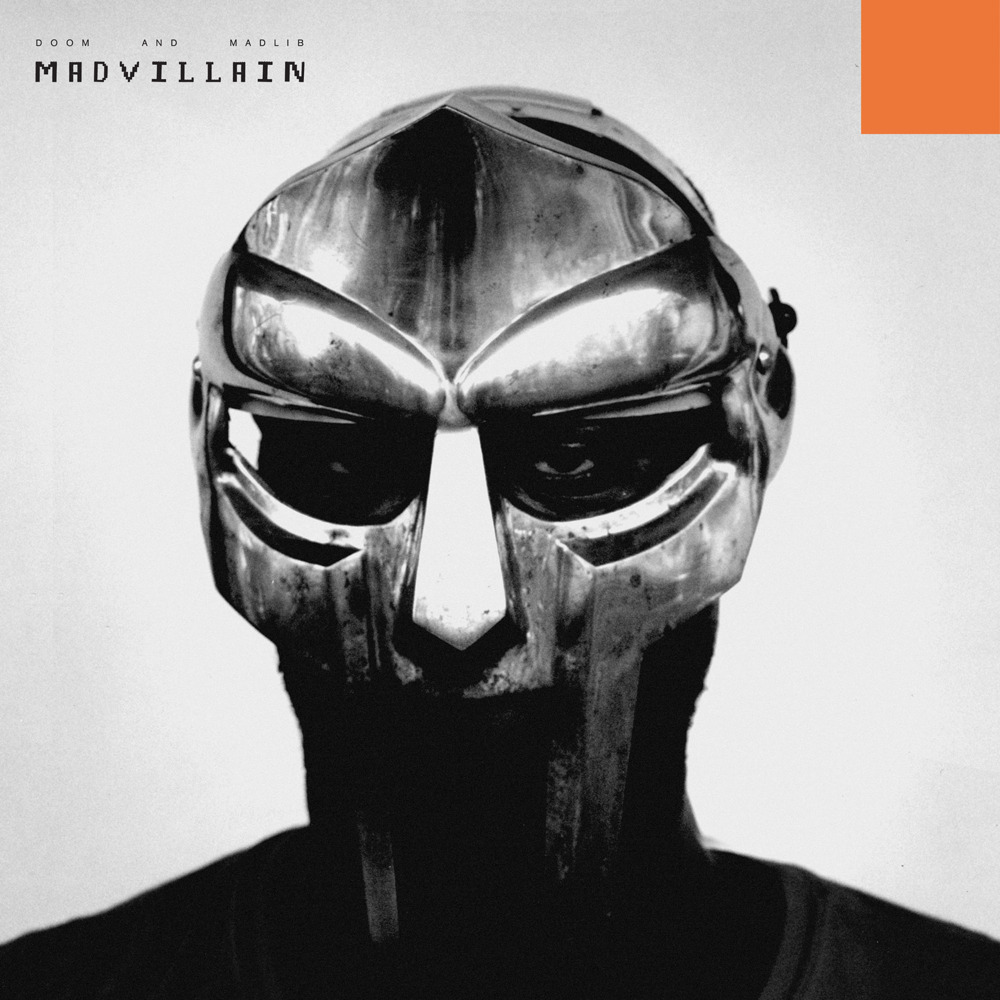 "Accordion" from MADVILLAINY
It was the summer before high school when I first heard MF DOOM. I'll never forget staring at that copy of MM.. FOOD on a blank Sony CD-R which had been graciously handed down to me by somebody much cooler and older than I was. I had no idea who DOOM was or that he was even a rapper for that matter, I just knew that it was something I needed to listen to as soon as I could. So I ran home and popped it right into my CD player, and it was like I was transported to an entirely new world. The next album I was able to get my hands on was MADVILLAINY, and I spent many a night that summer listening to the slow crawl of Madlib's production washing beneath DOOM's hypnotic flow. I spent the rest of high school in a haze of DOOM worship, trying to hunt down as much information as I could about the enigmatic MC and talking about his music with pretty much anybody that was willing to listen to me. I'm forever grateful to have discovered his music when I did because it completely changed the way I thought about and listened to music.
"Accordion," the second track on MADVILLAINY, begins with DOOM rapping "Living off borrowed time / the clock tick faster," immediately setting the tone for the rest of the track. He manages to reference both Hanna Barbera cartoons and Freud while also pondering mortality and his own legacy, the whole thing delivered in his stream-of-consciousness flow that influenced so many others that came after him. And then there's the infamous line "And I got more cheese than Doritos, Cheetos, or Fritos," which perfectly encapsulates DOOM's mix of humor and bravado. For the beat, producer Madlib sampled an accordion loop from a track off of Daedelus' 2002 album INVENTION, and it's hard to imagine a song like Lil Uzi Vert's "Ps & Qs" with its synthesized accordion melody existing without DOOM and Madlib first paving the way. The world was a better place with MF DOOM in it, but thankfully his music is forever, and there will always be kids in high school hearing him rap "Doritos, Cheetos, or Fritos" and absolutely losing their minds, just like I did. [Michael Brooks]
"Deep Fried Frenz" from MM..FOOD
"Deep Fried Frenz" was the song that made me feel like I finally "got" DOOM, as much as anyone can make sense of his singular persona. I was listening to a lot of Too $hort and Grandmaster Flash when I bought MM.. FOOD, and the beat on this track instantly grabbed me, DOOM doing old school breakbeats but making them his own—to this day it's my favorite beat of his. It also unlocked who DOOM really was as an MC for me; a guy who underneath the wacky comic book persona and elaborate jokes about food was trying to express some genuine hurt and sorrow. Not only is every single line in the track air-tight on a technical level (DOOM's flow remains unparalleled to this day), the banging beat matches up perfectly with his bitter regret. You know he's being hyperbolic as he excoriates his fake friends, but there's an undeniable sense of truth underneath it all, and that's really what made DOOM so special. Underneath the mask you could feel an artist expressing himself with painful sincerity, and once you discover it, it's impossible not to hear it. [Carter Moon]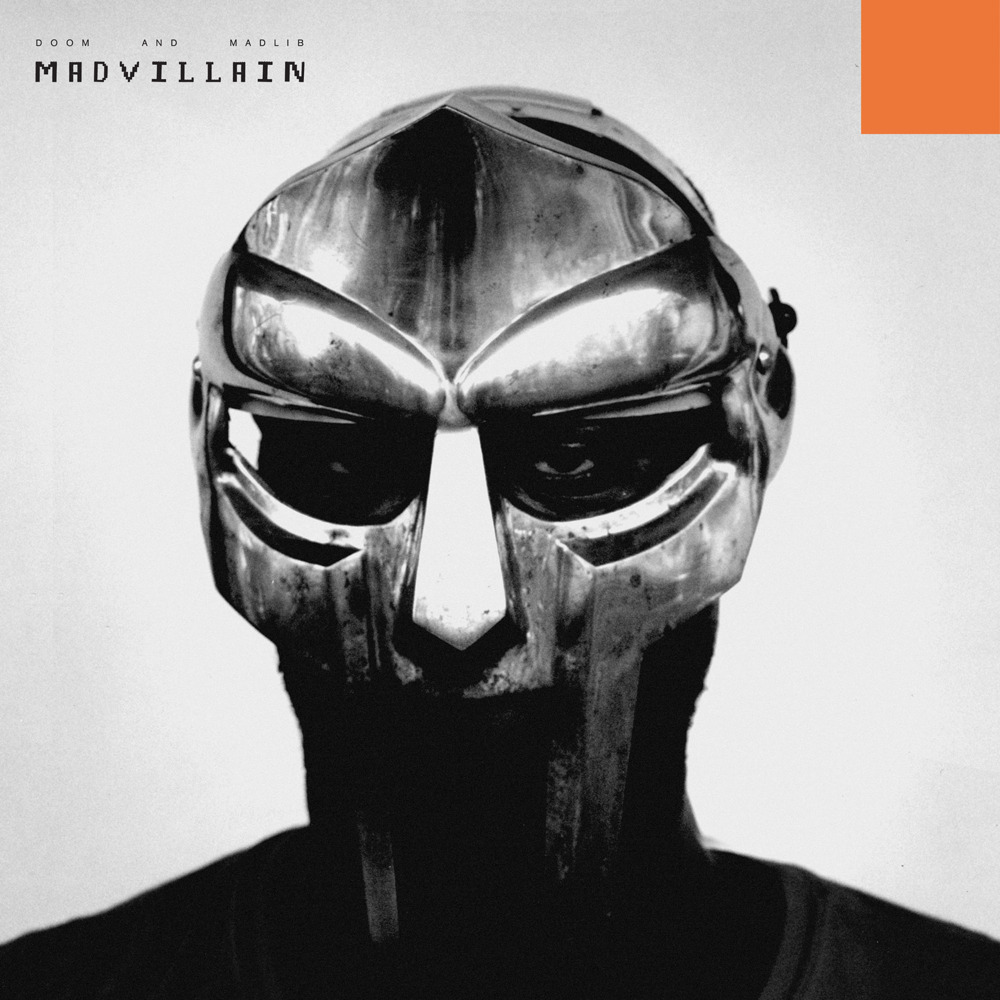 "Meat Grinder" from MADVILLANY
My high school best friends and I discovered MF DOOM the summer going into the 10th grade, and many a MADVILLAINY song soundtracked my depressed walks down the hallway after gym class. As someone who'd always appreciated hip hop but never knew how to actually get into it, Madvillain sounded like good rap music as I'd imagined it, but had never heard it actualized. As someone whose lens for sample-based music as a teenager was Animal Collective, the mashed arrangements and jazz-leaning beatmaking of "Meat Grinder" will always be jammed in my brain as the template for what a damn good left-field hip hop track sounds like. Listening to it feels like watching the world go by through the window of a subterranean basement in Brooklyn. 
MADVILLAINY became a record that makes real life feel like a cartoon, and I obsessed over its playful, gritty production as I quietly sat and philosophized to the project as a not-very-wise 15-year-old. Until DOOM's passing, I'd forgotten what a formative impact our favorite supervillain's tracks had on my young adult life, but seeing The Internet collectively mourn the man's loss was a heartwarming and bittersweet reminder that the masked MC seemingly profoundly touched every music nerd's life at some point. Long live Metal Face. [Ted Davis]