Millions of thoughts raced through my head while watching WHITE GOD director Kornél Mundruczó's first foray into English-language territory, PIECES OF A WOMAN. While the obvious statements have been made by critics, jurists, and viewers alike, namely that Vanessa Kirby is an absolutely stunning actress who delivers what is without a doubt the defining performance of 2020, there are a few details about PIECES OF A WOMAN that deserve mentioning; specific attributes that make it a great film, but a handful of grating hiccups that keep it from being Netflix's natural follow-up to last year's masterpiece, MARRIAGE STORY.
The elevator pitch is outstanding. Few mainstream releases so intimately tackle the subject of relationships recovering after stillbirths, and there is a raw, truthful intensity to this story that automatically catapulted it to the #1 spot in my best of 2020 ranking. No other film from this awards season has felt this fresh and categorically new. It's a tender domestic drama, executed with the same acute sense of unflinching modernism that has come to define much of Eastern European cinema—you can see Mundruczó almost doffing his hat to fellow Eastern-bloc auteur Cristian Mungiu during the film's relentlessly immersive first act, a 30-minute one-take that terminates with the film's title card. Unfortunately, Mundruczó's 127-minute journey never quite reignites the spark of the film's first act, much of which can be chalked up to sloppy writing that fails to establish a coherent point of view. PIECES OF A WOMAN opens on Shia LaBeouf working a construction site in the fall, and closes with Vanessa Kirby by a park in the summertime. Why Mundruczó didn't immediately realize that his film should start and end with images of Kirby is beyond me. The film is so squarely about her, and so rooted in her lived experience, that it really makes no sense to introduce this movie as if her and LaBeouf are equals in this story. I mean, come on: it's called PIECES OF A WOMAN.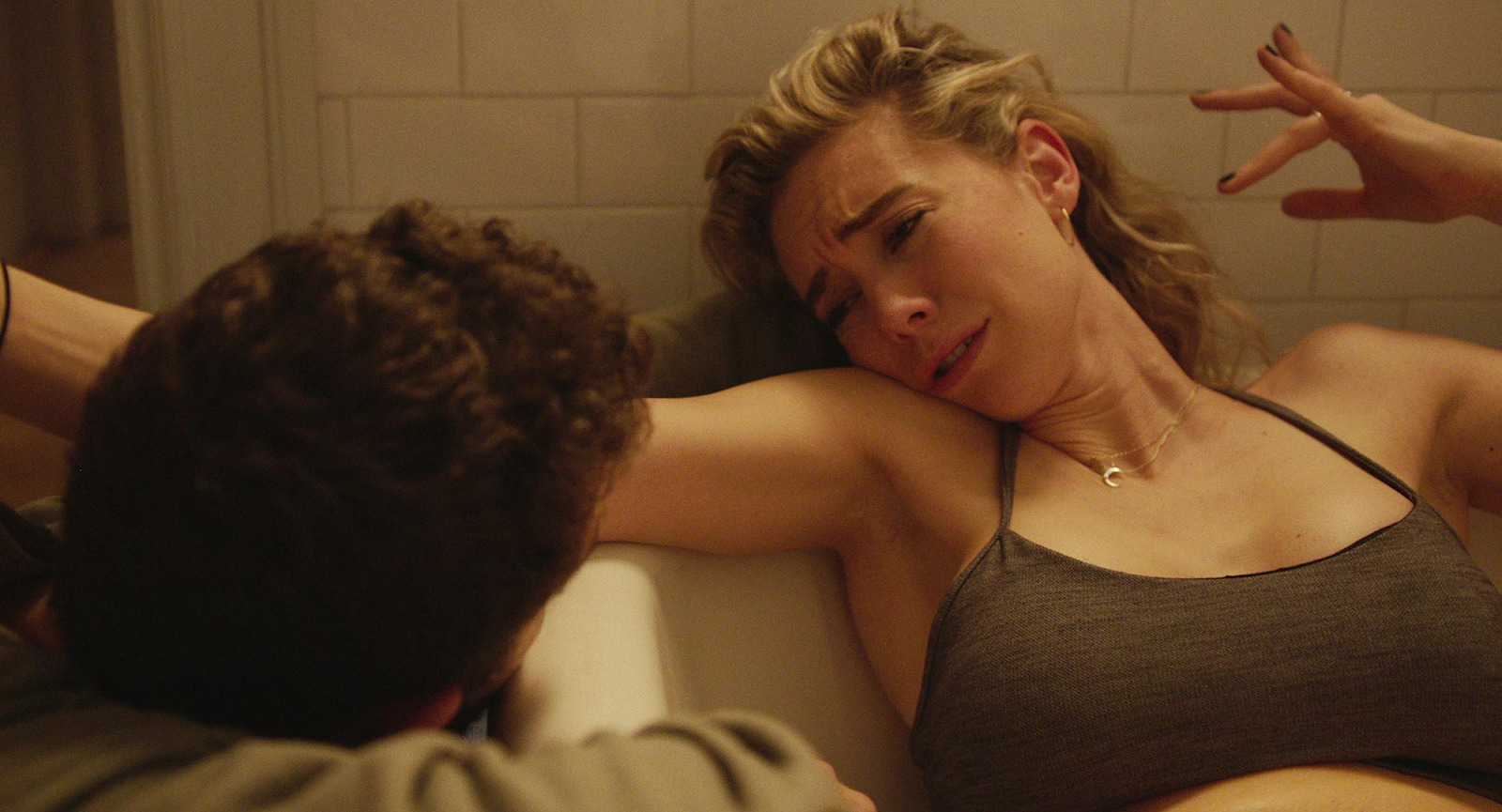 These problems only continue to fester and expand as Mundruczó seems unwilling to commit the film to a single dramatic coda. This should be a drama about a grieving mother figuring out what she needs to do to live and move on, but instead of making this a story of her suffocating grief and the impact on her marriage with a loving husband, it becomes her husband's substance-abuse relapse story as well. It's as if PIECES OF A WOMAN is too afraid to suggest that a relationship of this sort could fall apart even if the male partner were perfectly loving. Instead, LaBeouf's exhibitionist performance tries so desperately to outshine Kirby's far more impressively internalized showmanship that the film has no choice but pretend that it's about the two of them, when, let's face it, it's not.
The cherry on top of this avalanche of narrative mishaps is that the film makes the awkward mistake of leaving me thinking that maybe LaBeouf's Sean and Kirby's Martha were never meant to be together in the first place. So much of the third act indicates that the preceding friction between LaBeouf's boorish construction worker and Kirby's haughty Jewish family were going to be sources of instability, regardless of the stillbirth. It's frustrating, because it totally undercuts the themes that this film is actually tackling. Mundruczó stuffs enough melodrama into one serving of domestic tragedy to serve three feature films, and it does more harm than good, especially because it squanders the potential of making better use of Iliza Schlessinger and Benny Safdie's supporting characters, both of whom are deeply compelling but sorely underutilized.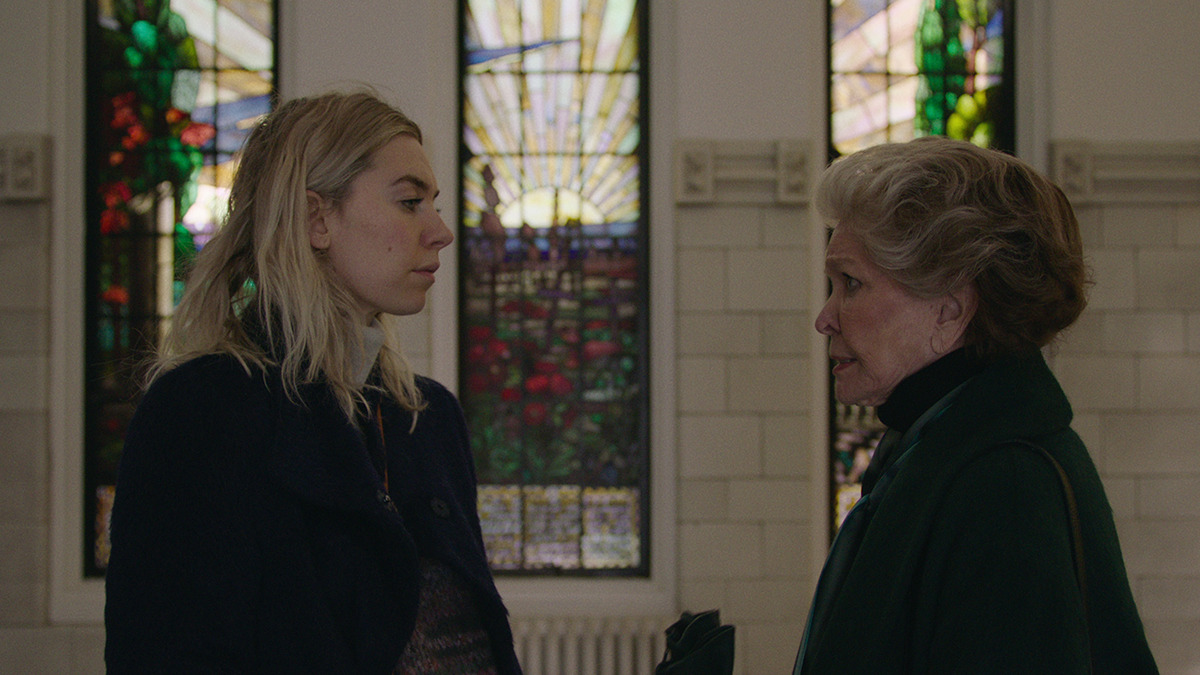 And then there's the Steadicam. Woe is me… If ever there was a film to help distinguish what a Steadicam does well, and when shooting handheld is the preferable alternative, it's this one. Now look: I know this is a super technical gripe, and it in no way invalidates the film's phenomenal dramaturgy or even Mundruczó's excellent use of blocking and staging, but why PIECES OF A WOMAN decided to shoot so many of its tight interior scenes with a piece of equipment that really should only be used for parallax integration, when moving fast, turning quick corners, or moving in straight-shot lines is beyond me. There is nothing flimsier than the delayed response of a Steadicam pan. It's something you don't notice during an action scene in CHILDREN OF MEN, but it calls an immense amount of attention to itself when there's only one character in frame, and the camera imprecisely struggles to keep up with them as they nervously pace through the room. It's a common issue in contemporary cinema (even one of my all-time favorites, MANCHESTER BY THE SEA, shoots on Steadicam for scenes when it definitely should not have), and I can only chalk it up to the fact that Steadicams speed up shot setups and don't tire out the camera operator. It's a nasty pro and con for independent filmmakers. I wish Mundruczó had taken inspiration from fellow Hungarian auteur, László Nemes, and shot this film handheld.
PIECES OF A WOMAN is still a great film. Seriously, in spite of all the criticisms I've gone through, I highly recommend seeking this out. Kirby's performance is a career-best, and if it were up to me, the Oscar would be in her hands tomorrow. Along with Riz Ahmed, who deserves the trophy for SOUND OF METAL, both rise up to the occasion and deliver two affecting portraits of relationships collapsing under the incalculable pressures of unforeseen medical emergencies. While SOUND OF METAL starts off imperfectly, only to find its footing and become one of the year's very best films, PIECES OF A WOMAN kicks off with what is arguably the year's best first act (and on its own could stand as the year's best short film), only to insecurely stumble to the finish line.