When I saw Elton John at Bonnaroo in 2014, I naturally had lofty expectations. It wasn't because I'm a huge Elton fan, although I appreciate his larger body of work and acknowledge his importance to the history of music, but instead because someone with songs as beloved as his is expected to deliver. In my mind, I needed to have chills running down my back when that crowd, 70,000 deep and filled with sweaty festival goers who had been waiting in the Tennessee humidity, would sing in unison the chorus of "Rocket Man." If I didn't get chills, I thought to myself, the whole thing was a failure. And while Elton performed an unparalleled string of hits, sounded generally as good as a man in his late 60s could, and gave, by most accounts, the spectacle we expected, no chills ran down down my back during "Rocket Man."
To ROCKETMAN's extreme credit, I did get chills during the film's performance of "Rocket Man." A gleaming show tune symbolizing the beginning of the end, Taron Egerton's Elton John begins strung out at the bottom of his pool, singing with his inner child after he's just previously declared he's going to kill himself. After a moody underwater sequence, he's pulled out of the pool and dressed by nurses and doctors before being ushered onto the stage at Dodger Stadium, singing for the masses all while belting out arguably Elton's biggest song. If the sequence sounds rushed for a track that traditionally runs four-minutes-and-forty-two seconds, that's because it is, a mix of stage dancing and cinematic razzle-dazzle that moves quickly. It's one of director Dexter Fletcher's more impressively choreographed numbers in a musical that's constantly attempting to impress; anchored by a magnetic performance in Egerton, the film's hokiest sequence (one that ends with Elton literally rocketing into the sky from the stage like Wile E. Coyote) somehow works.
A best Makeup and Hairstyling Oscar should go the ROCKETMAN team for Elton's in-slow-decline hair transitions, a sight to behold
If the success of last year's BOHEMIAN RHAPSODY proved anything, it's that there is a large market for classic rock nostalgia. No doubt ROCKETMAN will draw plenty of unfair comparisons to BOHEMIAN RHAPSODY (although these days, the Queen biopic's stock is particularly low, especially post-Oscars), and comparing biopics about major gay icons whose musical influence knows no bounds is admittedly easy. And yet ROCKETMAN subverts expectation by avoiding the true biopic tag, and succeeds largely because it distances itself from a world of fact. While yes, this is a film about the life of Elton John (and was signed-off and approved by him), the film presents his life as an over-the-top musical, one where his rise and fall, fame and fortune, is broadly told with an undercurrent of fantastical song and dance.
Fletcher and Elton's decision to make the film a living, breathing musical allows it to suddenly find new life in a traditionally tired genre, the rockstar biopic. Certainly all the tropes are on display here: family drama, drug abuse, shady managers, the struggle with success. And yet, ROCKETMAN seemingly understands how paint-by-numbers Elton's story ultimately is, and instead of pressing on anyway, chooses to focus on his songs as a path of storytelling rather than the characters. This leads to some of the film's weaker moments; like Julie Taymor's 2007 film ACROSS THE UNIVERSE, there are moments here where the lyrics of Elton's songs are delivered as semi-literal story points rather than tonal expression, sung by characters as though they are directly referencing the story, which is, in a word, messy (certainly Elton becoming a literal rocket man at the end of that number is slightly cringe-worthy). But it also allows a freedom in how broadly it covers the traditional rockstar narrative—we don't need to spend much time with his aloof mother or cynical father, because their song-and-dance numbers capture all the energy and none of the tired rehashing of that trope.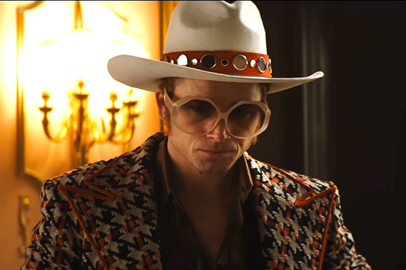 The original yee-haw agenda pusher: Sir Elton John
And while much can and will be said of Fletcher's direction, which as far as movie musicals are concerned is playful and fun, frequently firm yet dizzying in its assured cinematic view on rock stardom (no traditional arena rock recreations here), the film is carried by Edgerton. If we gave Rami Malek an Oscar for karaoke-ing his way through mediocrity, Edgerton deserves any and everything that could be considered more impressive than an Oscar—his own country, perhaps, maybe EGOT status, a holographic Charizard card? Who knows. But not only does he do his own singing, with a vocal performance that perfectly nails the thin line required to be both faithful to the source while still creatively defiant, his acting is both a decent ode of the legendary songwriter himself and also delightfully over-the-top, just as it should be for a great movie musical.
Even if it gets lost in its own whimsy at times, ROCKETMAN is a marvel to watch. While it'd be unfair to say it's the most fun rock biopic in years, as the story's third act is a rough roller coaster through addiction and self-discovery, it's easily the most interesting story of its type in a long time, sharing more creative DNA with Todd Haynes's VELVET GOLDMINE or Gus Van Sant's LAST DAYS than BOHEMIAN RHAPSODY or RAY or WALK THE LINE. If arena rock spectacle is what you seek, ROCKETMAN will deliver, even if it's not quite how you'd anticipate.