On January 4th, after a premature press release, and a bizarre back-and-forth with her representative, actress Tanya Roberts was pronounced dead after collapsing in her Los Angeles home. Roberts' death resonated differently with me. I have a fondness for her particular type of onscreen brand: the playful blonde who's more clever than she lets on—a  fun-loving, free-spirited yang to a femme fatale's yin. My appreciation for Roberts was rooted in this affinity, and a curiosity of a career that burned hot and bright, but gave out fast. Audiences were never given more than a showcase of her body with a few flints of a comedic sparkle. Kurtwood Smith remarked on Twitter that "I did a #USO tour with her and she made me laugh for two weeks straight, on the elevator, in the SUV, in the helicopter, on stage. The soldiers loved her. We all loved her." The tremendous outpouring from fans and co-stars surprised me: who knew she had this breadth of supporters? 
Tanya Roberts was a former model, and, for lack of a better word, a bombshell. She was a quintessential '70s-Playboy-era leggy blonde with flowing golden locks. I assumed most of her fans were Playboy readers or James Bond fans: older men, honestly. As I read through Tweets and obituaries in the aftermath of her death, I was astounded at how consequential Roberts' aura appeared, and how much more widespread her appreciation was. Her passion for the craft, her ability to connect with the audience, and her humor were her calling cards. I perennially loved her from my first introduction to THAT '70S SHOW, but also through CHARLIE'S ANGELS reruns on Nick at Nite. In one of my favorite Bond films, the laughably bad camp classic A VIEW TO A KILL, Roberts plays sexy geologist Stacey Sutton, a Bond Girl 28 years junior to Roger Moore's 007, with unbelievable commitment. Her earnest approach to not-so-serious material led audiences to adore her, an approach that meanwhile, of course, went unrealized by an industry that still lacks understanding of how to promote nuanced female stars.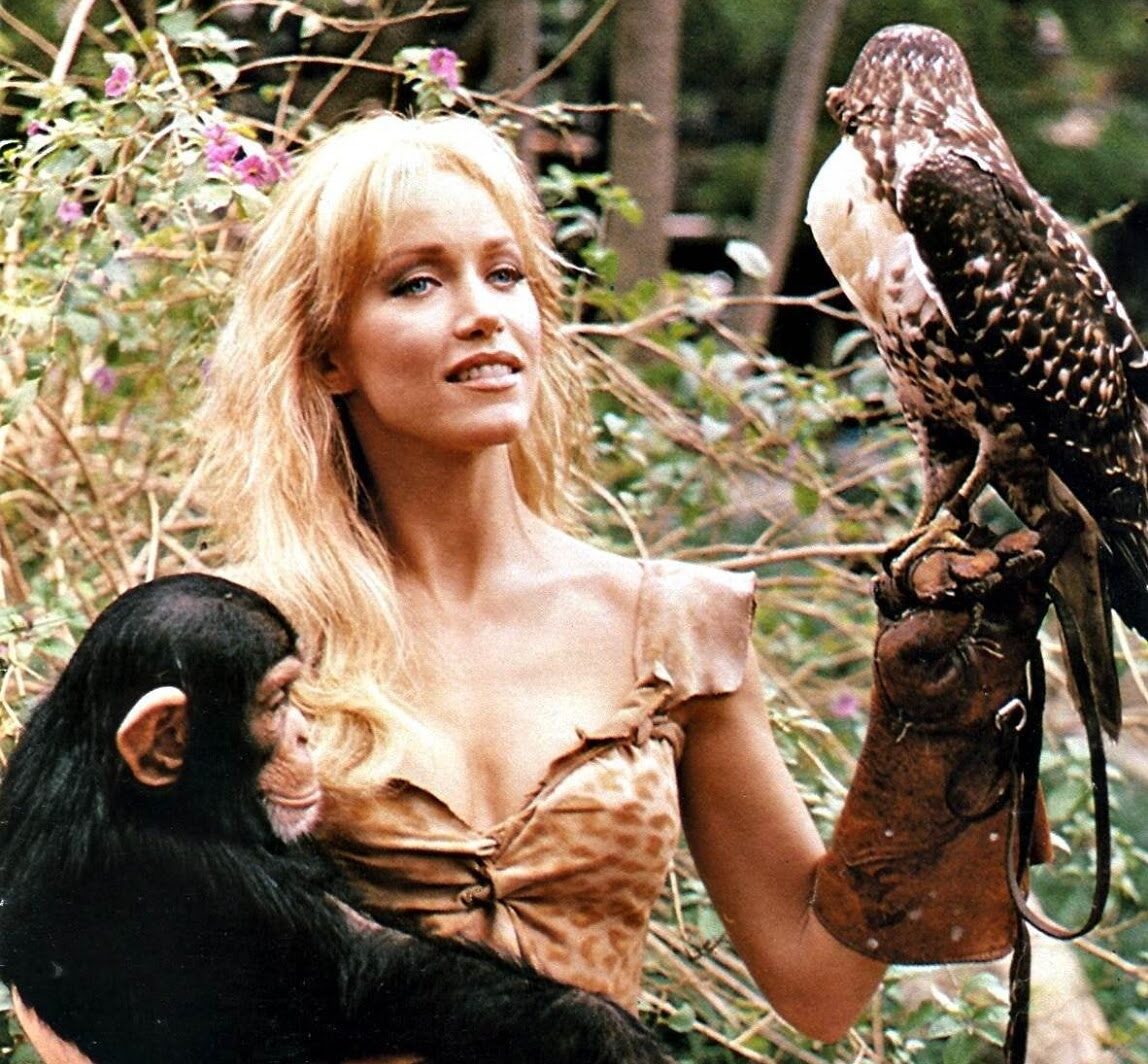 Roberts' career was firmly rooted in the everlasting Hollywood narrative of an overlooked echelon of aging female stars: forgotten treasures, lurking in the corners of regional film festivals, one-off LAW & ORDER stints, and character parts in Lifetime movies. They're most often the sex kittens of the past, promoted and flaunted for their bodies with rare opportunity to present themselves otherwise. Once a woman like Tanya Roberts ages beyond 40, they are relegated to the minor leagues, if that, cast aside for the next body that can be molded into the love interest for her much older male co-star. To me, Roberts was one of these icons, and, thankfully, at the age of 43, she was given THAT '70S SHOW as an outlet to let her comedic abilities shine. While there is always the call-back to a Playboy spread she participated in or the skimpy outfits of her sole star-vehicle, SHEENA, it's those reminders that continue to plague our black-and-white view of female stars.
Roberts' place in the B-movie and television stratum is not dissimilar to similar actors who followed in her footsteps, like Denise Richards or Heather Graham. Their physicality is put at the forefront, when their wit and the brightness, the secret ingredient for success, lies underneath. Perhaps it's a product of the 1980s and '90s, but Richards and Graham were effectively the mass-market iteration of Roberts' sensuality in their respective outings afterwards, both also variations of Bond Girl. While both have had varying successes in the mainstream, they too are written off as vixens or punchlines. Richards is currently starring on THE BOLD AND THE BEAUTIFUL following her two-season run on THE REAL HOUSEWIVES OF BEVERLY HILLS. Graham was featured in the latest Netflix rom-com, LOVE GUARANTEED, and has guested on a few series. One could argue these women both have more talent than Roberts; actually, I'll just say it: they are far more talented. But nonetheless, their stars dimmed following their outings as sexy sidekicks in peak-2000s action-comedies. Will we continue to overlook them as actresses because they are no longer "age-appropriate" or outside of the sex-symbol demographic? My faith was renewed when I saw the outpouring for Tanya Roberts and how much my peers adored her in THAT '70S SHOW. Here's hoping for a larger cultural understanding and appreciation for all the playful Tanya Roberts' "types" out there. These women are cherished beyond the male gaze.