Christian disco is not my favorite music genre, but listening to "Jesus Keeps Takin' Me Higher" ahead of THE EYES OF TAMMY FAYE had me feverishly excited. I knew the key points of the story of Tammy Faye, maligned televangelist and gay icon, from my adolescent viewing of VH1's exploitation vehicle THE SURREAL LIFE. The PTL (Praise The Lord Network) and Bakker scandal is so deliciously camp and ripe for satire that I could not stop myself from setting high expectations and fan-girling ahead of the premiere (much like I did when I saw a sequin-clad 1970s Amy Adams in production stills from AMERICAN HUSTLE). I was eager for our epoch's next revisionist tabloid tale where we reframe a maligned woman, even if it's become old-hat at this point. Michael Showalter's THE EYES OF TAMMY FAYE is unfortunately pretty vanilla; a removed, sterilized drag show where the performances liven a narrative that's as flat and stale as yesterday's can of Diet Coke.
Make no mistake: the performances in  THE EYES OF TAMMY FAYE are incredible. It reminded me of 2019's JUDY in all the best ways, and I hope that Chastain and Garfield are in the running for eventual best actor trophies, too. Chastain does everything possible with a limiting script, and humanizes a woman the public remembers as a clownish ditz caked in make-up that conspired with her husband to steal thousands of dollars to keep up her lavish lifestyle. It is such an empathetic portrayal that highlights her LGBTQ+ activism and unconditional support during the AIDS epidemic.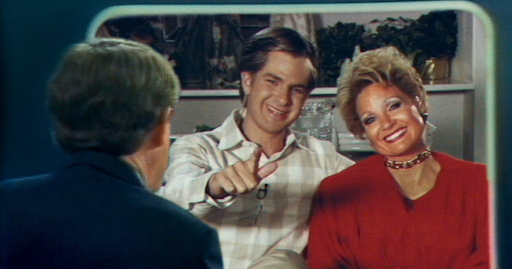 However, key historical details are left out of the script, and an uninformed audience is overloaded with sadness as our protagonist's fall begins. By the end, we see Tammy Faye as a pathetic creature in her Honda Civic plastered in make-up and cast aside from a society that once adored her. It's a shallow interpretation that disserves a complex figure and sub-culture, enough so that it makes you appreciate THE RIGHTEOUS GEMSTONES more deeply. GEMSTONES' absurdist, light-hearted tone is what TAMMY FAYE should have swung for. Perhaps it's because of the Bakker family's cooperation on the project, but if you're going to make this ostentatious Jesus-loving icon the subject of your film, let's highlight her dynamism and flaws in a full-throated, playful style. Let's see both her humility and arrogance. The most memorable parts of the film come from Showalter's knowing side-eye, and less from the plays to gain the audience's sympathy. The over-the-top emotions when Tammy and Jim first meet and begin preaching are straight out of a soap opera or cabaret show, something I was hoping the rest of the film would embody. We only get a sprinkle, and when Tammy and Jim fall from grace, the film becomes too concerned with Tammy's depiction for its own good.
The other day, I queued up the 2000 documentary THE EYES OF TAMMY FAYE, optioned by Chastain in 2012 and the source material for Showalter's feature. The documentary follows the actual Tammy Faye during the nineties as she reflects on her career, discusses a potential comeback, and life in Palm Desert where she visits her second husband (that dude in the movie who does construction on Heritage USA aka Christian Disneyland) in prison. I sat there in awe at this glorious, public-access quality that gave you an intimacy to the larger-than-life character with a GREY GARDENS aesthetic. Her facade doesn't seem as jarring as Chastain's when portraying the woman in the '90s, but her personality and intellect are fiercer. Faye is interviewed and discusses the scandals she and Jim endured, explaining away a lot of the criminality and excesses, and the filmmakers capture it all verbatim. As she's en route to a prison visit, Faye proclaims that the government will come after you if they want to. On top of her heavily made-up appearance that screams her need to be seen, she always reminds you that she wants to be in front of cameras and performing, even if she's now in exile. Where was all this in the biopic? The incendiary and unapologetic take-me-as-I-am demeanor is washed over in "likeability."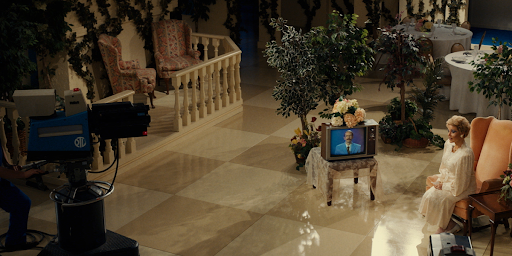 Twenty years later, this era of reimagined tabloid women is fascinating in what it says about feminism. Tammy Faye will be enshrined alongside Tonya Harding as a villain-turned anti-hero in our popular culture case studies on female empowerment and celebrity culture. A headline from the '80s or '90s on the cover of Us Weekly or The National Enquirer solidified these women as two-dimensional figures that must pay for the pain they caused. The reactionary "that manipulative bitch knew" or "her husband is a liar and she conspired" are phrases that were ubiquitous no matter how severe the crime or transgression of their significant other. While now we are approaching these situations with a broader viewpoint into how women were treated, we're also glossing over a lot of the agency these women had at the time.
The both-sides outlook is an important conversation, because so many of these retellings fail to provide the nuance that is so desperately needed to understand the story in the first place. Tonya Harding is no angel, and, honestly, neither is Tammy Faye—the empowerment narrative cannot co-exist with a woman who takes zero responsibility or acknowledges the hurt caused, especially decades later when it is revealed exactly what happened. At least in the revisionist I, TONYA, Margot Robbie and Craig Gillespie lean into the complexities and embrace them as camp. Chastain and Showalter completely miss this in THE EYES OF TAMMY FAYE.
If there's anyone whose tabloid rise-and-fall matches Tammy Faye's in our current culture, it's THE REAL HOUSEWIVES OF BEVERLY HILLS' Erika Girardi. Her husband swindled millions of dollars of legal settlement money from victims of airplane crashes and gas explosions. The saga has been captured on reality television, with the media coverage and reactions unfolding in real-time; the wife of the man implicated has said next to nothing about the victims and continues to explain away the wrong-doing. When it's happening at the present moment, it's impossible to re-frame it. Reality is unfolding and it's not pretty, but Girardi has been given the space to present her side of the story. The fact that a reality show as campy and soapy as HOUSEWIVES is there to capture it will go down as one of the greatest tabloid documents. Erika Girardi is an icon, and I'm curious to see how this saga is remembered decades from now. This is the sort of depth missing from THE EYES OF TAMMY FAYE, a story that's had so much more time to marinate. We'd still be captivated by the character, and maybe even empathize with her psychological and financial downfall more, if Showalter saw her as a multi-faceted woman and less of a fixed identity. Humanity is complex and there is a world in which Tammy Faye can be a bubbly, well-intentioned standard-bearer of LGBTQ+ activism in the Christian community while also ripping off and stealing money from people, or at least turning a blind eye. People are complex, and THE EYES OF TAMMY FAYE and the current moment of reimagining tabloid women has failed to realize this.