It's no secret we're living in trying times. Here's what's helping the Merry-Go-Round staff stay sane this week.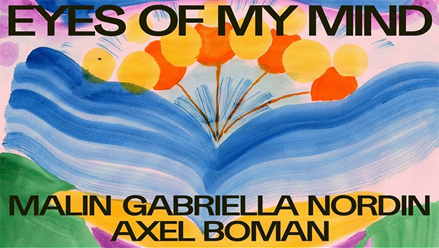 Axel Boman  – "Eyes of My Mind"
"I been to the doctor he says I'm all right
I know he's lying, I'm losing my sight
He should have examined the eyes of my mind
2020 vision and walkin' 'round blind"
"Eyes of My Mind" is pollyanna done prudent, psychedelia done simply, dance music done delicately. It's the best thing I've seen all year, full stop. Better than any other track, video, album, movie, or television show (OK, I haven't seen a television show from this year yet, but there is no way any of them are better than this, OK, shit, I suppose there's a chance an episode of the new BETTER CALL SAUL season is better but I still doubt it) released this year. Without the visual accompaniment, "Eyes of My Mind" is easy to drift off to. Boman's production is an exercise in restraint, neither building or bottling tension but rather breezing through a nine-minute runtime heavily indebted to the radiant vocal sample. Said sample is an unidentified version of Gene Autry's "20/20 Vision" that swaps twangy swing for syrupy bliss. The vocals absolutely dominate the track—it would be little more than middling sans singing—but do so with the gentlest grip possible. Boman drops the sample in the sweetest of spots; at no point do you lose touch of the instrumental and even when the sample fades away, you miss it, sure, but you are not yearning for it in the way you would a similarly sampled dance track. And not enough can be said of the visuals. Courtesy of Malin Gabriella Nordin, the video's art is a stunning animation that stitches 455 paintings into one beautiful, serene narrative. For much of the video the central focus is on a singular figure that takes many shapes: bird, woman, butterfly, windmill, flower, fox, as nondescript nature scenes bloom in and out of focus. The art itself is not particularly high concept—one could imagine any one of these stills hanging in a given school's art class studio—and the project is all the better for it. "Eyes of My Mind" is perfect because it answers every question with the simplest answer. All you have to do is press play. [Ryan Moloney]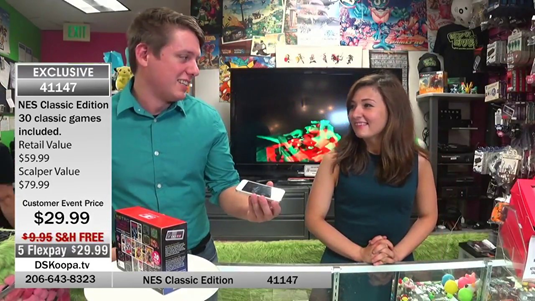 Pink Gorilla Games' "DSKoopa" Twitch
As the burdens of solitude begin to wear and tear, I'm both openly and hesitantly thankful for my joined online communities. Most signs point to total digital socialization, a concept I'm entirely resistant to, but…. Man, does it feel good being a part of something in a moment of disconnection. Even before COVID-19, I was kicking back almost nightly to the Twitch streams of Cody Spencer, co-owner alongside Kelsey Lewin of Pink Gorilla Games, a retro store located next to the University of Washington. Pre-quarantine, it wasn't unusual to see Cody average around 1,200 concurrent viewers on any given weeknight. Two weeks ago, Twitch's overall viewership charted up by a full 10%; with more counties and states on lockdown as the days progress, it's difficult to not notice the bump in overall viewership and engagement. Nowadays, Cody's "DSKoopa" streams average around the 2000-viewer mark at peak, nighttime hours, where the stress of freezing a whole globe has made for a curt, demanding chat room and a visibly exasperated Cody hounding a legion of backseat business owners. The co-dependent relationship between streamer and chat is showing some strain across the board in a time when business owners are working around the clock to cover for the lack of work and everyone at home is in dire desire of human contact. All credit to Spencer, he handles the new influx of repeated questions and rude passerby like a seasoned pro. The streams mostly consist of the shop's after-hours, with Cody refurbishing new stock, interspersed with "dibs-ing" sessions wherein product is open to the Twitch chat, culminating semi-quarterly in The Twitch Shopping Network, a madcap online sales extravaganza where the entire store is up for grabs—if you see it on the stream, then you can add it to your cart. That is, if you're quick enough to spot an item on your shopping list before another user dibs it. It's a rush that transports me to my days of avid DVD-collecting, where I'd enter Hollywood's Amoeba Records with a handwritten, double-sided list of titles and exit with a depleted allowance fund. The Pink Gorilla streams are antidotes to being forced to watch small businesses around me die by the hour; beloved shops and longtime services wiped out by sheer force majeure. To the local businesses that remain, rampant evolution is crucial to survival, and the folks over at Pink Gorilla Games are on to something, turning their online sales into an easily accessible game of its own. Did I anticipate ordering a complete-in-box copy of 007: EVERYTHING OR NOTHING for the original Xbox? No, but I also didn't expect to cop a disc-only PS2 copy of NARC and two sushi keychains that caught my eye. Like how some people rewatch OCEAN'S 11 or ALL THE PRESIDENT'S MEN to feel the quiet rush of watching skilled professionals do their jobs well, I gain so much therapeutic satisfaction from watching Cody burn the midnight oil to keep his store in top shape. It was already fun, and slightly dystopian, being a regular at a store located in a city I've never visited in my life, but DSKoopa's Twitch has become my digital watering hole after long days of putting out constant fires. [Kevin Cookman]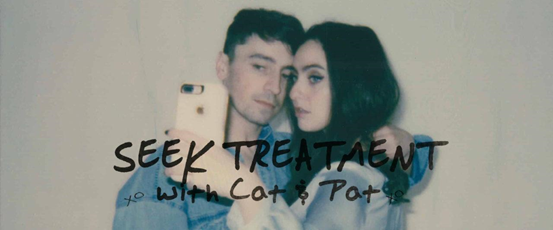 SEEK TREATMENT
It's not an honor, nor a privilege, but an online purple heart to be able to talk about my favorite podcast to date, SEEK TREATMENT. SEEK TREATMENT, or as it's known by its loving fanbase, SOOK TROOT, started as a comedy interview podcast hosted by best friends and comedians, Catherine "Kitty Cat" Cohen and Patrick "Owen-Ass" Regan. Cat and Pat bring on other comedians and/or friends and interview them. Segments include "Do you feel hot today?," "Are you mad at me?," and a recent "Is there a shred of bi(sexuality) in you?" Even on their ascribed "low energy days," the duo's wit and unabashed sense of self is not only hysterical but absolutely heartwarming. Tuning in every single week to this lovable band of stupid bitches and their calvacade of questions about modern society like: "Do you feel small when you stand beside the ocean?" and "Should I wax my hole?" provide a much-needed sense of relief, and furthermore a disavowment of saving face and just letting you fucking live for once. I have been listening to this podcast for about a year now and it's something I genuinely look forward to, especially now when all media is clouded in the misery of honesty and the fear of what's happening to our dystopia. SEEK TREATMENT is queer, escapist media to its core, and novice to the show or not, to absolve all grievances and stipulations proves easier than expected. It also feels detrimental to mention that it's not just the brain-hemorrhaging humor of the show that is its charm but rather the earnest love that Cat and Pat have for their friends, but especially one another. Time seems to slow when one has to call into the podcast or they talk about how long it's been since they've seen one another. Whether inadvertent or not, Cat and Pat are best friends who will probably be buried next to each other, and you feel like you're just out to eat with them or sleeping at their place every single time you turn on the show. To date, Seek Treatment does one of the best jobs of making the listener feel like the third host and a lifelong friend. In these absolutely trying times, make some friends you never have to meet to feel their care.
P.S. Cat and Pat if you're reading this, PLEASE bring back "Do you have to pee?" It was one of the best segments! [Jesse Herb]